Meranda Devan's NOTE
I am compiling a series called "Election 2016 Prophecies- Which Are Correct ?" in which I hope to review all the prophecies about the coming election, and events which relate to it.
Brian Carn shares shared a prophecy for 2016 that involved President Obama, Donald Trump, Hillary Clinton, the White House, as well as the voting process itself.
"People will lose trust in the voting process. They will deny and doubt America's political processes to vote and acquire leadership. This next election will be manipulated."
This is taking place right now as many more voting machines seem to be rigged.
In a Webcast with Benny Hinn, Carn revealed that a "Athaliah" would come after Obama
"I am really prayerful because before Obama came in office, the word of the Lord came to us and told us that Ahab and Jezebel would rule for two terms. I didn't call them that, God did. And the Lord said that after they got out of office, after that, Athaliah would come next. Athaliah was Jezebel's daughter who was more domineering than Jezebel. See Jezebel was sneaky because she ruled behind Ahab, but Athaliah was domineering and killed even her own children to get in power."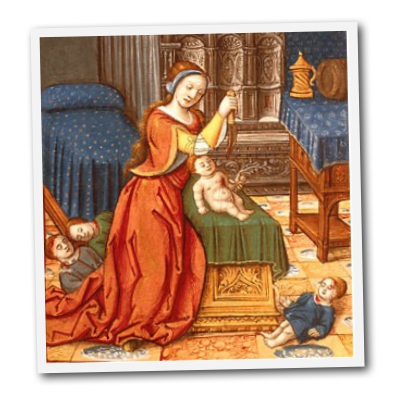 Athaliah
But the most startling aspect of this prophecy is a witch hunt that will be found at the end of Obama's term.
"A witch hunt will be found by the end of Obama's reign for there shall be a surprising spectacle that will shock the souls of America and send the spirits of those who embrace the work of Presidential wisdom. A shaking will come. There will be a forced conclusion that will come to the White House."
What is a witch hunt exactly? Could it be where a large number of people are seeking to uncover information in a short period of time with intensity?

Michael wrote about such a thing today.
Will Barack Obama Delay Or Suspend The Election If Hillary Is Forced Out By The New FBI Email Investigation?
"Just today, the FBI has thrown a gamechanger into the mix. On Friday, FBI Director James Comey announced that his agency has discovered new emails related to Hillary Clinton's mishandling of classified information that they had not previously seen. According to the Associated Press, the newly discovered emails "did not come from her private server", but instead were found when the FBI started going through electronic devices that belonged to top Clinton aide Huma Abedin and her husband Anthony Weiner. The FBI has been looking into messages of a sexual nature that Weiner had exchanged with a 15-year-old girl in North Carolina, and that is why they originally seized those electronic devices. According to the Washington Post, the "emails were found on a computer used jointly by both Weiner and his wife, top Clinton aide Huma Abedin, according to a person with knowledge of the inquiry", and according to some reports there may be "potentially thousands" of emails on the computer that the FBI did not have access to previously. Even though there are less than two weeks to go until election day, this scandal has the potential to possibly force Clinton out of the race, and if that happens could Barack Obama delay or suspend the election until a replacement candidate can be found?"
We are just a few days away from the elections. This could be the piece of information that we are waiting for that throws things upside down.
Meranda
Transcription of Brain Carn's Prophetic Word for 2016
"What happened in California would become common place in America, and an event worse than 9/11 is coming to America. The Lord says that Islam has a definite problem. They will never shake this reputation of violence from themselves. Even innocent Muslims will endure hardship and persecution in the future and no longer see America the same. American Muslims are gonna begin to gather to cities, like Dearborn, Michigan, and form new communities that contain the populous of their presence so as to guard the backlash from White Patriotic America.
The Lord says that a witch hunt will be found by the end of Obama's reign; for there shall be a surprising spectacle that will shock the souls of America and sear the spirits of those who embrace the work of Presidential wisdom. A shaking is getting ready to come.

The Lord says there's going to be a forced conclusion that's coming to the White House.

People will lose trust in the voting process. They will deny and doubt America's political processes to vote and acquire leadership.

This next election will be manipulated. Even Trump will confront his faith and stir many to a position of place to rioting. This will cause upheaval to come because the political gain was revealed in this upcoming season for it shall be historic says the Lord; and Hillary will be found at the end of the day smiling with success as a new war begins. The saying goes, 'The bigger they are, the harder they fall.', and this will be Trump's greatest blunder and his mockery will be his legacy says the Lord.

I want you to listen to me, the next 8 years in America will be worse than the last 8 years. But, because of this season of darkness, many will come to God more than in previous seasons and in years combined together. "

Brian Carn then continues to share about a vision that he had;

"I was having a conversation with Hillary and I said to her, 'Are you sure you want to be President?' I said that the next 8 years are gonna be worse than the last 8 years. Then she smiled. She said she was sure. Then I heard military planes flying over my head in the spirit."

His vision regarding Hillary Clinton continued when the Lord spoke to Brian Carn while traveling in a plane.

"Russia is getting ready to start wars that's gonna invoke America to be a part of them; things that Americans don't want to be a part of because we're friends and allies with certain nations. But, Russia is going to do something in other nations that is going to invoke wars and it's going to invoke, it's going to cause America to be a part of it. The Lord said there is a lethal virus coming to America that's gonna come through terrorism; a lethal virus. He told me to prepare for World War III. He said that there would be two wars. One that would come from the left and one that would come from the right. He said that we would catch them. He said, but there would be a third war, that would catch us by surprise, that we're not gonna be prepared for, and it's gonna be a country that we've given alms to. They're gonna turn on us."
Brian Carn gives SHOCKING WORD on Benny Hinn Webcast Youtube
highlights from brian Carn Benny Hinn Webcast

"You know, coming into the new year, usually a time of great rejoicing, coming right into the new year, something is going to happen that is going to send this nation into a shock. Something is going to happen, and it is probably going to manipulate the political process. Something is going to happen that is going to take away our confidence in voting, where people are going to say what's the use in voting because something is going to take place during this election that is coming that has never happened before."

"Coming from California yesterday the Lord spoke to me and said, "What happened in California, the new shooting, terrorist attack, will become commonplace in America. An event worse than 9/11 is coming to America. Islam has a definite problem. They will never shake this reputation of violence from themselves. Even innocent Muslims will endure hardship."

"A witch hunt will be found by the end of Obama's reign for there shall be a surprising spectacle that will shock the souls of America and send the spirits of those who embrace the work of Presidential wisdom. A shaking will come. There will be a forced conclusion that will come to the White House."

"I am really prayerful because before Obama came in office, the word of the Lord came to us and told us that Ahab and Jezebel would rule for two terms. I didn't call them that, God did. And the Lord said that after they got out of office, after that, Athaliah would come next. Athaliah was Jezebel's daughter who was more domineering than Jezebel. See Jezebel was sneaky because she ruled behind Ahab, but Athaliah was domineering and killed even her own children to get in power."

"So this next movement that is coming to America, which is really demonic, is a feminist movement, very domineering, which is dangerous because the feminist movement is the fuel to the homosexual agenda, the pro-equality"
6 minute video- Hillary Clinton Will Be The Next President -Prophet Brian Carn 2016 Prophecy
Project Seer SEE-022 Hillary Clinton Next President Prophecy by Brian Carn
God Says Donald Trump is a 'DECOY' – Prophet Brian Carn 2016
Save
Save