Last night as my husband Michael and I were watching the election unfold we both stared at each other with the realization that TRUMP could actually win. As it was nearing about 2am last night, I honestly was shocked that he won, because I didn't think it was possible with everything going against him like the NWO and election fraud.
There should be some acknowledgement towards those alternative media outlets who had tirelessly promoted Trump for more than a year. Jim Bakker ministries and Alex Jones who both have a huge following were mega cheerleaders for Trump. They got millions to get out and vote, who might very well stayed home.
Untold millions of people are happy that Trump is now president, and you can see the mainstream news in a state a somber that Trump has been proclaimed to be our next president. Personally, I don't know why such large populations hate him, but if anything this election brought out was the absolute corruption in the media, and the NWO certainly showed it's face boldly.
Trump was against all odds that he would win, including the media bashing on the news day after day.
I admit, I was wrong. I truly did think the prophecies regarding Trump winning were inaccurate. I sided with the prophetic voices who said Hillary would win, or Obama would stay in office. It seemed as though their messages lined up with many prophets who have seen tremendous judgment coming to this land.
There is no way I believe that prosperity is coming to America after we have killed untold millions of babies. My husband has written over 2000 articles on the coming collapse, so you cannot convince us that judgement and hard times are going to be suddenly reversed because Trump is now our president.
There are prophets who did say Trump would win, and they are correct at this point, but one thing you should know is we are not out of the woods yet.
In a
recent article written
by Michael, he shows that
the actual decision of the president does not get decided until the Electoral College meets on December 19th.
"It is the Electoral College that will elect the next president, and they don't meet until December 19th. And the truth is that all of the members of the Electoral College never meet in one place. Rather, electors gather together in all 50 state capitals on the second Wednesday in December, and it is at that time that the next president and vice president are officially elected. Of course members of the Electoral College have voted according to the will of the people about 99 percent of the time throughout our history, but with how crazy this election has turned out to be you never know what might happen"
So what that means is- …. if ANYTHING should happen to the president during this next couple of weeks, they very well could decide Hillary to be president. As it stands, more people voted for her in this country.
There are a lot of prophecies circulating about an assassination attempt, and GOD FORBID that happening, however if something happens which could take out Donald Trump BEFORE this date, we could see Hillary elected in by the Electoral College. She did win the popular vote after all and it would be justified in their eyes.
We are also waiting to see if Obama makes the move to divide the land of Israel. This is a massive big deal, and create catastrophic disasters in our country.
From either an assassination, or a series of disasters coming to this country, we could still see Obama staying in office.
Few prophets saw Trump winning, others saw Obama staying in office, and a lot of prophetic voices saw Hillary winning –
ALL could be right.
These next couple weeks and months will tell a lot. Lets wait until Trump is inaugurated before we start labeling people false prophets.
---
A couple extra thoughts about the election…..
I really have not been able to look into Mike Pence. I don't know his background to form an opinion on him, but I thought it was rather strange that he wore a blue tie on night of the election results.
If you are attending the world series, the color you wear to a game is important to distinguish which side you are on. You would think this would be common sense. Yet you see him wearing blue. He could have chosen purple, green, white, but he goes for the color that represents the other party.
Notice Priebus who leads the Republican National Committee also wore blue.
It is something I have taken a note of, because you would think if you were ALL IN, you would wear red, and certainly NOT the other parties colors. Granted his own son and wife wore a light blue color as well.

People who are supposed to be on Trumps side, may actually be working for the establishment, and by their color choices on the biggest night of the election season, it may have been a signal to who actually stand with.
On google images you can see him wearing a blue and red tie the majority of the time. Could we see someone who projects a message to the crowds he entertains?
Trump brought him up on the stage, all he had to say was a 5 second congratulations, WITH NO MENTION about the hard campaign that was fought. I couldn't help to notice Trumps face after the quick compliments as though he was thinking… no comment on the massive fight we just won?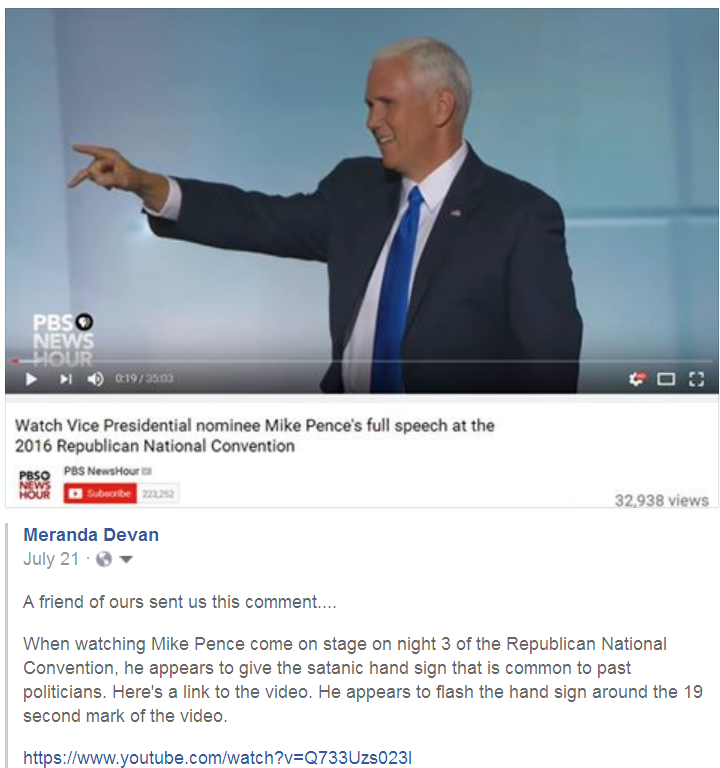 Another event that sticks in my mind is the moment Pence stood on stage after he was announced as the running mate. The first thing he did after walking on the stage was flash the devils sign. Again, could it be a signal to those who who run with the elites who he stands with?
I believe Trump has good intentions on bringing our country back, but I wonder about those who are in his own party.
There was a point in the election around the 2am mark where CNN and Fox just wouldn't call the last remaining states for TRUMP where the majority of votes were counted, and it could be called.
They stalled for what seemed like a half an hour, or 45 minutes. It was only when Hillary conceded that the remaining states were called immediately for Trump on CNN. It was in those moments, where I thought for sure, something was going on behind the scenes, as I am sure they were.
I believe because the massive election fraud was exposed on the alternative media, that the elite may have decided that the election couldn't be won by the voting machines as it has been done in the past.
Yet, we still could see another play take place in the coming weeks to steal the election. Alex Jones was saying that we could see a speeding up in a coming collapse, simply to blame in on Trump.
Please keep your eyes and ears open, because anything could still happen.
This country will face judgement in the days ahead. I truly don't think we can save a sinking ship as large as the United States, but what Trump could do is buy us some more time to get our houses in order and get prepared. Religious freedom is coming to an end, and what we should be focusing on is using the internet while we still can, because the door is closing fast.
If TRUMP manages to reverse Roe-vs Wade, and sets the path for small businesses to flourish, and allow the freedoms of speech to stay in place, and backs religious freedoms, those are all admirable initiatives that both my husband are behind 100%.
Leave comments below of what you saw last night, and your ideas regarding the election and prophecies
Meranda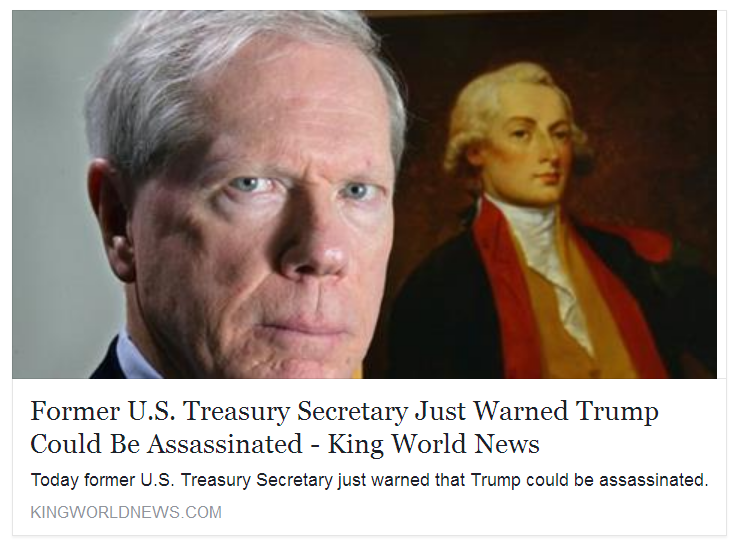 See that article here