Meranda Devan's NOTE
I am compiling a series called "Election 2016 Prophecies- Which Are Correct ?" in which I hope to review all the prophecies about the coming election, and events which relate to it.
It seems like there are prophecies on the internet for Trump being elected, others say Obama is going to stay in the Office, and even that Hillary will win. Through this process, I hope to gain some better clarity for myself. This is one of many more prophecies I hope to review.
These dreams below show a woman staying in office, or many identify as "Hillary Clinton" Take note that this could also be Michelle Obama, if Hillary is convicted or pulled out of the race by the FBI.
Here are some of the previous prophetic words on Hillary Clinton:
Meranda
Queen In Charge – Kim Weir
---
"The only things I have seen personally showed Obama staying in office and eventually handing power to a woman"- James Bailey

James Bailey Of Z3News.com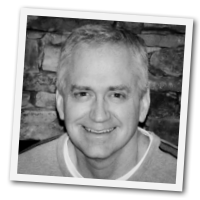 James Bailey –August 16, 2016 1:53 pm
A Comment "Thanks for sharing Diana. God has not shown me anything about Trump winning. The only things I have seen personally showed Obama staying in office and eventually handing power to a woman. For a long time, I was locked into that view thinking it must happen, but have come to believe many prophetic visions do not necessarily have to happen because it depends on how we respond. That would apply to both warnings of the enemy's schemes and revelations of God's will"
"I believe the previous path is the one I saw in a dream, U.S. Government Planning Mass Murder of Americans. I saw President Obama permanently leaving the United States after appointing a woman to carry out the final stages of an evil plan to murder the American people. They were planning to start killing us soon after this woman took over, which led me to believe they had conspired with foreign militaries to invade our land, although that was not part of the dream"
Found On This Link James talks more about his prophetic dream of a woman being given authority
"I saw in a dream in November 2014. In this dream, I was attending an outdoor corporate dinner party in which I was not myself, but was an employee in this large corporation, which I believe represented the evil people who now control our federal government. The actions of this corporation were being purposely misrepresented in the news media to conceal their evil plans to murder the American people.

I spoke with the woman whom Obama left in charge to carry out the final stages of their plan. Obama's departure was by no means a problem for them, but was actually part of their plan all along. Even if he was forced to leave office, I don't believe he would ever admit it, but would continue lying until the very end. The main reason why he was leaving was because the corporation no longer needed him to complete the rest of their plan. He had successfully completed his assignment and had handed the baton off to this woman."
From this post, James comments more about his dream in this post
In 2014, I received a dream showing President Obama staying in office beyond the end of his second term. I believe everything I saw will happen because it is recorded in the scriptures (Daniel 11:39). However, I was not shown any dates, so that leaves room for the possibility of a delay. I also saw a woman being put in charge before Obama finally leaves the country. I have not seen anything about Donald Trump winning, but that does not mean he cannot win. Here are four reasons why I believe it is a mistake to get too locked into thinking we already know the outcome:

We only see a small part of the whole picture (1 Corinthians 13:9). It requires humility to admit we don't know as much as we think we do and things don't always happen the way we think they will.
The warnings God gives us about the future are always subject to change depending on how the hearers respond because God has given us an important role to play in what happens on earth. We are not victims who are powerless to change things, but we are over-comers and more than conquerors in this life (Romans 8:37). The prayers of a righteous person avails much (James 5:16). God always causes us to triumph (2 Corinthians 2:14). God has given us the responsibility and authority to make a difference through our prayers and our actions.
There are scriptural examples of God relenting from judgment, even after He has sounded the alarm through prophetic warnings (Exodus 32:9-10, Numbers 14:11-23, Numbers 16:20-35, Deuteronomy 9:25-29, 2 Kings 20:1-6, Jonah 3-4, Amos 7:1-6 Ezekiel 4:10-15). He is able to do it again.
Despite the sinful condition of our nation, the future has never been decided by heathens. It has always been in the hands of God's people, which is why He promises to heal our land if He can just get His own people to stop sinning and cry out to Him (2 Chronicles 7:14).

This election is now down to a few possible outcomes. If we do nothing and say nothing, we are showing we don't believe the scriptures listed above. God will hold us accountable for our unbelief and our pride. This is not a prophecy or a prediction about who will win the election. It is only pointing out the reality of who we are and the important role God has given us to play.

Donald Trump has made just about every possible mistake he can make during his campaign. His flaws are glaringly obvious for all to see, but he is our only alternative to Hillary Clinton and Barack Obama, who are both bought and paid for by financial elites like George Soros. Trump has done enough to destroy his chances many times over, yet he somehow continues in the race and even appears to have a chance. I marvel at how it is even possible for him to have come this far. It appears the grace of God is on his life and his candidacy, which still does not guarantee his victory because the outcome is up to us.

Just as Rick Wiles stated, no politician and no man can save America, but perhaps God has given us a doorstop to give us a little more time to wake up and get start advancing His kingdom. After seeing the dreadful alternatives, I cast my vote for a stay of execution. I pray God would give us the doorstop!
---
Hank Kunneman
While appearing as a guest on Sid Roth's television program, It's Supernatural, Hank Kunneman shared how God revealed Satan's plan for America, which was to bring in a spirit of Jezebel to rule in the White House.
The following transcript shows Hank Kunneman's testimony of his vision:
I was taken up over America about fifteen years ago in one of the most frightening visions I have ever had. I was standing there looking over America and there was an angel at my side. Then the Lord said, "You are not allowed to speak."

I saw a very nice looking man in the middle and I saw two creatures on either side, one on the right and one on the left. Then the Lord said, "This is Lucifer."

As soon as He said that, the face of this nice looking man changed. Then the voice of the Lord said, "This is Satan, the prince of devils."

I looked and I saw Satan literally look over at the creature on his right and he said, "Spirit of Jezebel, go over America and govern in its White House."

We better be careful and we better be wise because the spirit of Jezebel wants the White House and wants America. Often we think, "Is that a woman?" It could be because Jezebel was a woman, but it also is a spirit.
View more of this video on youtube
Hillary wins the election
Published on May 7, 2016 -W
ho will be the next president of the USA? (Shocking…Must see this video) Prophetess Nadia Awwad- 2016 Presidential Election Prophecy-
See the youtube video here
---
MENA LEE GREBIN
In this video posted Aug 3, 2016, Mena was given a stern word that Any "Professing Christian" that WILLINGLY votes for Hillary Clinton would be spiritually blinded to bible prophecy.
At 9:00 minutes in she said a word was given to her that Donald Trump was a decoy. This word was given to her a couple months ago. She said that Donald Trump was there to test the hearts of the people.
---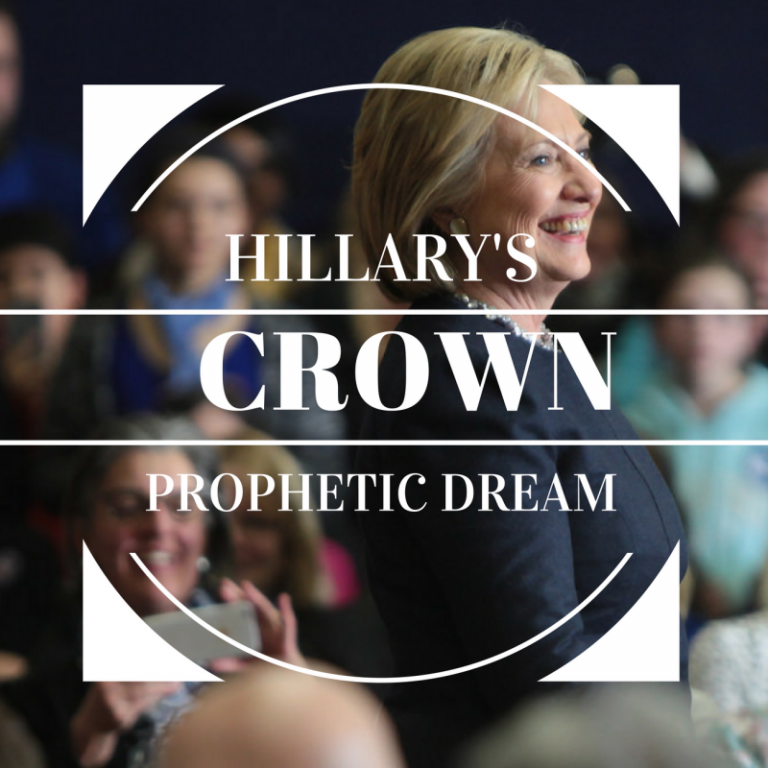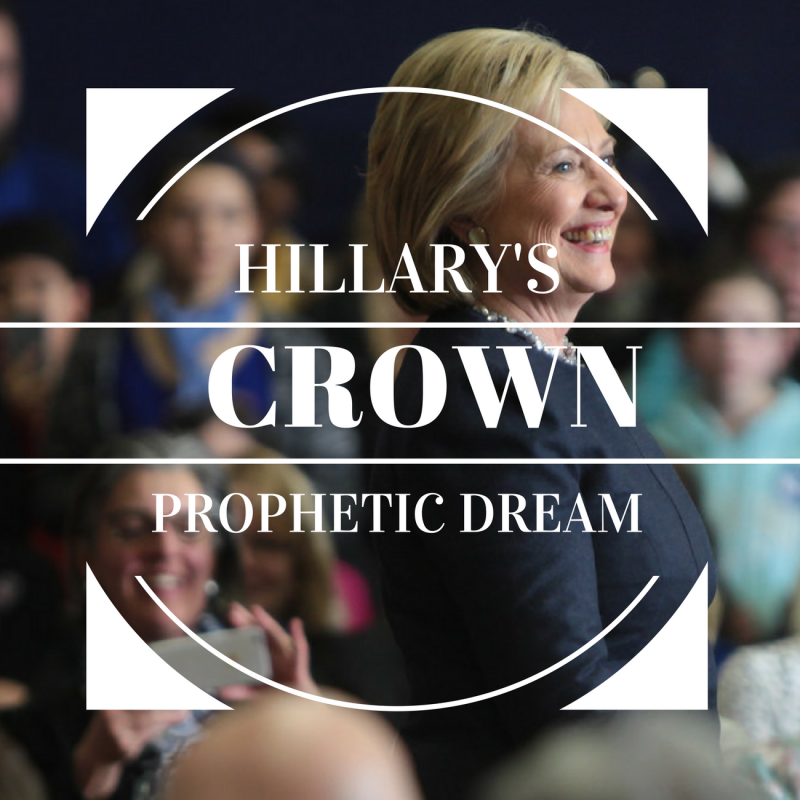 Gelzel L
A Prophetic Dream Of An Asteroid Hitting At The Same Time Hillary Receives Her "Crown"

Read more here
---
---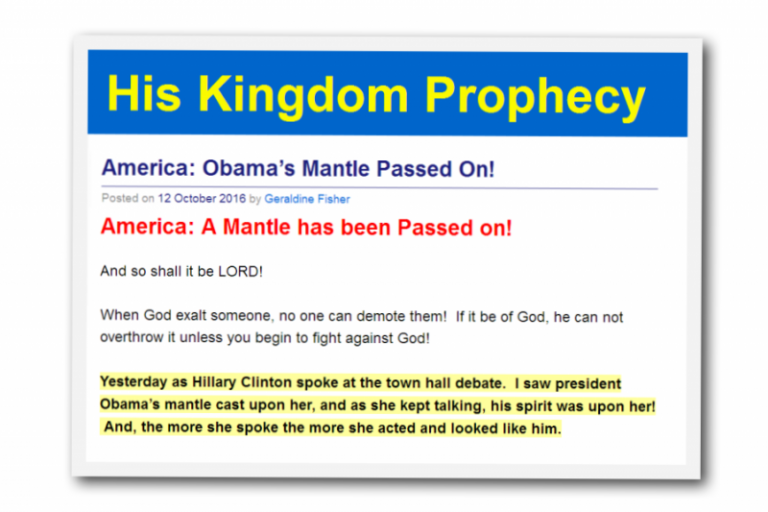 Yesterday as Hillary Clinton spoke at the town hall debate. I saw president Obama's mantle cast upon her, and as she kept talking, his spirit was upon her! And, the more she spoke the more she acted and looked like him"- Geraldine Fisher
---
Aug 17, 2016– A man came to a podium, and the dream was based in a political setting. There was breaking news. All the news channels were covering this piece of news. A man came to the podium and said…. "Hillary Clinton will be dropping out of the race, due to heart complications that have left her incapacitated. She was suspending her campaign and withdrawing as a nominee for the President of The United States"

---
Save
Save