Meranda Devan's NOTE
I am compiling a series called "Election 2016 Prophecies- Which Are Correct ?" in which I hope to review all the prophecies about the coming election, and events which relate to it.
It seems like there are prophecies on the internet for Trump being elected, others say Obama is going to stay in the Office, and even that Hillary will win.
Through this process, I hope to gain some better clarity for myself. This is one of many more prophecies I hope to review.
In these dreams below, Obama stays in power. Some people see Obama as the last president, others see him declaring martial law for a season.
Below are even more prophetic dreams or videos that involve Obama staying in that I haven't had a chance to look through. You would be surprised just how many dreams involve Obama.

Meranda
---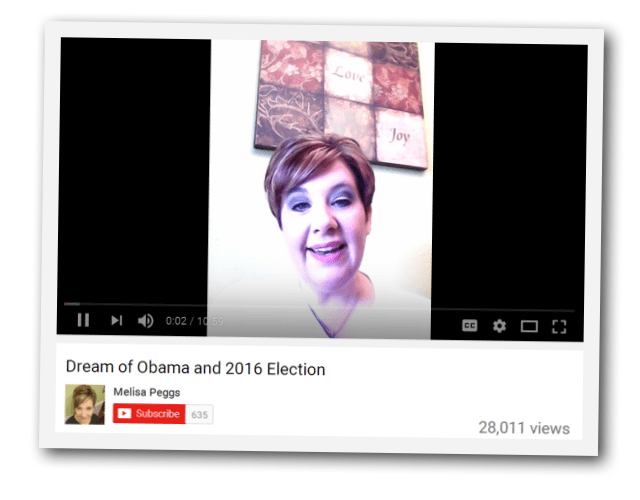 Melisa Pegs is a prophetic voice on Youtube. On her youtube channel on May 1, 2016 she posted a dream about the elections. In her dream, she arrived to vote, and what she found was Obama posters hung on the walls. On the voting ballet, only Obama's name appeared. She went into both the Democrat and Republican rooms and both rooms had only Obama's name on the ballet.
I had a dream about 3 years ago that Obama signed the peace treaty.All the people in our government work for the same team. They all working toward the NWO.So many Christian's aren't awake yet. They think Trump especially is going to save America. It isn't going to happen. I was shown in my dreams no 2016 elections. I saw Obama's name all over the ballot, no one elses. When asked God about the 2016 elections or primaries He said for me to keep my eyes on Him and God told me they were going to use it as a distraction.
---
---
Jay Hudson :
Obama Remains In Office

Jay Hudson, October 29, 2015 · Prescott, AZ ·
A STRONG PROPHETIC MESSAGE COMES FORTH "FOR SUCH A TIME AS THIS".

My beloved family and friends, the following report was released this evening by an NBC news team, from out of Washington, D.C. which supposedly indicated that President Barack Hussein Obama announced he was running for a third term as President of the United States of America. Please see the following report below (and before anyone is quick to judge and jump to any assumptions or conclusions, please read all of what I am sharing in this FB insertion– thank you):

REPORT:
Washington, DC — President Barack Obama shocked the country today with news that he is running for a third term.

"I can't abandon the American people now when they need me more than ever," Obama told reporters at a press conference today. "We've come this far as a nation, now is not the time to do something different. This is the change you wanted and this is the change you're getting."

Presidential hopeful Rand Paul of Kentucky told NBC News he does not agree with Obama and his announcement.

"This defies everything the Constitution stands for," Paul said. "We cannot let this man have a third term."

In the history of this country only two presidents have served more than two terms, Theodore Roosevelt and Franklin D, Roosevelt. The major problem for Obama when he runs in 2016, is the 22nd Amendment. In short, the 22nd Amendment states, "No person shall be elected to the office of the President more than twice…"

The U.S. Constitution does make an exception in the 22nd Amendment though:

"This article shall be inoperative unless it shall have been ratified as an amendment to the Constitution by the legislatures of three-fourths of the several states within seven years from the date of its submission to the states by the Congress."

This means Obama's third term presidential run is only valid if he receives 75% approval from the Congress, though insiders say Obama plans to make an executive order to ratify this.

Paul Horner, who is a spokesman for the Obama Administration, told reporters how fantastic this news is for the country.

"Obama is guaranteed to win in 2016 and then we will all be able to enjoy this great man for another four years. Things could not get any better for the American people. These are amazing times to be alive."

JAY: My beloved, you can only imagine how I joined many Americans who saw this announcement appear in the form of what seemed to be a "legitimate" news (media) coverage by an NBC news team. However, moments later, after seeking clarification and proof of this announcement, Sue and I discovered that Snopes.com indicated this report was FALSE. My immediate reaction was an exasperating sigh of relief, however, there continued to be influx of various news media formats that were flooding the Internet that this report was in actuality true. With all of these so called "rumors", "potential falsified reporting", "accusations" and "assumptions", I was still seeking Father for some kind of truth in this matter. I had deep concerns resulting in two issues: 1) Was this report untrue and a results of poor news reporting and a possible hoax?; 2) What was I strongly sensing in my spirit and why was there such an intense stirring occurring in me. I immediately began praying and sought out godly counsel and advisement from a reputable, credible woman of God who operates in the Gift of Prophecy and The Word of Knowledge.

After counsel with my dear friend, Glynda Linkous (Wings of Prophecy), we both felt strongly that there was something legitimate in this situation. In our time of counsel, the Holy Spirit reminded me of a Word of Knowledge He had given me in early 2015 concerning the 2016 Presidential Elections. I was in fellowship with my younger brother, Joe, and we were watching the Fox News reporters discussing the topic of the 2016 Presidential race and there was a heavy debate on whether Hillary Clinton would become the first woman president of the United States. There was also the question of which candidate could possibly represent the Republican Party and at the time, Jeb Bush, was one of the names mentioned. As this particular debate carried on, at times, feverishly and passionately, the Holy Spirit began to speak to me and He told me the following:

"Jay, there will not be the need for a Presidential Race in 2016 because President Barack Hussein Obama will remain in the Office as President of the United States under a particular "exception" to what is specified in the 22nd Amendment of the Constitution of the United States.

Before I continue with what the Holy Spirit was speaking to me that morning, I must say that I was regrettably unaware of what the 22nd Amendment of the Constitution referred to, so when the Holy Spirit made specific reference to this amendment, at the time, again, I did not know what this particular document stated concerning the Presidency and the issue of two terms allowed in office as President. This is why I was later amazed on how the Holy Spirit even made specific reference to the 22nd Amendment.

The Holy Spirit continued to speak to me in a very understandable and simplistic way — "There is an exception to the specifications of two terms in the Office of the President– the Congress must ratify this action with a 3/4 vote (which means 75% of the members of Congress must vote "AYE" in order to allow there to be an exception to the 22nd Amendment). There is another way in which President Obama can remain in office for a third term and that is if he signs into law an executive order that declares that the Nation is in dire straights– in other words Jay, the President can tell the nation that it would not be good for America to change leadership while the nation is in such a chaotic, unsettled condition. Jay, God has placed President Obama in office because it is all a part of the fulfillment of the last days. Obama is a pawn– a puppet being used by the Spirit of the Anti-Christ. This is not to say Obama is THE Anti-Christ, but rather, he is being used in this capacity. What will happen in 2016 will be a part of God's hand of orchestration in the fulfillment of The Book of Revelation".

After the Holy Spirit spoke to me that morning, I had a divine understanding and insight to what I believe is going to happen in the election of 2016. I realize there will be those who will think I have missed it and that I am not hearing from Father regarding this situation. I also realize, as a man who flows in the Gift of Prophecy and Word of Knowledge, that I am stepping out in faith (as all of God's prophets and prophetess' do and will continue to do in these last days), and I do not take what I am saying lightly my beloved brothers and sisters in Christ. As always, I would encourage you to "test the spirits" and seek Father for confirmation and clarification. I will not be offended if some of you would choose to discard, reject or ignore what I am declaring boldly is a Word from Father. Let God's Will be done on earth as it is in heaven. Amen! Spirit of Truth speak with divine insight and clarity to Father's Children.

After sharing this particular divine revelation from the Holy Spirit with my friend, Glynda Linkous, we both felt a strong concurrence and leading of the Holy Spirit to immediately prepare a broadcast where I would share of this divine insight I had received in the early part of 2015 concerning this issue.

Glynda and I prayed for Father's Spirit to lead us as we set forth in preparing for the interview process. Glynda, the host of the radio program Wings Radio, began the interview and Father was faithful with great liberty (for where the Spirit of the Lord is there is great liberty (2 Corinthians 3:17). As we recorded the broadcast, with the initial goal of getting this prophetic insight out to her listening audience, Glynda and I, both servants of Father, who operate and flow in the Gift of Prophecy and the Word of Knowledge, began to experience the entire broadcast was ladened with a heavy anointing in the Prophetic giftings and for an hour and a half, there was a continual flow of divine revelation– that came forth with a bold, articulate, clarity; addressing various societal issues, speaking about the coming judgment of God on America and the Revival that was also coming in the midst of Father's hand of judgment– there was great, blessed assurance given to God's people regarding His divine provision, safety, and the importance of His children rising up and positioning themselves in the Call that God has placed on their lives. There was much more with words of encouragement, and divine instruction to Father's Children. The broadcast will be filled with Prophetic voice(s) (Glynda and I flowing in such incredible unity), and there were also Words of Knowledge that came forth.

After we concluded the interview with Glynda and I both ending in prayers for the listening audience, we both strongly agreed this was a divine, ordained interview that needed to be broadcast immediately. Glynda made the decision and goal to have this interview aired the following day (Thursday, October 29, 2015). So I wanted to invite you, your family and friends (and anyone who is in a backslidden condition, as well as those who have yet to make Jesus Christ their Lord and Savior) to tune in to this particular radio interview. We feel this is an extremely timely message with a strong anointing in the Gifts of Prophecy, The Word of Knowledge and the Gift of Exhortation, that the Body of Christ must hear. As soon as Glynda has completed the necessary preparations in this broadcast, she and I will let everyone know the details concerning the scheduled airing of this important interview (divine time with the Holy Spirit).

May God prepare you to receive divine revelation with all wisdom, understanding and discernment. I wholeheartedly believe Father is going to speak with great clarity to those of you who have had questions and concerns regarding the future of America and your role in these last days. He is going to also confirm too many of you, things that He has been speaking to your heart concerning these end times we are living in. My beloved, we ARE living in the greatest season of the Body of Christ and Father is speaking collectively (and individually) concerning the Signs of the Times and what He is requiring of His people in these last days. Please prepare yourselves to receive all that the Holy Spirit is about to speak — from the very heart of Father "for such a time as this". Be abundantly encouraged and richly blessed!

Your brother in Christ,

Jay
---
The Dream of Obama from the 1980s From www.seventh-day.org
PUBLISHED and Released on May 2012
From A Danny Viera In His Modern Manna Ministry Newsletter 2008:
"The first dream takes place in the mid 80's from a pastor in California who ran an SDA end time/prophecy training center. His name was elder Jack Darnall. He is now deceased. One night he sponsored a Bible study at his home and as the guests were leaving, he pulled one of the men aside and told him that he was impressed to tell him an impressive dream that he had. "It was the time when Jesus returned to earth in power and great glory. America had an African-American president when Jesus returned. He was tall and thin, had close-cropped hair, and large ears. When elected, at first, he was greatly beloved by the people, but then he became a terrible dictator. The dream was not widely discussed, because at this time they could not see a black man being voted in as president with so much prejudice in the country still.

"Friends, I made a call to Patti, the woman mentioned in the third dream to confirm the first dream was true. Patti said, 'Yes, Danny, it is true. Elder Darnall told his wife, a friend, and a neighbor about the dream. Your web host of seventh-day.org, contacted the daughter of Jack Darnall in 2009 to verify this account. She said it is true. Her father told several people about this dream in the 1980s. He died that decade.
Read more at www.seventh-day.org
---
Prophet Efrain Rodriguez
"…President Obama asked the Congress to give him total authority – he asked all Congress and representatives that for [this] emergency he needs to have all power in his hands. Did you understand why? Because it should be shared, so you will be responsible all over the nation if this is made, that it should be amended because there is a great danger coming to you. The president asked for special powers, you know why? Because he's not going to leave the power during the event. During the event there will not be a substitute. There will not be election. Do you understand? I hope that Congress, who made the law, you will be responsible….

"The law that was signed in the US, for which the President has known all of the reasons, has taken advantage to have an absolute control over the entire nation. Believe me, he will stay there for a while, but he will not bless the people. This man does not love his nation. He does not love anything that smells like Christ. And for his second round, he has opened the door, showing what he is in the future. He is against the Christians. Every single law that he has recently signed indicates something very terrible. The Church will be persecuted"

"The mandate, the commandment from this man is a danger. The message should be sent to the congressmen: they need to revoke what they did. You're still on time. If you don't rebuke this right now where the event hasn't happened, the President will be in a very dangerous place with his family, recently done. Two years ago he just started doing this, ever since he heard the message of Jehovah. Please believe us, He will be underground with his family and with all of those who serve him, while the people are being massacred above ground"
Read more at theheavenandhell.net
---
Obama's 3rd Term

Place of Freedom shared a video about a dream she had in which she saw themes of martial law. Soldiers were walking right beside the vehicle coming down road ways. She noted she saw tan uniforms, and doesn't know the meaning of the color significance. She says the road she saw had two lanes, and these military vehicles were so large, they took up both lanes.
In the dream she mentioned her sister say they were conducting military exercises in her city as well. In the dream her sister and her lived in different cities, but what she understood was that exercises were being conducted in other regions as well. She mentions she lives in Georgia.
She goes on to say in the PAST she was shown a lot of things by the Lord about Obama, so when Obama ran the first time, her and her husband did not vote for him.
In the next dream she saw Obama behind a store, in a loading dock area. She describes it being dumpy and dirty. He was being interviewed by a news station about the election to come. He was answering questions and then 2 ladies, who were caucasian came up and had a bag of trash in their hands. They walked towards him and interrupted his interview. The topic of Donald Trump came up and the ladies became very angry at Obama. Then the women took the trash and poured it on his head. Obama became infuriated. The news outlet began to release a list of reports to the masses. She said that what were being released were "lies" by this news outlet. With the trash on his head… Obama was very angry and said… "this is why I have to run for a third term" The lies were reasons for him to push his third term agenda. He needed to push Trump out of his way, and that he needed to be removed.
She noted that this dream could have been just a dream, and is not claiming it to be prophetic.
Watch her video here
John Shorey

7-7-2016

I believe one of the most important prophetic truths that the Lord has shown me was that our current president would sell out America to the Global One World Government. I believe it was around 2010 that this revelation came to me.

When we were approaching the 2012 election, I was convinced that our then current president had to win the 2012 election. I was about to have my book, The Window of the Lord's Return, republished at that time and I was submitting my prophetic position on the election to one of my editors, she was upset and brought it to the attention of the Publishing Company. I received a call from the top and I was told that this is my book but I had to be careful not to date my book and make it irrelevant and he set a time for us to talk.

The thought that my book would become irrelevant shook me up and I went to the Lord in urgent prayer. I told the Lord, "How can my book become irrelevant if You called me to write it". Then I said to the Lord, "Lord I wish I could just open the Bible and it would open to a spot that the first words I read would tell me what was going on. I then said to the Lord, I know it is not right for me to ask this, so I retract this request. A few minutes later when I went from prayer to the reading of my Bible I still for whatever reason randomly opened my Bible and it opened to Ezekiel 30. When I read the first three verses, it blew my mind. I believe God wanted to show me that He is God and He can do what would seem to be impossible, because those first three verses were the answer to my question, "What is going on?"

Ezekiel 30:1-3 "The word of the Lord came to me: Son of man, prophecy and say: "This is what the Sovereign Lord says: "Wail and say, "Alas for that day!" For the day is near, the day of the Lord is near—a day of clouds, a time of doom for the nations."

This was three days before the presidential election of 2012. I was convinced at that point that even though it did not look like the current president would win a second term, I was convinced that he would.

This revelation that our then second term president would sell out America to the coming One World Government could be interpreted a couple of ways.

It could be that before his term would expire these events would transpire. Another option would be that he would not leave office; somehow the next election would not happen. Shortly I will share a recent prophetic word that says an election will be declared by default.

(Benjamin Faircloth)

Apparently during a time of martial law and a new president will be seated but our current president would not leave his seat of power. Thus staying in place to sell out America as I was lead to believe in 2010.

I have said all this to paint the picture of what sort of things must happen in 2016 to set us up for the Great Tribulation to start in 2017. Think about this, if the election is to be disturbed this November of 2016. If martial law is to be declared allowing our current President to stay in power, some incredible events must happen in the months before November of 2016.
---
Other Interesting Finds

---
This website does not list where this particular dream came from, or whose dream it is. I have no information beyond what you see here.

---
Eleisha Sadasey dream…..
First dream sometime months before Second November election

In 2012 I had a really interesting dream about the economic collapse. I was at home watching the news. A broadcaster on television stated this, "This is bad, This is really bad, Oh my God this is bad, This is worse than Greece, Ladies and gentlemen the dollar has just collapsed America is no more, please stay tuned for a message from our former president Barak Obama (this was before he was elected a second time!) Barak's speech, " My fellow Americans, this is not a tragedy but an opportunity. Now we can all unite under a common currency. He stepped off stage and a blurred figure replaced him who I understood in my spirit to be the AC than I woke up. I was not into politics at this point but I diligently tried to not get Obama elected because of this dream. I also saw a child open a history book and saw the fall of America written inside, this exact image was In a movie I saw a month or 2 after the dream!
---
Kerry-Ann Gidden October 17 at 5:25pm ·
Hi guys I want to share a few things with you.
Firstly let me say that I am one of the watchmen on the wall who is in that "camp" that totally believe Obama will remain in power at whatever cost. He will get a third term!
On October 12 2016 I saw in my spirit huge unprecedented protest all across America after Hillary wins the election. Martial law was then implemented by Obama and he remained in power Hillary was not sworn in.
On October 16 2016 I saw on the news Donald Trump telling the people that the election is "RIGGED"… This coincide with what I saw in my spirit about the huge protest because Donald Trump and Hillary Clinton are both working for lucifer….
Unfortunately Mr Trump is sowing the seed of discord by pumping up the people "RIGGED ELECTION" setting up for huge protest when Clinton wins.
You need spiritual eyes to see what's going on behind the spiritual veil…
---
Koko Denton Obama will remain…confirmation. 2009 is when this was revealed to me.
Shari Dale I have not voiced the revelations I've received concerning neither candidate. This total election has captured people in a negative way causing division, bickering, arguing. This is a total and complete distraction by the adversary and many Christians has fallen, and leading the disagreements. I want no parts of the deceptions.
Angela Mathis I had a vision in 1999 right after I brought my house. I had a vision that every where I went there were soldiers every where. If you went to the store soldiers were in the store and on the street. When I came out of the vision, I ask God why did he show this to me. It was so real. I would not lie on God. He did not say anything. About a month ago he bought this vision brought to me, because I had forgotten all about it. The vision is for such a time as this. About two years God has put on my heart something is coming and whatever it is, it is going to be goble. GOD ask me to start teaching on the Church receiving the Gift of the Holy Ghost because of what is coming, the Church is not ready. THE Church is on BABY FOOD and not MEAT. GOD Show me this is an evil demonic election. It grieves my heart because the Church has been DECEIVED. I just started using Facebook and looking at YouTube about a month ago. I did not know others were receiving the same message, that President Obama might be our last President. What this you lady is saying God has told the me the same thing.
Except America will be bought to her knees but God is not going to destroy her because of the Saint in America and GOD is going to use her to help the Jews. This young lady is telling the TRUTH that is what I have been sensing in my spirit to. We just have to wait on God. I am praying that the Church will be STRENGTHENED for what is to come.
BE BLESSED and keep looking up
---
Eleisha Sadasey I guess it's time to reveal I had one dream of Obama right before 2012 elections. This dream was about the end of America and the economy collapse. Obama got on stage and told us it was not a tragedy but opportunity. Then the AC took power but I did not see who it was. America was no more.and a word spoken to me right after 2012 presidential elections I was watching a speech made by Obama about osama bin laden and I heard very clearly and audibly. It sucks gets a third term doesn't it? I was like ok. I now feel Sukkot is so important I can't explain it I feel the 8th day might be the supper described in the parable though of the master and servant!
Save
Save
Save
Save
Save
Save