Meranda Devan's NOTE
I am compiling a series called "Election 2016 Prophecies- Which Are Correct ?" in which I hope to review all the prophecies about the coming election, and events which relate to it.
It seems like there are prophecies on the internet for Trump being elected, others say Obama is going to stay in the Office, and even that Hillary will win.
Through this process, I hope to gain some better clarity for myself. This is one of many more prophecies I hope to review.
In these dreams below, Obama stays in power. Some people see Obama as the last president, others see him declaring martial law for a season.
Below are even more prophetic dreams or videos that involve Obama staying in that I haven't had a chance to look through. You would be surprised just how many dreams involve Obama.

Meranda
---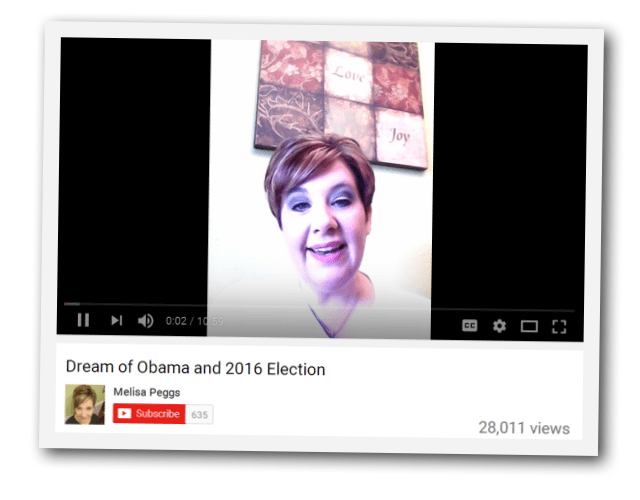 Melisa Pegs is a prophetic voice on Youtube. On her youtube channel on May 1, 2016 she posted a dream about the elections. In her dream, she arrived to vote, and what she found was Obama posters hung on the walls. On the voting ballet, only Obama's name appeared. She went into both the Democrat and Republican rooms and both rooms had only Obama's name on the ballet.
I had a dream about 3 years ago that Obama signed the peace treaty.All the people in our government work for the same team. They all working toward the NWO.So many Christian's aren't awake yet. They think Trump especially is going to save America. It isn't going to happen. I was shown in my dreams no 2016 elections. I saw Obama's name all over the ballot, no one elses. When asked God about the 2016 elections or primaries He said for me to keep my eyes on Him and God told me they were going to use it as a distraction.
---
Save
Save
Save
Save
Save