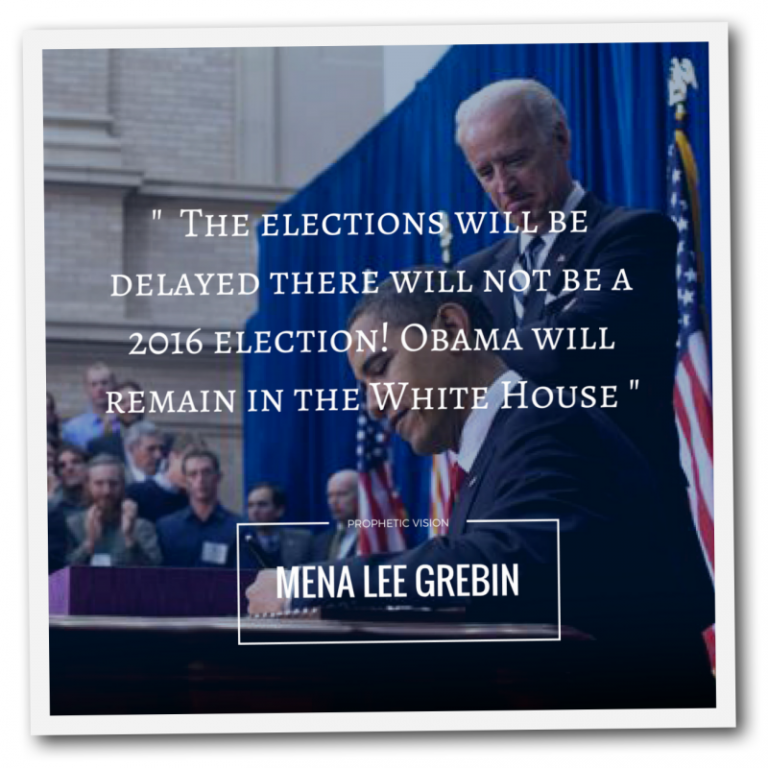 Meranda Devan's NOTE
I am compiling a series called "Election 2016 Prophecies- Which Are Correct ?" in which I hope to review all the prophecies about the coming election, and events which relate to it.
It seems like there are prophecies on the internet for Trump being elected, others say Obama is going to stay in the Office, and even that Hillary will win. Through this process, I hope to gain some better clarity for myself. This is one of many more prophecies I hope to review.
In 1987 the Lord gave Mena Lee Grebin a dream, in which He showed her that the person would come out of Chicago who would destroy the freedom of this nation. In the dream she was walking past newspaper stands looking at headlines.. One announced "America's Freedom Is Over". In the dream she couldn't see the actual face of the person on the front cover, just a silhouette, but she had understanding that it was the President of the United States and that this person was from Chicago.
Then in July 2016 Mena Lee was given a time frame of 3 to 6 months for things to start falling part from the July marker which would put us into the election time frame.
In Stan Johnson's notes from the Prophecy Club, he mentions a 2015 Vision of hers where she asked an angel if Hillary would win. The answer was that the elections would be delayed.
Angel visit: I ask the angel, "Will Hillary will win in 2016?"

The elections will be delayed there will not be a 2016 election! Obama will remain in the White House.
We shall see how this plays out.
Meranda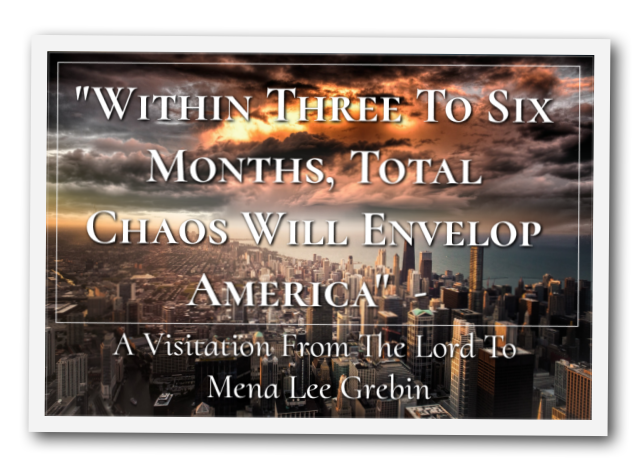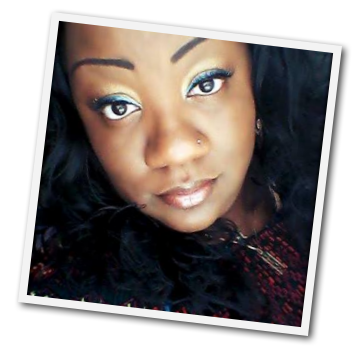 Mena Lee Grebin
July 2016
"Jesus then looked at me and with a stern voice said, "Within three to six months, total chaos will envelop America, and a pandemic will spread across the world." He then gave me understanding that the two events are separate, and I wasn't given a time frame for the pandemic" Read more here
Stan's notes gathered from about hour hours of her speaking:

Vision: Newspaper "America's freedom is over" saw a silhouette was of a future president that was from Chicago [Obama]

Prophecy 2004: "The next president after Bush would be the president we would have to worry about because he would be the president that would lead us into the tribulation"

April 2008: Had a dream "Obama is the person to fulfill 'power was given to him that sat thereon to take peace from the earth, and that they should kill one another: and there was given unto him a great sword." (Rev 6:4)

When Israel had to return to their 1967 borders America had to return to her 1967 borders.

"A recession within a recession is coming." The cities will burn. I saw riots in the streets neighbors were fighting each other. The LORD said, "The violence will increase due to fear." Have at least one year's food and supplies including water! Everything that needs to get done must be done by the end of the 2015 summer. Buy food and supplies.

Many Christians will be greatly blessed in this time of need.

Spring 2014: I saw the Rider on a Black Horse riding across the months Sept Oct Nov Dec 2015. A day's wages for a loaf of bread. Many small businesses will fail in 2015. Those depending upon the government will fall, the housing market will crash again. Warn the people, those who know me will be sustained, but not everyone who says they belong to me belongs to me.

As the nation is prepping for catastrophe, heaven is prepping for revival. The revival will start on the east coast and spread to the west coast.

The drought in California is going to grow worse and spread. Starting in Sept 2015 and carrying into next year it is a time of Jubilee.

2015 Vision: I saw newspaper "575,000 jobs lost."

Angel visit: I ask the angel, "Will Hillary will win in 2016?"

The elections will be delayed there will not be a 2016 election! Obama will remain in the White House.

"JADE" ( Joint Assisted Deployment & Execution ) "HELM" ( Homeland Extermination of Local Militias ) is preparation for Martial Law and the disarmament of America and Texas is the primary target.

Prophecy Specifically to the Churches of America:

Feb 2015: Visitation of the LORD: She was directed to use, "Thus saith the LORD"

Thus saith the LORD. What is coming upon this nation will affect many who claim to follow me this is because not everyone who is a part of the Church I call my bride.

Many believe that they will be shielded from this judgment when in fact they will go through it.

Not everyone who calls upon my name will enter into my Kingdom. For every ten people who pray to me and declare me as their LORD I only know one.

Thus said the LORD God I have sent you my Prophets to warn you of your disobedience and your pride but you have rejected them. You have chosen to follow those who only speak smooth words and deception and I have not sent them. They are not my Prophets. Therefore when I pass judgment on this nation you will feel it. Repent says the LORD of Hosts. Turn to me and seek my face. For the day of the Lord is at hand and know that even in my judgment I am merciful.

There for my judgment will be issued upon the United States of America according to Isaiah 17:10 & 11

ISA 17:10 Because thou hast forgotten the God of thy salvation, and hast not been mindful of the rock of thy strength, therefore shalt thou plant pleasant plants, and shalt set it with strange slips:

11 In the day shalt thou make thy plant to grow, and in the morning shalt thou make thy seed to flourish: but the harvest shall be a heap in the day of grief and of desperate sorrow.
---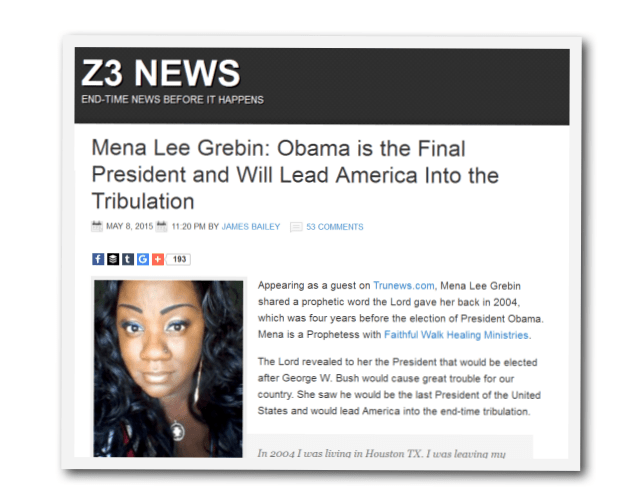 "In 2004 I was living in Houston TX. I was leaving my apartment complex one day and this man stopped me. He was trying to get a petition signed to impeach President George Bush, who was President at that time. I thought it was hysterical because we lived in Houston TX where they named airports and grammar schools and streets after him. I remember stopping this man and telling him, "Bush is going to win a second term. He is not the one we need to be worried about. The President that comes after Bush is the one that we would need to worry about because he would be the last President of the United States and he would lead our country into the tribulation." z3news.com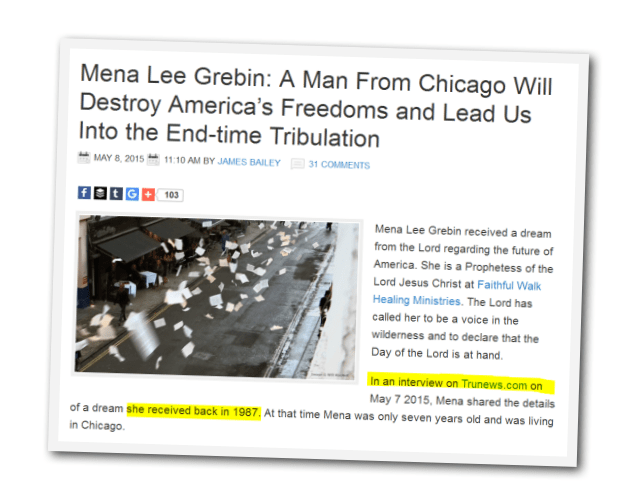 In an interview on Trunews.com on May 7 2015, Mena shared the details of a dream she received back in 1987. At that time Mena was only seven years old and was living in Chicago.
"She saw the newspaper had a headline stating: "America's Freedom is Over". She picked up the newspaper and saw the headline story was about the President of the United States. There was a photo of him on the front cover, but it appeared as a silhouette so she was not able to see his face, but she knew it was the President. She also knew this President came from Chicago". See more at Z3news.com
---
054- Mena Lee Grebin- Chaos Is Coming To America- Imminent Warning!
In Episode 054 of A Minute to Midnite Mena Lee Grebin joins Tony, and reveals three prophetic dreams & visions that she has received in the last three months. Beginning with a visitation she had just last week, and a dream/vision that involves President Obama and imminent chaos that is coming to America. From there she discusses Donald Trump, and what she was shown regarding Mr Trump and the expectations of the evangelical church regarding his Presidential candidacy. A third dream involves a meteor and a tsunami to hit the east coast of America. This is an important interview and brings some powerful warnings that we believe should be taken seriously and digested prayerfully.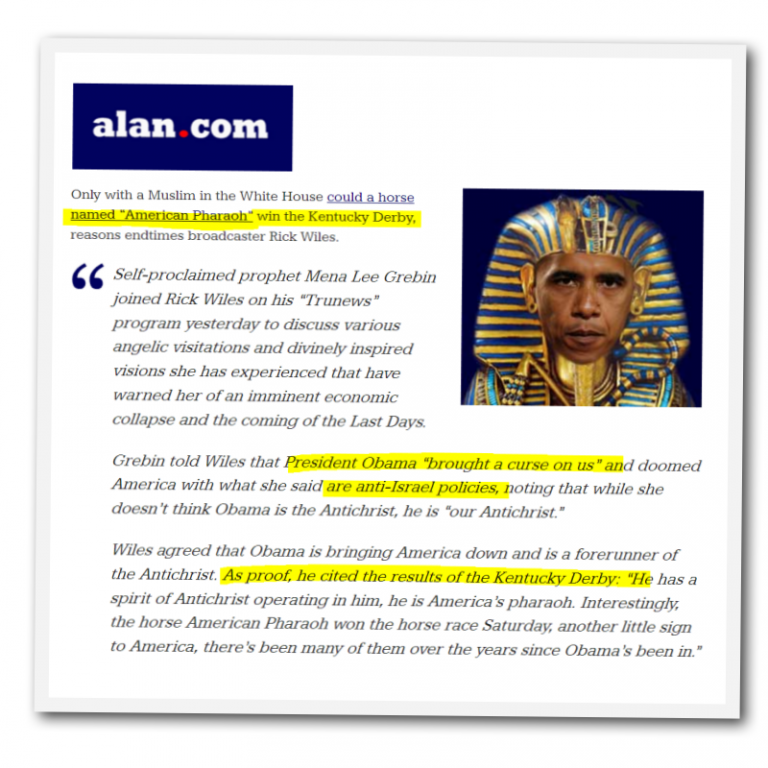 Save
Save