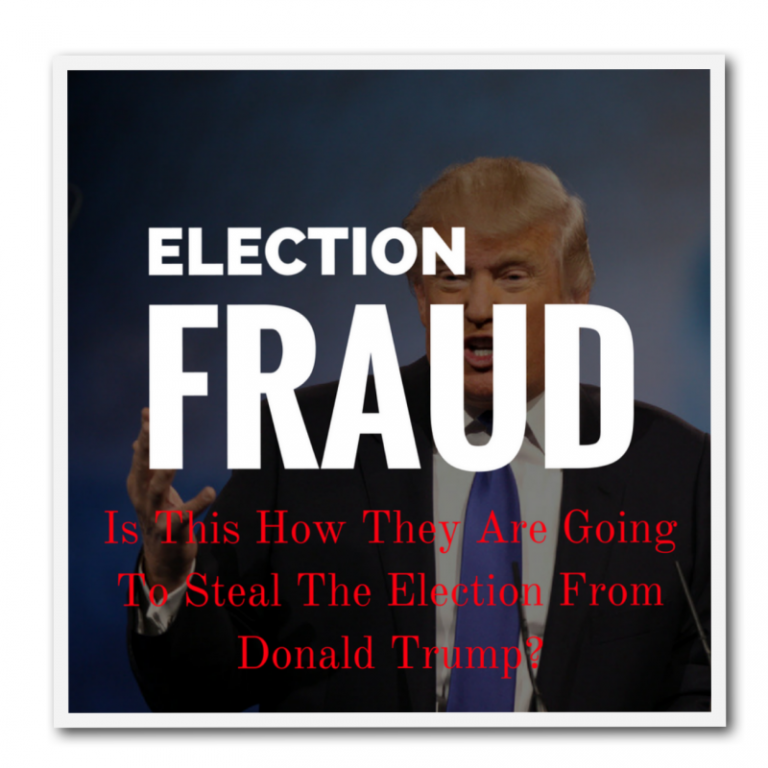 Major Election Fraud Alert – Is This How They Are Going To Steal The Election From Donald Trump?
Michael Snyder
The Economic Collapse Blog.com
Every ounce of effort that ordinary Americans have put into getting Donald Trump elected could be completely wasted if we allow them to steal the election.  If you have confidence in the integrity of our elections, that confidence will be shaken by the time you are done reading this article, because I am about to share some information with you that is absolutely astounding.  Yesterday, I showed you that dead people are being registered to vote right now and that they have been voting in elections across the country for years.  I also showed you that illegal immigrants have been voting in important swing states such as Virginia and Pennsylvania.  But all of that pales in comparison to the evidence of systematic election fraud that we witnessed on election day in 2012.
Because Mitt Romney threw in the towel very early on election night in 2012, very little scrutiny was given to the actual voting results.  But if Romney had been willing to fight, there was actually quite a bit of evidence that the election was potentially stolen from him.
According to the Election Protection Coalition, voters all across America reported over 70,000 voting problems by five o'clock Eastern time on election day in 2012.  In many instances, voters that were attempting to vote for Mitt Romney were having their votes switched to Barack Obama by the voting machines.  We are going to look at some examples of this phenomenon below.
In particular, we want to focus on the swing states, because that is where most of the voting irregularities seem to have popped up.  If you are going to steal an election, you don't really care too much about the really "red states" or the really "blue states".  Rather, the key would be to shift enough votes in the tightly contested swing states to ensure a victory for your candidate.  And so let's take a look at what happened in some of the most important swing states during the last election.
Ohio
During election night in 2012, the pundits breathlessly proclaimed that it was all going to come down to Ohio.  They told us that if Mitt Romney was going to have any chance of winning the election that he had to win Ohio, and so that was the state to watch more than any other.
One of the counties where Barack Obama really needed to run up votes was in Cuyahoga County.  But Barack Obama didn't just solidly win in Cuyahoga County.  In fact, there were 16 precincts were Mitt Romney did not receive a single vote.
Yes, you read that correctly.
Earlier today I went to the official Cuyahoga County website, and the results from the last election are still up.  The following are the vote totals for Barack Obama and Mitt Romney in the precincts where Mitt Romney did not get any votes…
0154 CLEVELAND -02-Q: 542 – 0
0192 CLEVELAND -04-L: 388 – 0
0204 CLEVELAND -05-E: 597 – 0
0205 CLEVELAND -05-F: 483 – 0
0206 CLEVELAND -05-G: 257 – 0
0219 CLEVELAND -05-T: 386 – 0
0228 CLEVELAND -06-H: 405 – 0
0232 CLEVELAND -06-L: 70 – 0
0233 CLEVELAND -06-M: 419 – 0
0241 CLEVELAND -06-U: 118 – 0
0248 CLEVELAND -07-F: 361 – 0
0273 CLEVELAND -08-J: 472 – 0
0280 CLEVELAND -08-Q: 49 – 0
0285 CLEVELAND -09-B: 414 – 0
0288 CLEVELAND -09-E: 478 – 0
0523 EAST CLEVELAND -04-C: 486 – 0
There were also a whole host of precincts in Cuyahoga County where Mitt Romney received just one or two votes.  Overall, Barack Obama won more than 99 percent of the vote in more than 100 precincts in just this one county.
How in the world does that happen?
Well, I think that what ordinary voters were telling reporters on election day in Ohio gives us a big clue.  According to Fox News, there were voters in Ohio that said that they tried to vote for Romney but the voting machines kept switching their votes to Obama…
"I don't know if it happened to anybody else or not, but this is the first time in all the years that we voted that this has ever happened to me," said Marion, Ohio, voter Joan Stevens. 

Stevens said that when she voted, it took her three tries before the machine accepted her choice to vote for Romney.

"I went to vote and I got right in the middle of Romney's name," Stevens told Fox News, saying that she was certain to put her finger directly on her choice for the White House.

She said that the first time she pushed "Romney," the machine marked "Obama."

So she pushed Romney again. Obama came up again. Then it happened a third time.

"Maybe you make a mistake once, but not three times," she told Fox News.
At the time, Fox News also reported that similar things were happening in Nevada, North Carolina and Texas, but once election day faded from memory nobody really seemed to care about these incidents anymore.
Pennsylvania
Pennsylvania is another very important swing state, and as the 2012 election approached the Romney campaign was actually somewhat optimistic that they may have a shot of winning the state.
And it turned out that Mitt Romney did win 55 out of the 67 counties in Pennsylvania, but he still managed to lose the entire state by a significant margin because of the crazy vote totals that Obama ran up in the urban areas.
If you can believe it, there were 59 voting divisions in the city of Philadelphia where Mitt Romney did not get one single vote.
The combined vote total for those 59 voting divisions was 19,605 for Barack Obama and 0 for Mitt Romney.
The odds of that happening by random chance are so low that they are not even worth mentioning.
So how does something like that happen?
Well, the overall voter turnout rate in the city of Philadelphia was approximately 60 percent on election day in 2012.  But in the areas of the city where Republican poll watchers were illegally removed, the voter turnout rate was over 90 percent and Barack Obama received more than 99 percent of the vote.
You would think that the Republican Party should have screamed bloody murder about this, but instead they did absolutely nothing.
And once again, voting machines were switching votes from Mitt Romney to Barack Obama in Pennsylvania.  The following was reported by WND at the time…
It was in Upper Macungie Township, near Allentown, Pa., where an auditor, Robert Ashcroft, was dispatched by Republicans to monitor the vote on Election Day. He said the software he observed would "change the selection back to default – to Obama."

He said that happened in about 5 percent to 10 percent of the votes.

He said the changes appeared to have been made by a software program.

Ashcroft said the format for computer programming has a default status, and in this case it appeared to be designating a vote for Obama each time it went to default.
So would Mitt Romney have won the state of Pennsylvania if the voting had been fair?
We may never know the answer to that question.
Florida
In the critical swing state of Florida, there were also a number of key precincts where Barack Obama received 99 percent of the vote.  The following was reported by Pundit Press…
How exactly did he accomplish this? Well, in part thanks to Broward County Precincts L024 to L029 (though I'm sure it's all a coincidence that this happened to precincts all in order).

In those precincts combined, all in order, Mr. Obama won over 99% of the vote, defeating Mitt Romney 5,392 to… 54. Golly, how lucky! This especially impressive because in precincts L019-L022 (L023 doesn't exist) Mr. Romney did over 14 times better than in L024-L029, and the precinct after, did 30 times better.
Most Americans have never even heard any of this information.  And remember, in this article we are looking at just a few examples from the most critical swing states.  The truth is that these kinds of "statistical anomalies" were happening all over the nation.
Virginia
In the important swing state of Virginia, a poll watcher named Dara Fox tried to sound the alarm about rampant voting fraud, and it should have made front page news all over the country.  The following is what Fox told WMAL radio about what went down…
-That it appeared that voters for Obama were being bussed in.
-That many of them could not speak English at all.
-That many of them could not even tell poll workers the correct address on their identification cards.
-That many people were voting more than once at that same polling station throughout the day.
Colorado
It appears that funny business was happening in swing states out west as well.  Somehow, 10 counties in the key swing state of Colorado had a voter registration rate of more than 100 percent on election day in 2012.
Theoretically this is impossible.  If all of the voting age people in your county registered to vote you could have a voter registration rate of 100 percent, but to go beyond that means that something is seriously wrong.
And yesterday I did show that authorities in Colorado have discovered that there is a "very serious" pattern of dead people casting votes in the state that goes back for many years.
This is why states should be allowed to require photo identification at voting locations.  The integrity of our voting process has been compromised over and over again, and anyone that tries to steal an election is committing a crime against all of us.
It is a fact that Barack Obama did not win in a single state that required a photo I.D. to vote in 2012.
So what would the election results have looked like if all 50 states had required a photo I.D. to vote?
We can't go back and change what happened in 2012, but we sure can do something about 2016.
If you see something strange when you go to vote in November, do not just keep it to yourself.  If nobody in the mainstream media will listen to you, then contact me or someone else in the alternative media.
Collectively we need to scream bloody murder if they try to steal this election.  And if there is one thing that we know about Donald Trump, it is that he is not afraid to file lawsuits.  But the Trump campaign cannot be everywhere, and it is up to ordinary men and women to report any signs of trouble that they see or hear on election day.
If we will not fight election fraud, we might as well not even have any elections.  Because what is the point of spending so much time and effort trying to get someone elected if we are just going to let them steal the elections from us?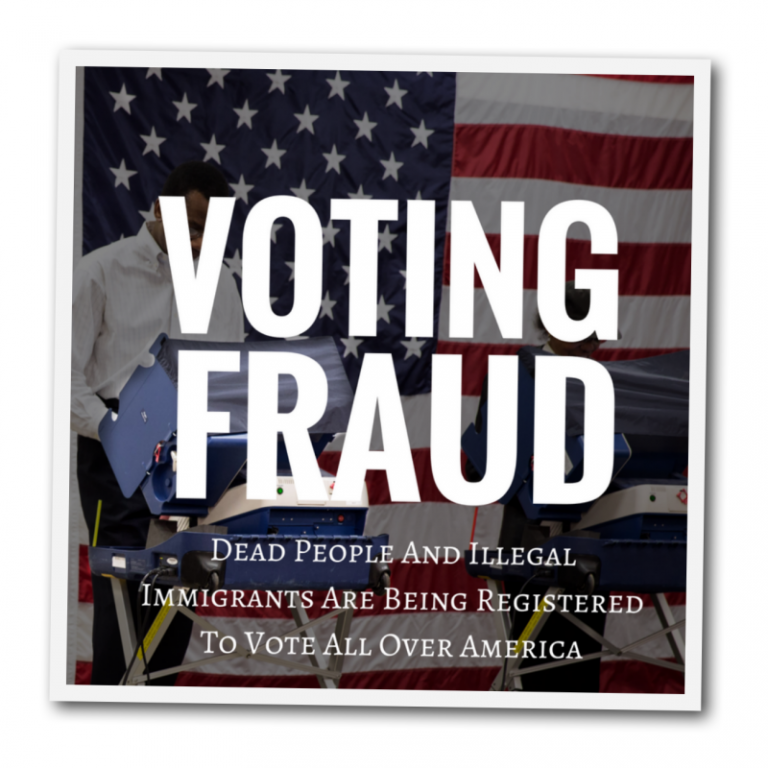 Dead People And Illegal Immigrants Are Being Registered To Vote All Over America
Michael Snyder
The Economic Collapse Blog.com
Without free and fair elections, what hope is there for the future of America?  The integrity of our voting process is of the utmost importance, and yet so little attention is being paid to it.  Later this week I am going to share some documented facts about voting fraud during the 2012 election that most Americans have never even heard about, and it is absolutely imperative that we don't allow this kind of funny business to happen again this time.  Today, I am going to share some examples of how dead people and illegal immigrants are actually being registered to vote all over America.  Despite very strong and very angry denials by the mainstream media, the truth is that election fraud is absolutely rampant in this country, and when someone tries to steal an election they are committing a crime against all of us.
Let's start with what just happened in Virginia.  A college student at James Madison University is under investigation for registering 19 dead people to vote so that he could vote for Hillary Clinton a whole bunch of times…
Just yesterday we wrote about an FBI investigation into potential voter fraud in the critical swing state of Virginia after it was revealed that 19 dead people had recently been re-registered to vote (see "FBI Investigating More Dead People Voting In The Key Swing State Of Virginia").  While the Washington Post caught wind of the investigation, it was not known who was behind the operation…until now.

Meet, Andrew Spieles, a student at James Madison University, and apparently "Lead Organizer" for HarrisonburgVOTES.  According to the Daily News-Record, Spieles confessed to re-registering 19 deceased Virginians to vote in the 2016 election cycle.

While this should come as a surprise to precisely 0 people, Spieles just happens to be Democrat who, accorded to a deleted FaceBook post, apparently recently ran for Caucus Chair of the Virginia Young Democrats.
In recent weeks I have been researching election fraud extensively, and almost every time it involves Democrats.  Perhaps they take lying, cheating and stealing a lot less seriously than Republicans do.  This student at James Madison University was caught when a note congratulating a deceased veteran for registering to vote was sent to his family.  The following comes from the Washington Post…
One case came to light after relatives of a deceased man received a note congratulating him for registering, Rockingham County Commonwealth's Attorney Marsha Garst said Thursday.

"His family members were very distraught," said Garst, who confirmed the existence of the FBI and police investigation but said she could provide few details because the case is ongoing.
Of course there are lots of other examples of this kind of thing happening around the nation.  In the swing state of Colorado, an investigation has uncovered a "very serious" pattern of dead people actually casting votes in multiple elections.  One has to wonder how long this has been going on…
Local officials in Colorado acknowledged "very serious" voter fraud after learning of votes cast in multiple elections under the named of recently-deceased residents.

A local media outlet uncovered the fraud by comparing voting history databases in the state with federal government death records. "Somebody was able to cast a vote that was not theirs to cast," El Paso County Clerk and Recorder Chuck Broerman told CBS4 while discussing what he called a "very serious" pattern of people mailing in ballots on behalf of the dead.

It's not clear how many fraudulent ballots have been submitted in recent years. CBS4 reported that it "found multiple cases" of dead people voting around the state, revelations that have provoked state criminal investigations.
It also turns out that dead people have been voting in California.  In fact, one dead man in the state has been casting votes since 2004, and authorities have found "hundreds" of similar examples…
"He took a lot of time choosing his candidates," said Annette Givans of her father, John Cenkner.

Cenkner died in Palmdale in 2003. Despite this, records show that he somehow voted from the grave in 2004, 2005, 2006, 2008 and 2010.

But he's not the only one.

CBS2 compared millions of voting records from the California Secretary of State's office with death records from the Social Security Administration and found hundreds of so-called dead voters.
Do these instances of voting fraud make you angry?
If so, that is good, because they should.  Countless numbers of Americans have laid down their lives to give us the right to vote, and the people behind this vote fraud are making a mockery of their sacrifices.
In the swing state of Pennsylvania, an investigation has found dozens of instances where illegal immigrants have been allowed to vote in recent elections…
At least 86 non-citizens have been registered voters in Philadelphia since 2013, and almost half — 40 — even voted in at least one recent election, according to a legal group that sued to get voter registration records.

Joseph Vanderhulst, an attorney with the Public Interest Legal Foundation, noted Philadelphia knows about those 86 illegal voters only because officials received specific requests — in almost every case from the voters themselves — to remove the names from the rolls. He said there is no way to know how many non-citizens might be registered to vote in Philadelphia, let alone in the rest of politically crucial Pennsylvania.
But of course Pennsylvania is far from alone.  It also turns out that lots of illegal immigrants have been voting in Virginia…
Philadelphia becomes the latest jurisdiction that the Public Interest Legal Foundation has revealed to have irregularities in the voter rolls. The group recently found 1,046 non-citizens who had been registered to vote in eight Virginia counties and that nearly 200 cast ballots between 2005 and 2015.
It should be obvious to anyone with an ounce of common sense that we need to tighten up our voting laws and that we need much stricter enforcement.  Unfortunately, Democrats typically fight tooth and nail against such measures.
In Indiana, state police just raided a voter registration agency that appears to have been involved in a voting fraud scheme that spanned nine counties.  What they have uncovered so far is extremely alarming…
Police said the growing number of involved counties leads investigators to believe that the number of fraudulent records might be in the hundreds.

The possible fraudulent information is a combination of fake names, addresses and dates of birth with real information.
No matter what your political perspective is, the facts that I just laid out should deeply disturb you.
There are documented incidents of voting fraud all over the nation, and it is inexcusable that dead people and illegal immigrants are being allowed to cast votes in our elections.
And later this week I am going to share with you some absolutely amazing evidence that a systematic attempt was made to alter the outcome of the last presidential election.
If we don't stop these crooks from messing with our elections, it is just going to keep happening over and over again.  So if you see something strange when you go to vote in 2016, please let me know, because I plan to make this a major issue if there is evidence of fraud this time around.
Save