If you are looking for an alternative website to connect up with believers you might want to consider Christian Faithbook.
While you would think everyone is on the most popular networking site facebook…. a large amount of people say they want nothing to do with facebook. Many people are put off with the Big Brother monitoring and facial recognition software which records every conversation and post you share.
Christian Faithbook is entirely Christian based and comes with a yearly membership of $9.95 per year.
---
I'm Quitting Facebook to Join Faithbook
---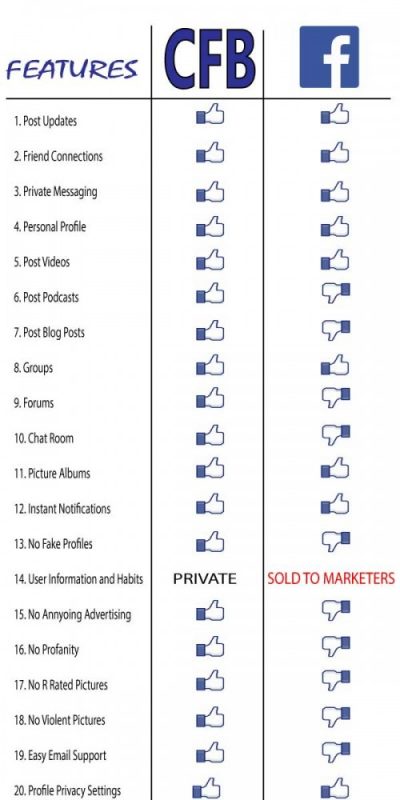 Whether you realize it or not, your use of Facebook, Twitter, and other social networks is costing you. It is costing you….
Your Privacy Each of these social networks place tracking cookies in your browser to track EVERY website you go to in order to show you advertising from those websites. Just visit Amazon and then watch the ads you see on Facebook.
Your Control You do not have control over the content that is shown to you on these networks. This is why at times you see game invitations, corporate advertising, and some friend of a friend's inappropriate language or pictures.
Your Safety Because the other social networks are free to join, millions of fake profiles are made with the intent to defraud people. Every day Facebook deletes 20,000 fake profiles that are reported to them. That is over 7 million per year. You and your family is at risk because of these fake profiles.
Taking that into consideration, Christian Faithbook is handling social networking with integrity and transparency. We believe social networking is a good idea, but not how it is being handled by the major corporations currently.
We believe that the more excellent and ethical way is to just ask a minuscule amount of support to pay for our bills. 3 cents per day. It takes 100 members just to buy us a cup of coffee each day. That is more than fair for the services and features we provide. In fact, it is a steal.
We believe that if you consider carefully the real costs of using "free social networking" you will join us in our vision to have a place where people can connect, make friends, fellowship in the things of God, and do so without compromising their values and beliefs.
---
My name is Duke Taber and I am the pastor of Mid-Peninsula Vineyard Christian Church which is the greatest honor I have received in my life. However I am writing you about a project I have been working on for the past 2 years called Christian Faithbook
2 years ago I woke up in the middle of the night with an idea that wouldn't go away. The idea was to provide a safe place for Christians to gather on the internet that would be free of profanity and inappropriate images. Soon CFB was born.
Just last week I was reminded about how important this service to Christians is. I was drinking my morning coffee and checking up on what was going on with the members of my church when a picture showed up in my news feed on Facebook of a man with no clothing other than a form fitting "sock" on his genitals. Needless to say, I was not happy.
I am sure you have had similar experiences with images, videos, or just the language that some people use.
I would like to invite you to consider this.
Proverbs tells us to
"Guard your heart above all else, for it determines the course of your life." (Proverbs 4:23)
and the Apostle Paul encourages us in the book of Philippians chapter 4 and verse 8
"And now, dear brothers and sisters, one final thing. Fix your thoughts on what is true, and honorable, and right, and pure, and lovely, and admirable. Think about things that are excellent and worthy of praise."
Christian Faithbook is the higher standard in social networking.
There is…..
• No Profanity
• No Inappropriate Images
• No Advertising
• No Selling Of Personal Information
And there are more features and benefits than ANY other social network
Christian Faithbook is part of the Taber's Truths family of Christian websites. It is wholly owned and operated by Pastor Duke Taber. Christian Faithbook was started on January 21st 2013.
Pastor Duke pastors a church that is a member of the National Association of Evangelicals. All Taber's Truths websites ascribe to their statement of faith. Members of Christian Faithbook are responsible for their own beliefs.
Taber's Truths Christian Websites
72 Palm Dr
Union City CA
94587