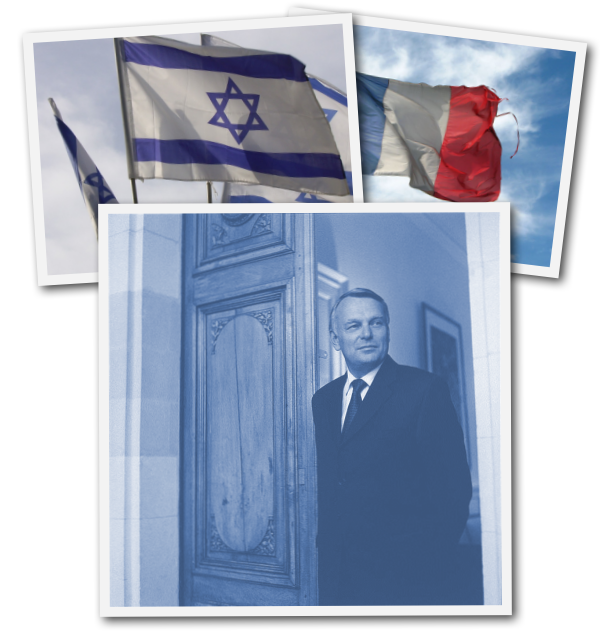 French President François Hollande said on Tuesday that the international conference planned for late May to relaunch peace talks between Palestinians and Israelis had been postponed until the summer.
The statement followed French Foreign Minister Jean-Marc Ayrault's statement on Sunday that France will not cancel its plans for an "Israeli-Palestinian" peace summit on May 30, despite Israel's objections.
"This initiative is necessary because if nothing happens, if there is no strong French initiative, then colonisation, attacks, terrorist attacks and several conflicts are going to continue," Hollande told Europe 1 Radio.
Although the Palestinian Authority and Israel are not invited to the summit, the goal of bringing 20 nations together to discuss the Israel-PA peace process "is to encourage them to return to the negotiating table," Ayrault said Sunday.
While the French minister said the two sides "need to carry out direct negotiations," he argued that "they need external help" because the process is stalled.
Israeli Prime Minister Benjamin Netanyahu slammed the upcoming conference as unhelpful and ineffective. Netanyahu has repeatedly said that peace talks can continue at any time the PA leader Mahmoud Abbas steps up to the table.
However, Abbas has refused time and again to meet and negotiate.
Ayrault said on Sunday, "I will not ask him [Netanyahu] to come to the meeting on May 30; he wasn't invited. Only at a second date [would he be]. So I understand his disagreements, but it only convinces me of the need to do something to move this impasse."
The French summit would follow "the 2002 Saudi peace initiative — approved by the Arab League (but not Israel) — which called on the Jewish state to withdraw from Palestinian territory captured in the 1967 Six Day War, including East Jerusalem, in exchange for a normalization of ties with Arab countries." The plan also "outlined the creation of a Palestinian state" in Judea, Samaria, and Gaza. (Times of Israel)
Ayrault sees France's strategy as the only option.
"We must demonstrate that the path that we are proposing will be the one that will allow for an exit out of the extremely serious situation, the impasse, which we find ourselves in," Ayrault said.
France's peace summit does have support from the PA, which perhaps expects that gathered nations will censure Israel.
This expectation seems reasonable in light of the resolution adopted last month by UNESCO (United Nations Educational, Scientific and Cultural Organization). That resolution was backed by France and denies the historical Jewish connection to the Temple Mount.
At the Israeli Cabinet on Sunday, Netanyahu said he told Ayrault "that the scandalous resolution accepted at UNESCO with France's support — that
d

oes not recognize the bond of thousands of years between the Jewish people and the Temple Mount
— casts a shadow over the impartiality of the entire forum France is trying to convene."
(Arutz Sheva)
On April 11, 2016, the Executive Board for UNESCO passed a resolution in Paris that called Israel "the Occupying Power"; the Western Wall Plaza "al-Buraq Plaza" (after Muhammad's donkey); and the Temple Mount platform "al-Aqsa Mosque/Al-Haram Al-Sharif."
This twisted resolution, which was submitted by Algeria, Egypt, Lebanon, Morocco, Oman, Qatar, and Sudan, accused Israel of violating the "status quo" on the Temple Mount, of "continuous storming" of the Mount "by Israeli right-wing extremists and uniformed forces," and of "continuous Israeli aggressions against civilians including sheikhs and priests."
It also falsely accused Israel of "continued conversion of many Islamic and Byzantine remains into the so-called Jewish ritual baths or into Jewish prayer places."
Following the passage of the resolution, Netanyahu submitted a letter to French President Francois Hollande strongly criticizing France's support of "rewriting a basic and irrefutable part of human history."
"While we have no illusions regarding the United Nations' commitment to truth or fairness, we were frankly shocked to witness our French friends raising their hands in favor of this disgraceful decision,"
"The international validation of Palestinian efforts to deny Jewish history and to perpetuate the myth of Israel's aggression on the Temple Mount is not only immoral, it is also dangerous," the letter states.

Paris says May summit to go ahead despite Netanyahu opposition; PA PM Hamdallah hopes fresh push will establish 'parameters' for talks
On May 30, Paris is to host an international meeting of 20 countries, including Egypt, Saudi Arabia and Jordan, to discuss the peace process. Israel and the Palestinians have not been invited.
Netanyahu also slammed France's "scandalous decision" to vote in favor of a UNESCO resolution "which doesn't recognize the millennia-old connection between the Jewish people and the Temple Mount," saying it "casts a shadow on France's impartiality in any forum it's trying to convene."
See more at Times Of Israel