There will always be scriptures we don't understand. If we stopped asking questions, we would stop learning. One area of commandments I have been ignoring for several years is the commandment about wearing Tsitsit's on your clothing.
If you are reading this, and don't know what a Tsitsit is, it simply is a blue and white cord which is braided, or tied in knots, and pinned to clothing. The scriptures tell us to pin these tassels to our clothing for the sole purpose of remembering the commandments.
Numbers 15:38 "Speak to the children of Israel: Tell them to make tassels on the corners of their garments throughout their generations, and to put a blue thread in the tassels of the corners. 39 And you shall have the tassel, that you may look upon it and remember all the commandments of YHWH and do them, and that you may not follow the harlotry to which your own heart and your own eyes are inclined, 40 and that you may remember and do all My commandments, and be holy for your Elohim."

Deuteronomy 22:12 "You shall make tassels on the four corners of the clothing with which you cover yourself."
I was watching a video which talked about a heavenly vision that a 15 boy had when he died. The boy experienced heaven and came back to tell about it. The pastor telling the experience specifically mentioned the tsitsits and how keeping the smallest of commandments was such a big deal in heaven. You can watch a small clip that inspired me here on facebook. That video was the very inspiration I needed to move FORWARD to keeping this commandment.
Did You Know Yeshua Wore Tassels?
Luke 8:43-44 Now a woman, having a flow of blood for twelve years, who had spent all her livelihood on physicians and could not be healed by any, 44 came from behind and touched the border of His garment. And immediately her flow of blood stopped.

Matthew 9:20 And suddenly, a woman who had a flow of blood for twelve years came from behind and touched the hem of His garment.
Many people would point towards these things as being "Jewish", but what they don't know is these instructions are for ALL children of Israel, not only the tribe of Judah (identified today as the Jews).
Did You Know Yeshua Said ALL Of The Law Stands Today?
Matt 5:17 (NKJV) "Do not think that I came to destroy the Law or the Prophets. I did not come to destroy but to fulfill. 18 "For assuredly, I say to you, till heaven and earth pass away, one jot or one tittle will by no means pass from the law till all is fulfilled. 19 "Whoever therefore breaks one of the least of these commandments, and teaches men so, shall be called least in the kingdom of heaven; but whoever does and teaches [them], he shall be called great in the kingdom of heaven.
That scripture alone means that we are to keep the commandments. We are not saved by keeping the instructions of Elohim, (God), but we do them because we love Him. There are so many people, groups, hobbies and interests that a person can follow today, ….can you honestly fault anyone for choosing to follow what God says in His Word?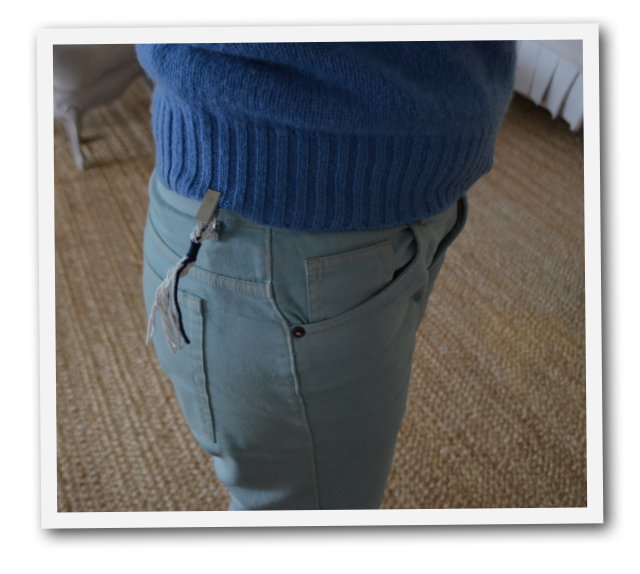 I am still experimenting with what works for me.  These metal clips for $2.99 worked well for me
My Journey In Making This Commandment My Own
My husband has been wearing his tassels for several years, and being a guy, they conveniently tie on to his jean belt loops. For all fairness, it can be easier for a man to wear them than a woman because they always wear pants with loops. Being a lady, I wear a variety of outfits and ran into the road block that these tassels don't always have an easy spot to hook on.
Much like the feasts and festivals, the commandments for the tassels are also broad enough to make them your own. For most of us believers who have ventured into learning and growing in these commandments, we keep what is commanded and make the celebrations our own as we grow with them from year to year.
I feel that is the same thing with this commandment. While some people choose to wear the traditional tsitsits, there is nothing wrong with making your own style, so long as we keep what is instructed in the scriptures.
Here is what is scriptures instruct:
Reading the two passages, they tell us the following:
Tassels are to be worn on the four corners of our garments.
Tassels will be worn throughout all generations.
Tassels must contain a blue thread, however it doesn't say that it has to have a thread of white.
The whole purpose of these tassels are to remind us that our Fathers instructions matter to us, and they should be on our mind to keep them. We do this to show our love for whom we belong to: The God Of Abraham Isaac Jacob.
For our family, we try to look only at the scriptures as many groups have added a lot of traditions to the commandments. There is nothing wrong with traditions, but they also become extensive, making things burdensome.
So with that said, here are a couple unique ideas I am considering….
Tie your tassels to suspender clips. You can find them from $5 on Amazon. If you have a dress, coat or jacket that is more complicated, these clips can easily pin on without having to puncture the fabric.
Have a number of different styles of tassels that would work with various outfits. As you can see in the scriptures, it does need to include a thread of blue. You can incorporate any other color into that mix.
Use a Magnetic Clasp to hang the tassels from. These clasps come in two pieces. The one piece can be attached to a clip, while the other piece has the tassel. This works quite nicely for men as well. Ladies, you can find some with rhinestones like this one on Ebay , and you can find simpler ones for your guys like this one on Ebay.
I hope I have inspired you with some unique ideas to consider. The beauty is you can make this your own. I came across some lovely crochet work on etsy, that if you wanted to create something special, go for it. The point is to have joy through this process. SO much of these commandments can become legalistic, and that was the very thing we are to avoid. So discover what is out there, and make up some pieces that you will be proud to wear.
It is impossible to keep all the commandments, but we should at least try to follow the instructions. It is also important to repeat that we are in no way saved by following the torah, as we have all sinned terribly. It is only by what Yeshua paid on the cross are we able to have access to an eternity with Him.
If we keep the commandments, WE will be rewarded for going the extra mile. Here is a list of scriptures in Bible Gateway that show that IF we keep His commandments we will be tremendously blessed for doing so. Do check out that list of scriptures, they will blow you away !
More Articles You May Just Find Interesting:
Instructional Videos On Traditional Tzitzit Tassels:
Lets great crafty!
Tzitzits (Set of Four) White with Dark Blue Thread $12 Amazon
Suspender Pacifier Clip 3/4″ 1″ 1 1/2″ 2″ On Ebay
Purse Zipper Pulis Snap Spring Hooks On Ebay
Safety Pin Bail Findings in Gold Silver Antique Copper On Ebay
1 1/2 inch Money Clip Findings On Ebay
Convert Inches to MM – The Tech-FAQ
Cotton Twine 8-Ply Wire Crochet Cord $6 On Ebay
Leather Cord -3mm (1/8″) size….1 yard $6.50 On Ebay
Gcishoponline On Ebay
Gcishoponline On Ebay
3/32″ Inch Tactical Nylon Cord 4 Strand Paracord On Ebay
This doesn't meet the right color combination, but it could give you some ideas of ways to tie it differently. – Found here
Small Cotton Twine Cord 8-Ply Thread On Ebay
9 Core Strand 550 Paracord Parachute Cord On Ebay
5Pcs Metal Round Lobster Trigger Swivel Clasps Silver or Gold –On Ebay
Graduation Tassels could be a way of creating your own tsitsits that are not traditional. As long as you have the colors blue and white, you can make them your own. Tie them, or cut them down, this could be your starting point. Graduation Tassel 9″ On Ebay
12ply 2mm Bakers Twine Cotton String Cord On Ebay
While this is not on the hem of the garment, this could be a very unique way for a man to remember the commandments. Paracord Bracelet On Ebay
Another great idea for men for remembering the commandments. -Blue & White,"4-Strand Braid" 550 para cord necklace On Ebay
3MM Bolo Leather Cord Triple Wrap Bracelet On Ebay
You could easy crochet your own, or have someone make something special for you. This bracelet was found on etsy. It is just missing the white.
These elegant tassels have a long loop (approx. 60mm / 2.5″) with a 55mm body. The tassels come in a lovely royal blue, pale blue and gold thread- $4 for 2 Etsy
Navy Blue Bakers Twine – 240 Yards Etsy
New Ball Charm Silvery Strong Magnetic Clasp- (Attach one end to a pin, which you can take on and off through the day) On Ebay
Magnetic Clasp – Plain On Ebay
24k Gold End Cap, 2 pcs Bead End Caps Etsy
Blue Tassels – Etsy
Weave in some blue into this pretty crystal curved adjustable bracelet On Ebay
Use Faux Suede Cord Leather to make your tassel- Find it on etsy
25pcs New Arrival Cross Connector Vintage Silver Alloy On Ebay
100 Lobster Swivel Clasp $11 Free Shipping On Ebay
50pcs Vintage Charms Bullet Head Cap On Ebay
20pcs New Antique Silvery 53# Leaves Lobster On Ebay
Copper Brass Round Magnetic Clasps 10 for $2 On Ebay
Long Navy Blues White Multi color Handmade Cotton Wool Thread Etsy
Details about

20 New Bronze Lobster Clasp Findings On Ebay
Alloy Antiqued Bronze Tone Bead End Tips On Ebay