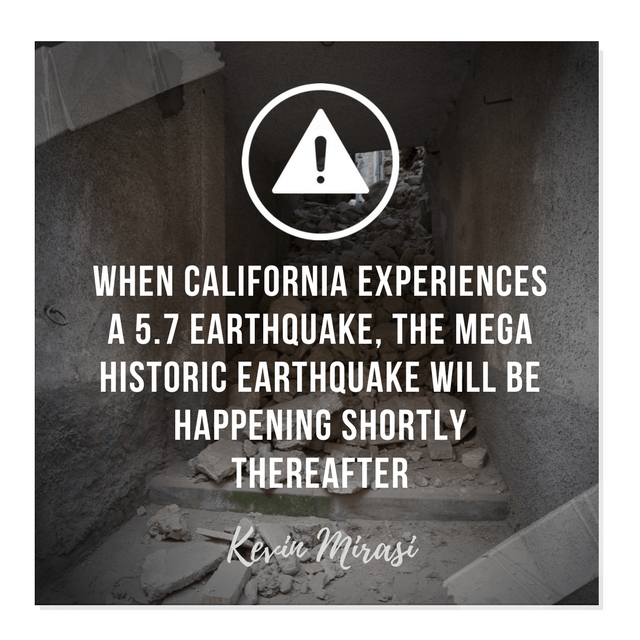 CALIFORNIA, USA:
Back in 2012, The LORD Showed me that when
California, USA will get a 5.7 Magnitude Earthquake, then it should be known that the Mega Historic Earthquake will be happening therein shortly, thereafter.
How short (Duration) is shortly; only The LORD knows. But in the Vision (Supernatural Dream) of The LORD, it was an extremely very Close Time-frame.
So on 22nd September 2017, a 5.7 Magnitude earthquake struck offshore of California. It makes me to deeply meditate upon that particular Vision of The LORD of 2012, especially now that California's Neighbour (which is indeed USA's neighbour) Mexico is Rumbling and Shaking in a Historic manner, in the last couple of weeks and days.
The News channels Reported as follows on 22nd September 2017: '"A shallow magnitude 5.7 earthquake struck beneath the Pacific Ocean off the Northern California coast Friday afternoon, according to the U.S. Geological Survey. According to the USGS website, the quake was felt by some people in the greater Eureka area."'
While Posting and sharing across the Prophecy of The LORD back then in 2012 (29th May), I Titled it as follows: '"A Prophecy (Dream) Where I Was Shown a Series of Earthquakes Imminently Going To Hit California, USA: A 5.7, and Then a 7.5 and Finally a 9 or 10 on the Richter scale."'
I furthermore stated as follows when Posting and Sharing across The Prophecy of The LORD in 2012: '"In this dream I found myself attending a wedding ceremony here on the earth. As the wedding ceremony continued, news started going rounds that a huge earthquake of magnitude 5.7 on the Richter scale had just occurred in California, United States of America. At the wedding we felt a bit of the shaking by the earthquake. I then promptly started proclaiming in the dream to those present in this gathering while under the inspiration of a powerful voice which was very amplified (The voice of the LORD) "Repent!!! Repent!!! This is what the LORD has been sending across the globe to be His ultimate sign/warning of the very imminent coming of Jesus Christ to Rapture His bride!!!" After a short while later while still in the dream and in the wedding ceremony, we felt another earthquake and this time the news reported over the radio (I don't know which radio this was but I believe it represents all the communication gadgets like mobile phones etc) stated that another huge earthquake had once again just occurred again in California, USA at a magnitude of 7.5 on the Richter scale. I myself together with those present in the wedding felt the shaking and it was very clear that this second shaking was bigger than when the 5.7 had hit earlier.
I then found myself proclaiming to the people present as I once more talked in a very powerful inspired voice, "There is still a bigger Earthquake coming to California, USA and this time it will be a 9 or 10 on the Richter scale!!!"'
NOTE: Incidentally, I attended a Scheduled Wedding yesterday 23rd September 2017, and it is on the same day that I got the news of the 5.7 Magnitude earthquake that had hit California, USA. That definitely goes accurately as per The Words of The LORD, in that Vision of The LORD 5 Years ago. In my entire life, I have attended about 5 Weddings, I happen not to be a "Fan" of attending Weddings, per se, somehow. The Wedding I attended on 23rd September 2017 was the First Wedding I have attended in this Year of 2017.
With California's neighbour (and indeed USA's neighbour) Mexico in a Historic Seismic Motion and Rumbling at the moment, it makes me to Meditate Deeply and Reflect Very Deeply about California, USA soon being hit by a Mega Historic Earthquake; at The Perfect Timing of The LORD.
SHALOM!!!
1-Los Angeles Times
Headline: Magnitude 5.7 earthquake strikes off Northern California coast
2-Yahoo News
Headline: Magnitude 5.7 earthquake hits off northern California
Mathew 24: 3-8 '"Now as He sat on the Mount of Olives, the disciples came to Him privately, saying, "Tell us, when will these things be? And what will be the sign of Your coming, and of the end of the age?" And Jesus answered and said to them: "Take heed that no one deceives you. For many will come in My name, saying, 'I am the Christ,' and will deceive many. And you will hear of wars and rumors of wars. See that you are not troubled; for all these things must come to pass, but the end is not yet. For nation will rise against nation, and kingdom against kingdom. And there will be famines, pestilences, and earthquakes in various places. All these are the beginning of sorrows."'
PREPARE THE WAY FOR THE COMING OF THE LORD JESUS CHRIST IN ABSOLUTE REPENTANCE, RIGHTEOUSNESS, HOLINESS, TRUTH AND COMPLETE SURRENDER TO THE LORD JESUS CHRIST (YESHUA/YAHUSHUA HA MASHIACH). TIME IS ABSOLUTELY OVER; THE MESSIAH JESUS CHRIST IS IMMINENTLY COMING TO PICK HIS BRIDE!!!
REPENTANCE PRAYER:
Precious Jesus,
I acknowledge today that you are LORD and Savior of all mankind,
and today I have recognized my shortfall,
I Repent and turn away from all Sin.
Please cover me with your Precious Blood,
and establish your Word in my life,
that I may be found in Righteousness and Holiness
and write my name in your Book of Life
and Baptize me with the Power of The Holy Spirit
in The Mighty Name of Jesus Christ.
AMEN.
Your Brother in Christ Jesus, and a Shepherd of The LORD,
Kevin Mirasi
https://injesuschrististand.blogspot.co.ke/…/california.html