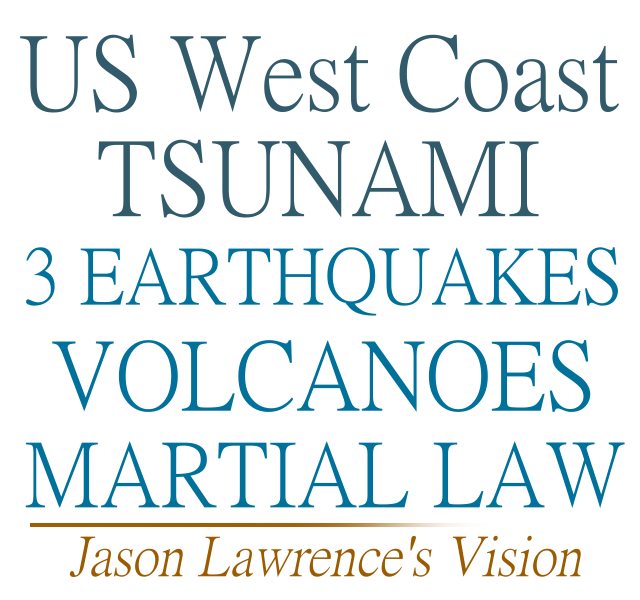 Jason Lawrence had three OPEN visions about volcanoes going off along side 3 major earthquakes along side a tsunami that hit the west coast.
Here is what he wrote us:
I want to share with you what happen to me in church today when the alter call was announced.  I went up and got on my knees and began to pray.  I was praying for members of my church and family and for my kids my mind was asking God to help different people with different situations.  But the lord show me something completely different. It came in 3 visions.

1st vision

I saw an nuclear bomb go off in a coastal city but I don't know were.

2nd vision

 I saw a chain of events flash before me like an old movie projector.  The vision of events was a series of volcanoes going off causing great damage and then I saw 3 major earthquakes go off along the west coast and northwest coast and then I saw great tsunamis destroy major cities.  

I saw cities on fire from civil unrest and then I saw martial law, and then the most disturbing thing was I saw pastors drag out in the streets like the dictators of the Arab spring where they would drag out in the streets like the dictators of the Arab spring were drag out the men ad blood on there face and people were screaming "kill them". And there was a split in the church.  There was an government control church that had totally false doctrine then there was one in the small homes of America but meet in secret.  Some one had to be on guard all the time.  Then I saw people lined up for miles for food.

I walk in to the pray room and I wanted some alone time from the service and I cried and spoke in tongues and the Lord show me a 3rd vision

3rd vision

I just herd screams upon screams and then I saw cities, large cities.  They were in rubble and like ghost towns and it was dead winter.  I don't know if it was nuclear winter.  When I saw people it was scarce they all had gas masks on and I look up at the grey sky and I heard the Lord say this is the judgment like Sodom and Gomorrah and my plagues on Egypt and so it will be for America says the Lord.
My Response To Jason
Now this was not a dream, but an open vision when you were awake?
Would you mind if I posted yours on my site?
Would you mind if I used your full name?
So the pastors were dragged out into the streets, because why?  Could you speculate on that?
Did you see any more additional detail to the Christians on guard when they had their meetings?
Thank you for sending us this.  This is quite a detailed dream….
Meranda
Jason's Response:
Yes this was a vision, not a dream.  I was not expecting it at all.  I was wide awake.  I don't mind if you use my full name and you can post it were ever you like.  I work for God and this is a warning.  I am a watchman and I don't know when this will occur but it is coming. I don't know why pastors was dragged out in the streets but I feel because people was not rapture and they were too tied up in "happy church" and this could be the great falling away I saw.   And all I can give you on the Christian on guard was people were tired wrong out but happy and when at church service they were all ways on guard like they didn't want to get caught having church.  It was clearly persecution on the United States church. I hope this helps you. God bless you guys