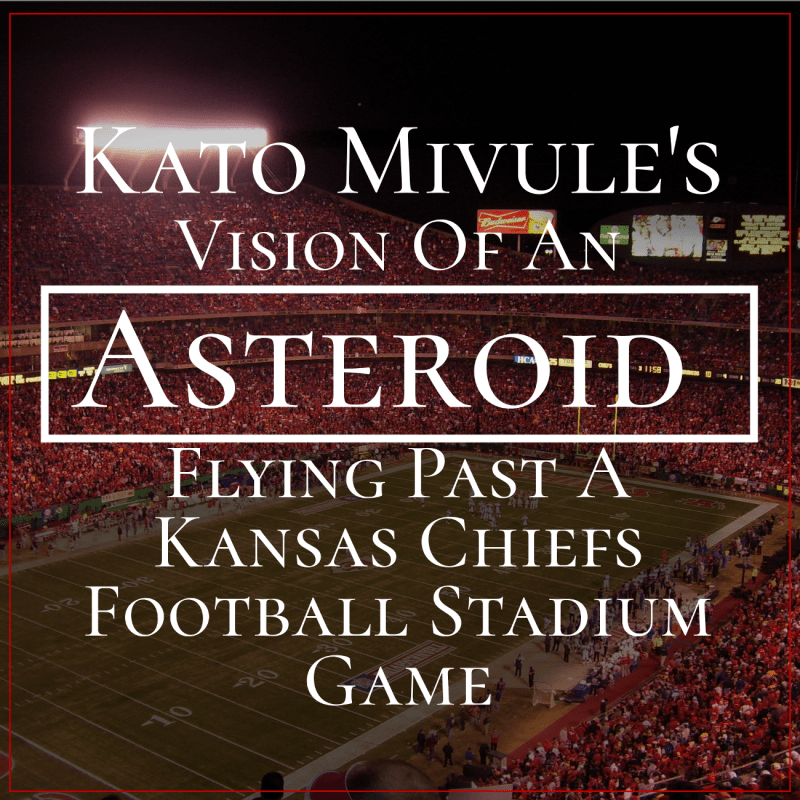 Kato Mivule
Asteroid visions received by Kato Mivule June 27, 2005
As I was seeking the Lord through prayer and fasting through this past May 2005, The Lord showed me a powerful vision. I was taken to the heavens above the earth and I could see the earth in a distance not so far but clearly. Suddenly I heard a very loud sound and vibration with a very heavy zoom sound coming my way, hundred times louder than that of a Boeing 747 Jet.

I then saw a very huge rock almost the size of the moon zooming past me at a very high speed with a large tail of fire besides and behind it. In The vision I was made to feel the waves of vibrations and the heat it generated that hit me but I was protected. It was like someone was holding me by my collar and snatched me out of its way to a safe distance. I then could see other splintering rocks falling of this huge burning object and catching fire themselves. (see this post)


I looked where it was headed, I knew it was headed for planet earth and thought well, I hope it lands in the ocean, not many people will die. However, it seemed targeted to the ocean and the United States. I was like, no Lord no! However, it kept it's course targeting the ocean and the United States, it seemed as though someone was controlling it's path unhindered and sure to hit its target. The vision ended. I shared the vision with a Prayer Warrior Sister who then told me I had a vision of Rev 8:10-11.
High Tech Room…Kato Mivule
I was then taken to a room where I saw men around some very high tech gadgets with screens that looked more like flat screen computer panels…but this was very high tech, technology I have never seen before…I knew the men were angels, they were all dressed in white robes and they turned on one flat screen panel and showed me the trajectory of the Wormwood star, then I was shocked to look and behind Wormwood was another star following the same trajectory, just few distance behind Worm Wood and again headed for the Ocean and the United States…they all seemed to have the United States in their path…
At Chiefs Football Stadium…Kato Mivule
I was taken to the Chiefs Football Arrowhead Stadium, here in Kansas City. I knew it was fall and the beginning of the Football Season. In the Vision it looked like evening and the stadium was parked to capacity with everyone putting on their red Chiefs outfits, the stadium was all red as it is normally here with Chiefs games in Kansas City.

The game was going on as usual and suddenly there was a very huge loud bang in the sky…and then a huge object I had seen previously in my May vision lit the sky with red fire and zoomed passed across the sky…with very power vibrations that threw everyone off their seats and shook the stadium…

Everyone in the stadium begun to scream and go hysterical, and run too and fro but could not leave the stadium. The huge ball of fire flew from the east across to the west. I knew it was Wormwood. The Stadium officials seemed to have had a clue about the coming disaster but did not warn anyone and also they locked the stadium doors and no one could go out.

I then saw something amazing, people begun to fall on their knees and pray to God, they knew they were going to die anytime soon. I even saw young toddlers who had come to the game with their parents praying too.

I was then taken back to the blockbuster place and people saw the object and heard the band and vibrations but seemed not to care about it, some said, " I will die watching a movie"
(This will not happen until Israel is divided. If it does happen to be this year, these would be the dates where this team plays at home. Seen here ) This very well could be a future year. Though it also seems like dividing Israel is still on the table for this year)
Debris more destructive than 2004 Dec Tsunami… Kato Mivule

After this, I was shown the debris and damage floating all the way on the Atlantic ocean like the force of the moving star caused the debris of destroyed buildings to float all the way from Europe and dumped it at the east coast of America with more excessive damage…I remembered the Tsunami, it looked like very small compared to the Wormwood damage…