America's early colonists banned observance of Christmas, because of it's pagan origins.  In 1644, the English Parliament outlawed the holiday, compelling shops to be open that day.
Pulitzer Prize finalist, "The Battle for Christmas," historian Stephen Nissenbaum at the University of Massachusetts documents the American development of the holiday :
"In New England, for the first two centuries of white settlement," writes Nissenbaum, "most people did not celebrate Christmas. In fact, the holiday was systematically suppressed by Puritans during the colonial period and largely ignored by their descendants. It was actually illegal to celebrate Christmas in Massachusetts between 1659 and 1681 (the fine was five shillings). Only in the middle of the nineteenth century did Christmas gain legal recognition as an official public holiday in New England."
Thousands of Christians are abandoning Christmas.  Is it pagan?
Startling Evidence That "Christmas" Is From Baal:

Pagan Christmas?  – The Shofar Horn
December 25th Was Baal's Birthday Before It Was Celebrated As Christmas-
The Shofar Horn
Was Jesus Born During The Feast Of Tabernacles And Not On Christmas?- The Shofar Horn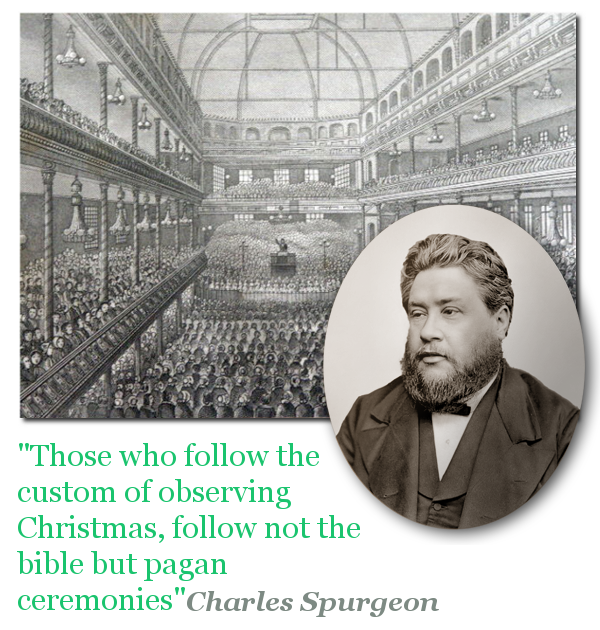 Charles Haddon (C.H.) Spurgeon (19 June 1834 – 31 January 1892) was a British Particular Baptist preacher. Spurgeon remains highly influential among Christians of different denominations, among whom he is known as the "Prince of Preachers". He was a strong figure in the Reformed Baptist tradition, defending the Church in agreement with the 1689 London Baptist Confession of Faith understanding, and opposing the liberal and pragmatic theological tendencies in the Church of his day.It is estimated that in his lifetime, Spurgeon preached to around 10,000,000 people,Spurgeon was the pastor of the congregation of the New Park Street Chapel (later the Metropolitan Tabernacle) in London for 38 years.- Wikipedia
THE PERSONAL MESSAGE OF CHRISTMAS by Charles Spurgeon
"We have no superstitious regard for times and seasons. Certainly we do not believe in the present ecclesiastical arrangement called Christmas. First, because we do not believe in any mass at all, but abhor it whether it be sung in Latin or in English. Secondly, because we find no Scriptural warrant whatever for observing any day as the birthday of the Saviour; and consequently, it's observance is a superstition, because not of divine authority. Superstition has fixed most positively the day of our Saviour's birth, although there is no possibility of discovering when it occurred. It was not till the middle of the third century that any part of the Church celebrated the birth of our Lord; and it was not till long after the western Church had set the example, that the eastern adopted it. Because the day is not known, probably the fact is that the "holy" days were arranged to fit in with the heathen festivals. We venture to assert that if there be any day in the year of which we may be pretty sure that it was not the day on which our Saviour was born, it is the 25th of December. Regarding not the day, let us give God thanks for the gift of His dear Son.How absurd to think we could do it in the spirit of the world, with a Jack Frost clown, a deceptive worldly Santa Claus, and a mixed program of sacred truth with fun, deception and fiction. If it be possible to honor Christ in the giving of gifts, I cannot see how while the gift, giver, and recipient are all in the spirit of the world. The Catholics and high Church Episcopalians may have their Christmas one day in 365, but we have a Christ gift the entire year." (Dec. 24, 1871)"Upright men strove to stem the tide, but in spite of all their efforts, the apostasy went on, till the Church, with the exception of a small remnant, was submerged under pagan superstition. that Christmas is a pagan festival, is beyond all doubt. The time of the year, and the ceremonies with which it is celebrated, prove its origin.""Those who follow the custom of observing Christmas, follow not the Bible but pagan ceremonies."