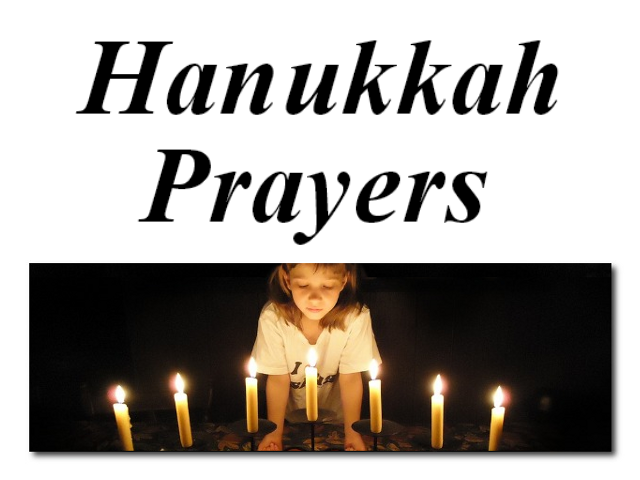 Hanukkah Celebration- By Dr. William Schnoebelen With One Accord Ministries
Hanukkah is a time to rededicate yourself, your family and Temple (body, soul and spirit) to the
service and worship of the True and Living Yahuwah, and purge all Greco-Roman influences from your lives!
Hanukkah Menorah
Ideally, a Hanukkah Menorah with 9 candles is used. However, if you do not have one just use nine small candles of any size or shape. Candles are usually lit around sundown. First, light the middle candle (the Servant Candle representing Yahushua, our Suffering Servant and Light of the World). THEN light the other candles from right to left (like Hebrew writing). On the First Night of Hanukkah:
Recite all three prayers (below).
On the following seven nights of Hanukkah: Recite the first two prayers. Add the lighting of a new candle each night until all eight candles are lit.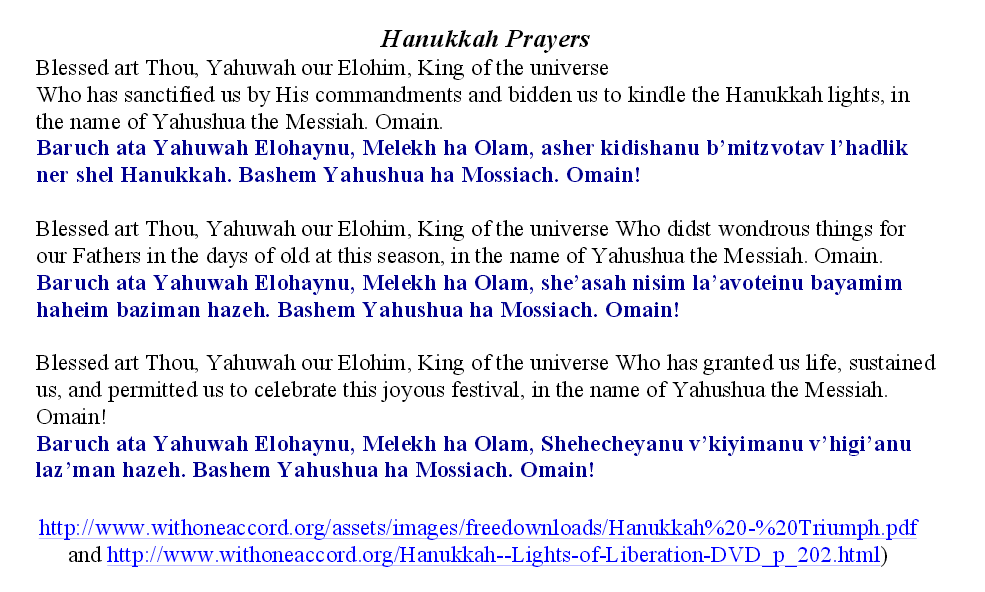 Note: Though Hanukkah is not in the Torah; it IS an Israelite celebration that pre-dates Messiah. The word "Hanukkah" means dedication. It is evident from John's testimony (John 10:22) that Yahushua kept this celebration, set it ap art by His Presence and used it as an occasion for important teachings. It commemorates the great miracle that occurred in the days of the Maccabees (c. 164 BC) ending in the rededication of the Temple.
Yahushua celebrated HANUKKAH – will you celebrate this joyous, Biblical feast this year? Thanks to our Friends and Partners, we now have even more Free Resources on our website, including prayers and examples on how to celebrate Yahuwah's Biblical Feasts! Rest assured we ALWAYS keep Yahushua Messiah as the CORNERSTONE in all we do! These new resources are meant to focus our hearts and minds on HIS Biblical celebrations so we can find strength together through His Word while living by His example! Remember, Yahushua celebrated Hanukkah (John 10:22) – and so should YOU!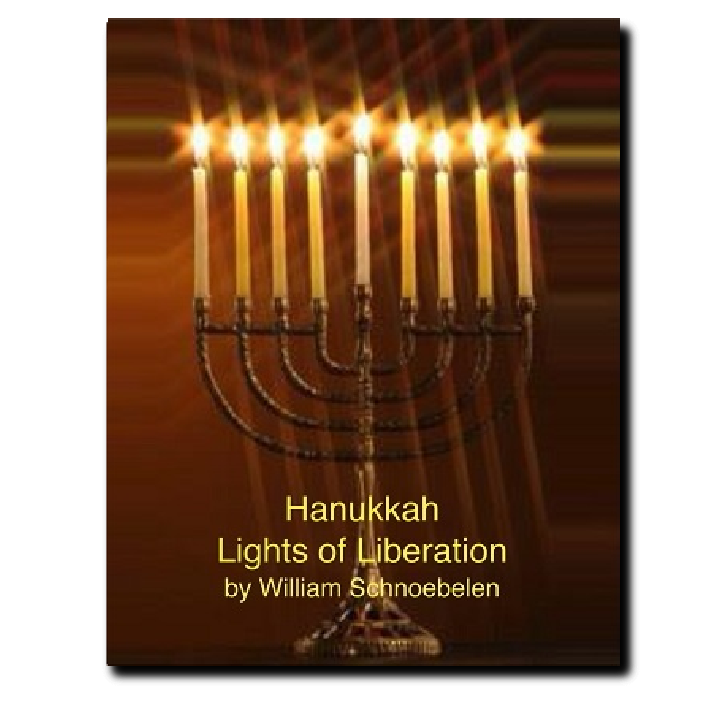 (For more on this, see our article and DVD teaching elsewhere on this site at http://www.withoneaccord.org or http://www.withoneaccord.org)
Examples Of What You Can Say Each Night Of Hanukkah By Hoshana Rabbah
The following examples of prayers are given to us by Hoshana Rabbah. If you are wanting to make each night special, Hoshana Rabbah gives you some ideas of what to say for each night of Hanukkah.

Connect With Bill and Mary Schnoebelen
With One Accord Ministries
Bill & Mary's Schnoebelen Official Channel On Youtube
William Schnoebelen On Facebook
Free Resources & Teachings on their website such as free audio teachings
http://www.withoneaccord.org/Audio-Teachings
DVDs
VACCINE WARS (DVD)
Freemasonry: Fatal in the First Degree
Exposing the Illuminati from Within (Expanded) 2 DVD set
The Order of the Eastern Star: Ladies of the Labyrinth (DVD)
Wicca: Satan's Little White Lie
Population Control - Increasing the Death Rate (3 DVDs)
Tares among the Wheat (DVD)
Mormonism's Temple of Doom 2011- (DVD)
Vampires and Werewolves: Real or Fake? (DVD)
Russia's Secret Weapon to Destroy America (DVD)
BOOKS:
Christianity & the Bible
Spiritual Warfare & Deliverance
LDS/Mormons
Masonry
Other Religions
Witchcraft, Vampirism & Satanism
UFO's
Endtime Prophecy & World Events
Wellness Products
About Bill Schnoebelen
Since his miraculous salvation in Yah'Shua (Jesus Christ) over 28 years ago, Rev. William "Bill" Schnoebelen has faithfully pressed into the calling and anointing of God to teach Biblical revelation to the Body of Messiah and lead the lost into salvation.
A prayer warrior, Biblical scholar and author, he founded With One Accord Ministries in 1992. Since then, the anointing of the Ruach HaKodesh (Holy Spirit) has allowed him to minister to thousands across the globe through preaching, books, videos, and countless booklets, articles and tracts.
He earned a Masters in Theological Studies degree in 1980 and a Master of Arts degree in counseling in 1990. Following the Holy Spirit's lead, he acquired degrees in Naturopathic medicine and Nutritional Herbology becoming a Certified Natural Health Professional in 2004.
Recognized as a Biblical authority on alternative religions and the occult, previous to his salvation Bill spent sixteen years as a teacher of witchcraft, spiritism and ceremonial magick. To Yah'Shua's glory, the Ruach has continually used Bill's experience as a Druidic high priest, ordained spiritist minister and former satanist to teach Christians the intricacies of spiritual warfare and minister to those lost in cults. He also spent nine years as an active member of the Freemasonic fraternity (both York and Scottish rite) and five years as a devout member of the LDS (Mormon) church, where he held numerous offices, including elders' quorum president. Bill held temple recommends in the LDS church for four years.
Rev. William "Bill" Schnoebelen's autobiography,
Lucifer Dethroned
, is a gripping account of his descent into the darkest side of mysticism and magick and subsequent restoration through grace and the love of Yah'shua. His testimonies are thorough historical surveys of contemporary satanism. His second book,
Blood on the Doorposts,
is the prayerful result of thousands of hours spent counseling people to freedom from oppressive religious systems or dysfunctional relationships – this book functions as a graduate level course on prayer therapy and spiritual warfare.
Rev. Schnoebelen speaks to congregations, at conferences and ministers on a wide variety of topics.

Latest posts by Bill Schnoebelen (see all)