Kevin Trimbath
I was the Sunday School teacher at a church in Flint and the Pastor demanded that I instruct from an approved instruction manual (something like Growing in God – not sure), rather than just the Bible and the Holy Spirit.
Now this book asked for the students to memorize (6) scriptures over its coarse. I found that they were having great difficulty remembering and that most of them didn't even try, and quit the course. After telling the Pastor about the failure rate, he just said to keep going.
So, I asked the Lord to help me to make it easier for people to memorize His word? I dedicated one month to putting this manual all together and the Holy Spirit even showed me how to break down the address (book, chapter and verse) and also make this easy to memorize.
I printed out several copies for my next class! I was kind of happy to put this all together for others!
Note: several years ago the Lord asked me to do something very unusual; He asked me to memorize the entire Book of Revelation (using this method). I told Jesus that there was no way that I could do this!
He then gave me a dream. I saw the Chinese military coming into America and they were doing this over several years. They would come a few at a time on commercial airlines, then go into hiding. Then the war started and I saw Chinese tanks on American soil.  I was in an aircraft when the Chinese forced us to land.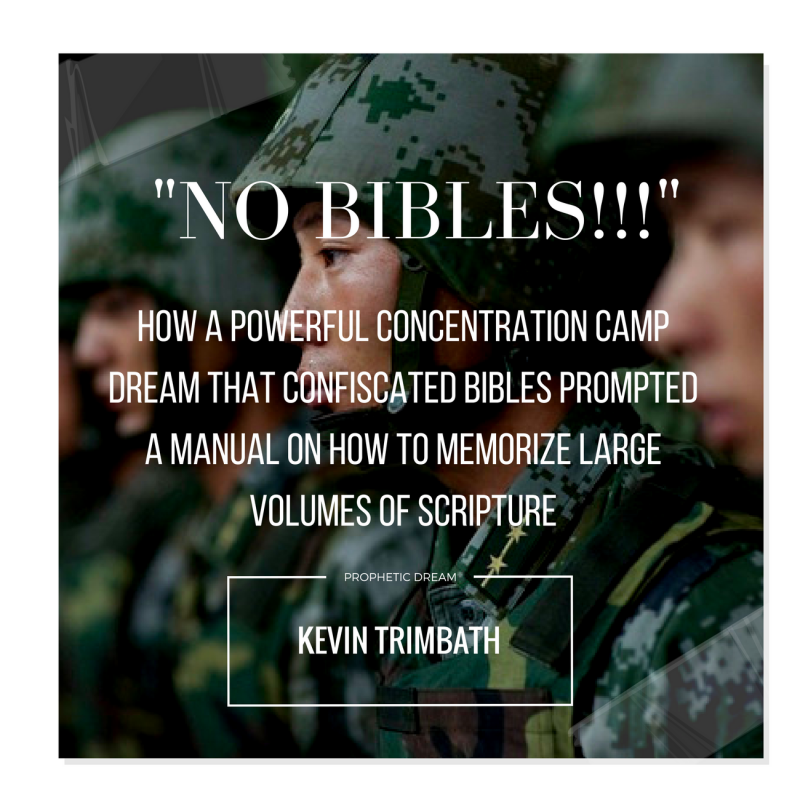 Next I was in a concentration camp and a commander came up to me and grabbed the Bible away from me then yelled at me! "NO BIBLES!!!"
After awaking, I remembered the words of Corrie ten-Boom, "We must memorize long portions of scripture!" Of course, she was not allowed to have Bibles or to smuggle them in the camps either, but those who had the word of God in their hearts (memorized) had in a sense become the Bible smugglers!
You would think that this was enough for me to get going on the challenge of memorizing an entire book. But, I asked the Lord to give me a confirmation?
The very next morning as I was walking to my car, there was a strange red object sitting on my car. I picked it up and it was a Chinese balloon lantern! I kind of laughed inside, hearing the words from the Holy Spirit, "Any more questions Kevin?"
I got to work! It took me nine months to complete the assignment!
So, I threw this manual together for my friends, because I knew it worked!
I know that this is not for everyone, for some a verse or a few verses may be enough!
One thing that I am sure of, is that one day in the not so distant future; possessing a Bible will be a crime and they will be confiscated! What you have in your heart is all that you will have! (speaking of the written word)
God be with you Michael and Meranda – keep up the awesome work you are doing for the Lord Jesus!!!
Your brother – Kevin
---
How to Memorize Large Volumes of Scripture -Kevin Trimbath by Meranda Devan on Scribd
---
Michelle Walcott's Dreams Of American Concentration Camps, Martial Law, Chinese Troops And The West Coast Tsunami Disaster
---
Christians Will Take the Mark In Concentration Camps- David Eells Prophetic Dream
---
A Powerful Prophetic Dream On Coming Death Camps And Imprisonment – Joanie Stahl
---
---
The Lord Speaks Audibly To Benjamin Baruch- Listen To What Is Coming To America
---
Suicide Note Reveals ROUND UP Plan During A Nationwide Electric Power Shut Off
---
---
Save
Save