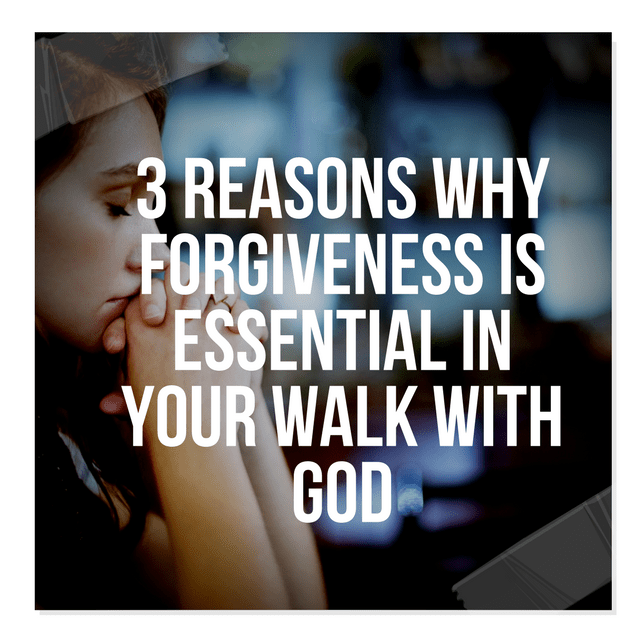 June 5 ·
Forgiveness is a foundational truth of the Christian faith. If you daily apply this into your life you will be building your house upon the rock and not shifting sand and you will find yourself standing when others around you fail.
"Forgiveness is a very important aspect of our walk with the Lord. It shows that we have the true Spirit of God in us because forgiveness is a demonstration of the love of God in our hearts. Peter asked the Lord how many times he should forgive someone who offends him and he replied and said 70 x 70 in one day. Jesus died so our sins could be forgiven.
" A Christian who does not know how to forgive is not born again. Let me say that when you forgive you free yourself from condemnation." Prophet Frank Ogbu
A. Why do we need forgiveness?
We NEED to forgive others in order to be FREE from our past and to prevent satan from taking advantage of us.
2 Corth 2:10-11 Now whom you forgive anything, I also forgive. For if indeed I have forgiven anything, I have forgiven that one for your sakes in the presence of Christ, lest satan should take advantage of us; for we are not ignorant of his devises.
We are to be merciful just as Our Heavenly Father is merciful
Luke 6:36 Therefore be merciful, just as your Father also is merciful.
We are to forgive as we have been forgiven
Ephesians 4:31 – 32 Let all bitterness, wrath, anger, clamour, and evil speaking be put away from you, with all malice. And be kind to one another, tender-hearted, forgiving one another, even as God in Christ forgave you.
B. Forgiveness is NOT FORGETTING
People who try to forget find they cannot. God says He will remember our sins "no more".
Hebrew 10:17 Then He adds, "Their sins and their lawless deeds I will remember no more."
But our God is omniscient (Having complete or infinite knowledge, knowing everything) He cannot forget. Remember our sins "no more" means that God will NEVER USE YOUR PAST AGAINST YOU!
Psalm 103:12 As far as the east is from the west, So far has He removed our transgressions from us.
Forgetting may be the result of forgiveness, but it is never the means of forgiveness. When we bring the past against others, we are saying we have not forgiven them.
Forgiveness is a CHOICE, a crisis of your WILL. Since God requires us to forgive, it is something we can do. However, forgiveness is difficult for us because it pulls against our concept of justice. We want revenge for offences suffered. However, we are told NEVER to take our own revenge.
Romans 12:19 Beloved, do not avenge yourselves but rather give place to wrath; for it is written, Vengeance is Mine, I will repay, says the Lord.
You say to yourself, "Why should I let them off the hook?" That is precisely the problem. You are still hooked to them, still bound by your past. You will let them off your hook, but they NEVER GET OFF GOD'S HOOK. He will deal with them fairly, something we cannot do.
You may say, "You don't understand how much this person hurt me!" But do you not see, they are still hurting you! How do you stop the pain? You do not forgive someone for their sake, you do it for YOUR OWN SAKE so that YOU can be FREE. Your need to forgive is not an issue between you and the offender; it is between you and God. Forgiveness is agreeing to live with the consequences of another person's sin. Forgiveness is COSTLY. You pay the price of the evil you forgive. You're going to live with those consequences whether you want to or not; your only choice is whether you do so in the bitterness of unforgiveness or the Freedom of forgiveness.
Jesus took the consequences of your sin upon Himself. All True Forgiveness is substitutionary, because no one really forgives without bearing the consequences of another person's sin. God the Father "Made Him who knew no sin to be sin on our behalf, that we might become the Righteousness of God in Him " 2 Corinthians 5:21. Where is justice? It is in the cross that makes forgiveness Legally and Morally Right: "For the death that He died, He died to sin, once for all. " Romans 6:10
C. How do you Forgive from your heart?
You Acknowledge the hurt and the hatred.
If your forgiveness DOES NOT visit your EMOTIONAL CORE of your life, it will be incomplete. Many feel the pain of interpersonal offences, but they won't or don't know how to acknowledge it. Let God bring the pain to the surface so He can deal with it. This is where the healing takes place.
Do not wait to forgive until you feel like forgiving; you will never get there. Your feelings take time to heal after the choice to forgive is made and satan has lost his place.
Ephesians 4:26 – 27 Be angry and do not sin: do not let the sun go down on your wrath, nor give place to the devil.
Freedom is what will be gained, not a feeling. As you pray, God may bring to mind people who have offended you and experiences you have totally forgotten. Let Him do it even if it is painful. Remember, you are doing this for your sake. God wants you FREE. Do not rationalise or explain the offenders behaviour. Forgiveness is dealing with your pain and leaving the other person to God. Positive feelings will follow in time. Freeing yourself from the past is the critical issue right now.
Do not say, "Lord, please help me to forgive," because He is already helping you. Do not say, "Lord, I want to forgive," because you are bypassing the HARD CORE choice to forgive which is your responsibility.
Here is a prayer you can pray to help you to start the journey of forgiveness and forgiving others.
Dear Heavenly Father
I thank you for the riches of your kindness, forbearance and patience, knowing that your kindness has led me to Repentance. I confess that I have not extended that same patience and kindness towards others who have offended me, but instead I have harboured bitterness and resentment. I pray that during this time of self examination you would bring to my mind those people that I need to forgive in order that I may do so. I ask this in the precious name of Jesus. Amen.
Here is a framework to work from when you are in the process of forgiving people.
Father I come to you in the name of Jesus and I confess that I have held unforgiveness against ( state the person's name)
I repent of holding ( state whatever you feel towards them, hate, anger, bitterness etc) against them.
I choose to forgive (person's name)
For ( state what they did against you)
It made me feel ( How did it make you feel? Rejected, hurt, sick, angry, ashamed.)
I choose to give all these feelings of ( name the feelings) to you Father, and I ask for your forgiveness.
I forgive myself for the guilt I have carried in this situation, and I release that guilt to you Father now in Jesus name.
I thank you Father that in Christ I am forgiven and set free.
After you have forgiven every person for every painful memory, then finish this step by praying.
Father I come to you in the name of Jesus and I release all the people to You, and my right to seek revenge. I choose not to hold on to my bitterness and anger, and I ask you to heal my damaged emotions. In Jesus name I pray. Amen.
D. Here is another aspect of forgiveness we need to be mindful of.
Mathew 18:21-35
Then Peter came to Him and said, "Lord, how often shall my brother sin against me, and I forgive him? Up to seven times?" Jesus said to him, "I do not say to you up to seven times, but up to seventy times seven. Therefore the kingdom of heaven is like a certain King who wanted to settle accounts with his servants. And when he had begun to settle accounts, one was brought to him who owed him ten thousand talents. But as he was not able to pay, his master commanded that he be sold, with his wife and children and all that he had, and that payment be made. The servant therefore fell down before him, saying Master, have patience with me, and I will pay you all. Then the master of that servant was moved with compassion, released him and forgave him the debt.
But the servant went out and found one of his fellow servants who owed him a hundred denarii; and he laid hands on him and took him by the throat, saying, "Pay me what you owe!" So his fellow servant fell down at his feet and begged him, saying, "Have patience with me, and I will pay you all. And he would not, but went and threw him into prison till he should pay the debt. So when his fellow servants saw what had been done, they were very grieved, and came and told their master all that had been done. Then his master, after he called him, said to him, "You wicked servant! I forgave you ALL that debt because you begged me. Should you not also have had compassion on your fellow servant, just as I had pity on you? And his master was angry, and delivered him to the torturers until he should pay all that was due to him. So my heavenly Father also will do to you if each of you from his heart, does not forgive his brother his trespass.
Torture :
Means the act or fact of inflicting very severe pain. Torture was formally used to make people give evidence about crimes, or to make people give evidence about crimes or to make them confess.
The late Derek Prince, great Bible scholar, teacher and one who moved in the deliverance ministry believed that the torturers mentioned in this passage were demons. It is essential as a believer that we forgive to ensure we give no place for the devil to gain access into our lives to afflict us.
Some of your troubles you are experiencing may be because of unforgiveness and it is now a doorway for the enemy to have legal access to afflict you.
Apostle Detrick Lamont Gaskins who moves in deliverance once shared oppression effects the external and internal parts of the body for example someone dealing with unforgivness may experience tightness in joints, arthritis, even lupas, depression and self hatred could be a manifestation as well.
"Many hold on to the offender who is like a messenger instead of the devil who sent him. if we understand it that the offender was used by satan we would rather pray for his deliverance instead of being bitter."
– Prophet Frank Obgu
If you need to forgive please do not hold back. Take what I have shared today with you and apply it!