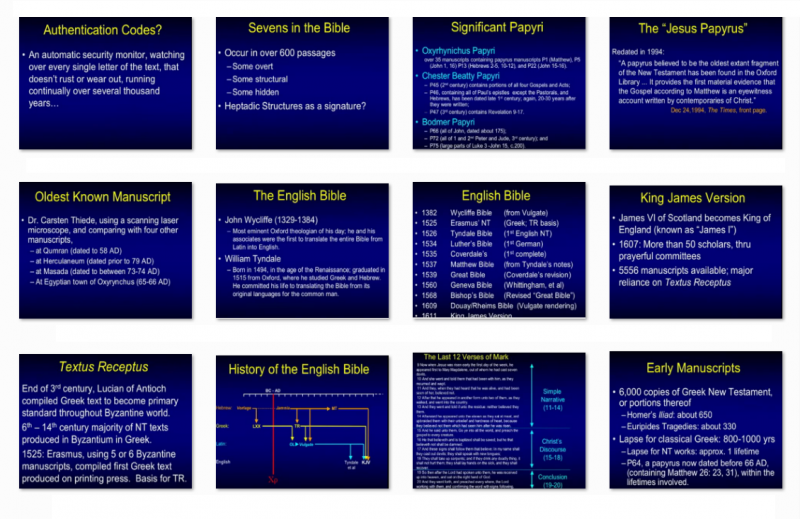 There are gobs of news that appear every day in our news feeds which ultimately don't matter. We all spend so much time consuming a large portion of news, but do we really know how to defend our faith?
Do we really know the scriptures inside and out?
I ran across this PDF file of notes belonging to Sherri Machighway, which lists 17 pages of study notes on Chuck Missler's "How We Got Our Bible".  It looks like the site is no longer active, so please save a copy of this before it disappears.  
 In the series "How We Got Our Bible, Missler reviews the origin of both the New and the Old Testament, controversies and discoveries proving the bible is supernaturally inspired. It is an older video, but to this day one of the very best informative videos explaining the origins of how we got our bible.
Missler describes how the scriptures can be trusted, along with TRANSLATIONS of the bible which to steer far away from.
Here are some places on youtube where you can find this video:
About 30 minutes into this series, Missler discusses the Gnostic influences in translating the gospels, who were known to delete verses out of the bible.
About 35 minutes into the series he discusses Westcott & Hort who were involved in translation, and how they openly denied the deity of Jesus Christ, and changed and deleted scriptures. Missler finds that Westcott & Hort changed or deleted a range of about 3,000 different places in the 4 gospels alone.
Westcott & Hort changed the traditional Greek text in 8,413 places. That leads us to the very obvious question….Do we have a bible that is full of errors ? How do we know that it really is the Word of God? He reviews the King James bible, and shows why this bible can be trustworthy.
The best part of the video has to be starting at 45.19 where he discusses Ivan Panin. A Mathematical genius who graduated from Harvard discovered some of the most remarkable evidence about God.  To this day, Ivan Panin is rarely discussed.  When Ivan found Christ his background was used for God's glory.  He was able to discover the hidden gems in the bible that show the very handwriting of God. Ivan generated over 43,000 pages showing the complexity of math that has been found in the scriptures. The sheer volume of evidence is beyond a shadow of doubt that the bible is the authentic word of God.
Missler also discusses bible codes mentioning current events in our present time. These codes work in the original Hebrew text Missler does an excellent job of piecing together where the bible came from and the brings to light some of the controversial subjects that prove the bible is supernatural in its entirety.
This is a must watch! 
Other Information That Is Available Through Koinonia House
Commentaries – Verse by verse teaching through the Bible with Chuck Missler. Chuck takes you through a book of the Bible like no other Bible teacher can. MP3 CDs and Downloads come with MP3 audio files, notes in Adobe Acrobat Reader format (pdf), and some come with Auto-Advance slideshows.
Topical Studies – Topical studies addressing a variety of issues. MP3 CDs and Downloads come with MP3 audio files, notes in Adobe Acrobat Reader format (pdf), and some come with Auto-Advance slideshows.
Bible Study – 208 articles Designed to enrich your Bible Study time, and provide practical tools and insights to help you develop a greater understanding of the Scriptures.
Nan's Corner – 246 articles Nancy Missler helps illuminate the many truths of God's love for us, and how we can come to know our Lord more deeply than ever before.
Prophetic – 45 articles In-depth examinations of Biblical prophecies of both the Old and New Testaments. Insights into how these prophecies relate to current and future events.
Technical – 126 articles The Lord knows more about Space and Time than we do, and He shares His insights with us. Numerous examples of how science is supporting (rather than disproving) Biblical truths.
Christian Doctrine – 16 articles Doctrinal issues affect the way we live our Christian lives. Explore topical studies in this section.
Personal – 216 articles The Word of the Lord applies to your personal life, and is critical for promoting strong spiritual and emotional growth. Find out how!
Save