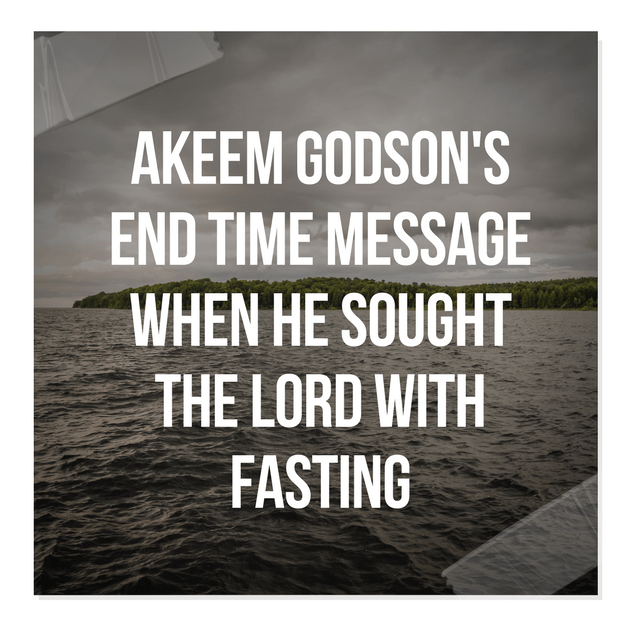 I asked the Lord several times ( by prayers & fasting) to give me a revelation ( or send a messenger/angel ) of what is about to come so I can warn the people what is coming and to be prepared and his angel came to me and gave me a message last night and the last time he gave me a message was in 2012 ( very long time ) so please , take this in prayers..
Here the things he told me and again pray about this for more confirmations because I know some will not believe it or doubt it , Just ask God and will confirm to you..
.He told me : We are arriving in the times of apocalypse, the time that we are now and that are coming , the weather that you see now , will change , the place where it's very cold , will be hot and the place where it's hot , will be cold , the countries where they has never see snows , they will see it , the sun will be more hot than before ( heat ) , summer will turn winter and winter will turn summer
– We usually eat fishes from the sea but soon we will not longer be able to eat them , we usually eat animals ( meats etc ) from the earth but soon we will not longer be able to eat them , we act bad toward the earth ( we destroying the earth ,we don't take care ) and the earth will revolt against us, the sea that seem calms will roar ( Luke 21:25 )
The countries that seems peaceful will turn a country of war, all God's children will go through this path but only God's children will be spared , mans will destroy the earth ( will kill mans ) with bombs and nuclear , many life will be lost but if you pray , you will be spared
– alot of diseases that has not been created before will appear and do not say it's from God but MANS ( man created them )
and he say * All the things i told you, Will be confirmed and come to pass, and i need to write it down , *
– he say also : There is alot of false prophets and pastors ( some ) are lying it's all about money , they only see this, they only preach for money and say something about the Vatican church will go in war or declare… and say there is alot of messenger saying they are from God but they ARE NOT, they are false , make false messages but those who are true are few….
– All the creatures that are in the darkness will come out
he say also , these things are already written since the beginning ( read the whole bible/prophecy )
– When you will talk about the truth, they will say you are a liar and will turn against you but don't lost faith but trust what you believe , to be saved, you must believe, to be spared, you must believe
– They will poisoned the water, they will put chemical substance in the water and kill everything in the water,( water will be contaminated ) , they will use planes to throw chemical substance on people to kill them, the food we are eating , we must be very careful because this is how they will kill you ,because they know you need food to survive , so watch out all your foods you will be eating because many food will be contaminated and he say again and again * BE CAREFUL WHAT YOU DRINK AND EAT ( even water ) * , we will no be longer to able to use the sea because seas will turn to blood , the air will be polluted and the ground that we are walk will not longer be safe ( will shake ) , the earth will turn against us
– Many people will have visons/dreams of what is about to come (Acts 2:17 ) ( End Message )
he told me others things but they was personally but all things I mentioned will come to pass so pray about it for more confirmations before say i'm false etc…
* Please share *
Update: he gave me others few words May 24 2017 of what is coming and again take this in prayer…
– there will many things will occurs soon , things will get worse in the years to come , 2016, 17 is nothing , the waters will rise up ( many flood etc ) there will be volcanic eruptions. , many sickness will rise up , food will be contaminated , you will hear more news everyday ( many disaster etc ) of what is happening around the world , place (country) in the world who has never had disaster or something , you will hear something happen here , , even more kamikaze ( people will use bombs in themself to kill others ) , these things will marked the mankind and the devil is working working hard ( because he know his time is short ) and don't be surprised when you hear these things….
– We are in the end ( end times ) , There will be a time not too far where money, houses , food will not longer matter ( will be worthless ) , the only thing who will be matter is your survival , survival of what is coming , many will be lost faith , many will get very discouraged of this life and they will seek death but they will no find it , many will suffering ( very hard times ahead ) , many will lose the reason to live , family will turning against family ( your own people will turn against you ,your kids , wifes etc ) what you will do or say will turned against you…
– people living in materialism, material things are just passages, just live with simplicity, if you have nothing, stay with what you have , there is some people don't have what you have…