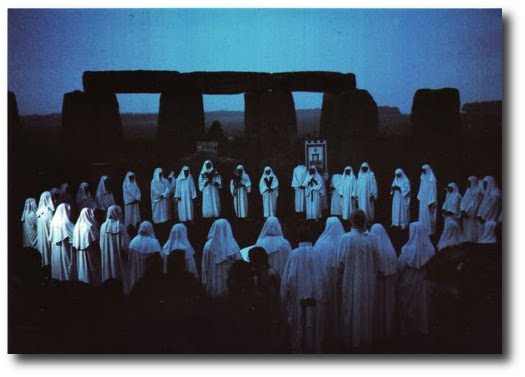 As tens of millions of children get dressed up for Halloween to get candy, and as millions of adults get dressed up in costumes ready to party the night away, little do they know that for over a thousand years Halloween has been celebrated by pagans, witches and Satanists as one of their most important holidays.  While many people (including many Christians) defend this holiday as a night of childlike fun, the reality is that there is more animal sacrifice and even more human sacrifice on this night than on any other.
For occultists, pagans and Satanists, Halloween night is the night when the veil between this world and the world beyond is the thinnest.  To them it is the best night to contact the dead, and by participating in the rituals of this holiday many of these people believe that they can tap into great power. This Satanic night is dedicated to the Celtic Lord of the Dead, also symbolized by the Horned-god and the Stag-god. Most commonly this holiday is known as Halloween today, but to the pagans this is the holiday of Samhain.  It is a very wicked holiday that is deeply rooted in ancient paganism. October 31st was celebrated by the Druids with many human sacrifices honoring their sun god and Samhain, the lord of the dead, who in reality is Satan. The Druids of ancient times celebrated Samhain as a 3-day fire festival, building huge bonfires which were meant to ward off evil spirits.  Human sacrifice was also a key component of many of these ancient celebrations.  Children and animals were often caged in large wicker baskets which were then lowered into the flames.  Posted below you can see a photograph of a modern celebration of Samhain.  Such pagan celebrations as this are becoming increasingly popular.
Bobbing for apples seems like a fun game, but little do people know that people being held for these sacrifices in ancient times were sometimes given the choice that if they could get an apple with their teeth out of a blazing boiling pot of water they could be set free instead of being offered in the fire. It gives an entirely different perspective on the tradition that is still held today at many parties. In fact, once you look into these horrid customs held over 2,000 years ago, they all have terrifying origins.
It was Pope Gregory III who moved festival of October 31st to November 1st and called it All Hallows or All Saints' Day, and then it was Pope Gregory IV who decreed that the day was to be kept by the church. There is nothing Christian about Halloween, as it is in fact an abomination to God and yet so many Christians participate in it.  The Bible says we cannot drink from the cup of the devil and that of God. We must choose one or the other.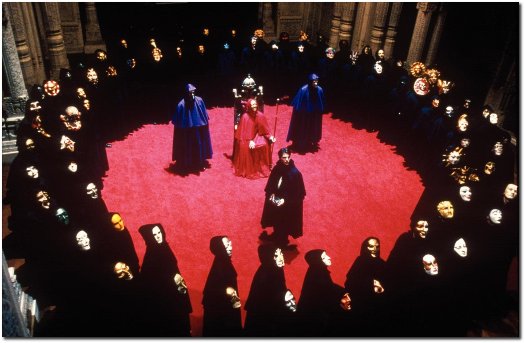 Many people claim that Halloween is harmless fun, and that they do not worship the devil but take part only in the fun things of the holiday. Even if you are not "serious" about it, Satan is!
The videos below contain testimonies from people who tried out tarot cards, Ouija boards, or other "harmless" white magic only to discover the dangers of dabbling in spiritualism. It may seem like innocent fun, but is it?
Many people have testified that they were introduced to the occult at a Halloween party. The video testimonies below are from people who have dabbled with the occult only to have found themselves deeply involved in the occult. No Christian should take part in celebrating the occultic holiday of Halloween. How can any Christian participate in a holiday where hundreds of babies are tortured for hours and are brutally murdered?
"Beloved, do not imitate what is evil, but what is good. He who does good is of God, but he who does evil has not seen God." 3 John 11
"Finally, my brethren, be strong in the Lord and in the power of His might. Put on the whole Armour of God, that you may be able to stand against the wiles of the devil. For we do not wrestle against flesh and blood, but against principalities, against powers, against the rulers of the darkness of this age, against spiritual hosts of wickedness in the heavenly places. Therefore, take up the whole Armour of God, that you may be able to stand in the evil day, and having done all, to stand. Stand therefore, having girded your waist with truth, having put on the Breastplate of Righteousness, and having shod your feet with the preparation of the Gospel of Peace. Above all, taking the Shield of Faith with which you will be able to quench all the fiery darts of the wicked one. And take the Helmet of Salvation, and the Sword of the Spirit, which is the Word of God; praying always with all prayer and supplication in the Spirit, being watchful to this end with all perseverance and supplication for all the saints." Ephesians 6:10 – 18
"Therefore, submit to God. Resist the devil and he will flee from you." James 4:7
"Do not be unequally yoked together with unbelievers. For what fellowship has righteousness with lawlessness? What communion has light with darkness? And what accord has Christ with Belial? For what part has a believer with an unbeliever? And what agreement has the temple of God with idols?… Therefore, come out from among them and be separate says the Lord. Do not touch what is unclean and I will receive you" 2 Corinthians 6:14 – 17
"And have no fellowship with the unfruitful works of darkness but rather expose them." Ephesians 5:11
"Finally, brethren, whatever things are true, whatever things are noble, whatever things are just, whatever things are pure, whatever things are lovely, whatever things are of good report, if there is any virtue and if there is anything praiseworthy – meditate on these things." Philippians 4:8
"… teach my people the difference between the holy and the unholy, and cause them to discern between the unclean and the clean." Ezekiel 34:23
"My people are destroyed for lack of knowledge. Because you have rejected knowledge, I will also reject you from being priests for Me; because you have forgotten the Law of your God, I will also forget your children." Hosea 4:6
"That whoever causes one of these little ones who believe in Me to sin, it would be better for him if a millstone was hung around his neck, and he were drowned in the depths of the sea. Woe to the world because of offenses! For offenses must come, but woe to that man by whom the offense comes!" Matthew 18: 6 – 7
"You cannot drink the cup of the Lord and the cup of demons; you cannot partake of the Lord's Table and of the table of demons." 1 Corinthians 10:21
The truth is that you can be delivered out of the occult by the God of the universe.  He is stronger and more powerful than any entity of darkness.  Jesus Christ died on the cross for your sins, and if you ask Him into your life He will forgive your sins and will give you eternal life.  If you would like to make that decision right now, the following is a suggested prayer for asking Jesus into your life:
"Jesus, I believe that you died on the cross for my sins.  I know without you I am destined for an eternity in hell.  Please come into my life and forgive my sins.  I ask you to take control over my life, and give you complete control over my life to change me into the person I was meant to become.  Open my eyes up to the life I am meant to live.  Please show your love to me.  Thank you Jesus."
The origins of All Hallows Eve can be found here.