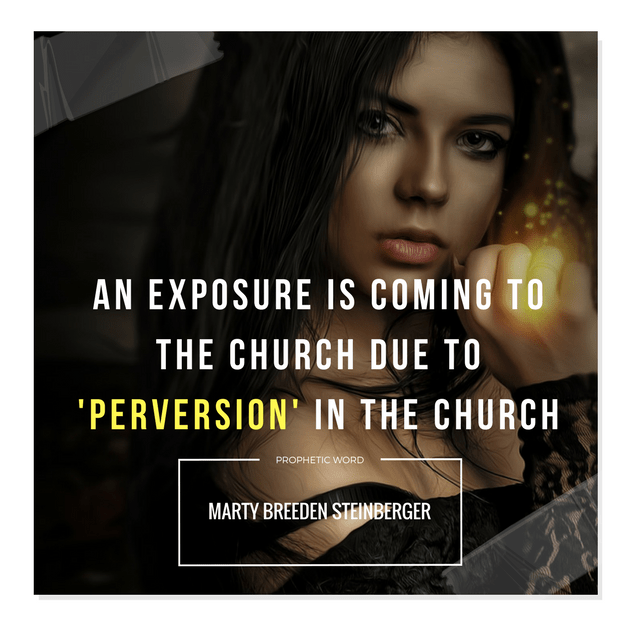 Marty Breeden
A Prophetic Word
A demonic spirit of perversion is going to be on open display in our land. Things, many things are not as they appear. A flood of filth is coming and with it things will be brought to light that most thought were hidden.
Even professing Christian churches will begin to display a level of perverse activity that was once thought to be only in the world. Pride, perversion and arrogance will take the same stage. Seemingly solid doctrine will be brought forth with a demonic mixture of filth.
An exposure is coming and it will rock the House of God. Even those who have served God and still do, even those who have repented for their sins, even those among the redeemed who have in the past allowed themselves to dabble and look upon things forbidden by the spirit of God, sins they have repented of and have been forgiven by God… even those sins will be brought forth by dark powers to embarrass and dishonor the people and ministers of God and to cause confusion. For the word of God calls satan the accuser of the brethren and accuse he will.
Marriages, pastors, and leadership will all be challenged as a revealing takes place. Godly and Biblical discernment will be required to know and understand that which is God calling for repentance or the enemy bringing railing accusations to the body of Christ.
What should we do? First, FLEE things of the flesh and flee youthful lust. Second, REPENT and seek Godly counsel and advice. Third, weep between the porch and the altar to begin to fully be prepared to receive and extend the Grace and Mercy of God. The Bible instructs us to make no provision for the things of the flesh (Romans 13:14) and to seek the Lord while He may be found (Isaiah 55:6).