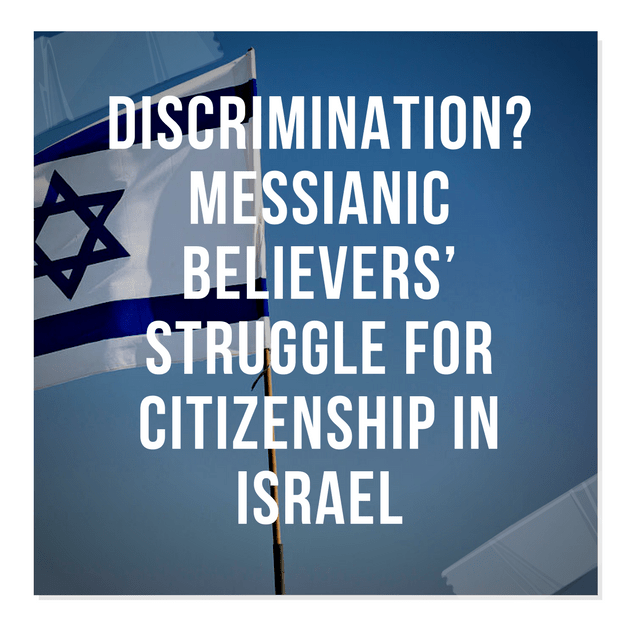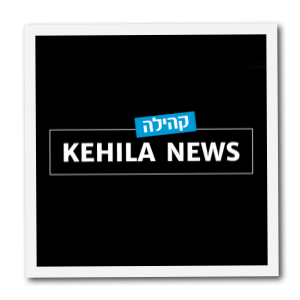 Re-Published With Permission From
kehilanews.com
When Israel's prime minister boasted last month that the Jewish state is "committed to the freedom of all faiths and to the rights of all," many Messianic Jews trying to make aliyah were left wondering how exactly their faith fits into this picture of democracy and tolerance.
"Throughout the Middle East, Christian communities are decimated, minorities persecuted. But here in Israel, we're proud to have a growing and thriving Christian community, and we guarantee the rights of all," Prime Minister Benjamin Netanyahu said upon welcoming U.S. President Donald Trump to Israel.
Yet several Jews who believe that Yeshua is the Messiah are systematically being denied the right to immigrate to Israel because of their faith, several Messianic Jews contend. As one of them noted when he heard Netanyahu's speech, "We could only think, 'unfortunately the rights of all are not yet guaranteed, Mr. Prime Minister.'"
The Ministry of Interior is notorious for barring Jews who believe in Yeshua the right to immigrate. With strict laws for making aliyah, Israel nevertheless actively encourages Jews from around the world to consider making the Jewish state their home. Jews who immigrate receive a benefits package to help them start off here including discounts on major purchases such as homes and cars, tax reductions on their income for a few years and free Hebrew classes.
A person must be able to prove with certain documents that they are Jewish or that they are descended from at least one Jewish grandparent. Then, under the Right of Return, they may move to Israel and receive citizenship. However, Jews who believe in Yeshua are deemed "Christian" and are no longer eligible for citizenship — even if they have proven their Jewish lineage.
While there are a few cases of persecution against believers in Beersheba and recent protests in Dimona, several Messianic Jews trying to make aliyah are still fighting for their status to live here in long, drawn out appeals processes and court cases.
This kind of blatant discrimination must not be allowed to continue … the rights of an entire segment of Jews ARE being trampled
A few whose immigration applications have been rejected by Israel's Ministry of Interior shared their stories with KNI on condition of anonymity because their cases are ongoing.
"I am sure that Prime Minister Netanyahu is unaware that a handful of people who work for the Interior Ministry are not living up to that statement – at least where it concerns the rights of Messianic Jews who were born of Jewish parents," C., who is an Israeli Jewish citizen, told us. "These corrupt officials are purposely withholding the right of my son, whose late father was also an Israeli citizen, to live here, in the land of his forefathers."
"It would be right and proper for our prime minister to be informed of this and to make sure that the rights of all Jews — irrespective of their personal faith beliefs — are legally and morally granted. My son is a Jew by birth, and, as such, he must be allowed to immigrate to his homeland simply because the law says that Jews, the children of Jews and even the grandchildren of Jews are eligible for citizenship," she continued. "Political and religious views of such individuals is neither the business of the State nor something which makes them ineligible for the Law of Return."
Jews in all democratic nations of the world are free to believe whatever they want or nothing at all. Not in Israel!
J. and his wife had all of their papers in order to make aliyah and waited on an answer for months. They purchased a home in Israel and set out to serve their community, living off their savings and not intending to burden the state. Finally the response came from the Interior Ministry.
"'You were denied citizenship because you belong to Messianic Judaism, which is an exception to the Law of Return,' This in spite of the fact that we are 100 percent Jewish," J. said. "It was not what we had expected."
J. noted that Jews, in all democratic nations of the world, are free to believe whatever they want or nothing at all. Even in Israel a Jewish person can be involved in New Age, Buddhism, atheism, etc.
"But believe in Yeshua? You're labeled a 'dangerous missionary' and various anti-missionary organizations will work hard to find you out and then keep you out," J. said. "This, Mr. Prime Minister, is not our idea of guaranteeing the rights of all. Perhaps, now is the time to uphold the words that you proclaimed to the president of the United States of America."
J.'s lawyers are pessimistic about them receiving citizenship despite a years-long appeals process.
We felt as if we had been violated and that we were criminals
In another case, A., who is an Israeli Jew, and her husband who isn't Jewish, were called in by the Interior Ministry. They were split up and their phones taken from them and then interrogated separately as to which congregation they belong and whether A. shares a "foreign faith" with her husband.
"We obviously felt as if we had been violated and that we were criminals," she said.
The questions included what they do on the weekends and names of their friends.
"Everything that we said was being written down, and then we were requested to sign what they wrote," she said.
The people interviewed here, and others not mentioned in this article but encountering the same treatment, are understandably drained and discouraged.
"We committed ourselves to give and not to take – of our time, our talents and our finances," J. told us. "We're not here to try to change the laws of the land. We are just requesting some form of status so that we can remain here and continue to serve individuals and families in our city."
C. concurred and said it's about time the Ministry of Interior live up to Netanyahu's words.
"This kind of blatant discrimination must not be allowed to continue," she said, "because it means that the rights of an entire segment of Jews are being trampled upon."