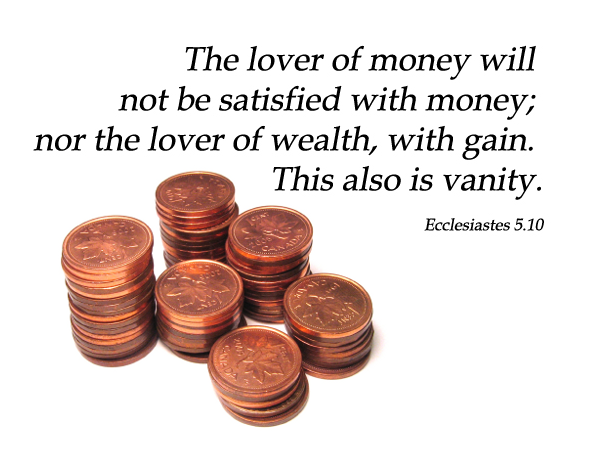 Photographer Tom Hussey created a series of pictures that will speak to you, no matter your age, race, or occupation. Behind the wrinkles, and the infirmity of old age, we see that everyone has a story to their lives.
The message in Ecclesiastes is one that speaks about how life passes so quickly that we find we wake up one day and our lives have passed us by.
9 What profit has the worker from that in which he labors? 10 I have seen the God-given task with which the sons of men are to be occupied. 11 He has made everything beautiful in its time. Also He has put eternity in their hearts, except that no one can find out the work that God does from beginning to end.

12 I know that nothing is better for them than to rejoice, and to do good in their lives, 13 and also that every man should eat and drink and enjoy the good of all his labor—it is the gift of God.

14 I know that whatever God does,
It shall be forever.
Nothing can be added to it,
And nothing taken from it.
God does it, that men should fear before Him.
15 That which is has already been,
And what is to be has already been;
And God requires an account of what is past.
The Book Of Ecclesiastes Avoiding A Meaningless Life
The book of Ecclesiastes, written about 935 BC by King Solomon provides a glimpse into this real truth, that our lives are but a passing wind; here one moment, and gone the next. This truth will become apparent when we truly experience eternity some day.
This book gives us some some mind blowing truth that we all learn as we look back at our lives, and wonder if we made our time count. King Solomon goes through a list of things he tried in seeking fulfillment. He talks about his career achievements, his home, materialism, and pleasure in life in the book Ecclesiastes.
Some say King Solomon was the wisest man ever to have lived, and was given a great gift of wisdom from the Lord, than any other man in history. King Solomon was a very rich man. He had extreme wealth in the ancient world. As the son of David and Israel's third king, he brought peace to the land and launched a massive building program. It was then where he began to backslide, took hundreds of foreign wives and concubines, where their idolatry influenced him and caused him to slip farther away from the True God.
Written ten centuries before the birth of Jesus Christ, the book of Ecclesiastes urges today's believers to seek a life where God is first, rather than an after thought. If we truly live a life that seeks God first, we can then look back at our lives we will have no regrets.
Solomon reflects on his life and remembers his palaces, gardens, and wives, and lives to have regrets about how he spent his life. His message gives us perspective in a world where there are a million things all seeking our attention. Our work, car and house payments and entertainment can take years away from us. While some translations use the word "vanity," it also has been translated as "meaningless," a concept in Ecclesiastes that most of us find easier to understand. I would encourage you all to read the book. It is one book you can extract your life purpose from, over and over again.
Videos
– Kat Kerr giving revelations on Heaven – Youtube
– What do you want to know about heaven? – Kat Kerr Youtube
– Kat Kerr shares about her accounts of Heaven – Youtube
– Kat Kerr teaches about Heaven and the coming Heaven Invasion- Youtube
Scriptures:
John 3:36 Whoever believes in the Son has eternal life; whoever does not obey the Son shall not see life, but the wrath of God remains on him.
Matthew 10:28 And do not fear those who kill the body but cannot kill the soul. Rather fear him who can destroy both soul and body in hell.
Romans 12:2 Do not be conformed to this world, but be transformed by the renewal of your mind, that by testing you may discern what is the will of God, what is good and acceptable and perfect.
Matthew 6:33 But seek first the kingdom of God and his righteousness, and all these things will be added to you.
Romans 12:1-5 I appeal to you therefore, brothers, by the mercies of God, to present your bodies as a living sacrifice, holy and acceptable to God, which is your spiritual worship. Do not be conformed to this world, but be transformed by the renewal of your mind, that by testing you may discern what is the will of God, what is good and acceptable and perfect. For by the grace given to me I say to everyone among you not to think of himself more highly than he ought to think, but to think with sober judgment, each according to the measure of faith that God has assigned. For as in one body we have many members, and the members do not all have the same function, so we, though many, are one body in Christ, and individually members one of another.
Ecclesiastes 12:7 – Then shall the dust return to the earth as it was: and the spirit shall return unto God who gave it.
Matthew 25:46 – And these shall go away into everlasting punishment: but the righteous into life eternal.
2 Corinthians 12:9-10 But he said to me, "My grace is sufficient for you, for my power is made perfect in weakness." Therefore I will boast all the more gladly of my weaknesses, so that the power of Christ may rest upon me. For the sake of Christ, then, I am content with weaknesses, insults, hardships, persecutions, and calamities. For when I am weak, then I am strong.
Philippians 3:20-21 – For our conversation is in heaven; from whence also we look for the Saviour, the Lord Jesus Christ
Galatians 6:8 – For he that soweth to his flesh shall of the flesh reap corruption; but he that soweth to the Spirit shall of the Spirit reap life everlasting.
2 Timothy 4:8 – Henceforth there is laid up for me a crown of righteousness, which the Lord, the righteous judge, shall give me at that day: and not to me only, but unto all them also that love his appearing.
Hebrews 9:27 – And as it is appointed unto men once to die, but after this the judgment:
Romans 6:23 – For the wages of sin [is] death; but the gift of God [is] eternal life through Jesus Christ our Lord.
Matthew 7:13 – Enter ye in at the strait gate: for wide [is] the gate, and broad [is] the way, that leadeth to destruction, and many there be which go in thereat:
John 14:1-3"Let not your hearts be troubled. Believe in God; believe also in me. In my Father's house are many rooms. If it were not so, would I have told you that I go to prepare a place for you? And if I go and prepare a place for you, I will come again and will take you to myself, that where I am you may be also.
Why Does Time Go Faster As We Get Older? Philip Yaffe
It is a widely accepted adage that, "The older you get, the faster time seems to go." But why should aging have this effect? After all, there is the parallel adage that, "Time flies when you are having fun." But as we age, time flies whether we are having fun or not.
So what's going on?
I have recently been trying to understand the phenomenon, because for the past several years many of my days have been extremely long, yet the years still seem to be accelerating.
To tackle the problem, I did an Internet search to see what others were saying on the subject. Nearly all the returns had to do with parenting. "Oh, they grow up so fast. The days are long, but the years are short." This is perhaps a partial explanation; however, since the phenomenon occurs just as well to people who have no children, it cannot be the whole answer.
Some other comments had to do with getting religion. "I found God at the age of 30 and every day since I have been waiting to go to His kingdom. I am now in my 80s. Oh, the days have been so long, but the years have been so short." Again perhaps a partial explanation; however, since the phenomenon occurs just as well to non-believers as believers, it cannot be the whole answer either.
Many comments were philosophical. They said simply to accept the phenomenon and live each day to the full. Good advice, but again no advance in understanding. Read More Here……..