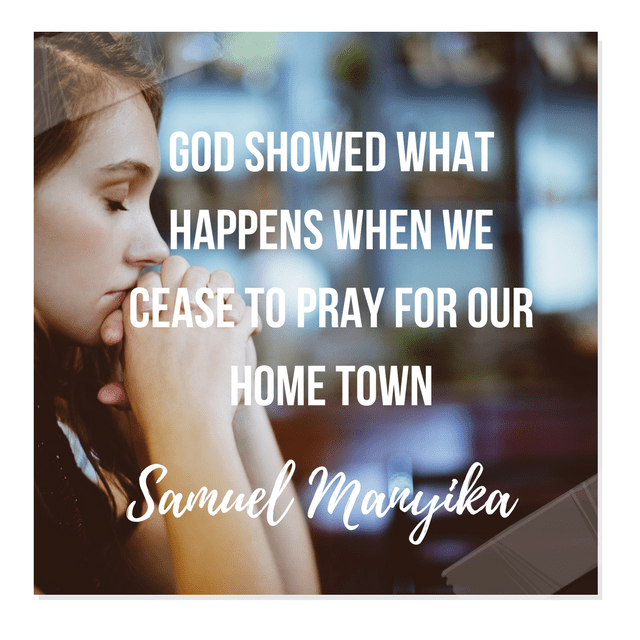 PRAYER CALL:DO NOT UNDERESTIMATE YOUR SPIRITUAL CAPACITY TO CHANGE ZIMBABWE THROUGH PRAYER
More than twenty years ago I remember driving into the city where I lived in the morning on my way to the office. I witnessed a large group of people gathered and on inquiry I was told a woman had been stabbed by her boyfriend and was lying dead there. It was really something unusual in that town and the incident threw a blanket of sadness over everyone.
Two days later as I was sitting in my office in the morning I was told that four people had been shot dead in the early morning hours at a night club which was just one street behind our offices. This was even worse than the incident of the stabbed woman, everyone was talking about it and it changed the usually relaxed friendly atmosphere of the city into something totally different and depressing.
As I sat there in my office I clearly heard a voice say in my spirit,
"Do you see what happens when there is no prayer covering over a city?"
I then recalled that I had suspended our weekly Friday all night prayer meetings which besides praying for our general needs as a ministry, dedicated a significant amount of time to praying for the city.
It was clear to me that some of these horrible things that were happening where directly related to the fact that there was no longer a strong prayer defense around the city, Satan and his demons were now having an unchallenged free for all.
I also recalled something that had happened the previous year. I had gone on a three month ministry trip overseas and when I came back something strange happened one night.
I was woken up by the spirit of the Lord around 1:00 AM and he said let me show you what was happening in the city while you were away.
I was then shown what appeared to be altars of worship or for witch craft purposes which had been built and established around the city. I then prayed for over an hour after that pulling down these evil spiritual strongholds.
I would like whoever reads this to appreciate that I am sharing it with the utmost humility and fully understanding that this may be misconstrued as an attempt to glorify myself as some great or mighty servant of God.
However the fact is that these things happened and I was as surprised as anyone would be, that I and my ministry were being centralized in what was happening. I think that is where the crux of the matter lies.
The bible teaches that we have this TREASURE IN EARTHEN VESSELS. The treasure is the power and ability of God in us through his Word and Spirit.
2 Corinthians 4:7 But we have this treasure in earthen vessels, that the exceeding greatness of the power may be of God, and not from ourselves;
This simply means that God has chosen to use simple man to achieve his great purposes on earth by his spirit.
We fail to partner with God effectively when we begin to ask the proverbial question "Who am I Lord that you would choose me."
The fact is that God will choose anyone to do whatever it is that he chooses to do, then he will achieve it BY his power and ability, who the person is becomes of no consequence.
We find many instances in the Bible where great things happened after the "the Spirit of the Lord" came on someone.
Samson was an ordinary man, he only did extraordinary things when the SPIRIT of the Lord would come upon him.
If you are baptized in the Holy Ghost you must come to a point where you understand that in you are deposited weapons which are mighty through God to the pulling down of strongholds.
2 Corinthians 10:3 For though we live in the world, we do not wage war as the world does. 4 The weapons we fight with are not the weapons of the world. On the contrary, they have divine power to demolish strongholds.
When you open your mouth to pray and intercede it is no longer about you but about that Godly capacity in you which will begin to work. Your prayer life will only change and become stronger and more confident as you get to know the power of God availed to believers.
Ephesians 1:18 Having the eyes of your hearts enlightened, that you may know what is the hope to which he has called you, what are the riches of his glorious inheritance in the saints, 19 and what is the immeasurable greatness of his power toward us who believe, according to the working of his great might
There is nothing good that will happen before we pray. NOTHING!
All efforts by different groups and individuals will come to nothing if no one is praying.
Prayer paves and opens the way.
As we look at the tattered state that our economy is in, even the state of our society emotionally, morally etc we see the need for God to intervene.
There must be groups of people who commit to pray.
Maybe you are not the placard waving or street protest type, you however cannot be the "NO ACTION WHATSOEVER TYPE!"
Moreover you can be part of the action that really has guaranteed results, PRAYER!
You are therefore invited to take part in two seven day prayer blocks which we will dub the CHANGE ZIMBABWE PRAYERS.
The first block begins on the 7th to the 14 of November, the second on the 5th to 11th.
As a responsible citizen who has been affected negatively by what is happening in our country you are declaring that this cannot continue in 2017.
I know there are people who will do the seven day block easily, for those who say I can only do one day you will take a day which has your birthday number or both of them. So if you were born on the 1st you can take the 10 or 14,if on the 7,17,27 you can take the 7th etc etc. This way all the days will have groups of people praying.
Our prayer approach will not be business as usual, it is based on the authority of a believer who happens to be a child of God, not the beggarly pleading type offered by spiritual outcasts. There will be no meetings, just you praying in the spirit where you are and joined together with others by that same spirit of the Lord.
We will not pray following laid down formats but as the spirit will lead.
Romans 8:26 In the same way, the Spirit helps us in our weakness. We do not know what we ought to pray for, but the Spirit himself intercedes for us with groans that words cannot express.
The following guide will help as a start up, but everyone should pray as led, that is the only way to guaranteed results.
-We will declare peace in our country, so we will bind and cast down any demonic strongholds that seek to incite conflict in the nation.
-Pray for God to intervene in all decision making processes in our nation so that we do not have impulsive ill though policies which continue to erode the resuscitation of our economy.
-We will come against any negative spiritual activity in the heavenlies that foments hatred, murder, division, suspicion, false accusations and other such acts which have created a lot of negative undercurrents in the nation.
-We will speak the pulling down and neutralizing of all those who are being used by satan to destroy our country through dividing it, stealing from national and other coffers and generally encouraging corrupt practices.
-We will declare the continued exposure of all those who are involved in any conspiracies, lies and deceptive spins that cause confusion in our nation. We do not want a nation which is manipulated and controlled through deception
–We will release a fearless spirit in those leaders who were afraid to stand up against wrong practices that they are fully aware of but were afraid to challenge. Let them have no rest in their sleep or during the day, let their consciences give them no rest until they do the right thing.
-Pray for divine confrontations where the Lord will visit some of the leaders the way he did with Saul of Tarsus so that he can change them.
–Call on angels to intervene when evil murderous men conspire to kill or abduct well meaning civilians who simply want to be involved in fixing their country.
-Let God's Judgement be meted on all those who have brutalised others, accused innocent people falsely, destroyed families and other peoples' property and generally carried out their evils with impunity. Let them feel the wrath of God in their lives and families unless they repent.
–Pray for good rains so that our people do not starve.
The rest of your prayers should arise out of your inner man as led by the spirit. If the spirit of God gives you specific names to pray for or against do as the spirit leads.