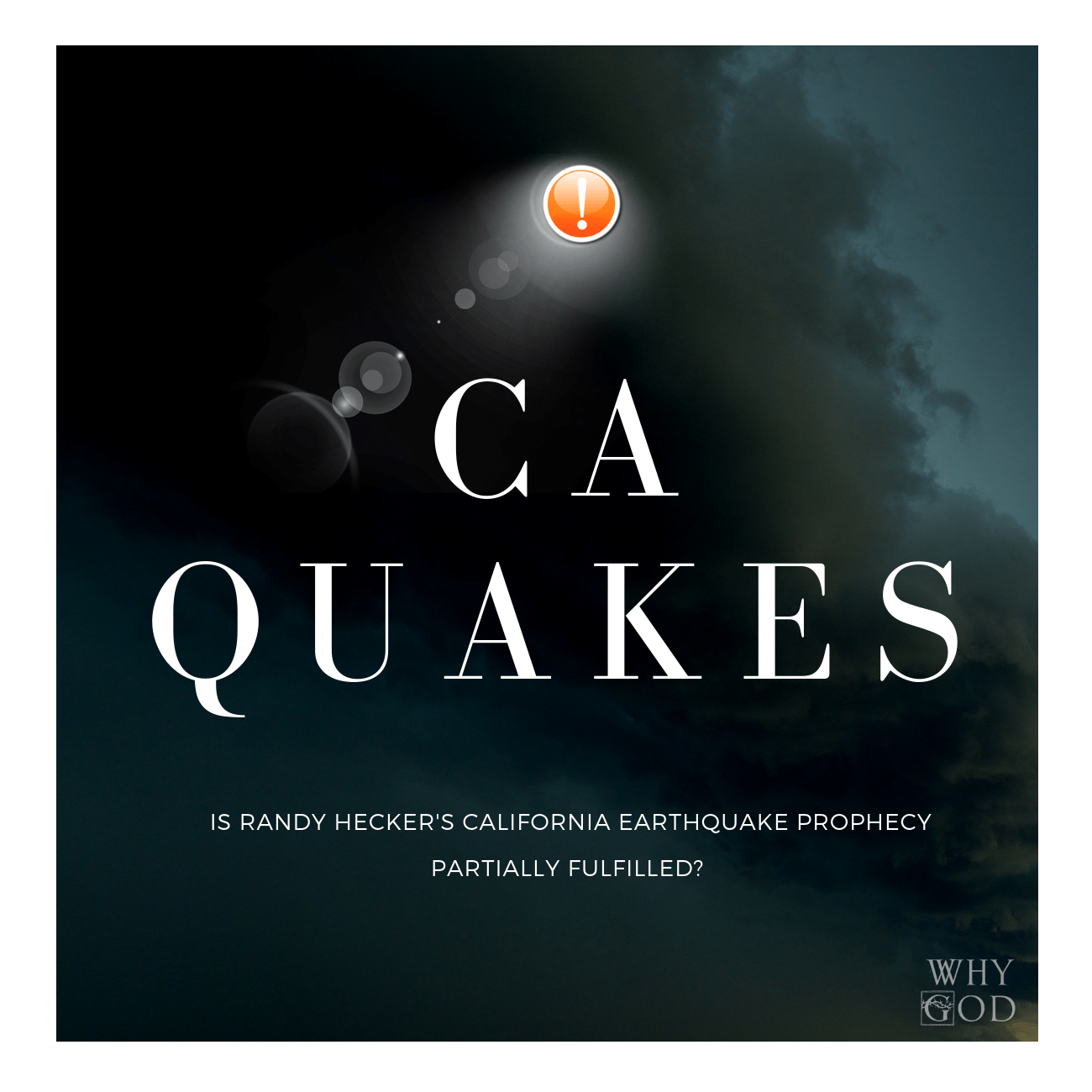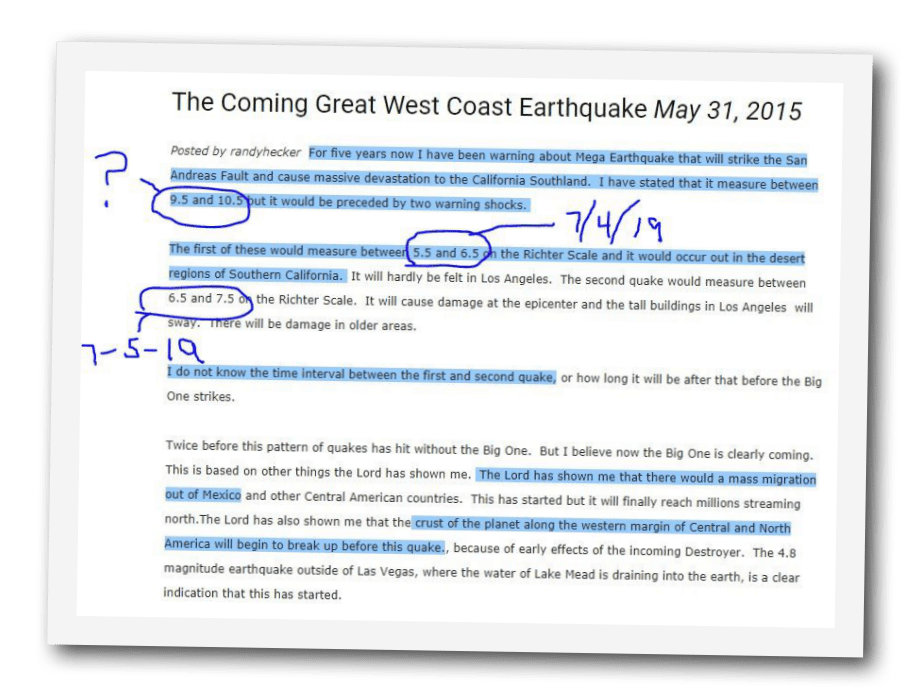 I came across a screen shot of Randy Hecker's prophecy posted in a facebook prophecy group today. Randy Hecker originally released an earthquake prophecy for California back in 2015. 
The prophecy included 3 earthquakes that were to occur, – the first one between the ranges of 5.5 -6.5, the second between 6.5-7.5, and a third between 9.5- 10.5, which would be preceded by two warning shocks.
People noted that the first two earthquakes seem to fit what California experienced recently.
6.4 M, Ridgecrest, 2019-07-04

7.1 M, Ridgecrest , 2019-07-05
The prophecy describes the second earthquake to shake the buildings in LA, which did not happen.  Was his speculation added to the prophecy, or could this be another earthquake we should expect? 
This prophecy also mentions Mexico City and Mt. Popocatepetl, which connects to a prophecy that was given by David Wilkerson.

See the rest of Randy Hecker's prophecy here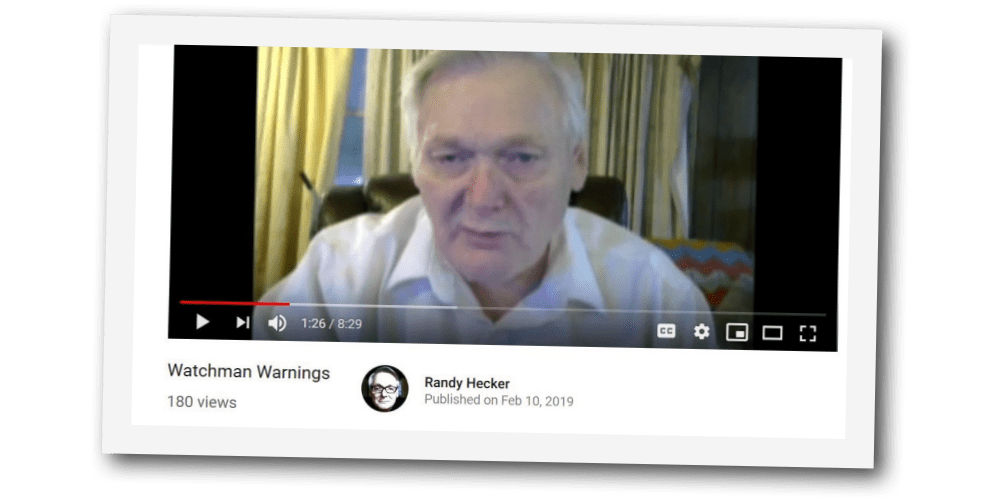 In this February 2019 youtube video, Randy speculated that the earthquakes that are coming to California will hit around the Victorville area in California as a sign of judgement.  He suspected that they will hit this particular region because there is a facility that processes aborted babies which they use in food flavorings.  His speculations were right on.  The earthquake hit just an hour and a half away from Victorville.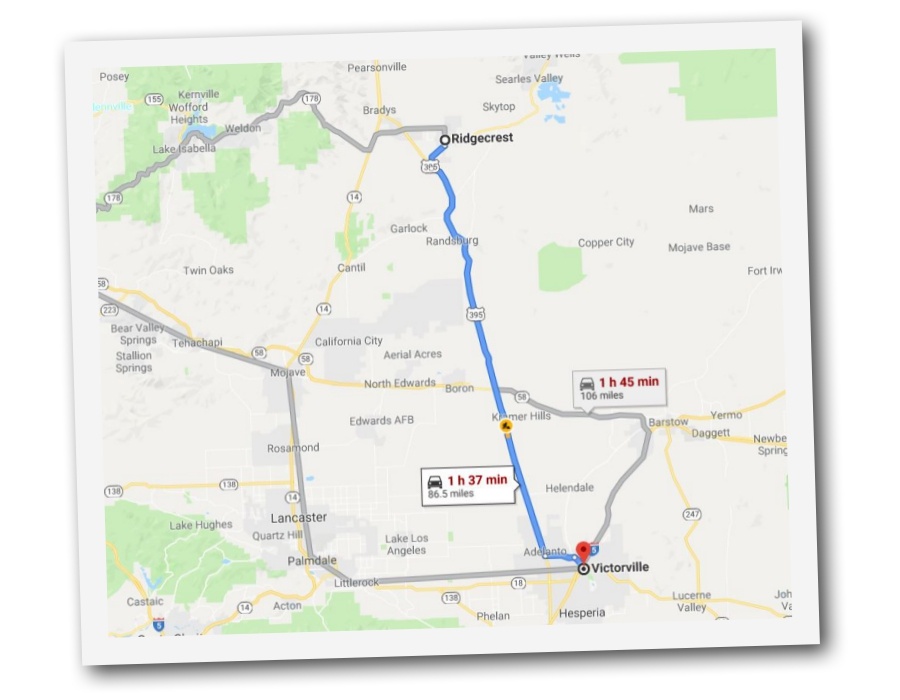 Other prophetic voices have seen a 9+ earthquake hit California.   
John Shorey "You can take it to the bank that a mega 9.2 quake will hit the Northwest. Six months later scientists confirmed this coming quake in exact detail as my dream. I could go on, but I have made my point."
Kevin Mirasi

–While Posting and sharing across the Prophecy of The LORD back then in 2012 (29th May), I Titled it as follows: '"A Prophecy (Dream) Where I Was Shown a Series of Earthquakes Imminently Going To Hit California, USA:

A 5.7, and Then a 7.5 and Finally a 9 or 10

on the Richter scale.'
Patti Young –"I was given a vision 5 years ago.I was with all of his family eating Thanksgiving dinner. And as we were there, not on exactly Thanksgiving. A major earthquake struck all along the Western coast. It was a 9.1, everything almost destroyed.
9 Year old from China "These earthquakes have never been seen before, a major earthquake of magnitude 10 or 16 (I'm not so sure). All four skyscrapers collapsed in about three seconds, Even the statue of liberty went straight into the sea. " here
---

---
Coming Soon? This Is What Would Happen If A 9.0 Earthquake Hit The Cascadia Subduction Zone…
By Michael Snyder – See this post here
The Shaking Won't Stop: There Have Been More Than 10,000 Earthquakes In California And Nevada In The Last 7 Days
By Michael Snyder – See this post here