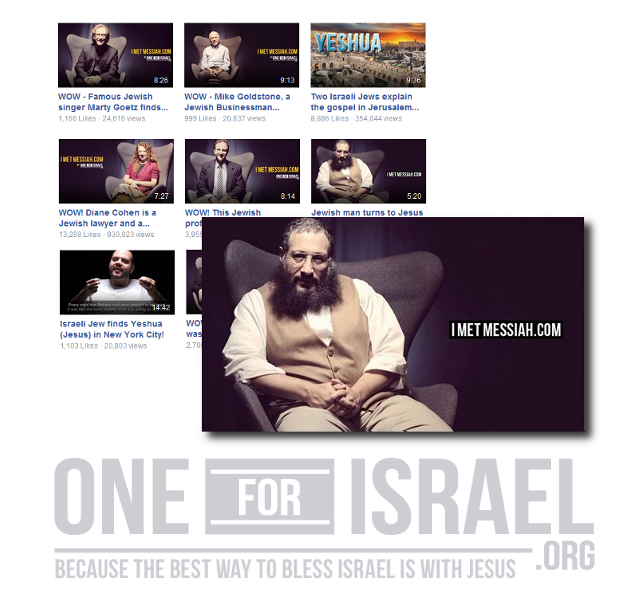 We are seeing more and more of Judah come to know their Messiah.
The One For Israel Ministry has put together some terrific testimonies of why Jewish believers have turned to Yeshua.
Learn WHY and HOW they discovered Yeshua and what led them to embrace their savior.
Like One For Israel On Facebook
Here is a collection of just a few of their videos:
Jewish man turns to Jesus and explains why in a way you never heard before!
Famous Jewish singer Marty Goetz finds Jesus!
Mike Goldstone, a Jewish Businessman (founder of Regency Lighting), shares how he met Jesus in a miraculous way!
Two Israeli Jews explain the gospel in Jerusalem like you've never heard before!
Israeli Jew finds Yeshua (Jesus) in New York City!
Weatherman Troy Dungan's Endorsement for ONE FOR ISRAEL
Jewish Girl From Israel Finds Comfort & Meaning in Yeshua (Jesus)
A great new worship video clip by Israeli Messianic Jew – Sarah Liberman (who donated our ministry a lot of her CDs to give to non-believers who get in touch with us wanting to learn about Yeshua).
This religious Jew was taken by demonic forces, but Jesus miraculously healed him and now his testimony is shaking the Jewish world!
Diane Cohen is a Jewish lawyer and a leader in her synagogue who turned to Jesus in a supernatural way!!
This Jewish professor saw Jesus in a vision!! Watch & Share!!
Did Jesus receive His power from Satan?
Zechariah is prophesying of Jesus' crucifixion that…
The Jewish background of Jesus' resurrection -…
WWW.IMETMESSIAH.COM – Jewish Professionals…
Orthodox Judaism says that Messianic Judaism is…
Was Jesus really a false prophet?
Is the concept of "Son of God" a pagan one?
Jesus Resurrected from the dead!
Answering Rabbi Asur's "Contradictions" in the…
Can Prayer Really Replace Sacrifices for…
Really?? You can't be a Jew and believe in Jesus?
When Will the Messiah Arrive According to the…
Is the concept of "Son of God" a pagan one?
Do Jewish people need an mediator to God? Or can…
WOW – Israelis are sharing Jesus with other Israei…
If Jesus is really the Messiah, Why isn't there…
Isaiah Chapter 53 – About The Messiah Or About…
THE OLD TESTAMENT VS. THE NEW TESTAMENT?
What's our deal with Yeshua anyway? And why…