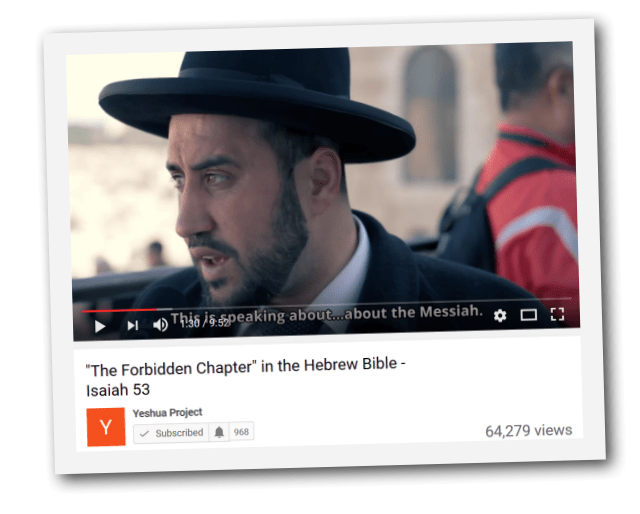 Ariel Hyde For treeoflifeisrael.org
Ariel Hyde produced a powerful video of his experience when he took to the streets of Israel sharing with devout Jews about their Messiah right from the Holy Scriptures.  Watch Ariel as he shows how Yeshua fits the description, leading them to the truth they never could see before.
---
Parts of the video transcript:
There is a chapter in this book (the Tanakh ) that is that used to be read in the synagogues in the past.
But later the rabbi's decided to take it out to take it out of the haftarah reading ( yearly reading)
Today is considered " the Forbidden chapter"
Do you want to see what's hidden in this chapter?
Most Jewish people have never read this chapter since it's not red anymore in the synagogues
The chapter is Isaiah 53 a very important prophecy about who the Messiah would be.
For 1,700 hundred years after Isaiah wrote it virtually all the rabbis and sages believes the chapter was speaking about the Messiah.
Also the Talmud, in Sanhedrin 98, Yalkut Shimoni, the Zohar,
Rambam and others believe this chapter was talking about the Messiah.
So now we've come to the fun part we will read verses from this chapter and we will see what it says.
Isaiah 53 King James Version (KJV)

53 Who hath believed our report? and to whom is the arm of the Lord revealed?

2 For he shall grow up before him as a tender plant, and as a root out of a dry ground: he hath no form nor comeliness; and when we shall see him, there is no beauty that we should desire him.

3 He is despised and rejected of men; a man of sorrows, and acquainted with grief: and we hid as it were our faces from him; he was despised, and we esteemed him not.

4 Surely he hath borne our griefs, and carried our sorrows: yet we did esteem him stricken, smitten of God, and afflicted.

5 But he was wounded for our transgressions, he was bruised for our iniquities: the chastisement of our peace was upon him; and with his stripes we are healed.

6 All we like sheep have gone astray; we have turned every one to his own way; and the Lord hath laid on him the iniquity of us all.

7 He was oppressed, and he was afflicted, yet he opened not his mouth: he is brought as a lamb to the slaughter, and as a sheep before her shearers is dumb, so he openeth not his mouth.

8 He was taken from prison and from judgment: and who shall declare his generation? for he was cut off out of the land of the living: for the transgression of my people was he stricken.

9 And he made his grave with the wicked, and with the rich in his death; because he had done no violence, neither was any deceit in his mouth.

10 Yet it pleased the Lord to bruise him; he hath put him to grief: when thou shalt make his soul an offering for sin, he shall see his seed, he shall prolong his days, and the pleasure of the Lord shall prosper in his hand.

11 He shall see of the travail of his soul, and shall be satisfied: by his knowledge shall my righteous servant justify many; for he shall bear their iniquities.

12 Therefore will I divide him a portion with the great, and he shall divide the spoil with the strong; because he hath poured out his soul unto death: and he was numbered with the transgressors; and he bare the sin of many, and made intercession for the transgressors.
First of all have you heard of this Messiah, that all these things would happen to him?
This description of the Messiah is found not only in these verses but also and Zachariah and Daniel and in other places
Also the ancient rabbis understood that the Messiah was supposed to suffer.
To each one of us has to ask is there any sin in our lives? Have you ever stolen something even something small or have you downloaded something from the internet that didn't belong to you? Have you ever lied? I too I am not innocent in that regard. Have you ever coveted? According to the Tanakh all of our evil thoughts and attitudes like selfish selfishness and pride and other things are also considered sin. For example, if we were to display all of our thoughts on the screen and everyone who knows you were to see them, would we only see good thoughts there,….or some not so good ones?
God is totally holy and pure and he cannot be in the presence of sin so basically our sin separates us from him and we all Tim Italy deserve punishment
Ezekiel 18:4 says that the punishment we deserve is death.
And ultimately separation from God forever in Daniel 12:2
So ultimately do you think that you need forgiveness and atonement for your sins or not?
I do too, actually everyone does. There is no one who doesn't, but there's also good news because God isn't (only) a judge He's also a Father that loves us because of that He gave us the sacrificial system in the Torah.
The sacrifice would take upon itself the sins of the people.
It is written that the sacrifices would cease and that instead of the sacrifices God would send one man called the Messiah that would take upon Himself all the sins.
In the Tanakh, God gave us a very specific description of who the Messiah would be so that we could identify Him and not miss Him and of course it's critical that we would know who this person would be because without Him we have no atonement and forgiveness. He is the one who would take away our sins.
Daniel 9 says that He had to come before the destruction of the second temple. That happened in 70 AD, so the Messiah had to come before that according to the Tanakh
Micah 5 says that the Messiah would be born in Bethlehem and also Isaiah 53, says that our people would reject Him at the beginning and that He would suffer and die.
It says in the next versus that after He would die. He would be raised from the dead. It also says that many Gentiles would receive Him and would come to know the son of Israel because of Him in Isaiah 49.
So based on those descriptions from the Tanakh is there anyone in history that has fulfilled these things?
Look I believe that Yeshua who came before the destruction of the second temple fulfilled these things precisely. He came before 70 AD. He was born in Bethlehem. Our people rejected him. He suffered and died and He rose from the dead. There were 500 Jewish people who saw Him alive after He died and they wrote about Him and also of course many Gentiles received Him, even billions.
The Messiah said I will take that upon myself all the suffering and punishment you deserved I will take upon myself but in order for us to receive that gift there are several things we have to do. Confess our sins, repent of them, commit not to do them anymore. Believe in the Messiah and the transfer our sins to Him. Only if we believe in this Messiah and receive Him onto our life will He take our sins away and upon himself.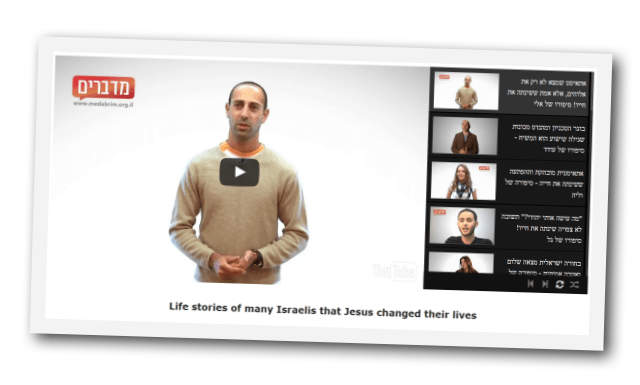 Listen to testimonies of Israelis from their sister site medabrim.org.il/
---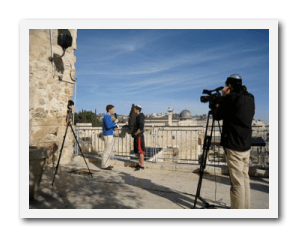 Ariel and Shayla Hyde
Support and Donate to treeoflifeisrael.org
Tree of Life Ministries is sharing the Gospel with Israelis through quality booklets, videos, and websites, street evangelism, and special outreach events.
We're equipping the Body of Messiah in Israel through worship training, evangelism training, children's ministry, and discipleship.
Ariel comes from a background rich in ministry experience, having served the Lord with his family in the U.S., Germany, and Israel.  He graduated from Wheaton College (Wheaton, IL), with a double major in Communication and International Relations.  He served in the Israel Defense Forces, representing Israel to international organizations and embassies.
The Lord has opened up doors for him to share the Gospel regularly with soldiers and commanders, people on buses and trains and on the street, people online through websites and videos, and at special outreach events.  He wrote "Supernatural or Just Remarkable" together with his father.  He leads an evangelistic media team, and also teaches evangelism seminars to equip and inspire Israeli believers to share the Gospel more often and effectively.
Shayla has been serving in ministry from a young age, having grown up as a pastor's daughter.  She completed a bachelor's degree in Music Education at Southeastern University (Lakeland, FL), while being mentored for three years in Collegiate Master's Corps, an intensive ministry training program.  She has taught music, led worship and served in ministry to children in the U.S., Thailand, and Israel.
Shayla leads the children's ministry at Carmel Congregation and a discipleship program for older children.  She also runs a worship training program for people of all ages.
Ariel and Shayla are actively involved in Carmel and Kerem El Messianic congregations in Haifa, Israel, serving through worship, children's ministry, outreach, translation, special performances, and co-leading a home group.  They love to lead others into the presence of God through worship with piano, harp, flute, and voice.