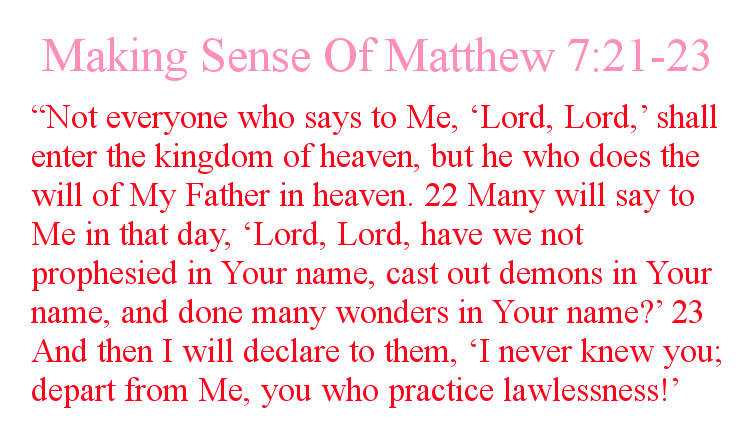 Almost every Christian has pondered in depth Matthew 7:21-23 at some point in their walk.  It has been a scripture that has caused debate for years….
Here is the scripture in debate:
Matthew 7:21-23 21 "Not everyone who says to Me, 'Lord, Lord,' shall enter the kingdom of heaven, but he who does the will of My Father in heaven. 22 Many will say to Me in that day, 'Lord, Lord, have we not prophesied in Your name, cast out demons in Your name, and done many wonders in Your name?' 23 And then I will declare to them, 'I never knew you; depart from Me, you who practice lawlessness!'
No one wants to hear "Depart From Me" on the day of Judgement, so you can see how this scripture surrounds itself with lots of attention. 
Lets Start With What We Know To Be True: 
1.  We know that scripture cannot contradict scripture.  Why would God contradict himself?  With that in mind,  John 6:40 it tells us "…….. this is the will of Him who sent Me, that everyone who sees the Son and believes in Him may have everlasting life; and I will raise him up at the last day." 
From this passage we can see clearly that salvation comes through belief, or in other words faith in Yeshua Jesus. 
To put your mind at rest, here are some additional scriptures that specifically address the topic of salvation, and how it is only through Christ, not of our own works:
In recent years, many believers in the Messianic movement (those who identify themselves different because they keep the commandments of God), point to part of the scripture that says "you who practice lawlessness"  They then proceed to understand that the scripture points to those believers and non-believers who don't keep the Torah are the ones that can lose their salvation.  This conclusion is incorrect on so many levels.
In this article "Jesus, Paul And All Of The Apostles Taught Obedience To The Law Of God" scripture clearly teaches that Yeshua himself said He did not come to do away with the law, but to further establish it. Jesus did not come to set up a new religion, but rather to build on the previous established covenant.  We see this in his speech on the Sermon on the Mount.  He proclaims in Matthew 5:17-19 that the law is not done away with, but should be kept.  Does that mean we are saved by the law?  No.
The law is the knowledge of sin (Romans 3:20) and without those written points, our Christian family as a whole would be going off in different directions.  Reading through this section of Romans, Paul makes these points very very clear.  1. "For All have sinned and fallen short"  2. "Where is boasting then?  It is excluded.  By What Law?  No: But the law of faith"  3. "Do me make the law void through faith? God Forbid: …….. We establish the law"
It is very common in the messianic movement for believers to get prideful about keeping the law, but what they don't grasp is there is no way that we can keep the law perfectly.  In fact, our righteous acts are like dirty rags to our Father.  As much as we try to be perfect, we fall very far from that pedestal we set for ourselves.  Yeshua expands the Torah commandments when he talks about murder-this being that any man who hates his brother or sister has comitted murder in his heart.  In addition he goes on to say that we have comitted adultery when we look at one another with lust.  So it is no longer a sin when fall short in action, but rather we are deemed guilty when we first think of it.  So anyone WHO KNOWS to keep the laws, such as those in the messianic movements, and has any sort of pride of keeping the law,(being that he is better than another) needs to examine him or herself in a humble manner.  The fact is we all fall short, and have so much more to learn about the scriptures.
Recap:
We justified by faith (Rom. 5:1) apart from works of the Law (Rom. 3:28).  Do we keep the law? Yes (Matthew 5:17-19)  We keep the law, because it is our Fathers ways, and we live in our Fathers estate and are his children.  We aren't lawless, reckless children, even if we are grown and married.  There is a respect in the family of God for our Father, and his ways.
What many messianics don't realize, is the majority of Christians are already following most of what the Torah says already.  Yes, most are missing the knowledge of the feast and festivals, food laws, sabbath, land rests and so forth, but most of the commandments were repeated or summorized in the New Testament.  Lets face it, every believer never stops learning no matter what age they are at.
Back to Matthew 7:21-23
The key part of the scripture we need to pay attention to is 'I never knew you; depart from Me, you who practice lawlessness!'
IF our Father doesn't know an individual through his son Yeshua Jesus, THEN what would he or she be judged upon?
The WHOLE word of God, right?
We know that any person who then isn't saved by Yeshua, is judged by the law, and would be deemed "lawless", because WE CANNOT keep the law perfectly to get into heaven.
There is NO other way into heaven except through Yeshua.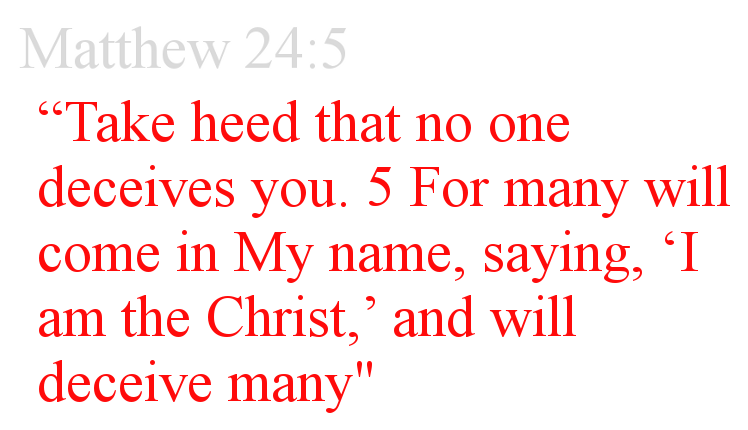 Is It Possible For The Occult To Use The Name Of Jesus?   
More than ever, the occult, and New Age movement is hung up on Jesus.  They have looked at the miracles of Jesus, and find themselves perplexed. 
How did he do it, they ask themselves. 
They look at Jesus, and realize he was truly a historical person with eye witness accounts.  
…… and they find themselves looking to him as a teacher.  
HOW did the miracles happen?     
A good example of this is the coined phrase "Christ Consciousness" or "Awaken Christ Consciousness".  We are hearing this from Edgar Cayce, Oprah Winfrey, and Eckhart Tolle
This New Age movement that is using the name of "Jesus" isn't at all the Yeshua Jesus we find in the scriptures.  The New Age movement points to Jesus, but then ignores, denies, or throws away all the commandments and teachings of Jesus.  They are excited about the miracles, and the power behind Yeshua Jesus, but when it comes making him Lord of their lives, they say "heck no!" 
So here we see an example of people who are using the name of Jesus in their books, their works, and teachings, but in essence, they deny him at the same time.
Let me ask you- Is someone saved who studies Jesus's life, but at the same time willfully rejects him as their savior?  The very thing Jesus commands?  They willfilly do not want to abide by what Jesus says?  The answer is no.
Read these below scriptures again with that mindset.
Matthew 7:21-23 21 "Not everyone who says to Me, 'Lord, Lord,' shall enter the kingdom of heaven, but he who does the will of My Father in heaven. 22 Many will say to Me in that day, 'Lord, Lord, have we not prophesied in Your name, cast out demons in Your name, and done many wonders in Your name?' 23 And then I will declare to them, 'I never knew you; depart from Me, you who practice lawlessness!'
Matthew 24: 3 Now as He sat on the Mount of Olives, the disciples came to Him privately, saying, "Tell us, when will these things be? And what will be the sign of Your coming, and of the end of the age?" 4 And Jesus answered and said to them: "Take heed that no one deceives you. 5 For many will come in My name, saying, 'I am the Christ,' and will deceive many.
Is It Possible For The Occult To Heal In The Name Of Jesus?  
I linked to the above video featuring  Johanna Michaelsen to shed light on Matthew 24:5
Johanna Michaelsen's history is very interesting.  Today she is a born again Christian, who is an author and an activist of the Christian faith.  She began having paranormal experiences at the age of eleven.  In her twenties she grew so fascinated by psychic phenomena that she devoted herself to the occult, meditation, which lead her to an organization called Silva Mind Control.  She furthered her studies in acting focusing on mental telepathy as an interest.
In 1970 she apprenticed herself to a Christian psychic surgeon in Mexico, the famous Pachita.  This elderly woman was able to perform miraculous healings through her witchcraft.  Over a fourteenth-month period, Johanna assisted this woman in over 200 psychic surgeries and was chosen to take over for Pachita, after she passed on.  While she was in the occult she called upon Jesus Spirit Guides. You may ask yourself, How is that possible?  Ultimately over time, she came to understand that mystical experiences had actually been demonic counterfeits, and turned away from them to accept the true Jesus Christ.
In this instance, you may wonder why the name of Jesus was able to be used by the demonic.
We are told in the word that these "fallen spirits" are liars, destroyers, murderers, deceivers and seducers.
Many people who are impressed by the occult, get trapped by the sincerity of what the "other side" tells them.  In this post, we site a testimony of a boy who played the ouija board.  At first, it would tell him things that were true.  Over time, the spirits ended up taking over his voice, where he was shouting curse words without control.  At first, they may tell you what you want to hear.  One thing is for sure, they use and abuse you.  They could care less about your health, and well being.
In this instance, playing the ouija board, the demonic can tell you that you are talking to "Jesus", or a late grandmother, or any person that you admire.  Familiar spirits do know your ancestry, and your life enough to tell you what is pleasing to your ears.
The bible tells us in Hebrews 9:27 "…. as it is appointed unto men once to die, but after this the judgment"  So this means your late grandmother cannot come back to talk to you through a medium, or an ouija board.  We live once, and then die, and face eternity.
Let me say again, "fallen spirits" are liars, and have come to "……steal and kill and destroy" John 10:10.  They may tell you truth in some areas of your questioning, but in no means are bound to tell you the truth, even if you command them.
In fact, Yahweh instructs us that witchcraft, idolatry, seeking mediums, and anything to do with the occult are an abomination in his eyes.
The Israelites made the mistake and turned from God, although God clearly warned them about these practices in advance:
"When you enter the land the LORD your God is giving you, do not learn to imitate the detestable ways of the nations there. Let no one be found among you who sacrifices his son or daughter in the fire, who practices divination or sorcery, interprets omens, engages in witchcraft, or casts spells, or who is a medium or who consults the dead. Anyone who does these things is detestable to the LORD, and because of these detestable practices the LORD your God will drive out those nations before you. You must be blameless before the LORD your God. The nations you will dispossess listen to those who practice sorcery or divination. But as for you, the LORD your God has not permitted you to do so" (Deuteronomy 18:9-14).
How Are We To Discern What Is Good, and What is Evil?
1.  Turn away from the occult books, and read the bible.  Wouldn't you want to read a book that has proven itself to be supernatural in all ways?  Over 2000 prophecies are in the bible.  Layers of mathematics have been found under the surface text of the bible.  Ivan Panion compiled over 30 thousand pages of the of complex mathematics which he found in the pages of the bible.  Thousands of bible codes written about our time have been found in the original hebrew text of the bible.  This and many more instances make the bible the inspired word of God.  You can trust the bible.
2. Carefully Examine A Person's Doctrine.  Does it line up with the whole word of God?  If no, then move on.
This post starts you off with three of the most important points you can use to measure up a new teacher, church, or prophet or group.  If they are off in any of these areas, they are off in the most important parts of scripture.  There are many debateable topics, but these three are simply never to be messed with.
"The Three Things That Churches Must Never, Ever Mess With"
3.  Look At the Person's Life- Does their way of life measure up as being Godly?  In the word we are told about the Fruit of The Spirit, which are the nine visible attributes of a true Christian life. "But the fruit of the Spirit is love, joy, peace, forbearance, kindness, goodness, faithfulness, gentleness
and self-control. Against such things there is no law".
Much More of Johanna Michaelsen's Teachings:
-Live with Johanna Michaelsen – Rapture Ready Radio
-The Beautiful Side of Evil- Johanna Michaelsen- Radio Liberty
-Johanna Michaelsen from the Concerned Nazarenes/Concerned Christians DVD.
-WIDE IS THE GATE: The Emerging New Christianity Volume 2