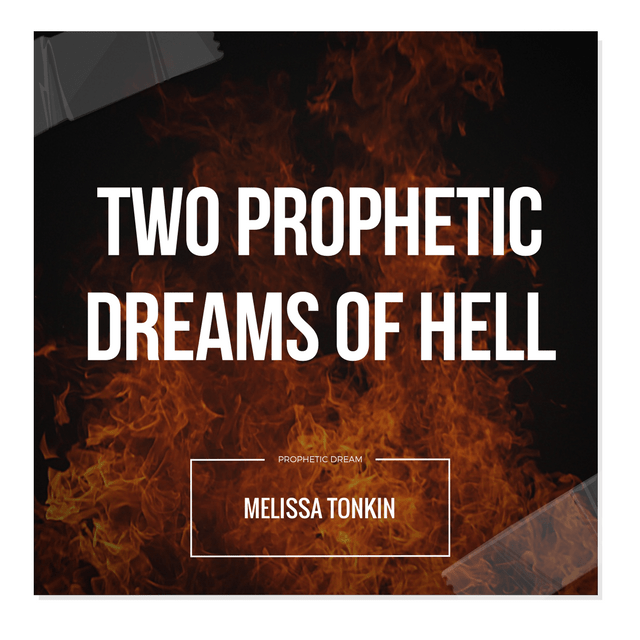 Had this dream about a month ago but felt led to share it again.
Please read
Had a dream where I felt myself flying again towards the sky. I was up in the heavens and saw castles in the sky.They reminded me of the castle that you see at Disney.
Then I felt myself go down down down and found myself getting hot. I saw flames and knew that I was going down to where hell was. It was a very surreal experience.
Then I woke up and went back to bed and dreamt the same scenario again only this time my sister was with me.
We both flew up towards the heavens and I again saw the castles. Then we went down down and were in hell again. It was hot but I got the feeling that I wasn't really experiencing hardly anything. It felt like you were in an oven. All I wanted was to get out of there and drink water. I the remember being in complete darkness and there was this door and it had some inscription on it.
At first I thought it said something about Luke 19 but as I looked that's not what it was.
The scripture that came to me was the one about those who are in hell will be met with weeping and gnashing of teeth.
I opened the door and it was red hot glowing with embers. This must have been an entrance into hell. I didn't go inside. I shut the door and then left. This scripture spoke to me this morning when I recalled this dream.
It's about the parable of the sower sowing his seeds in the field and reaping those things that are good. Matthew 13:24-30
The weeds he takes and puts them in the furnace to burn. It's symbolism between the righteous and unrighteous. The Godly and ungodly. Just like the picture below wheat and tares can be hard to tell apart except for the discerning.
There are many who claim to be Christians and outwardly "look" the part but God knows the heart. He knows motives. You cannot fool God !
Just like the beginning of the dream there are many who believe in false delusions and think they are saved. But they live in fantasy world, very much like the Disney castles.
It's not real. They are being taught false lies about God and heaven and hell and not made convicted of their sin. If you are going to church that does not teach you right and wrong and truth and just wants to tickle your ears with whatever makes you feel comfortable, then I encourage to go to another church !
It's about living a Holy life unto God. Does this mean that you can't have a great time and be filled With joy ? Of course not but it's good clean fun! It's fun without all the compromise! Don't buy into the lie that the Christian life is dull And boring !
Nothing could be further from the truth ! I have such a peace and joy and I have fun !
Don't buy into the devils lies! There is no greater joy or peace than when you have your life in God's hands! He has good plans for you !
I believe God had me have this dream to share with someone. Someone who is struggling and needs to get right before God. Time is short. Jesus is trying to get your attention and wake you up to reality !
Heaven is very real and hell is also very real. I was only in hell for a couple minutes and believe me it's not a place you want to go to.
God sent His very own son for you. He died for you to have eternal life. He paid the price for your sins on the cross and became the ultimate sacrifice for you. All you have to be willing to do it receive Him and make Him Lord of your life.
Does that mean you can say a quick prayer and go about and do whatever you want ?
No, the apostle Paul writes In Romans 6: 1-10
6 What shall we say, then? Shall we go on sinning so that grace may increase? 2 By no means! We are those who have died to sin; how can we live in it any longer? 3 Or don't you know that all of us who were baptized into Christ Jesus were baptized into his death? 4 We were therefore buried with him through baptism into death in order that, just as Christ was raised from the dead through the glory of the Father, we too may live a new life.
5 For if we have been united with him in a death like his, we will certainly also be united with him in a resurrection like his. 6 For we know that our old self was crucified with him so that the body ruled by sin might be done away with,[a]that we should no longer be slaves to sin— 7 because anyone who has died has been set free from sin.
8 Now if we died with Christ, we believe that we will also live with him. 9 For we know that since Christ was raised from the dead, he cannot die again; death no longer has mastery over him. 10 The death he died, he died to sin once for all; but the life he lives, he lives to God.
If you do not know God or have backslidden away from the things of God, I urge you today in all sincerity that you come to Him and make Jesus your personal Lord and Savior.
There is no greater peace and life I have found than having Jesus as my Savior, Father and friend.
I cannot imagine my life without Him.
I do not know how others in the world survive without knowing this.
Once you have the Lord in your life you can't go back to how things used to be. Your eyes have been opened to truth and have been set free ! That is what the Lord wants to do for you today !
If you do not know Jesus has your personal Lord and Savior or want to rededicate your life to Him please say this prayer from your heart.
Lord Jesus I come before you. I humbly ask forgiveness of my sins and I ask that you help me live a life that is pleasing to you. I believe that you died on the cross and that you rose again and that you Jesus is the son of God.
I believe in you and I ask Jesus that you come into my life. I make you my Lord and Savior. Help me to live right and please guide and direct my paths.
I love you Lord and I thank you for your gift of salvation. I receive your gift of salvation as payment for my sins. I thank you for this. In Jesus name I pray amen.