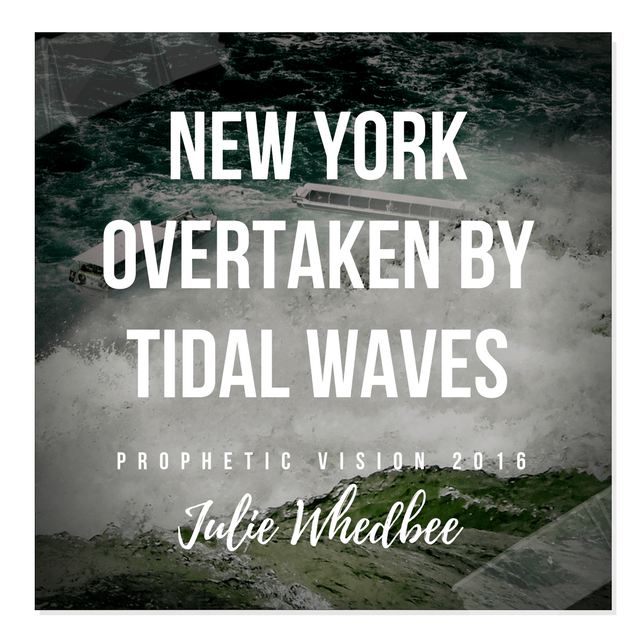 Julie Whedbee,
Yesterday morning, June 29 2016, upon waking, I was given a vision. I saw the Statue of Liberty in the United States being overtaken suddenly by tidal waves.
Everywhere around the statue was under water. The waves came fast and engulfed her until she was out of sight. I also saw types of containers and the word 'cistern' came to mind. They were man-made, placed all over the world, and filled with water representing the power and strength that man feels he has built for himself. These cisterns were cracking, pieces dropping to the ground as their substance poured out, then disintegrated completely.
From the Throne of God, Father then showed me living water being poured out like never before in great measure, while He smiled upon His remnant. This living water is radically transforming His remnant into a glorified people, each one receiving a beautiful crystal like pitcher of this living water that is poured in and through the Bride member, and then from there onto all who they minister to. This living water is actually made up of millions of tiny jewels, radiant and brilliant and intricately designed, treasures beyond measure from the Kingdom of Heaven for this time of now, and with this outpouring, His Bride is illuminated and appears transparent.
WORD FROM YAHUSHUA THAT FOLLOWED:
It is I dear one, the Lamb that was slain, now come as the roaring Lion. It is I, your Redeemer, He who ever lives to intercede for you and for all men. It is I, the Supreme King and Counselor to all. Hear Me sweet child, as I desire your focus to be acute and your perception sharp.
A great and mighty outpouring is upon My people. Kingdoms and nations once mighty and powerful will fall, as they are not built on My foundations, but they are built on the greed, lust, and idolatry of man in his pride. I announce this day, open wide your arms My chosen ones, reach Heavenward and lift your eyes to your King, His Majesty!
It brings great joy to Me and to My Father, and all of Heaven gathers for this great and glorious outpouring reserved for this time of now. This is your latter day outpouring, and this that I bestow upon you serves to draw many, many of the lost to Me so We may then usher in the new Kingdom upon this earth.
I have been preparing a set-apart people, a sanctified assembly, a holy people to carry out My mandates, anchoring them here in this place, as the systems of this world crumble. Hold fast My people to all I have taught you and My laws which have been written upon your hearts.
My true remnant church know who they are. To the world, they are no one. They are the homeless, the downtrodden, the persecuted, and the outcast. They are My shut away ones, the ones who the world shuns, and the ones overlooked. Many of My true Bride are the homemakers, the lowly in the world's eyes, those doing jobs and tasks that the proud would never consider doing. These are the ones closest to My heart, because they are pure in heart, because every simple and small task they perform is for My glory, and to advance My Kingdom. These contrite and humble ones do not seek recognition here but rest in the knowing that they have the highest honor in My Kingdom because they have given Me their all. These ones are the passionately weak ones for My fire burns hotly within them and they are violently desperate for Me and Me alone. Truly I tell you, the first shall be last and the last shall be first.
To you My loves, My precious jewels, I have brought you out of the world to bring you into My heart. You have been patient and long-suffering for so long. I say to you now, arise! Rise and stretch forth your arms to receive the glorious latter day rain outpouring I have reserved for you for this time. I am ready to cause you to work great and mighty exploits in My name.
Much, much chaos now ensues. You who walk in complete faith and trust in Me shall not be shaken nor shall you be moved. As the world succumbs to the recompense due her because of her gross sin, My shining ones rise to glory, your faces transforming to Mine, the Shining One, radiating the unconditional love of a Father for His children.
You will transcend this realm and all its earthly boundaries and limitations, stepping into immortality, while yet still here in this realm. This is a mystery that My Bride understands, as she has taken My wisdom into her heart and has readied herself and My vessels, her bodies, as My sanctuaries.
Prepare to receive unto Me the lost and the inconsolable, the broken and the battered. My love through you is the healing balm they require and the only remedy for the pain they will experience due to all I release in judgment upon the earth. Salvation will be nearer to these ones suffering than it ever was before.
Give them My heart. So great a gift, so simple a message to bring them. Unconditional love is and always has been the saving life force, along with the gift that My blood sacrifice offers and its redeeming power. Profound, truly, and all encompassing.
Ready yourselves My army, ready yourselves. The time is come.
YAHUSHUA
Daniel 2:21 King James Version (KJV)
21 And he changeth the times and the seasons: he removeth kings, and setteth up kings: he giveth wisdom unto the wise, and knowledge to them that know understanding:
Joel 2:23
23 Be glad then, ye children of Zion, and rejoice in the Lord your God: for he hath given you the former rain moderately, and he will cause to come down for you the rain, the former rain, and the latter rain in the first month.
Hosea 6:3
3 Then shall we know, if we follow on to know the Lord: his going forth is prepared as the morning; and he shall come unto us as the rain, as the latter and former rain unto the earth.
James 5:7
7 Be patient therefore, brethren, unto the coming of the Lord. Behold, the husbandman waiteth for the precious fruit of the earth, and hath long patience for it, until he receive the early and latter rain.
Hebrews 8:10
10 For this is the covenant that I will make with the house of Israel after those days, saith the Lord; I will put my laws into their mind, and write them in their hearts: and I will be to them a God, and they shall be to me a people:
Psalm 4:3
3 But know that the Lord hath set apart him that is godly for himself: the Lord will hear when I call unto him.
Joshua 3:5
5 And Joshua said unto the people, Sanctify yourselves: for to morrow the Lord will do wonders among you.
1 Corinthians 1:27
27 But God hath chosen the foolish things of the world to confound the wise; and God hath chosen the weak things of the world to confound the things which are mighty;
Matthew 5:5,8
5 Blessed are the meek: for they shall inherit the earth.
8 Blessed are the pure in heart: for they shall see God.
Exodus 20:2
2 I am the Lord thy God, which have brought thee out of the land of Egypt, out of the house of bondage.
Leviticus 26:13
13 I am the Lord your God, which brought you forth out of the land of Egypt, that ye should not be their bondmen; and I have broken the bands of your yoke, and made you go upright.
Daniel 11:32
32 And such as do wickedly against the covenant shall he corrupt by flatteries: but the people that do know their God shall be strong, and do exploits.
Malachi 4:2
2 But unto you that fear my name shall the Sun of righteousness arise with healing in his wings; and ye shall go forth, and grow up as calves of the stall.
1 Corinthians 15:53-55
53 For this corruptible must put on incorruption, and this mortal must put on immortality.
54 So when this corruptible shall have put on incorruption, and this mortal shall have put on immortality, then shall be brought to pass the saying that is written, Death is swallowed up in victory.
55 O death, where is thy sting? O grave, where is thy victory?
Isaiah 61:1-3
1The Spirit of the Lord God is upon me; because the Lord hath anointed me to preach good tidings unto the meek; he hath sent me to bind up the brokenhearted, to proclaim liberty to the captives, and the opening of the prison to them that are bound;
2 To proclaim the acceptable year of the Lord, and the day of vengeance of our God; to comfort all that mourn;
3 To appoint unto them that mourn in Zion, to give unto them beauty for ashes, the oil of joy for mourning, the garment of praise for the spirit of heaviness; that they might be called trees of righteousness, the planting of the Lord, that he might be glorified.
Romans 13:11
11 And that, knowing the time, that now it is high time to awake out of sleep: for now is our salvation nearer than when we believed.
1 Timothy 1:5
5 Now the end of the commandment is charity out of a pure heart, and of a good conscience, and of faith unfeigned: