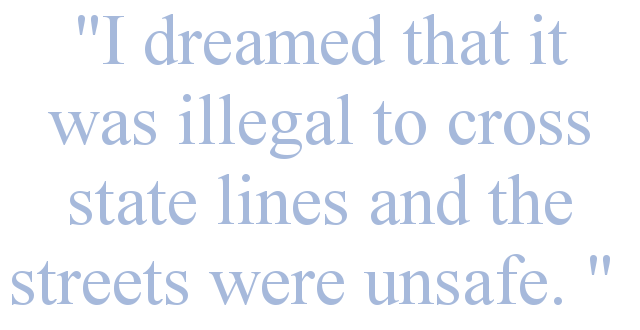 Re-Published From (Before It's News)
Today I would like to comment on the "Your 72 Hour Red Flag Before Martial Law" article.  The video presented was absolutely dead on in terms of how close we actually are to Martial Law in the U.S.  I have been monitoring the situation since I began having vivid dreams regarding Martial Law in the U.S., War in the U.S., Social Unrest, Natural Disasters, UFOs and Ets.
When I first began sharing these visions, some as far back as 1997, there was not a lot of information offline or online on these subjects.  But today it is national headlines or every day news.  I am thankful to this website and forum for providing timely and relevant news.  Please accept my humble offering of cooperation and mutual support of getting this news out.
Dreams of Martial Law
In 2005 I began having many dreams about Martial Law. At the time, I published many articles warning that it was my sense that Martial Law was coming to America. Neither my church nor too many people seemed very interested in investigating the issue.
However, over the last few years, we are beginning to see new laws and presidential orders moving our country in the direction of Martial Law. Please see the following preview of my dreams:
Dream of Martial Law & 2012
Sunday, December 20, 2009
I dreamed that I received a call on my cell phone, it was my deceased mother. She said she had called the police and they were coming for me. I kept crying why did you do this? I knew at that moment my cell phone was being monitored and the last few conversations were recorded including this one. Had I said anything compromising? I knew to chose my words carefully.
Dream of Martial Law & U.S. Workcamps
January 24, 2006
This morning I dreamed I was at a place with other people. It looked like a piece of land out in an open field.  We seemed to be placed there by the military to work there as civilians. There were quite a number of people walking around.  Then the military started pulling up on the grounds with all these trucks and supplies. They were preparing to set up some sort of camp for us. I remember seeing rows of white tents and white trucks.
Dream of Checkpoints on State Lines
August 15, 2005
I dreamed that it was illegal to cross state lines and the streets were unsafe.  Martial law had been instituted and the military were monitoring the borders of each state to ensure no civilian travel.  (see full article)
Dream of Unconstitutional Police Force & Martial Law
This morning I dreamed the police knew about the new world order and how law enforcement officers would be used to act unconstitutionally against American citizens. Some of police officers wanted to fight against the new world order, global governance under the EU. (fulfilled in 2009, we are officially in the new world order now
Interesting Videos:
Perry Stone Economic Crash Riots in America Then a Russian Invasion– In this video Perry Stone tells about 5 major cities that burn. There was rioting and fighting in certain sections of these poorer sections of the city. He talks about David Wilkerson's Book "Set The Trumpet To Your Mouth", where David talks about a Russian attack against the United States, that would follow an economic collapse. David later talks about a vision or dream where he sees federal and state welfare cutbacks will be the spark the rage in the streets. See the video here
Perry Stone Mark Of The Beast 2017 Riots in America Martial Law Obama care is being rushed in for full government control of the medical system for a future mandatory chip implant after the years of 2017 and 2018. This will follow an Economic collapse of America that will leave city's in ruins. People will not be able to receive welfare assistance and there will be a shortage of food as the currency of America falls along with other nations that depend on the dollar. See the video here
The Mark of the Beast is Here! – It's Supernatural with Sid Roth – Paul McGuire– Paul McGuire has reported that the New World Order currency will be attempted by the year 2018. He also addresses the Obama Health care bill as attempt to establish a database for the microchip implant called the class II device.He has said that Ralph Nader has seen the machinery that will force microchip everyone under the disguise of a national emergency- See the video here
China And Concentration Camps "Dec 14th 2011 I had a dream that we were over taken in my community by China and taken to camps. I say over taken in my community because don't know if it was just my area or all of the U.S. was over taken. People in my community seemed happy to go with the Chinese army because they were taking us to supposed "safe place". I assume there was no food & water so these people were desperate to feed themselves and their children. The people were all packed up with small suitcases waiting in line to go to what the Chinese Army called their bases camps " Video Link Prophetic Dream China Invasion of America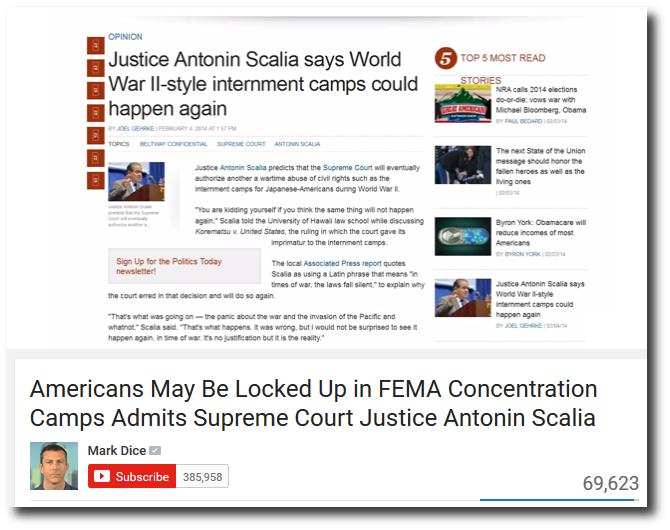 Americans May Be Locked Up in FEMA Concentration Camps Admits Supreme Court Justice Antonin Scalia– Youtube