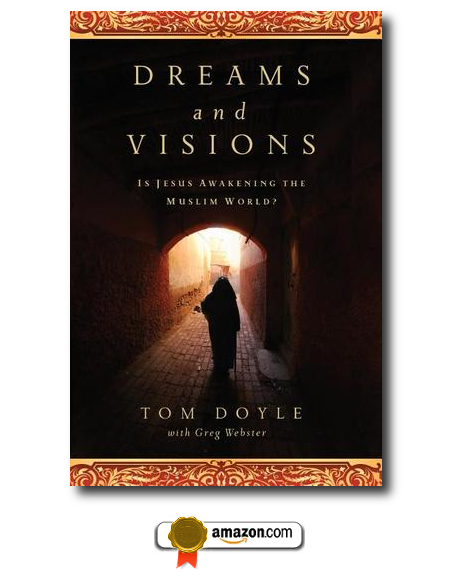 Dreams and Visions- Excellent Read! Buy It On Amazon For $14
It is always a delight to find a Muslim who is open-minded to listen to the evidence surrounding Christianity. Did you know that MILLIONS of Muslims are having a dream of a man dressed in a white robe that claims to be Jesus? There are even You tube videos that interviews of people gathering and testifying to the fact that the man they saw was bright and dressed in white.  Their experiences are so vivid and sensational they leave Islam and convert to Christianity.  Many Islamic countries are so controlled, and closed off, that perhaps, Yeshua is using extreme measures to show himself to these people before it is too late.
One of the biggest misconceptions Muslims have of Christianity is that they think we serve 3 Gods, which is a misunderstanding. God lives without the limitations of a three-dimensional universe, and is infinitely more complex than we are. That is why Jesus the Son can be different from the Father, and, yet are the same. The Bible clearly speaks of: God the Son, God the Father, and God the Holy Spirit, but emphasizes that there is only ONE God. If we were to use math, it would not be, 1+1+1=3. It would be 1x1x1=1. God is a triune God. The term: "Tri" meaning three, and "Unity" meaning one. Some people have explained the "trinity" such as H2O being water, ice and steam (all different forms, but all are H2O).
Here are some scriptures to back up that we serve just ONE God.
Hear, O Israel! The LORD is our God, the LORD is one!" (Deut. 6:4)
"I am the LORD, and there is no other; Besides Me there is no God." (Isa. 45:5)
There is no God but one. (1Cor. 8:4)
"Go therefore and make disciples of all the nations, baptizing them in the name of the Father and the Son and the Holy Spirit." (Matt. 28:19)
Jesus said: "I and the Father are one." (John 10:30)
[Jesus speaking to His disciples] "And I will ask the Father, and He will give you another Helper, that He may be with you forever; the Spirit of truth, whom the world cannot receive, because it does not behold Him or know Him, but you know Him because He abides with you, and will be in you." … "If anyone loves Me, he will keep My word; and My Father will love him, and We will come to him, and make Our abode with him." (John 14:16-17, 23)
"He who has seen Me has seen the Father." It shows that when you read Jesus's words in the bible you are reading Elohim (Father, Son, Holy Spirit) as one. They are the same. At one point in the bible, his disciples asked Jesus- "Show us the father" Jesus said, when you see me, you see the father. Anything that Jesus ever did, his intentions, and actions were the exact same actions of Yahweh, the father. (John 14:9)
One of the biggest reasons why many Muslims turn towards Christianity is the LOVE.
I have heard testimony after testimony that when Muslims OPEN the bible and start reading, they find compassion, and the LOVE they were desiring from God, that the Koran simply does not provide.
In This Youtube Video I was really impressed with this man. He came to America as a Muslim missionary, and ended up converting to Christianity. He does a great job of explaining the mindset of the Muslim faith. He mentions in his video that many muslims often think about their eternity, because it never is clear in the Koran if a believer will reach heaven.
The Koran teaches that you need to be more good than bad in order to get to heaven. It is a LIFELONG guessing game, whether a person truly knows whether they were good enough to get to heaven. The only act that guarantees heaven is being a martyr for the faith.
The number one reason why so many Muslims convert, is they find LOVE in the bible.
Here are the differences between the mindset of the Koran compared to the Bible:
Qur'an (5:51) – "O you who believe! do not take the Jews and the Christians for friends; they are friends of each other; and whoever amongst you takes them for a friend, then surely he is one of them; surely Allah does not guide the unjust people."
Qur'an (5:80) – "You will see many of them befriending those who disbelieve; certainly evil is that which their souls have sent before for them, that Allah became displeased with them and in chastisement shall they abide." Those Muslims who befriend unbelievers will abide in hell.
Qur'an (3:28) – "Let not the believers Take for friends or helpers Unbelievers rather than believers: if any do that, in nothing will there be help from Allah: except by way of precaution, that ye may Guard yourselves from them…" This last part means that the Muslim is allowed to feign friendship if it is of benefit. Renowned scholar Ibn Kathir states that "believers are allowed to show friendship outwardly, but never inwardly."
Qur'an (3:118) – "O you who believe! do not take for intimate friends from among others than your own people, they do not fall short of inflicting loss upon you; they love what distresses you; vehement hatred has already appeared from out of their mouths, and what their breasts conceal is greater still; indeed, We have made the communications clear to you, if you will understand." This verse not only warns Muslims not to take non-Muslims as friends, but it establishes the deep-seated paranoia that the rest of the world is out to get them.
Qur'an (9:23) – "O ye who believe! Choose not your fathers nor your brethren for friends if they take pleasure in disbelief rather than faith. Whoso of you taketh them for friends, such are wrong-doers" Even family members are not to be taken as friends if they do not accept Islam. (This is the mildest interpretation of this verse from the 9th Sura, which also advocates "slaying the unbeliever wherever ye find them").
Qur'an (53:29) – "Therefore shun those who turn away from Our Message and desire nothing but the life of this world."
Qur'an (3:85) – "And whoever desires a religion other than Islam, it shall not be accepted from him, and in the hereafter he shall be one of the losers."
Qur'an (3:10) – "(As for) those who disbelieve, surely neither their wealth nor their children shall avail them in the least against Allah, and these it is who are the fuel of the fire." Those who do not believe in Muhammad are but fuel for the fire of Hell (also 66:6, 2:24. 21:98).
Qur'an (7:44) – "The Companions of the Garden will call out to the Companions of the Fire: "We have indeed found the promises of our Lord to us true: Have you also found Your Lord's promises true?" They shall say, "Yes"; but a crier shall proclaim between them: "The curse of Allah is on the wrong-doers" Muslims in heaven will amuse themselves by looking down on non-Muslims in Hell and mocking them while they are being tortured (see 22:19-22.
Qur'an (1:5-7) – "Show us the straight path, The path of those whom Thou hast favoured; Not the (path) of those who earn Thine anger nor of those who go astray" This is a prayer that Muslims are supposed to repeat each day. "Those who earn Thine anger" specifically refers to Jews and "those who go astray" refers to Christians (see Bukhari (12:749)).
Genuine love and kindness—the kind of Love Jesus displayed, comes with no strings attached.
He gives anyone who is willing to have a relationship with him eternal life. You don't have to tole your way making it half way, He paid the cost for you to have eternal life today.
Jesus taught to LOVE one another ( John 13:34-35)
Jesus said "Whatever you want others to do for you, do so for them, " ( Matthew 7:12)
Jesus taught "But love your enemies, and do good, and lend, expecting nothing in return" Luke 6:35
Jesus came not come to be served, but to serve and to give His life a ransom for many." ( Mark 10:43-45)
Jesus washed his disciples feet with his clothing – "If I then, the Lord and the Teacher, washed your feet, you also ought to wash one another's feet. For I gave you an example that you also should do as I did to you." ( John 13:14-15)
Jesus says: All who exalt themselves will be humbled, but all who humble themselves will be exalted, and whoever wishes to be great among you must become a servant.
Jesus said,Your Pray for the Enemies.- But I tell you, Love your enemies and pray for those who persecute you. Matthew 5: 44
I give you a new commandment: that you should love one another. Just as I have loved you, so you too should love one another. John 13: 34
By this shall all [men] know that you are My disciples, if you love one another [if you keep on showing love among yourselves]. John 13: 35
Show respect for all men [treat them honorably]. 1 Peter 2: 17
And may the Lord make you to increase and excel and overflow in love for one another and for all people, just as we also do for you. 1 Thessalonians 3: 12
" You shall not kill"(Exodus 20:13) is One of fundamental Loves.
"just as the Father knows me and I know the Father — and I lay down my life for the sheep". John 10:15, 17-18
" Suppose one of you has a hundred sheep and loses one of them. Does he not leave the ninety-nine in the open country and go after the lost sheep until he finds it? And when he finds it, he joyfully puts it on his shoulders and goes home. Then he calls his friends and neighbors together and says, Rejoice with me; I have found my lost sheep.' I tell you that in the same way there will be more rejoicing in heaven over one sinner who repents than over ninety-nine righteous persons who do not need to repent." Luke 15:4-7
Love one another with brotherly affection [as members of one family], giving precedence and showing honor to one another.
Romans 12: 10
But God shows and clearly proves His [own] love for us by the fact that while we were still sinners, Christ (the Messiah, the Anointed One) died for us. Romans 5: 8
Love does no wrong to one's neighbor [it never hurts anybody]. Therefore love meets all the requirements and is the fulfilling of the Law. Romans 13: 10
LOVE is just one of the many reasons why Muslims convert. It is the biggest one so far in my research, because DEEP down, we know we should respect all persons. We all deserve to be loved, and experience love. We ALL truly want to be loved.