My friend Kara was reading Psalm 145 in one of her morning devotionals and she couldn't help what to wonder what was beneath this text in the bible codes. What she found was a remarkable matrix concentrated on Yeshua.
" I was reading Psalm 145 in my morning time with the Father…. I knew that Yeshua was in here before I even searched.  🙂  I stayed up half of the night to get it all done.This table is exciting to see as a "spirit-filled, born-again Christian," but I believe that this table is meant to be a witnessing tool, for our Jewish brothers and sisters.  I pray that they will recognize Yeshua for who he is… Their Messiah, the one and only begotten Son of YHWH, the King of Kings, the Lord of Lords, the Prince of Peace!" – Kara

Read her article about what else she discovered on her website prophetictimelines.wordpress.com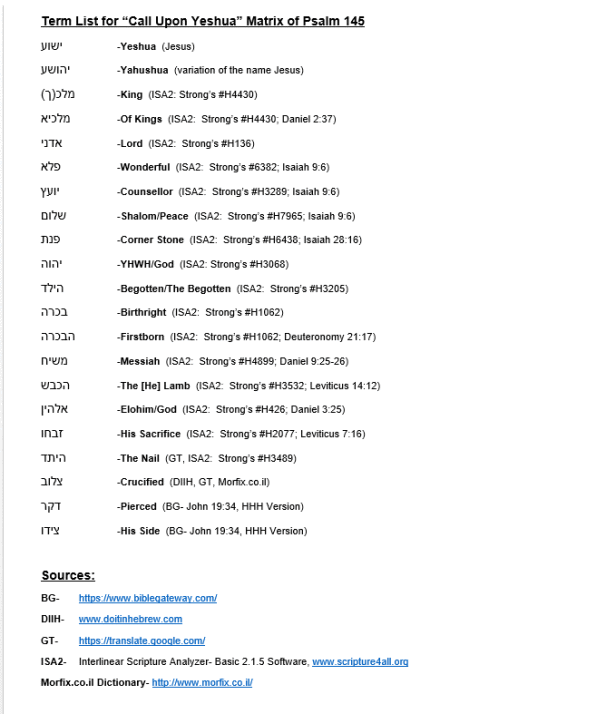 Psalm 145
A Psalm of Praise. Of David.
1 I will exalt you, my God and King,
and I will bless Your name forever and ever.
2 Every day I will bless You,
and I will praise Your name forever and ever.
3 Great is the Lord, and greatly to be praised,
and His greatness is unfathomable.
4 One generation shall praise Your works to another
and shall declare Your mighty acts.
5 I will speak of the glorious honor of Your majesty
and of Your wondrous works.
6 They shall speak of the might of Your awesome acts,
and I will declare Your greatness.
7 They shall abundantly declare the fame of Your great goodness
and shall sing of Your righteousness.
8 The Lord is gracious and full of compassion,
slow to anger, and great in mercy.
9 The Lord is good to all,
and His compassion is over all His works.
10 All Your works shall praise You, O Lord,
and Your godly ones shall bless You.
11 They shall speak of the glory of Your kingdom
and talk of Your power,
12 to make known to people His mighty acts,
and the glorious majesty of His kingdom.
13 Your kingdom is an everlasting kingdom,
and Your dominion endures throughout all generations.
14 The Lord upholds all who fall,
and raises up all who are bowed down.
15 The eyes of all wait upon You,
and You give them their food in due season.
16 You open Your hand
and satisfy the desire of every living thing.
17 The Lord is righteous in all His ways
and loving in all His works.
18 The Lord is near to all those who call upon Him,
to all who call upon Him in truth.
19 He will fulfill the desire of those who fear Him;
He also will hear their cry and will save them.
20 The Lord preserves all those who love Him,
but all the wicked He will destroy.
21 My mouth shall speak the praise of the Lord,
and let all people bless His holy name
forever and ever.