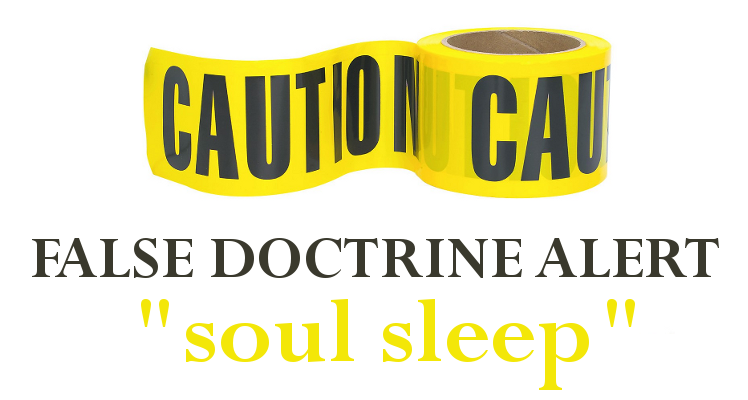 The Soul Sleep doctrine can be a deadly doctrine to embrace.  Do you not know that a little leaven will  leaven the whole lump?  When this doctrine is digested, it can really alter how someone views other doctrinal issues.
In this article, We attack this false doctrine from 1. scripture itself, 2.  expressions of speech, and 3. true life unexplained occurrences that wouldn't occur in "soul sleep"
There are tons of scripture passages that refute this damaging doctrine.  First and foremost, scripture trumps any other argument.  That doesn't mean that we cannot bring forth extra evidence to prove a theory is false.  That is what we bring to you in this article.
There are several scriptures that ALONE will put this theory to rest, without additional evidence.  For example – Abraham and Lazarus in paradise below the earth, we see that they are not asleep (indeed, even the rich man in Torments is wide awake; Lk.16:19-31). In Revelation 6:9-11 and 7:9-17 we see the (physically dead) tribulational martyrs wide-awake — in heaven. In John 12:26  Jesus says that we will be where He is . . . and He is in heaven.
So lets dive in further to refute this theory:
A. Reason 1- Scripture Contradicts The Idea Of Soul Sleep
1. Scriptures That Refute The Soul Sleep Theory- Yeshua's Testimony Of Lazarus
We know that Scripture cannot contradict itself.  Here we have God the Son, Yeshua, telling us about a man in hell in real time.  Not at a later date, but in the moment.  If soul sleep was true, then why would Yeshua tell us this testimony that shows that hell exists in real time?
Luke 16:19 "There was a rich man who was dressed in purple and fine linen and lived in luxury every day. 20 At his gate was laid a beggar named Lazarus, covered with sores 21 and longing to eat what fell from the rich man's table. Even the dogs came and licked his sores. 22 "The time came when the beggar died and the angels carried him to Abraham's side. The rich man also died and was buried. 23 In hell, where he was in torment, he looked up and saw Abraham far away, with Lazarus by his side. 24 So he called to him, 'Father Abraham, have pity on me and send Lazarus to dip the tip of his finger in water and cool my tongue, because I am in agony in this fire.' 25 "But Abraham replied, 'Son, remember that in your lifetime you received your good things, while Lazarus received bad things, but now he is comforted here and you are in agony. 26 And besides all this, between us and you a great chasm has been fixed, so that those who want to go from here to you cannot, nor can anyone cross over from there to us.' 27 "He answered, 'Then I beg you, father, send Lazarus to my father's house, 28 for I have five brothers. Let him warn them, so that they will not also come to this place of torment.' 29 "Abraham replied, 'They have Moses and the Prophets; let them listen to them.' 30 "'No, father Abraham,' he said, 'but if someone from the dead goes to them, they will repent.' 31 "He said to him, 'If they do not listen to Moses and the Prophets, they will not be convinced even if someone rises from the dead.' 
2. Scriptures That Refute The Soul Sleep Theory- The Thief On The Cross Was Given Heaven The Day He Died

Jesus said to the thief on the cross who repented  "Today (present tense) you will be with me in paradise" (Luke 23:43). This thief was neither baptized nor had a Christian lifestyle before he believed and was promised to be with Jesus.
39 Then one of the criminals who were hanged blasphemed Him, saying, "If You are the Christ,[a] save Yourself and us."

40 But the other, answering, rebuked him, saying, "Do you not even fear God, seeing you are under the same condemnation? 41 And we indeed justly, for we receive the due reward of our deeds; but this Man has done nothing wrong." 42 Then he said to Jesus, "Lord,[b] remember me when You come into Your kingdom."

43 And Jesus said to him, "Assuredly, I say to you, today you will be with Me in Paradise."
"But to each one of us grace was given according to the measure of the gift of Christ. Therefore he says, "When he ascended on high, he led captivity captive, and gave gifts to men." Now this, "He ascended" — what does it imply but that he also first descended into the lower parts of the earth? He who descended is the one who also ascended far above all the heavens, that he might fill all things" (Eph 4:7-10 quoting Psa 68:18).
3. Scriptures That Refute The Soul Sleep Theory-Paul Admits When We Die As Believers We Are With The Lord.
Why would Paul be so anxious to "be with the Lord", if it only meant that he would have to be "asleep" for thousands of years?
Philippians 1:23 Paul tells us when we depart from this life, we are joined up with Yeshua:
"I desire to depart and be with Christ, which is better by far": Phil.1:23
II Corinthians 5:6-8 tells us that when we as believers die, we go immediately to be with God.
"For we know that if our earthly house, this tent, is destroyed, we have a building from God, a house not made with hands, eternal in the heavens. 2 For in this we groan, earnestly desiring to be clothed with our habitation which is from heaven, 3 if indeed, having been clothed, we shall not be found naked."
Most bible versions want to "amend" the original Greek text of 2nd Corinthians 5:3, not on the basis of any alternative manuscript reason, but solely on the basis of not understanding what Paul is saying – namely that after death we will not be naked (i.e., without a body), in spite of the fact that the resurrection has not yet occurred.
4. Scriptures That Refute The Soul Sleep Theory-Stephen Looks Up As He Is Stoned And Sees The Throne Of God
When Stephen was martyred he looked up to heaven seeing a vision of the Lord standing- and said Lord Jesus receive my Spirit. He knew he was going to be immediately transferred into heaven the location of the Lord.
"And said, Behold, I see the heavens opened, and the Son of man standing on the right hand of God… And they stoned Stephen, calling upon God, and saying, Lord Jesus, receive my spirit." —Acts 7:56,59
5.  Scriptures That Refute The Soul Sleep Theory- Yeshua Talking With Moses and Elijah
Matthew 17:1-4 reads,
17 Now after six days Jesus took Peter, James, and John his brother, led them up on a high mountain by themselves; 2 and He was transfigured before them. His face shone like the sun, and His clothes became as white as the light. 3 And behold, Moses and Elijah appeared to them, talking with Him. 4 Then Peter answered and said to Jesus, "Lord, it is good for us to be here; if You wish, let us[a] make here three tabernacles: one for You, one for Moses, and one for Elijah."
Moses had been dead (Deuteronomy 34:5) for fifteen centuries; yet, despite being dead, he is able to speak to Yeshua. Clearly, Moses' soul was not asleep in the grave. The same is true of Elijah, who centuries earlier had been caught up in a whirlwind (2nd Kings 2:11). Elijah was still conscious.
6. Scriptures That Refute The Soul Sleep Theory- Martyred Believers In Heaven
That believers who have departed to be with the Lord are conscious and truly experiencing His presence, even though they have not yet experienced the resurrection, can also be seen from John's description of the worship of martyred believers in the presence of the Lamb in the book of Revelation.
In Revelation 6:9-10, John writes,
"When he [Yeshua] opened the fifth seal, I saw under the altar the souls of those who had been slain for the word of God and for the witness they had borne; they cried out with a loud voice, 'O Sovereign Lord, holy and true, how long before thou wilt judge and avenge our blood on those who dwell upon the earth?'"
Here John sees the souls of early Christian martyrs. The fact they are conscious is known because they cry out to God for vengeance. Unconscious people can't do that.
In Revelation 20:4, John sees these souls again:
"Then I saw . . . the souls of those who had been beheaded for their testimony to Jesus and for the word of God and who had not worshipped the beast or its image and had not received its mark on their foreheads or their hands. They came to life and reigned with Christ a thousand years." 
Here again we have the souls (who were beheaded). John sees them coming to life to reign with Christ.
Who knows if the spirit of man rises upward and if the spirit of the animal goes down into the earth? Ecclesiastes 3:21
What does that scripture mean?
In simple terms, it means that the spirit man goes up; the body (our flesh and blood) goes down to the ground. The spirit is alive when we die, and the body we have been given is dead. We are given a grave in the dirt, or cremated and our ashes are thrown back into the soil. When we die, our bodies start deteriorating.  As the body is dead, our spirit man lives on.
Jesus said to her, "I am the resurrection and the life. He who believes in me will live, even though he dies. John 11:25
For we are most certainly not in fact "dead" to God. "Now He is not the God of the dead but of the living; for all live to Him". Luke 20:38
1. The Damaging Doctrine Of The "Soul Sleep" Theory- An EMPTY Heaven
Jesus stated in Jn. 14:2-4 that he went ahead of us to prepare a place in heaven which is where his father dwells.
When Christ ascended he led captivity captive (Eph.4:8-10), those who had waited in faith in Abraham's bosom for their sins to be removed were gathered together in another place, the new Paradise in heaven.
It seems to me that embracing this theory also gives way to an empty heaven, along with the idea that heaven holds no power.  We see many believers today who are calling on healings, expecting answers to prayer.  We are seeing many believers interact with heaven, and this is scriptural!
Matthew 6:10 Thy kingdom come. Thy will be done in earth, as it is in heaven.
The entire body of believers who are called into spiritual warfare and deliverance depend on an interaction between heaven and earth.
How do those who believe in the "soul sleep" theory explain this scripture?:
Ephesians 2:4-6
4 But God, who is rich in mercy, because of His great love with which He loved us, 5 even when we were dead in trespasses, made us alive together with Christ (by grace you have been saved), 6 and raised us up together, and made us sit together in the heavenly places in Christ Jesus,
This scripture tells us that we are seated with Christ in the heavenly places. Since you have believed into Christ, you have been eternally united with Christ.
Paul makes it clear that we are seated with Christ and in Christ. So the real question is: Where is Christ seated?
1 Peter  3:21-22
21 The like figure whereunto even baptism doth also now save us (not the putting away of the filth of the flesh, but the answer of a good conscience toward God,) by the resurrection of Jesus Christ: 22 Who is gone into heaven, and is on the right hand of God; angels and authorities and powers being made subject unto him.
2. The Damaging Doctrine Of The "Soul Sleep" Theory- Gifts Of The Spirit Are Called Into Question
If you talk to anyone who invests into this theory of "soul sleep" they almost always have no faith to believe in the Gifts of the Spirit.  Many people around the world are discovering there is more to their walk than simply going to church one day out of the week.  These spiritual experiences come from those  believers who dive into the word for several hours in a day, or pray for significant periods of time.  These people all have one thing in common- they are dying of thirst for the things pertaining to God.  They are engulfed by the things of God, and cry out with everything in their being.
There are many people in Christ who have walked an extra ordinary walk, and have been able to translate to different areas of the world, or to heaven and back.  There is evidence of this in our modern day, yet people who embrace these false theories also have no faith to believe in the supernatural side of God.
Paul also stated before he recalled this account of his visit to the third heaven that all believers go there when they die 2 Cor.5:8 "To be absent from the body is to be present with the Lord"
Paul testifies of it and writes of his experience in 2 Cor.12:2 where he was brought to the third heaven where God dwells . Yet he did not tell anyone of this revelation for 14 years because it was so awesome and unlawful to speak of.
Today believers are just the same to the people in Paul's day.  They are filled with unbelief, and a faithless walk.  They don't look into an experience, or a vision, or a prophet to weigh it by the Bible, they just put up their hands and count it all as "false".
Some modern believers for example that come to mind is Kat Kerr who has been taken to Heaven for over ten years.  If you listen to her testimony, she walked closely with God for years.  She would get up early in the morning, around the 2-4am time period to pray and worship God for many years before she was taken on these tours.
God also has shown people heaven and hell through visions.
Mary K Baxter was taken to heaven and hell, which she later describes in her books.  She tells the horrific account of the burning in hell. Likewise, Bill Weise has put together a number of books that detail how he was taken to hell, to give an account to those Christians here on earth that believe that hell doesn't exist.  He describes a horrific account of the heat, the lack of air, and the brutal torture he had to endure through his experience.   These open visions are common, and is another testimony of a supernatural God.
Yeshua says in Matthew 25:41, "Depart from me, ye cursed, into EVERLASTING FIRE, prepared for the devil and his angels." There are over 162 references in the New Testament, about hell, and 70 of them are said by Yeshua.
Evidence To Keep In Mind:
B.  The Word "Sleep" Is Used As A Figure Of Speech
"Its raining cats and dogs"  These expressions of speech were used throughout time.
A perfect example of this is found in John 3:
What does it mean to "be born again"?  Obviously we cannot go back into our mothers wombs.  The expression of speech simply paints a detailed picture for us, much like parables do when explaining a thought or idea.
3 There was a man of the Pharisees named Nicodemus, a ruler of the Jews. 2 This man came to Jesus by night and said to Him, "Rabbi, we know that You are a teacher come from God; for no one can do these signs that You do unless God is with him."

3 Jesus answered and said to him, "Most assuredly, I say to you, unless one is born again, he cannot see the kingdom of God."

4 Nicodemus said to Him, "How can a man be born when he is old? Can he enter a second time into his mother's womb and be born?"

5 Jesus answered, "Most assuredly, I say to you, unless one is born of water and the Spirit, he cannot enter the kingdom of God. 6 That which is born of the flesh is flesh, and that which is born of the Spirit is spirit. 7 Do not marvel that I said to you, 'You must be born again.' 8 The wind blows where it wishes, and you hear the sound of it, but cannot tell where it comes from and where it goes. So is everyone who is born of the Spirit."

9 Nicodemus answered and said to Him, "How can these things be?"
The key word is "asleep" which simply means "dead" in the Greek. Thus, the believers spirit and body are separated at the time of physical death. Many people are as confused about the word "sleep" in the Old Testament as Jesus' disciples were about Lazarus' death…

"These things said he: and after that he saith unto them, Our friend Lazarus sleepeth; but I go, that I may awake him out of sleep. Then said his disciples, Lord, if he sleep, he shall do well. Howbeit Jesus spake of his death: but they thought that he had spoken of taking of rest in sleep. Then said Jesus unto them plainly, Lazarus is dead" (John 11:11-14).

In the case of Lazarus, "sleep" simply meant physical death. Jesus disciples misunderstood what "sleep" meant. Thus is the case with those today who claim that believers who die are asleep spiritually in the grave. Daniel 12:2 and 13 speak of physical death, and of the future resurrection of the dead bodily from the grave, when the spirit will be united with the body and then the judgment.
Dead people look like they are sleeping, especially when lying on their deathbeds, so it would be obvious that the Bible often uses "sleep" as a euphemism for "death."
Sleep is also described in 3 different ways according to Bible Study Tools
A. Sleep Described As Going To Bed, (such as you and I do)
When the word is used literally, it usually depicts sleep as "going to bed" ( Gen 28:16 ; Dan 8:18 ; Matt 25:5 ). We all agree that even while we sleep, God knows our dreams, and what is happening with our bodies organs even in our sleeping state.   The Lord watches over us while we sleep ( Psalms 121:3 Psalms 121:5-6 ), and the darkness of night is as the light of day to him ( Psalm 139:11-12 ). God also can use our sleep to give us revelatory dreams and guidance ( Gen 20:6-7 ; Judges 7:13-15 ; 1 Kings 3:5 ; Matt 1:20 ; Matthew 2:12-13 Matthew 2:22 ). In the Old Testament, natural sleep is occasionally referred to as a sweet blessing of God ( Psalm 4:8 ; 127:2 ; Eccl 5:12 ).
B. Sleep Described As Spiritual Dullness or Laziness
The word "sleep" has also been used metaphorically of spiritual dullness or a lack of watchfulness. In the Book of Proverbs, laziness and sleep are used in a interchangeable way to depict the irresponsible person who refuses to acknowledge the reasonable demands of human life ( 6:9-11 ; 19:15 ; 20:13 ; 24:33-34 ); such a person will suffer the inevitable consequences.
'In Isaiah 29:10 and frequently in the New Testament ( Mark 13:36 ; Rom 13:11 ; Eph 5:14 ; 1 Thess 5:6-9 ) it is used to describe a spiritual heaviness that must be shaken off in order to remain awake in this evil time. When used in this way, the word sleep is used as a warning to us to be alert to the signs of the times.
C.  Sleep Described As Death
"Sleep" is also used symbolic term used of death. This is common in the Old Testament ( Job 7:21 ; 14:12 ; Psalm 13:3 ; Jer 51:57 ; Dan 12:2 ). The expression "he slept with his fathers" is a fixed formula in reference to death, and is used over thirty-five times in the Old Testament.
First, Jesus is never said to have "fallen asleep".
Second, unbelievers are never said to fall asleep. They, too, experienced death in a stark and crushing way. Death is no pleasant sleep for them, but a final, unending negation.The difference from Yeshua Jesus is, of course, that the unbeliever dies for his or her own sins, whereas Jesus died for the sins of others and rose again in triumphant life.
Third, believers are said to fall asleep at death ( 1 Corinthians 15:6 1 Corinthians 15:18 1 Corinthians 15:20 ; 1 Thessalonians 4:13 1 Thessalonians 4:15 ), and in one instance "to fall asleep in Jesus" ( 1 Thess 4:14 ). Although believers are still occasionally said to die, death is described as gain ( Php 1:21 ); it has lost its sting ( 1 Cor 15:54-57 ). Death comes attended by blessedness and rest ( Rev 14:13 ) and a conscious sense of the presence of Christ ( 2 Cor 5:8 ).
Death is, in fact, not death anymore, and those who believe in Jesus will never really die, even though they might still experience what used to be called death ( John 11:25-26 ). So the metaphor of sleep is used to emphasize that we have no more to fear from death than we do from falling asleep.
Fourth, believers are never said to have fallen asleep in the death of Jesus; rather, we died with him ( Col 2:20 ; 2 Tim 2:11 ) or were crucified with him ( Gal 2:20 ). It is only because of Jesus' death, and our death in him, that death no longer holds any terror, becoming instead a peaceful sleep and a blessedness ( Rev 14:13 ).
Fifth, some day we will be given new bodies at the second coming of Christ ( 1 Cor 15:51 ), these who are "sleep" or dead will be transformed instantaneously into their new unending life.
The notion of soul-sleep is just as foreign to the N.T. as to Judaism; the image of sleep is introduced simply…as an euphemistic description of death.
"And many of those who sleep in the dust of the ground will awake, these to everlasting life, but the others to disgrace and everlasting contempt. Dan 12:2
"Our friend Lazarus has fallen asleep; but I go, that I may awaken him out of sleep." The disciples therefore said to Him, "Lord, if he has fallen asleep, he will recover." Now Jesus had spoken of his death, but they thought that He was speaking of literal sleep. Then Jesus therefore said to them plainly, "Lazarus is dead". Jn 11:11-14
Ps 90:5 Thou hast swept them away like a flood, they fall asleep
Mt 9:24 He began to say, "the girl has not died, but is asleep." And they began laughing at Him.
Mt 27:52 tombs were opened; and many bodies of the saints who had fallen asleep were raised;
Mk 5:39; Lk 8:52 The child has not died, but is asleep
Ac 7:60 "Lord, do not hold this sin against them!" And having said this, Stephen fell asleep.
Ac 13:36 "For David … fell asleep, and was laid among his fathers, and underwent decay
1 Co 15:6,18,20,51 some have fallen asleep … those who are asleep, we shall not all sleep,
1 Th 4:13-15 those who are asleep … have fallen asleep in Jesus
2 Pe 3:4 ever since the fathers fell asleep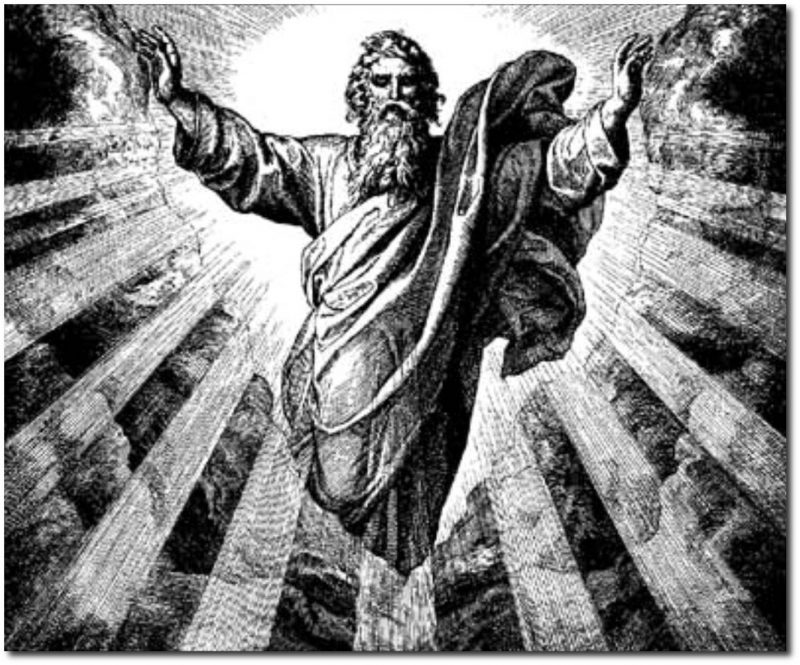 C.  PROOF That Near Death Experiences Are NOT miss-fires of the Brain.
Years ago, I would use "near death experiences" as evidence that an afterlife exists, but found after talking to atheists, they would explain away these experiences as just brain activity.  I didn't have solid proof, until I looked deeper into it to find startling evidence in the medical field.
According to Jeff Long with (International Association for Death Studies), approximately 12-15 million people have had a near death experience.   This isn't just a handful of people who experienced these things,  but rather millions of people.
If you look around the net, those who haven't experienced a NDE, come to the conclusion that these experiences are a result of drugs, or a lack of oxygen to the brain.  I entertained this thought as well at one point.
After the review of thousands of near death experiences, doctors such as Dr. Bruce Greyson, Dr. Peter Fenwick, Dr. Parnia, and Dr. Pim Van Lommel have narrowed the field down to only patients who fit into a "clinical death"category.  Their findings were astounding!
These neurosurgeons around the world participated in a study that narrowed qualifying patients who were cardiac patients who had heart attacks resulting in death.  To take it further, these  neurosurgeons also ONLY selected individuals who fit into the category of three stages of what they called "clinical death".
What is clinical death?
This means they are only studying the patients who are 1. BRAIN DEAD, 2. with NO BREATHING, and no HEARTBEAT. This would then dismiss the popular theory that these experiences are a result of brain cell activity.
They concluded within their studies that many individuals reported to having better vision perception, better hearing, despite a dying brain incapable of those advanced functions.
The research of these doctors have proven to the world, what in fact people are experiencing in Near Death Experiences couldn't be possible when the brain is dead, and there is no heartbeat with no breathing.
About The Doctors Which Specialized In This Research
Dr. Sam Parnia- at Southampton University, conducted a 3 year study in Sept 2008 which 25 UK and US hospitals will examine near-death studies in 1,500 heart attack patients-survivors. Sam Parnia's first interests in NDE was at age 15 reading a book of experiences of persons close to death. In the early years of medicine Dr Parnia understood the common theoretical debates surrounding NDE and looked into possible stimulants that could invoke hallucinations such as lack of oxygen, drugs, as well as their religious backgrounds. Dr Parnia ruled out the subjective accounts, and was extremely selective in his tests where he studies only people who suffered cardiac arrest,and who were clinically dead. Sam Parnia concentrated researching patients who could accurately describe the situation of the emergency room after being clinically dead. He tested their testimony with the nurses and doctors who attended to the person to verify the conversations and events.
Dr. Peter Fenwick- is an accomplished doctor with over 240 papers in medical and scientific journals to his credit. In 1996, Dr. Fenwick became a consulting neuro psychiatrist emeritus to the Epilepsy Unit at the Maudsley Hospital, which he ran for twenty years. He is also chairman of the Scientific and Medical Network, a group of doctors and scientists seeking to deepen understanding in science and medicine. Dr Fenwick published a book on the subject of NDE, titled 'The Truth in the Light, which was a critical examination of over 300 cases selected from approximately 3000 that had been sent to him.
Dr. Bruce Greyson- was a Professor of Psychiatry, and studied 1,595 patients admitted to a cardiac care unit with heart trouble. Dr. Bruce Greyson is one of the leading academic researchers into Near Death Experiences. He is a psychiatric researcher and teacher at the University of Virginia Medical School.
Dr. Pim van Lommel- The findings of Pim van Lommel suggests that research subjects can experience consciousness, with self-identity, cognitive function and memories, including the possibility of perception outside their body during a flat EEG. Dr Pim van Lommel in Holland studied NDE in which patients did not have a heart beat, breating, and loss of brain function. Dr Pim Van Lommel conducted a huge study, with 344 cardiac arrest survivors with in 2 days of their heart attack within 10 hospitals. Forty-one survivors reported NDEs, and it was found that NDEs was not influenced by the duration of either unconsciousness or cardiac arrest, or by medication. He also found that significant NDEs were reported in persons who were clinically dead.
Here is a summary of evidence which we found pretty remarkable findings:
1. Patients have advanced perception of sight, and hearing, and testify to events and conversations while being clinically dead while being out of their body.
Remarkably many patients can accurately recall conversations and events while they are clinically dead such as surgical techniques while the individual is dead.
Pam Reynolds had an out of death experience where she met Yeshua Jesus while under brain surgery. She accurately described the medical equipment that was covered which she would have had no knowledge of before the surgery. In addition, it must be noted that the blood from her brain was drained, so it must be said that she had a flat EEG, and she was brain-dead.
In the Documentary The Evidence of Heaven, a patient experienced a NDE and floated out side of her body above the hospital, only to see a red shoe on the roof of the hospital. Later on, medical personnel retrieved the shoe off the roof.
2. Individuals Were Clinically Dead For Longer Periods Of Time
While many people have experiences within a few minute time period, it is interesting to study those who were clinically dead for extended periods of time.
Don Piper was killed instantly from a 18-wheeler struck his Ford Escort head on. He was killed instantly – pronounced dead by four sets of EMTs. A pastor from the same conference Don just came from began praying for "the man in the red car." Don came back from the dead 90 minutes after being dead. To date, 34 surgical procedures have taken place. He walks only as a result of miraculous and in some cases medically unexplainable circumstances.
George Rodonaia's experience is one of the most interesting extended cases of a near-death experience ever recorded. Pronounced dead immediately after he was hit by a car in 1976, he was left for three days in the morgue. He did not "return to life" until a doctor began to make an incision in his abdomen as part of an autopsy procedure. Prior to his NDE he was a neuropathologist as well as an avowed atheist. After his experience, he devoted himself exclusively to the study of spirituality, taking a second doctorate in the psychology of religion. Rodonaia held an M.D. and a Ph.D. in neuropathology, and a Ph.D. in the psychology of religion. He delivered a keynote address to the United Nations on the "Emerging Global Spirituality." Before emigrating to the United States from the Soviet Union in 1989, he worked as a research psychiatrist at the University of Moscow.
3. Clinically Dead Individuals who come back with more knowledge
Al Sullivan was a 55 year old truck driver who was undergoing triple by-pass surgery when he had a powerful NDE that included an encounter with his deceased mother and brother-in-law, who told Al to go back to his to tell one of his neighbors that their son with lymphoma will be OK. Furthermore, during the NDE, Al accurately noticed that the surgeon operating on him was flapping his arms in an unusual fashion, with his hands in his armpits. When he came back to his body after the surgery was over, the surgeon was startled that Al could describe his own arm flapping, which was his idiosyncratic method of keeping his hands sterile.
Author Maggie Callanan in her Final Gifts book,wrote about an elderly Chinese woman who had an NDE in which she saw her deceased husband and her sister. She was puzzled since her sister wasn't dead, or so she thought. In actuality, her family had hid her sister's recent death from her for fear of upsetting her already fragile health.
There are testimonies of people seeing family members or friends in heaven they did not knew existed, such as abortions, or dead relatives only to later be confirmed.
How can we explain their accurate description of relatives previously unknown to them, yet later verified by living relatives and by civil documents?
Colton Burpo's experience in heaven allowed him to see a sister he never knew existed. He died and was able to tell his parents of his encounters with Yeshua.  One of the most startling accounts that caught the parents attention, was when he told of his sister in heaven.  Up to that point, Colton's stories were superficial.  What can you expect coming from a 4 year old.  He went on to tell that his sister died in his mothers tummy. The mother broke down in tears.  The couple never divulged to their son at age 4, that they had a miscarriage.  It isn't information that a 4 year old would understand.
Curtis Kelley was shown his dad beating his mom while she was pregnant (with him) by God in heaven, and a Russian doctor who was dead for three days had a remarkable testimony of things shown to him in the afterlife that later were proven accurate. One man relayed a message to a daughter whose mother passed away during a fight. The daughter was so depressed over not being able to be forgiven. The mother asked to relay the message for her daughter to get on with her life, as she was forgiven. This man was not related to the mother and daughter, but a mere acquaintance. Remarkable stories are credible evidence that the afterlife exists.
Dr. Melvin Morse testifies to a patient named Olga Gearhardt who underwent a heart transplant. The transplant was a success, but at exactly 2:15 am, her new heart stopped beating and it took a frantic transplant team three hours to revive her. The interesting part of the story was that her family waited at the hospital during the surgery, except for her son-in-law, who stayed home. Her family was only told in the morning that her operation was a success, without other details. When they called her son-in-law with the good news, he said that exactly 2:15 am, while he was sleeping, he awoke to see his Olga, his mother-in-law, at the foot of his bed. Olga told him to tell his wife that she was going to be ok. He wrote down the message, and the time of day and then fell asleep. When Olga regained consciousness. Her first words were "did you get the message?" She was able to confirm that she left her body during her near-death experience and was able to travel to her son-in-law to communicate to him the message.
Former atheists such as Howard Storm, who were hard core atheists before their NDE, suddenly pursue God later entering full time ministry. Alcoholics suddenly drop their addictions overnight, and hardened criminals have a 180 degree life change. These profound life changes usually do not occur overnight, and at best do not occur over several weeks of therapy for cases of addictions.
In an interview with Howard Storm, it is hard to understand that he died a hard core atheist and came back with a theological understanding such as a practicing minister with 40 years under his belt. This complete understanding is seen when people often ask questions of God on complex issues such as space, creation and so forth.
4. Individuals who were born blind suddenly see accurate events during a Near Death Experience.
Dr. Kenneth Ring and Sharon Cooper completed a two-year study into the NDEs of the blind, and published their findings "Mindsight" which documents solid evidence of 31 cases in which blind people report visually accurate information obtained during an NDE.
Vicki Umipeg was born blind, as her optic nerve was completely destroyed at birth. Her NDE showed that she saw accurate descriptions that were verified as true.
As you can see this doctrine of "soul sleep" doesn't make sense in scripture.  We need to always weigh everything by the word of God alone.  If it contradicts scripture, we are to then throw it out.  I don't have to give any more reasons beyond what it says in scripture, however understanding expressions of speech can allow us to understand the time period it was written in.  Unexplained occurrences such as "Near Death Experiences" give further evidence that "soul sleep" just doesn't line up as being plausible.
Thank you for coming to our website- Meranda