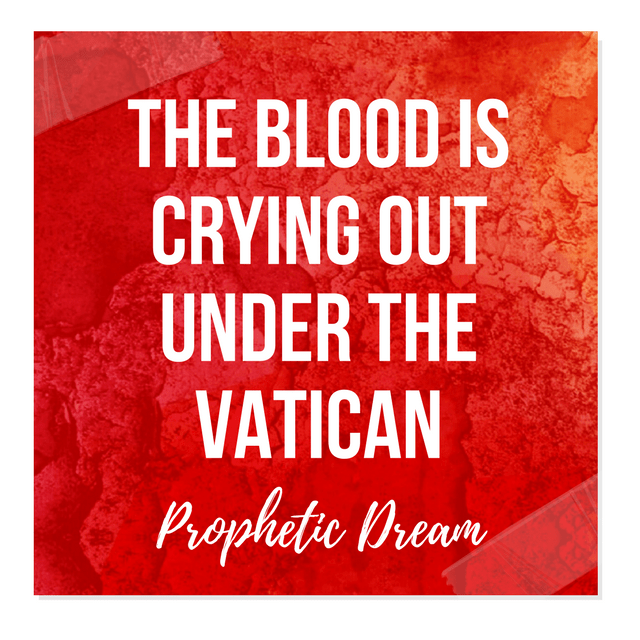 (Copied From Judy Bennett's Facebook page, with my findings below)
I just had a very serious dream, I was underground- underneath the vatican. I saw an ancient set of plans. Underneath was very old with a dirt floor. I was speaking to women seemed to be around 30 in my dream also. They were speaking of their babies,  playing with their babies then I looked and asked if I could help them. I could hear babies crying when I looked at what they had they were things used as babies not an actual baby.
The ground was crying. Seemed nice then they all turned demonic with their eyes rolling in their heads. Seemed to want to attack me, but never touched me. Then the ground just crumbled and collapsed into the ground. At the same time my husband was outside tonight and he heard about 30 people outside yelling and fighting then someone yelled get out really loud, many dogs around here and they were not barking. 4/13/14
These are the interpretations JESUS gave to me:
The babies blood are crying out from the ground.  Vatican must be responsible for their deaths – abortion and more. People chose their stuff over a child, people love their stuff. There is no way to describe seeing the ground it just disappeared and fell into the ground – not like a sink hole.  This is what I hear from JESUS about the ground
Numbers 16:32 and the earth opened her mouth, and swallowed them up, and their houses, and all the men that appertained unto Korah, and all their goods. I believe JESUS allowed Tim to hear in the spirit part of my dream because the dogs did not bark. And they are Great Pyrenees who bark at the wind, birds, squirrels…
Genesis 4:10
And he said, What hast thou done? the voice of thy brother's blood crieth unto me from the ground.
Revelation 17:6
And I saw the woman drunken with the blood of the saints, and with the blood of the martyrs of Jesus: and when I saw her, I wondered with great admiration.
Revelation 18:24
And in her was found the blood of prophets, and of saints, and of all that were slain upon the earth.
Revelation 16:6 For they have shed the blood of saints and prophets, and thou hast given them blood to drink; for they are worthy.
---
Below are additional findings after looking into her dream….
---
I found nuns' secret grave for 800 babies in Tuam
" I found a plaster statue of the Madonna on a pile of stones, incongruously sheltered by an old enamel bathtub. Beneath it were the bodies of nearly 800 babies.  The remains of a forbidding 8ft  wall nearby were a clue to the place's  history. Until 1961 this had been the site of a Catholic religious community run by the Sisters of Bon Secours.Read more: http://www.dailymail.co.uk
Decapitated, dismembered children in Catholic mass grave site were ritually murdered?
Since March the ICLCJ International Court has been prosecuting members of the Ninth Circle Satanic Child Sacrifice Cult network for child trafficking, pedophilia and murder that possibly linked to 34 child mass grave sites discovered in Ireland, Canada and Spain. The child mass grave sites were on properties mainly owned by the Roman Catholic Church, Anglican Church, United Church of Canada and Irish and Canadian governments. The Canadian 32 child mass grave sites have been refused excavation by the Catholic Church, Canadian government and Crown of England even though children's remains have been uncovered and examined since 2008 by licensed archeologists including one from the Smithsonian Institute.   In the last month over 20 witnesses from nine different countries have named members of the Ninth Circle Satanic Child Sacrifice Cult network as their perpetrators. Read more at Childabuserecovery.com
Pope sacrificing children underneath the Vatican Undeniable proof

– John Lockett- Youtube Video

The discovery of a mass baby grave under Roman bathhouse in Ashkelon, Israel

Along the shores of Israel's Mediterranean coast, in the ancient seaport of Ashkelon, archaeologist Ross Voss made a gruesome find. While exploring one of the city's sewers, he discovered a large number of small bones. Initially, the bones were believed to be chicken bones. However, it was later discovered that the bones were actually human –infant bones from the Roman era. With the remains amounting to more than 100 babies, it was the largest discovery of infant remains to date. Curious as to how and why these infants died, Voss took the remains to forensic anthropologist Professor Patrician Smith. Smith examined the infant remains and determined that there was no sign of illness or disease, and that the infants appeared to have been perfectly healthy when they died.   Read more at ancient-origins.net

Child Sacrifices tied to Vatican,…


Two children were raped and killed as part of Pope Francis 'Feb.22  Cardinal inauguration of Quebec Archbishop Gerald Lacroix. Cardinal inauguration of Quebec Archbishop Gerald Lacroix according to a report filed yesterday at the International Common Law Court of Justice in Brussels. Eyewitnesses claimed Cardinal Lacroix, Catholic Jesuit Superior General Adolfo Pachon and Canadian Prime Minister Stephen Harper's senior cabinet minister Denis Lebel participated in the rape and human sacrifice of a five or six year-old boy and a small girl as explained in this video. The killings were said to take place after midnight in the basement chambers of Jesuit Headquarters next to the Church San Lorenzo Piscibus in Rome. The Italian mafia Ndrangheta supplied children for these Ninth Circle Satanic Child Sacrifices through an office at the Vatican according to documents filed at the ICLCJ Court. "We received a report that the children were murdered in the Catholic Jesuit headquarters" stated Kevin Annett of the International Tribunal into Crimes of Church and State which assisted prosecution for the ICLCJ Court." One source said a boy was sacrificed around midnight in the presence of Cardinal Lacroix and Denis Lebel.  Read more at childabuserecovery.com

Mafia Wife Says Royals, Politicians, are Killing, Raping Children For Fun

"After receiving the files, the criminals selected a child that had no relative or family. They told the youth detention center that those were the ones they wanted. The youth detention center would put the child on the train to Zwolle. In Zwolle, the criminals fetched the child from the station and brought them to a building that was equipped like a hotel. But, it was not working as a hotel, although there were people in the lobby as if the hotel was working. The child was put on a table and was given something to drink. The child was drugged with that drink. "Beside the hotel was a building where the performance (a Satanic Child Sacrifice murder ritual) took place. In that building there were people sitting down. At a certain moment the child was brought into that building by the criminals, was tortured, raped and brutally murdered in front of those people.  Read more – Mafia Wife Says Royals, Politicians, are Killing, Raping Children For Fun

 More From Child Abuse Recovery
There are many more horrific articles on "Child Abuse Recovery" with specific details about child sacrifices.
---