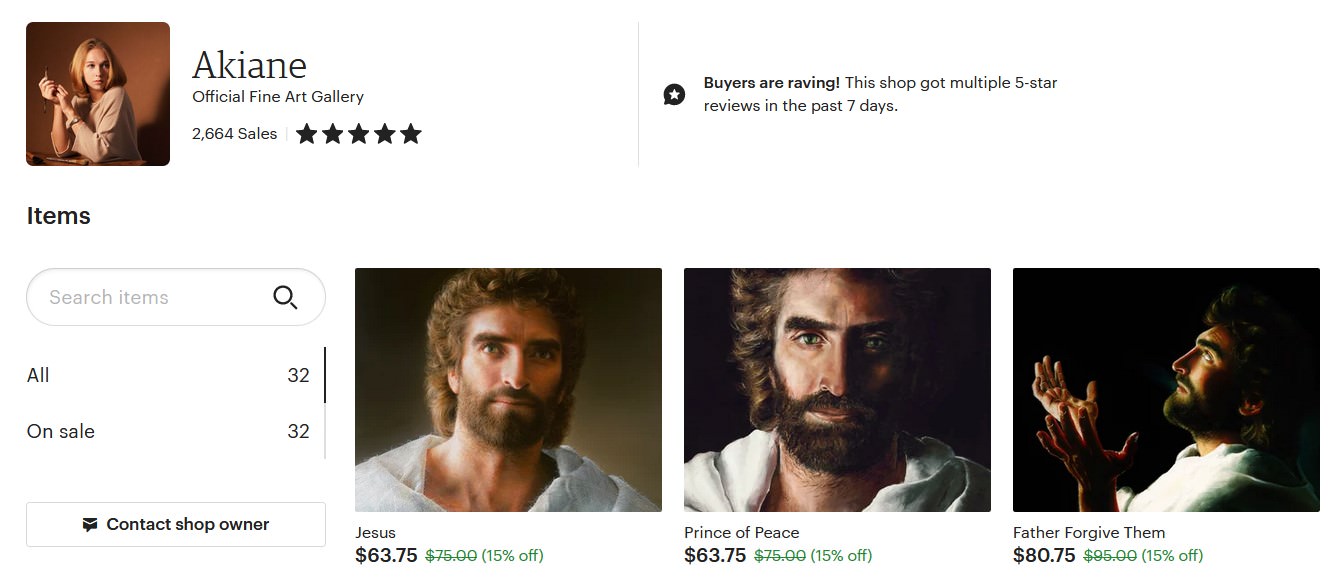 Akiane On Etsy
Many people believe that Akiane Kramarik has painted us the Real Face of Jesus. Of the thousands of Jesus pictures painted through the centuries, only Akiane's masterpiece, "Prince of Peace," has been recognized by so many who have had near-death experiences.
Colton Burpo who died at just 4 years old while undergoing emergency surgery met Jesus in heaven. In the movie Heaven is For Real, it shows a scene where he sifted through hundreds of pictures on the internet only to identify Akiane's painting as the authentic face he remembered while being in heaven.
At age 4, Akiane began experiencing visions of Jesus and as child she began drawing works of her visions. Her 2 extraordinary oil paintings of Jesus – "Prince of Peace" (painted at age 8) and "Father Forgive Them" (painted at age 9) – are noted masterful portraits of Jesus.
Comparison of the ISA Tile, Prince of Peace and Shroud of Turin – See this video here.
Her paintings have sparked interest in those who study the Shroud of Turin.  Her paintings spark a exceptional resemblance which is another miracle in itself.
"Some researches actually analyzed my work and compared the Shroud of Turin with… this painting," Akiane told Katie Couric earlier this year. The Shroud of Turin is the alleged cloth Jesus was buried in after he was crucified. "They said it was almost 80 to 90 per cent accurate." 
Others confirm that Akiane's paintings is the face they recall as well:
MELODY MUNRO
-I saw Jesus when I was six years old. He appeared in my bedroom after I had experienced a life changing event (sexual abuse)….He asked me if He could come into my heart..but I was really angry at Christians (I was living in a bible college with my parents and the abuser was someone at the college) and I was really angry at God…so I told Him to go away….I will never forget the look of sadness on His face…15 years later I was on the verge of suicide and in a last ditch cry for help I asked Him to come into my heart…after all those years He was still standing there…waiting… (I could not see Him) but I could feel Him…and He came in.that was 29 years ago.This painting is how I remember Him looking like..especially the eyes.
Franni Barr –

Blessed Akiane. I am 70 years old. I died when I was 8, 62 years ago. I have looked at thousands of painting of My Saviour and never had I seen one that came even close to who I had met. One night I was watching a movie and your painting was in it. I jumped and screamed at my pastor husband " that's it! that is what he looks like" and started crying. Thank you for your pain, your hurt, and all that you went through to bring us (me) this beautiful work of art.
Angela Ainsworth

-The Lord Jesus brought me to his presence in heaven about 19 years ago. This painting looks exactly like him! I just pull this portrait and stare at it because I see him all over again.