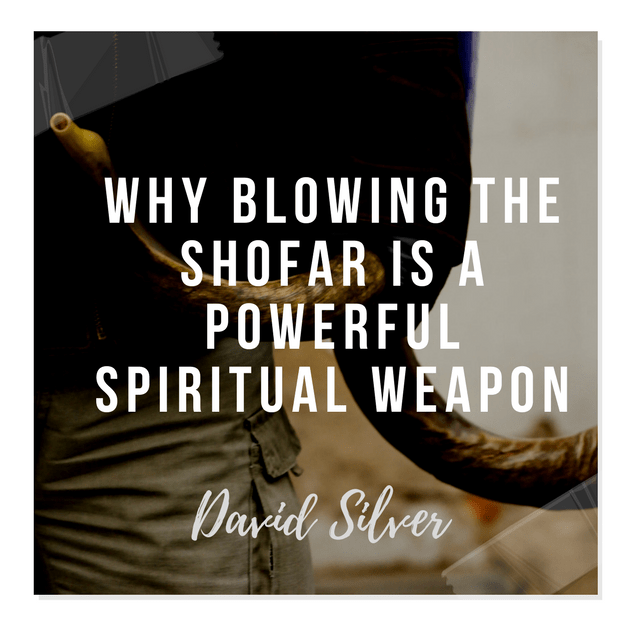 David Silver
This article has been re-published with permission
Originally appearing on out-of-zion.com
SHOFAR – Hebrew for a trumpet made from a Ram's or Kudu horn
We believe that God has given us a revelation that we wish to share with the Body of Messiah. We believe this will add a new dimension to your intercessory prayer and spiritual warfare. The Lord has revealed the spiritual dynamic of the use of the SHOFAR or Ram's Horn as used by the Israelites in the Old Testament times. We liken it to the dynamic of fasting, we don't fully under- stand the power of it, why or how it works – but ……IT WORKS!
Anywhere in the Old Testament where it is translated trumpet, the Hebrew word is SHOFAR.
The Lord led us to the story of Gideon (Judges 7) – how He sent Gideon's 300 to do battle with a heavily armed enemy that numbered many thousands. However, He instructed Gideon to go out with a pitcher and torch in one hand, and a SHOFAR in the other hand. At the appointed time, the 300 blew their SHOFARS in unity, which firstly caused a restlessness in the enemies camp, resulting in their total confusion to the point of them turning on each other and killing each other with their swords.
We also see in the story of Joshua that he too, won the war by blowing the SHOFAR. The Holy Spirit revealed that in the spirit realm, blowing the SHOFAR brings about the same effect. Over our meetings, over our buildings and over our cities, there is opposition in the heavenlies. We believe that blowing the SHOFAR during prayer, intercession and worship times causes disturbance and confusion to the spirit realm above us, thus dispersing the opposition and bringing about an open heaven for the glory, power and presence of God to fall.
We have seen dramatic changes and fruit from the blowing of the SHOFAR during our intercession and during our worship times. We do not use this tool as a religious rite but purely as the Spirit leads.
We are also aware of many churches around the world beginning to include the use of the SHOFAR, the Pensacola AOG being a prime example. SHOFAR sales in the USA Christian sphere have risen by 70% in the last year. We also have testimonies of people blowing the SHOFAR in their homes during prayer times, also seeing breakthrough and victory as a result.
We believe that the Lord is in the process of restoring to His people, all of the truths that have been stolen by the devil over the last 2000 years. If the devil made a point of taking it, then we can be sure there is power in it – he doesn't bother with trivialities ! We have in the SHOFAR, a powerful tool for our worship & a powerful weapon for our spiritual warfare.
In the Bible, the blowing of the SHOFAR was first heard when God called Moses to the summit of Mt. Sinai to receive the tablets of the Law. And, it will be sounded at the end of days to announce the Return of the Messiah and the Rapture of His Bride. ( 1 Thess 4:16 )
BIBLICAL BLOWING OF THE SHOFAR :
A call to gather for worship 2 Ch 29:26-28, Ps 98:6, Ps150:3, 2 Sam 6:15
Ushers in the presence of the Lord 2 Sam 6:15 1 Chron 15:14
Make proclamation 1 Sam 13:3
Symbolizing freedom and liberty Lev 25:9 & 10
At the giving of the 10 Commandments Ex 19:16 & 19, Ex 20:18,
Sounds the alarm for war Josh 6:4 -20, Joel 2:1, Jer 4:19,21, Jer 6:1,17
At the coronation of a king 1 Kings 1:34
As a call to battle and war Numbers 10:9
To induce fear & confusion in the enemy Judges 7:22
For announcing and ushering in the weekly Sabbath and yearly festivals
SCRIPTURAL SIGNIFICANCE FOR BLOWING OF THE SHOFAR
SCRIPTURAL SIGNIFICANCE FOR BLOWING OF THE SHOFAR
God Himself blows it! – Zech. 9:14 "Then the Lord will appear over them, and His arrow will go forth like lightning; and the Lord God will blow the SHOFAR, and will march in the storm winds of the south."
Gives commands to angelic hosts – Matt. 24:31 "And He will send forth His angels with a great SHOFAR and they will gather together His elect from the four winds, from one end of the sky to the other."
Priestly instrument of praise & worship – Chr. 29:26 "And the Levites stood with the musical instruments of David, and the priests with the SHOFARS." 2 Chr. 29:28 ". While the whole assembly worshipped, the singers also sang and the SHOFARS sounded; all this continued until the burnt offering was finished." Ps. 150:3 "Praise Him with the SHOFAR sound; praise Him with harp and lyre." Ps. 98:6 "With SHOFARS and the sound of the horn shout joyfully before the King, the Lord." 2 Sam. 6:15 "So David and all the house of Israel were bringing up the ark of the Lord with shouting and the sound of the SHOFAR." Is. 27:13 "It will come about also in that day that a great SHOFAR will be blown; and those who were perishing and scattered will come and worship the Lord in the holy mountain…"
A powerful catalyst to bring the glory of God – 2 Chr. 5:13 "in unison when the SHOFARERS and the singers were to make themselves heard with one voice to praise and to glorify the Lord, and when they lifted up their voice accompanied by SHOFARS and cymbals and instruments of music, and when they praised the Lord saying, 'He indeed is good for His lovingkindness is everlasting,' then the house of the Lord, was filled with a cloud…' "
Instrument used during great celebration – 1 Chr. 13:8 "And David and all Israel were celebrating before God with all their might, even with songs and with lyres, harps, tambourines, cymbals, and with SHOFARS."
Essential in going to War – Num. 10:9 "And when you go to war in your land against the adversary who attacks you, then you shall sound an alarm with the SHOFARS, that you may be remembered before the Lord your God, and be saved from your enemies."
To be blown constantly in battle – Josh. 6:8-9 "And it was so, that when Joshua had spoken to the people, the seven priests carrying the seven SHOFARS of rams' horns before the Lord went forward and blew the SHOFARS; and the ark of the covenant of the Lord followed them. And the armed men went before the priests who blew the SHOFARS, and the rear guard came after the ark, while they continued to blow the SHOFARS."
Corporate blowing is powerful – Judges 7:8 "So the 300 men took the people's provisions and their SHOFARS into their hands. And Gideon sent all the other men of Israel, each to his tent, but retained the 300 men; and the camp of Midian was below him in the valley." Judges 7:20 "When the three companies blew the SHOFARS and broke the pitchers, they held the torches in their left hands and the SHOFARS in their right hands for blowing, and cried, 'A sword for the Lord and for Gideon ' Judges 7:22 And when they blew 300 SHOFARS, the Lord set the sword of one against another even throughout the whole army & the army fled.."
Heralds the Day of the Lord – Joel 2:1 "Blow a SHOFAR in Zion, And sound an alarm on My holy mountain! Let all the inhabitants of the land tremble, for the day of the Lord is coming; surely it is near."
A SHOFAR will announce the 2nd Coming of Messiah – 1 Thess 4:16 "For the Lord Himself will descend from heaven with a shout, with the voice of the archangel, with the SHOFAR of God and the dead in Christ shall rise "
A SHOFAR will be blown before the dead rise – 1 Cor 15:52 "in a moment, in the twinkling of an eye, at the last SHOFAR; for the SHOFAR will sound, and the dead will be raised imperishable, and we shall be changed."
***********************
How To Clean A Shofar

1/ Run thru with hot water & brush
2/ Soak with vinegar or disinfectant
3/ Run thru with lots of plain water
4/ When dry, soak with scented oil
Please Contact us:
If you would like to order or be a distributor of SHOFARS
If your congregation would like to host an Out of Zion meeting
If you wish to receive the Out of Zion bi-monthly newsletter
If you wish to make a contribution to Out of Zion Ministries
Email us at: kiwi@netvision.net.il
The LORD bless you from ZION