I love reading about WHY Muslims turn to Christ. Did you know that many of them see dreams of a man dressed in a white robe? Not thousands, but Millions are seeing dreams of a man named Jesus. They feel compelled to read the bible after experiencing these dreams. In many of these countries, giving your life to Jesus can cost you your life. Its a life and death decision, yet, millions are choosing HIM. They find the LOVE in the bible the exact thing they have always longed for. Here are the highest rated testimonies of those Muslims who take a leap of faith and follow Jesus, even if it costs them their lives.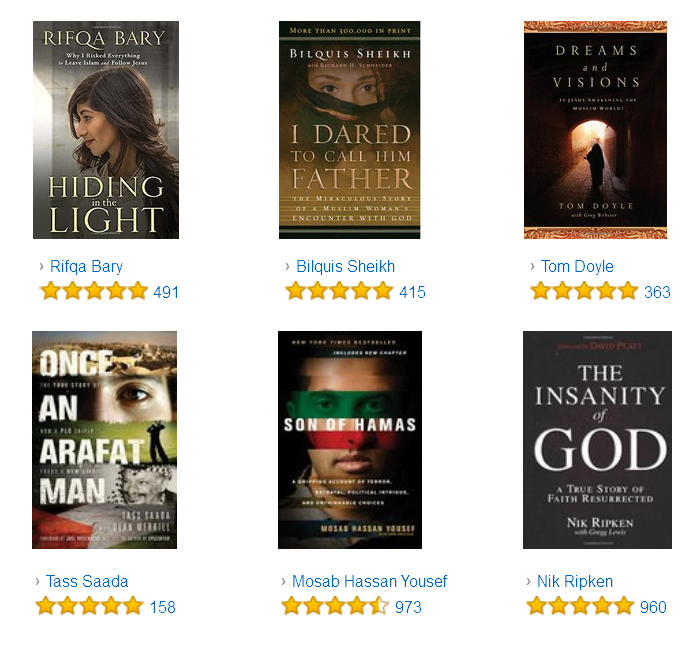 1.Hiding in the Light: Why I Risked Everything to Leave Islam and Follow Jesus
Rifqa Bary grew up in a devout Muslim home, obediently following her parents' orders to practice the rituals of Islam. But God was calling her to freedom and love. He was calling her to true faith. He was calling her to give up everything.
2. I Dared to Call Him Father: The Miraculous Story of a Muslim Woman's Encounter with God –
I Dared to Call Him Father is the fascinating true story of Bilquis Sheikh, a prominent Muslim woman. Her unusual journey to a personal relationship with God turned her world upside down-and put her life in danger. Originally published in 1978, the book has sold 300,000 copies and is a classic in Muslim evangelism. The 25th anniversary edition includes an afterword by a missionary friend of Bilquis who plays a prominent role in the story and an appendix on how the East enriches the West.
3. DREAMS AND VISIONS: Is Jesus Awakening the Muslim World?
Dreams and Visions is a remarkable collection of stories directly from the world of Islam. Pastor Tom Doyle has spent eleven years as a  full-time missionary in the Middle East and Central Asia, spreading the word of Jesus Christ. Throughout his journey he has encountered a staggering number of Muslims who were first introduced to Jesus through a vision or dream so powerful that they eventually turned from their lifelong religion of Islam and embraced Christ as their Savior. Despite living in a culture where converting to Christianity can result in execution, these former Muslims have found hope, peace, and inspiration that comes from knowing Christ. Their stories will amaze you. Jesus is reaching out to the Muslims and they are responding.
4.  Once an Arafat Man: The True Story of How a PLO Sniper Found a New Life
At age 17, Palestinian Tass Saada ran away to become a PLO sniper, onetime chauffeur for Yasser Arafat, and a Muslim immersed in anti-Israeli activity. As a man he moved to America, started a family, and eventually became a Christian. Then he risked retribution as he returned home to share his faith with his family and former boss.
5. Son of Hamas: A Gripping Account of Terror, Betrayal, Political Intrigue, and Unthinkable Choices
Since he was a small boy, Mosab Hassan Yousef has had an inside view of the deadly terrorist group Hamas. The oldest son of Sheikh Hassan Yousef, a founding member of Hamas and its most popular leader, young Mosab assisted his father for years in his political activities while being groomed to assume his legacy, politics, status . . . and power. But everything changed when Mosab turned away from terror and violence, and embraced instead the teachings of another famous Middle East leader
"The story itself is also amazing. As a Christian, it was inspiring to see how one sentence from the Bible was able to transform Mosab's heart and change the course of his life. As a result, many lives were saved."
6. The Insanity of God: A True Story of Faith Resurrected
How does faith survive, let alone flourish in a place like the Middle East? How can Good truly overcome such evil? How do you maintain hope when all is darkness around you? How can we say "greater is He that is in me than he that is in the world" when it may not be visibly true in that place at that time? How does anyone live an abundant, victorious Christian life in our world's toughest places? Can Christianity even work outside of Western, dressed-up, ordered nations? If so, how?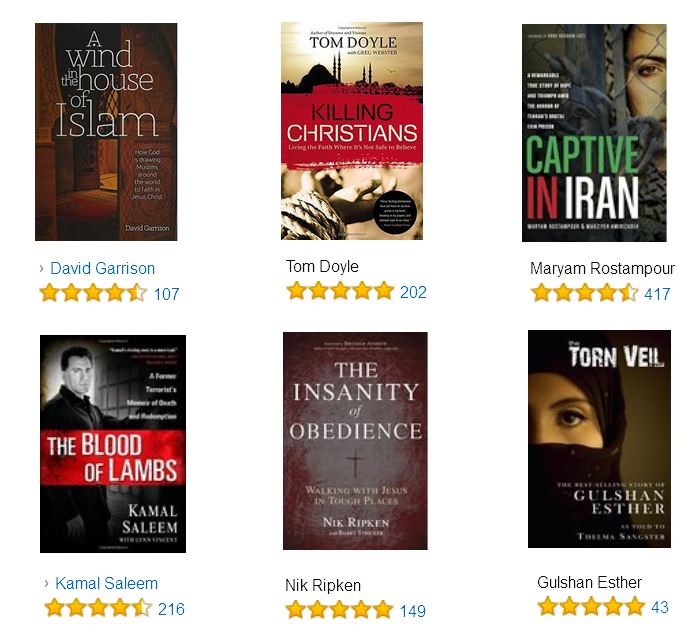 7. A Wind In The House Of Islam: How God Is Drawing Muslims Around The World To Faith In Jesus Christ
David Garrison spent three years travelling a quarter–million miles through every corner of the Muslim world to investigate reports far and wide of Muslims turning to faith in Jesus Christ. In this amazing odyssey, Garrison gathered the stories of more than a thousand Muslim–background believers, asking them the question: "What did God use to bring you to faith in Jesus Christ? Tell me your story."
The result is a historic and unprecedented insight into the greatest turning of Muslims to Christ in history. Hear the stories of men and women who have sacrificed everything – home, family, even their lives – for the sake of following Jesus.
8. Killing Christians: Living the Faith Where It's Not Safe to Believe
To many Christians in the Middle East today, a "momentary, light affliction" means enduring only torture instead of martyrdom. The depth of oppression Jesus followers suffer is unimaginable to most Western Christians. Yet, it is an everyday reality for those who choose faith over survival in Syria, Iran, Egypt, Lebanon, and other countries hostile to the Gospel of Christ. In Killing Christians, Tom Doyle takes readers to the secret meetings, the torture rooms, the grim prisons, and even the executions that are the "calling" of countless Muslims-turned-Christians.
Maryam Rostampour and Marziyeh Amirizadeh knew they were putting their lives on the line. Islamic laws in Iran forbade them from sharing their Christian beliefs, but in three years, they'd covertly put New Testaments into the hands of twenty thousand of their countrymen and started two secret house churches. In 2009, they were finally arrested and held in the notorious Evin Prison in Tehran, a place where inmates are routinely tortured and executions are commonplace. In Captive in Iran, two courageous Iranian women recount how God used their 259 days in Evin Prison to shine His light into one of the world's darkest places, giving hope to those who had lost everything and showing love to those in despair.
10. The Blood of Lambs: A Former Terrorist's Memoir of Death and Redemption
Memoirs of a Terrorist reveals the true inside story of the life and mindset of a radical muslim terrorist who finally came to renounce his murderous mission and embrace freedom.Some radical Muslims believe that non-Muslims who refuse to convert must die. Memoirs of a Terrorist is the true account of the life of such a terrorist who has since renounced his deadly participation in jihad, or "holy war." His memoir conveys an urgent message to Americans to wake up to the dangers of the terrorists who are still executing their harmful and destructive schemes.
11.The Insanity of Obedience: Walking with Jesus in Tough Places
All Christian disciples have one thing in common: as they carry the gospel across the ocean and across the street, persecution will become the norm for those who choose to follow Jesus. How believers respond in the face of persecution reveals everything about their level of faith and obedience. The Insanity of Obedience is a bold challenge to global discipleship. Nik Ripken exposes the danger of safe Christianity and calls readers to something greater. The Insanity of Obedience challenges Christians in the same, provocative way that Jesus did.
12. The Torn Veil
This is a wonderful story of a Muslim girl who is miraculously healed from her life long sickness by the special touch of Jesus.Rather than rejoicing with her, she was forsaken by all at home. But God through his wonderful ways is using her as a powerful testimony around the world. This is the best gift for a Muslim friend of yours.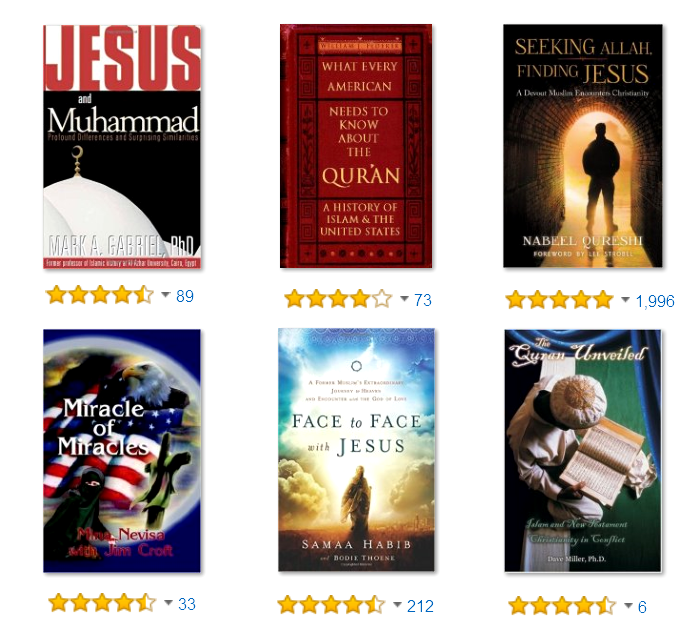 13.Jesus and Muhammad: Profound Differences and Surprising Similarities by Mark A.Gabriel, Ph.D.
Born a Muslim, Dr Gabriel changed his name from his Muslim birth name, after finding the Lord Jesus.  He is an ex-Professor of Muslim history at the Al-Azhar University in Cairo.  Born in Egypt, he grew up as a devout Muslim. He memorized the Quran, earned a Ph.D. in Islamic studies at Al Azhar University, and faithfully followed the laws of Islam. Yet the more he learned, the more disillusioned he became. He abandoned Islam at the age of 34. After a year of searching for God, he opened a Bible for the first time one night. As he read the life of Jesus from the book of Matthew, he mind automatically compared it to the life of Muhammad. When morning came, he chose to follow Jesus. With the same zeal that he used to follow Muhammad, he has followed Jesus for the past 12 years, earning a Ph.D. in Christian education.
14.What Every American Needs to Know about the Qur'an: A History of Islam & the United States –
Thousands of books, documents and articles have been researched over several years in preparation for this book.  Most Americans know little about the Qur'an, who wrote it and how it spread. Mohammed, who had 15 wives, fought in scores of raids and battles, even cutting off the heads of 700 Jews. Within one hundred years of his death, his followers conquered North Africa, the Holy Land, Persia, Spain – from the Indian Ocean to the Atlantic Ocean.
15. Seeking Allah, Finding Jesus: A Devout Muslim Encounters Christianity
In Seeking Allah, Finding Jesus, Nabeel Qureshi describes his dramatic journey from Islam to Christianity, complete with friendships, investigations, and supernatural dreams along the way.Qureshi shares how he developed a passion for Islam before discovering, almost against his will, evidence that Jesus rose from the dead and claimed to be God. Unable to deny the arguments but not wanting to deny his family, Qureshi's inner turmoil will challenge Christians and Muslims alike.
16. Miracle of Miracles: A Muslim Woman's Conversion to Christ and Flight from the Perils of Islam
Miracle of Miracles By Mina Nevisa is a young upper class Iranian girl's stirring true testimony about how Jesus Christ found her and her husband in Tehran, and how and why they had to escape Iran to avoid execution by radical Muslims. Their crime? They converted from Islam to Christianity. Rejected by her family who she loves, and an utter outcast in her homeland, Mina and her husband made a harrowing journey across the mountains to Turkey, then to Europe, and lastly to America. It's also about how Jesus actually appeared to a her father, a devout Muslim Theology Teacher of great renown in the Muslim world. Jesus converted this man to Christianity on the spot. If you have any doubt that the Lord Jesus Himself is leading the way and is seeking out worthy believers in Muslim countries –you won't after reading this book of true miracles.This is a MUST READ if you are a Muslim who has ever wondered why Allah insists that you pray, not in your native language; or why your prayers with Allah always seem to be empty, pointless and one-way. Come out to freedom, and leave all these meaningless rituals behind. Stop misdirecting your sweet and worthy prayers to a deity who simply is not either alive, or there. This is also a MUST READ for any Christian who doesn't believe in miracles, or who wants to meet Muslims face to face and learn about them.
17.Face to Face with Jesus: A Former Muslim's Extraordinary Journey to Heaven and Encounter with the God of Love
The thrilling and heart-wrenching true story of a former Muslim woman's journey to heaven and back when she was victim of a terrorist bombing.  In this thrilling true tale, death does not have the final word. From the first time Samaa heard the Lord Jesus calling her out of Islam into faith in Him, till she met Him face to face in heaven, her life is marked by God's supernatural love and power. Full of hope and encouragement, and overflowing with Jesus' love, her riveting account reveals the power of God to break through any circumstance–and is a moving reminder that, in a place beyond what we can imagine, we have a Savior waiting to welcome us face to face.
If only Muslims would read this book. They would have no doubts of the "smoke and mirrors" that Islam truly is. Islam is diabolical in that it portrays itself as a Religion of the "Book". Yet it leads sweet Muslim souls away from the "Book"; God's Word already revealed in the Jewish Torah and Christian Gospels (500 yrs before Muhammad). The Qur'an actually makes Muslims believe they are reading something divine. When all it is – is mostly unintelligible lies, murmurings and threats from an intolerant, belligerent, non-divine, non-prophet of a man. 1 in every 55 versus in the Qur'an incites Muslims to make war on unbelievers. This book literally drips with evil. The word "love" is conspicuously missing from the Qur'an entirely.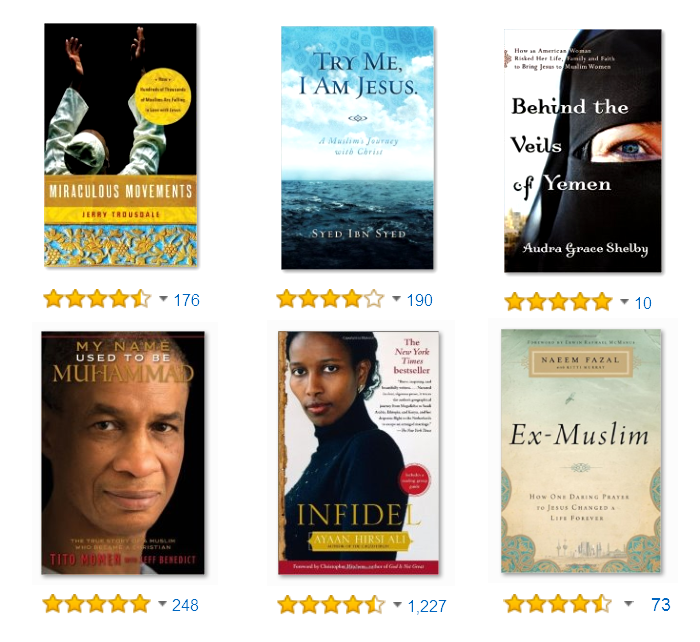 19. Miraculous Movements: How Hundreds of Thousands of Muslims Are Falling in Love with Jesus
Miraculous Movement recounts an amazing change taking place within Muslim communities where the truth of Jesus Christ is turning around the lives of many thousands of Muslims from more than twenty people groups. Discover through the sometimes humorous, often sobering, but always enlightening and encouraging true stories how imams, sheikhs, and entire mosques are forsaking Islam and embracing Christ.
20.Behind the Veils of Yemen: How an American Woman Risked Her Life, Family, and Faith to Bring Jesus to Muslim Women
Compelling memoir of an American woman and her family moving to Yemen, learning to live in the Islamic culture, and offering hope to Muslim women.
21. Try Me, I Am Jesus: A Muslim's Journey with Christ
Syed Ibn Syed was on the verge of suicide when the miraculous happened, and he gave his life to Jesus instead. A former Muslim, he has been walking with Christ for a quarter of a century and maintains a deep passion and love for Muslim people. Because of his background, Syed is equipped to share the gospel and the love of Jesus in unique ways. He has a master's degree in religion, speaks nine different languages, and conducts seminars and conferences in various countries.
22.My Name Used to Be Muhammad: The True Story of a Muslim Who Became a Christian
Tito Momen was raised Muhammad Momen. He was born in Nigeria and taught to observe the strict teachings of Islam. Beginning at age five he woke at 4:45 every morning to attend the mosque and perform dawn prayer with the other men in his village. He began training to memorize the Qur an at age six by copying the entire Qur an word for word. He was being raised to become a leader among clerics, capable of leading a jihad, or holy struggle, to convert nonbelievers to Islam. But Tito s path took an unexpected turn when he was introduced to Christianity. His decision to believe in Jesus Christ cost him his family and his freedom.
23. Infidel
"This is a fantastic description of life in Islam. Ayaan Hirsi Ali explains in very honestly what she has had to deal with in her life. As an ex muslim myself, she is a brave example for the rest of us women struggling with the threats and violence of Islam. This is a must read book for those who do not have the time or patience to study Islam and Islamic culture. It should be mandatory reading for High School Students in the west. Anyone who has to risk their lives to tell the truth is revolutionary. These days the truth is a revoluntionary act and Ayaan Hirsi Ali is a pioneer and my hero. " Amira Mansour
24. Ex-Muslim: How One Daring Prayer to Jesus Changed a Life Forever
Jesus revealed himself to a young, brash, Pakistani Muslim. But he didn't just reveal himself; he turned Naeem Fazal's world upside down. Naeem Fazal was born and raised as a Muslim in Kuwait. He came to the United States shortly after the Gulf War of 1990. In 1992, he had a supernatural experience with Christ that changed the course of his life.  Naeem gives some incredible insights to growing up Muslim, to what it was like being in Kuwait during the Gulf War, and of having to tell Muslim parents that he had converted to Christianity.