Therefore, to him who knows to do good, does not do it, it is sin." ~James 4:17
Too many of us are afraid to speak out about the pressing issues of our day such as the attack on traditional marriage, the change in culture promoting sex, evolution, and blasphemy in the media.  The assaults on our Christian faith seem to be ever increasing with each passing day.
We have trouble standing on the word when it comes to these issues, and yet in North America we still have vast freedoms of speech and religion compared to the rest of the world.
We do not have a military presence in our streets, or possible jail time as a result of our core beliefs.  There are Christians around the world being shot, and killed for not backing down, which is something the west has not faced as of yet.
The truth is, no matter how polite we attempt to be, we WILL be viciously attacked and called nasty names, simply because it's the truth that offends.
We must be brave.
Dietrich Bonhoeffer was one voice that spoke up despite the fact he could be arrested, and could face torture or a severe beating in his time.  He was a German Lutheran pastor, whose writings on Christianity's role in the secular world have become influential around the world.
Bonhoeffer was known for his staunch resistance to the Nazi dictatorship.  He spoke out against  Hitler's euthanasia program and genocidal persecution of the Jews.
In April 1943 he was arrested by the Gestapo and imprisoned at Tegel prison for a year and a half, after which he was transferred to a Nazi concentration camp.   They associated him with the plot to assassinate Adolf Hitler, which he was tried for and then was executed by hanging.  This happened just two weeks before Allied forces liberated the camp and three weeks before Hitler's suicide.
If there is a voice we need to hear today, it should be from one who faced the sheer terror of being shot or punished, and yet still rose up to speak the truth from the gospel.
We are ALSO facing a similar junction in our history.  As Christians we will also be hunted down much like the Jewish people in World War 2.  Concentration camps are being built around the United States, and have been prophesied in so many dreams and visions.
Dietrich Bonhoeffer authored several books where he talked about his courage and his devotion to the word, and faithfulness to God.   Here are some of his classics: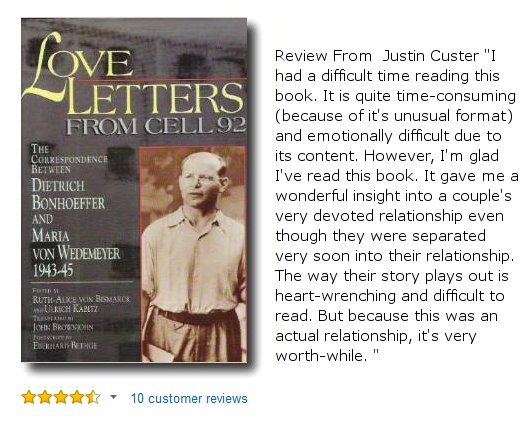 Love Letters from Cell 92: The Correspondence Between Dietrich Bonhoeffer and Maria Von Wedemeyer, 1943-45 Used From $22 On Amazon

By Jon C. Paulus "This book is the collection of letters between Dietrich Bonhoeffer, German pastor and theologian, and his fiancee, Maria Von Wedemeyer, during Bonhoeffer's imprisonment by the Nazis during WWII. I'm a huge Bonhoeffer fan, and only "knew" him through his rather brilliant theological writings. Those theological tomes are astonishing, knowing that he wrote everything before he turned 40 (he was executed at the age of 39). These love letters between mathemetician Maria, 18 years his junior, and the pastor are beautiful and heart wrenching. They were engaged shortly before the Nazis took him to prison for his part in an assassination plot againts Hitler. The love they express is profoundly deep- and has the elements of play and joy, as all true love ought. When she writes that she is picking out furniture for the apartment in which they will live after he is freed and the war is over it is just as beautiful, but oh so tragic. We all know the rest of the story- he dies just weeks before V-E day. If you're at all interested in Bonhoeffer, or if you have just one romantic bone in your body, buy this book, then read it with your lover. "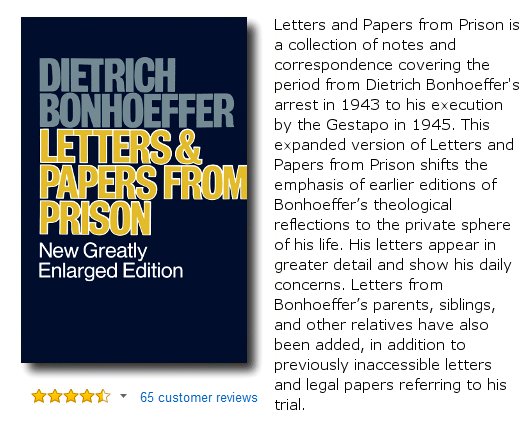 Letters and Papers from Prison From $5 On Amazon
By Robert H. Nunnally Jr. "Dietrich Bonhoeffer's Letters and Papers from Prison show the reader the thoughts of a man who wrote with immense insight under circumstances fraught with the deepest despair. Prior to the war, Bonhoeffer had established himself as a visionary, if somewhat moderate, young Christian theologian. His imprisonment by the Nazis in the wake of the failure of the conspiracy to assasinate Hitler gave rise to this series of letters, ranging from the trivial to the most profound, reflecting the thoughts and ideas of a man whose ideas continued to evolve, even as hope dwindled. It is tempting to see Bonhoeffer as a sort of modern Christian saint "set-piece" of a man, or a Spielberg movie waiting to be made. Such an interpretation of the man would trivialize the flesh and blood reality of his life, as these letters demonstrate. Collections of letters typically suffer from one of two defects–either they are inanely trivial and gossippy, or they spend far too much time on being "literary" for posterity, and not enough time giving real insight into the writer. Bonhoeffer's letters avoid both of these traps. Although the letters collection is not overly burdened by the confessional, letters to his parents and fiance help us understand in very human terms the horror of imprisonment by the Nazis, notwithstanding their careful phrasing to avoid the censor's pen. The letters do contain some of the intentionally "literary"–Bonhoeffer writes poetry which is reasonably spare and connective and sometimes writes for the hypothetical future reader. But the real tour de force is Bonhoeffer's analysis of the evolution of his theological thought in light of the changes wrought by modernity and made apparent to him through his experiences."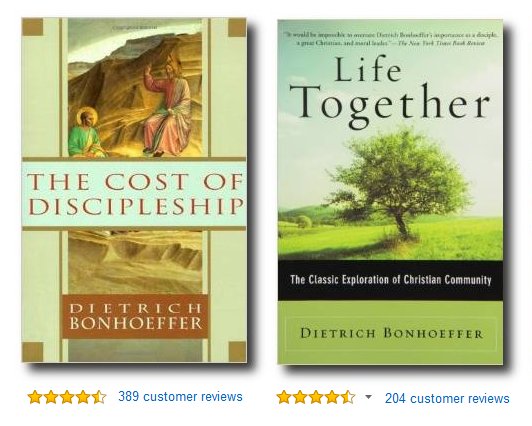 The Cost of Discipleship- Used From $5 dollars on Amazon
By Erik Olson "I recently took a seminary class that dealt with traditions in Christian devotion, and one of the assignments was to pick a classic Christian book and do a report on it. I chose "Cost of Discipleship" because I had wanted to read it for some time. Much has been said about the book's power, and I desired to experience that for myself. After finishing it, I can see why "Cost of Discipleship" has challenged so many in their walk with Christ.
The book's major theme centers on what it really means to be a disciple of Christ. This is summed up by Bonhoeffer's statement that Christ calls us to "come and die." Christ wants all of us – nothing is to be held back. One is either a disciple of Christ, or they are not. There is no middle ground. The true disciple is dying to his or her life as a whole, and their old life is being replaced with the life of Christ.
"Cost of Discipleship" is soaked in Scripture, and that is one of its main strengths. This is not surprising, since reading the Bible actually contributed to Bonhoeffer's personal conversion and commitment to Christ. Bonhoeffer constantly refers to Biblical passages to make his points, and he does not resort to storytelling or even personal anecdotes. One can sense his deep love for the Bible and for Christ throughout the book. Another strength is Bonhoeffer's conveyance of how imperative commitment to Christ really is. Bonhoeffer was an early foe of Adolph Hitler, and this book was published while he was being persecuted by the Nazis. Thererfore, he wrote as one who has stood for Christ in tough times, and he knew that Christ is one's only hope. Indeed, he eventually gave his life for his faith, and by all Christian and secular accounts glorified God to the very end. Finally, even though "Cost of Discipleship" was published in 1937, every page in this book counters the "easy believism" and license that tempt and seduce many Christians today. Bonhoeffer attacks "cheap grace" and demands a steadfast, deep loyalty to Christ. He illustrates the power and holiness of God in a way that indicates the necessity of a healthy, reverent fear towards God.
However, I did have a couple of minor issues with the book. It is somewhat densely written, and therefore may be daunting to the average layreader. Bonhoeffer was a highly educated theologian, and it shows in his writing style. In addition, Bonhoeffer tends to neglect grace in favor of emphasizing absolute holiness and commitment. His moralistic leanings have the danger of encouraging legalism and asceticism if a reader is inclined toward those pitfalls. I'm sure this was not his intent, since it was Bonhoeffer's genuine love for Christ that motivated his passion and perseverance. But this may be a situation where a person takes for granted a truth they have worked through and internalized, and therefore they fail to communicate it to others because it is so integral to them. I think Bonhoeffer loved God so deeply, with all his being, that he never thought to specifically describe loving God as the basis for the principles in this book. However, it is also possible that the times he lived in prevented a more introspective writing style. Bonhoeffer was under persecution by a political regime that he knew to be the epitome of evil. Therefore, he knew what was at stake, and so focused on what needed to be heard about the cost of Christian discipleship, with the assumption (or at least hope) that the reader already had an abiding love for Christ.
Overall, "Cost of Discipleship" challenged me in a number of ways. First, Bonhoeffer's life and death were inspiring – he lived what he wrote, and I consider him to be an example of faith in action that every Christian should emulate. I pray that I would face persecution with his courage and perseverance. Second, his linking of sanctification with being part of the Body of Christ encourages me to avoid being a "lone wolf" Christian. It's important for my spiritual health to become part of a church so that I can minister to others and be ministered to as well. Third, his love for Scripture reminds me to never forsake reading the Bible, and also not to rely exclusively on the writings of others, or their interpretations of Scripture. Fourth, his focus on a relationship with Christ prods me to examine my own relationship with Him, and to ensure that I don't neglect it. Finally, his statement that Christ bids us to "come and die" leads me to evaluate the level of my own commitment as a Christian, especially in light of current events.
"The Cost of Discipleship" was difficult to read. This was in part due to its literary density, but also because of its powerful message about the true cost of being a disciple of Christ. Bonhoeffer's words are relevant, convicting, and challenging to anyone who claims to be a Christian. Highly recommended.
Life Together: The Classic Exploration of Christian in Community – From $5 On Amazon
By Donald S. Meador– Life Together was written by Dietrich Bonhoeffer while he was in a Nazi Gestapo prison during WWII. The book's Introduction is a 6 page mini-bio of Bonhoeffer, which will inform the reader as to why he was in a Nazi Gestapo prison. He was executed by the Nazi's just weeks before the end of the war.
Life Together was written while Bonhoeffer was being held by the Nazi's. It is his short treatise on Faith in Community – what it means to be the Body of Christ. During his time in prison, Bonhoeffer undoubtedly had interaction with Christians of many denominations. This probably led to contemplation of what it meant for all of them to worship together, even in a prison camp.
The book is just five chapters:
1. Community
2. The Day with Others
3. The Day Alone
4. Ministry
5. Confession and Communion
Amazingly enough, Bonhoeffer thinks seriously and deeply about what it should be like for Christians to experience Life Together as the Church. Few current authors are packing so much in so little a book.
In the first chapter he looks at relating to one another as Jesus would have us relate to one another. He distinguishes between the worldly and the biblical concepts of living in community. His observations are astounding and would do many churches a great deal of good today.
In chapters 2 and 3, he looks at one's relationship with God as it should be lived both corporately and individually. He even gives us a glimpse of what family worship was expected to look like at that time. Again, his observations would do Christians much good today.
The chapter on ministry is outstanding, but one really cannot do it justice in just a few sentences. The final chapter on confession and communion was a mixed bag for me. His ideas on confession were pretty good. However, his beliefs on communion are different from my beliefs (he was a Lutheran, I am a Baptist). Even still, I would recommend reading this chapter with one's eyes open.
When all is said and done, this is a wonderful book. It was written in 1940's German and translated to English, so there are some places where the translation is not always the clearest. The reader should know that Bonhoeffer was not only a pastor, but also a theologian – his writing is meaty, not fluffy. For those brave enough to sink their teeth in, this book will be a great read (and probably a great re-read). There is much to learn in this little book. I even found that much of this book can be applied within the marriage context. Read, enjoy, apply it to all aspects of your life.