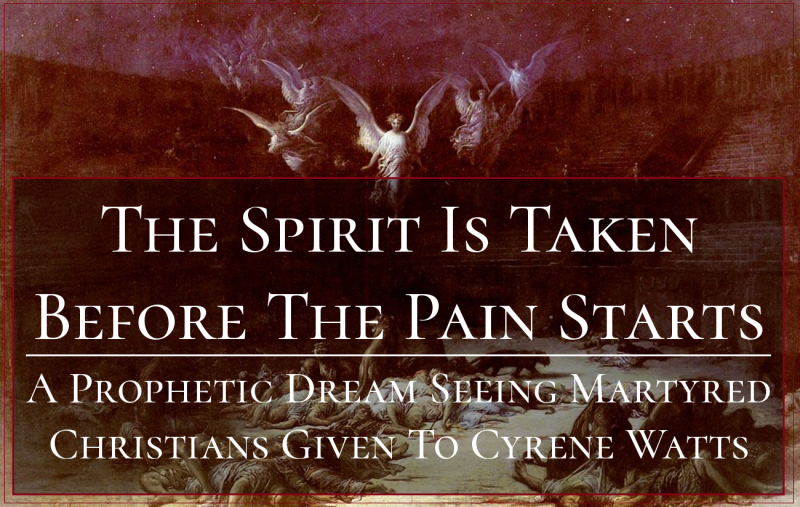 Picture Credit- Gustave Dore – The Christian Martyrs (1872)
MARTYRS FOR CHRIST
I just want to share a prophetic dream I received recently just yesterday on 7/30/16 at 1:53am
In this dream I saw that there were 2 lions. I know that one of them represented the Lord Jesus Christ and the other Satan. It was easy to differentiate because the Lord made His dominance known by roaring; letting him know that HE was Alpha…Moreover, It was fairly dark in this dream, yet I could still see what was going on. I was both an observer and a partaker in this dream…It appeared as though we were all in the wilderness. I didn't see any buildings or anything like that, but I saw how the saints were being tortured and killed. There was one individual in particular who had been tied to the trunk of a tree and there was bloodshed everywhere. Many of the saints I saw were in groups down on their knees with their hands behind their backs. At that point I knew it would just be a mass slaughter. However, right before I saw their lives ended my focus was shifted to another person. His body was about to be chopped by these sharp blades that were not from any knife or sword. All I can say is that it looked like a human dicer! There's no picture to even describe what I saw…
After seeing that I started to get anxious; not just for myself but for him also. That's when I heard a voice that said, "Don't be afraid. The angels will come and take you before you feel a thing." That's when I looked back at the man, and the same voice said, "He's not going to feel it." Just then I saw angels come and take his spirit from his body as the blades came down upon him. Somehow I knew I was next to be killed the same way he had been, yet I remembered the words that were spoken to me. I looked toward the hillside and saw the Lion of Jesus Christ upon it. He wasn't sitting or lying down, but standing still on all fours. It was as if He were waiting for me. Before I knew it, I too was dismembered and bleeding out, but I never felt the pain. Immediately afterwards the other lion (Satan), came and started dragging me by the foot of my right leg, and that's when I woke up.
So these are the 9 scriptures I was given pertaining to this dream and they are as follows:
Revelation 5:5 (KJV)
"And one of the elders saith unto me, Weep not: behold, the Lion of the tribe of Judah, the Root of David, hath prevailed to open the book, and to loose the seven seals thereof."

1 Peter 5:8-9 (KJV)
Be sober, be vigilant; because your adversary the devil, as a roaring lion, walketh about, seeking whom he may devour: Whom resist stedfast in the faith, knowing that the same afflictions are accomplished in your brethren that are in the world."

Revelation 12:12 (KJV)
"Therefore rejoice, ye heavens, and ye that dwell in them. Woe to the inhabiters of the earth and of the sea! for the devil is come down unto you, having great wrath, because he knoweth that he hath but a short time."

Matthew 24:9
"Then shall they deliver you up to be afflicted, and shall kill you: and ye shall be hated of all nations for my name's sake."

Matthew 24:22
"And except those days should be shortened, there should no flesh be saved: but for the elect's sake those days shall be shortened."

Revelation 14:13
"And I heard a voice from heaven saying unto me, Write, Blessed are the dead which die in the Lord from henceforth: Yea, saith the Spirit, that they may rest from their labours; and their works do follow them."

Psalm 116:15
"Precious in the sight of the Lord is the death of his saints."

Matthew 10:28 (KJV)
"And fear not them which kill the body, but are not able to kill the soul: but rather fear him which is able to destroy both soul and body in hell."

1 Corinthians 15:55
"O death, where is thy sting? O grave, where is thy victory?"
It was important that I share this with you, so that you will not be afraid of death, and so that you will be prepared to be a martyr for Jesus Christ, should it come your turn to die for what you believe in!
John 16:33 says, "These things I have spoken unto you, that in me ye might have peace. In the world ye shall have tribulation: but be of good cheer; I have overcome the world."
I love you all, be encouraged and keep the faith! Amen
 Christian martyrs entering the amphitheatre 1855- François-Léon Benouville
Foxe's Book of Martyrs
Christian Martyrs- en.r8lst.com
Foxe's Book of Martyrs: 195. Thomas Cromwell
Cruel burning of Sir John Oldcastle from Foxe's Book of Christian Martyrs.
Found here 1amendmentcont.blogspot.com
16th Century Photograph  Foxe Book Of Martyrs by Granger
Foxe's Book of Martyrs – Latimer & Ridley- commons.wikimedia.org

Illustration to Foxe's Book of Martyrs 1641
See more of these illustrations on google images