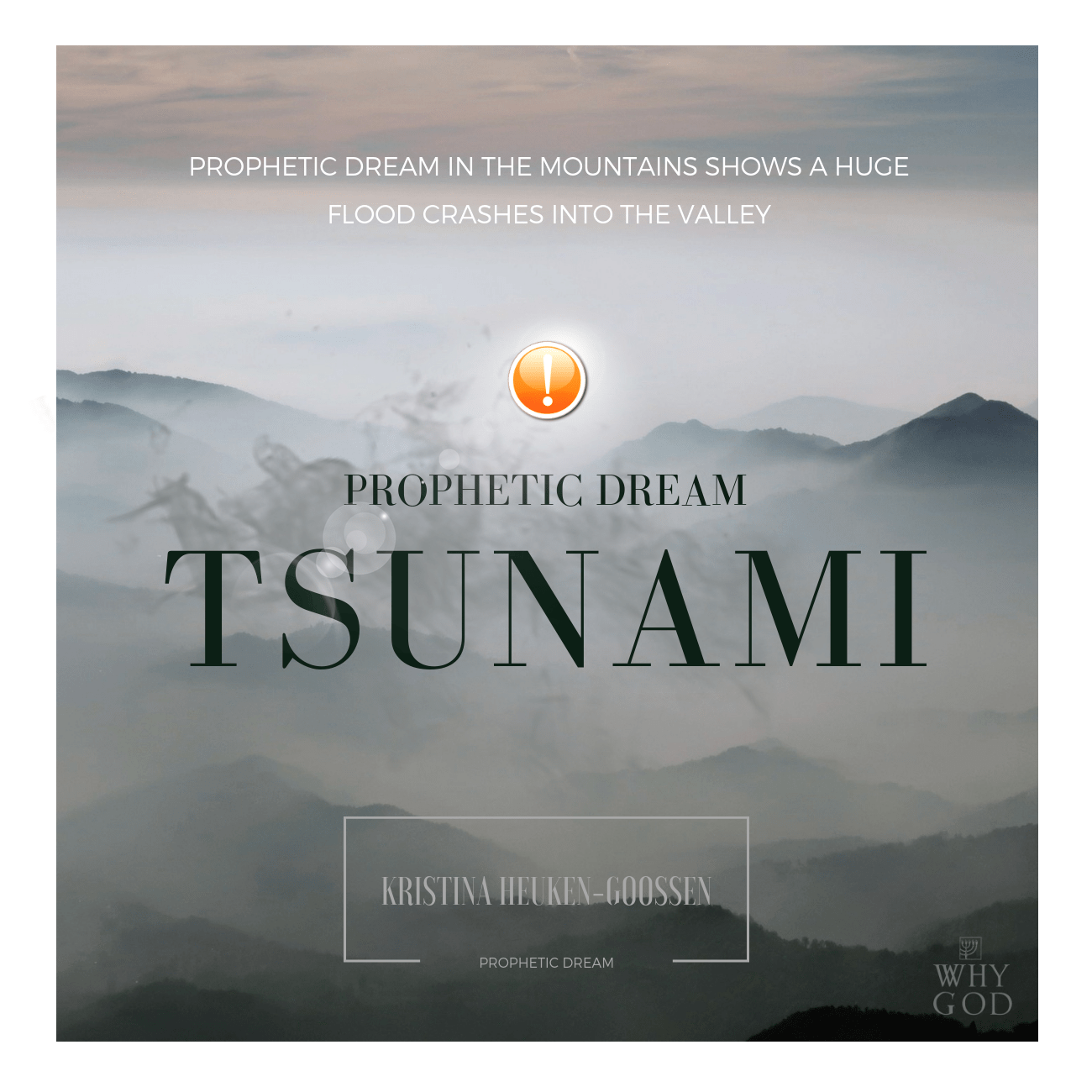 Published From 444ProphecyNews.com
May 14, 2019 at 2:21 PM
Kristina Heuken-Goossen
Hello everybody!
There is so much going on and I have barely time to post here. But now some dreams and a vision have been so violent that I want to post them as a warning.
At first there was this dream:
I was traveling with my daughter on a path between high barley fields. I pushed my bike and my daughter came slowly behind me. Suddenly the sky darkened dramatically.
You could not only see that darkness, it was downright palpable.
And what was really scary, it came to Earth in small cloud forms. And those clouds took your breath. It was like being strangled. I looked up at the sky and motioned to my daughter to look up as well. There in the sky you could see a heavenly body, which somehow only smoldered a bit and I just said:
IT'S BEGINNING!
And we ran and searched for protection!
Next, I saw a big wave startle. I saw it from the side. But even it did not look like a water wave, but rather like a ghostly. It was also dark and glittering and all around it was foggy.
The second dream was in the mountains.
I was there with my children and we were preparing to get in. It was sunny but a bit cold.
Suddenly a group of young girls came by. All dressed completely wrong for the mountains, as if they were about to go to the disco or something like that.
I still shook my head and from one moment to the other, the mountains broke into big pieces and crashed into the valleys. It went like this all around us. And before I knew it, a huge flood also crashed into the valley.
It all seemed so unnatural that I could barely understand it. Especially how incredibly fast it all went.
What I take from all three is:
IT WAS INCREDIBLE FAST!
From now on everything was completely different.
And I think that's exactly what it is!
When it starts, will it overrun us and all, who are not prepared now, will sink in chaos.
But we, too which we are issuing these warnings for years, should now pay attention
that we are prepared in every way: Mental, Spiritual, Emotional, Nutritional and
we should have our house in order!
Who knows how much time we actually have left !?
GOD protect and bless you all!
Psalm 91
He that dwelleth in the secret place of the most High shall abide under the shadow of the Almighty.
2I will say of the LORD, He is my refuge and my fortress: my God; in him will I trust.
3Surely he shall deliver thee from the snare of the fowler, and from the noisome pestilence.
4He shall cover thee with his feathers, and under his wings shalt thou trust: his truth shall be thy shield and buckler.
5Thou shalt not be afraid for the terror by night; nor for the arrow that flieth by day;
6Nor for the pestilence that walketh in darkness; nor for the destruction that wasteth at noonday.
7A thousand shall fall at thy side, and ten thousand at thy right hand; but it shall not come nigh thee.
8Only with thine eyes shalt thou behold and see the reward of the wicked.
9Because thou hast made the LORD, which is my refuge, even the most High, thy habitation;
10There shall no evil befall thee, neither shall any plague come nigh thy dwelling.
11For he shall give his angels charge over thee, to keep thee in all thy ways.
12They shall bear thee up in their hands, lest thou dash thy foot against a stone.
13Thou shalt tread upon the lion and adder: the young lion and the dragon shalt thou trample under feet.
14Because he hath set his love upon me, therefore will I deliver him: I will set him on high, because he hath known my name.
15He shall call upon me, and I will answer him: I will be with him in trouble; I will deliver him, and honour him.
16With long life will I satisfy him, and shew him my salvation.
Now here the German Version:
https://wwwrivkah.blogger.de/stories/2723742/
Shalom
Kristina
---
Confirmations: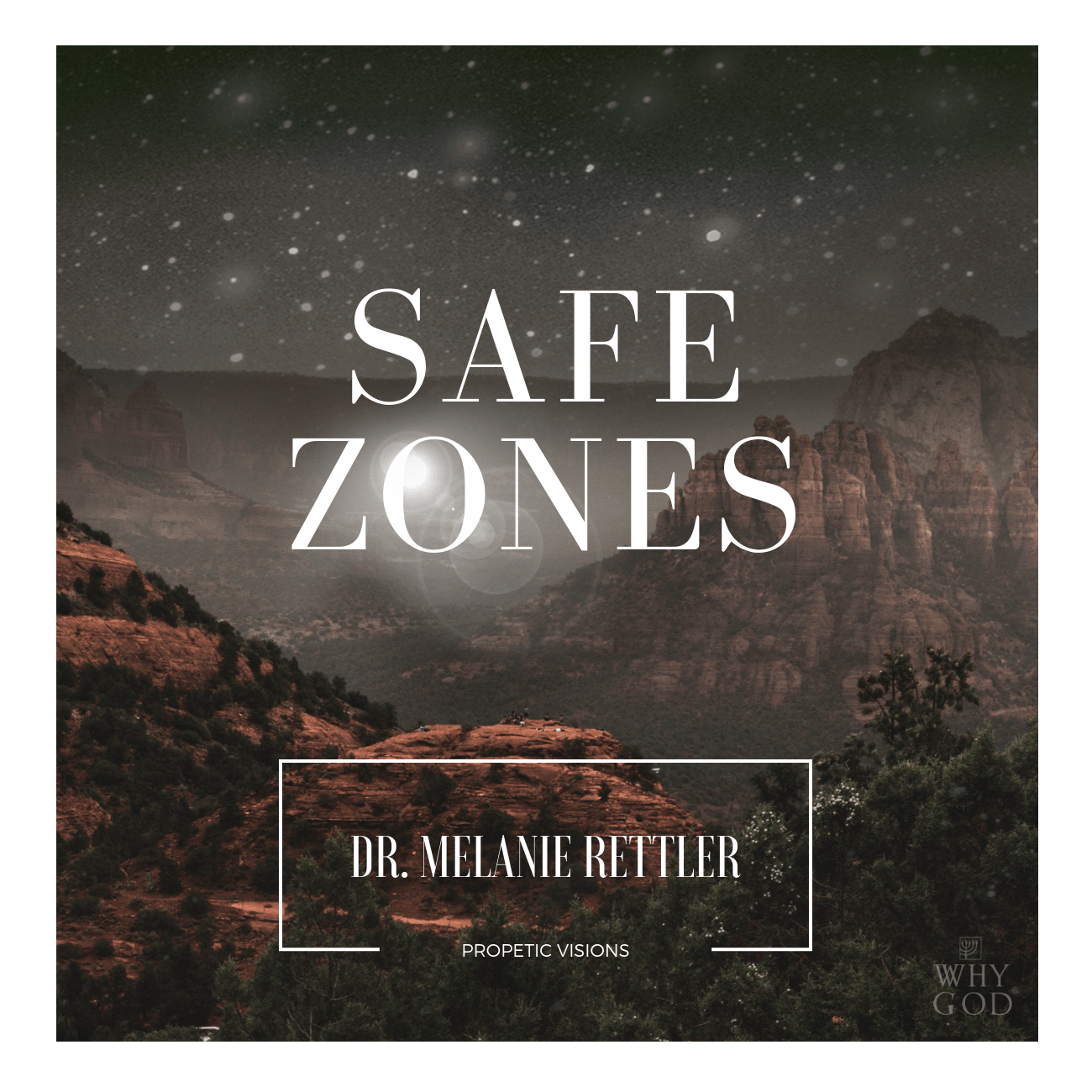 "We were on horseback. I took the people from point 1 to point 2. She took them from point to to the final place in the mountains. Then she brought the horses back. All 3 of us saw the same thing. It seemed to be end of summer or maybe fall because we knew that pretty soon the nights would be getting cold and we were giving the people blankets to take with them for when it would get cold at night but as of the time in the vision, the nights weren't yet cold."
"I was comforting them. I saw that I had given them something like a blanket and water. I knew that pretty soon the nights would be getting cold."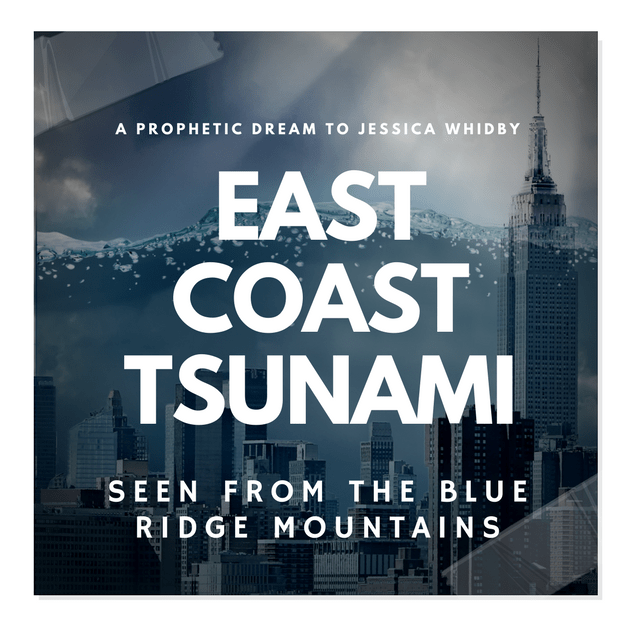 " I was with people I knew. We had gathered together in an area. Food and supplies were short. The area we were in had no grass from us wearing it down. We had been there a little while. There was a cement shell of a tall building there. We were on the East Coast at the foothills of the Blue Ridge Mountains. We were on top of a large hill that was more like a small mountain. I remember one person trying to come into our group to get food or supplies. One member of our group argued with this stranger, trying to make him leave. I thought the situation was going to escalate. I thought the person in our group was about to use his hand gun. About that time, the ground shook very strongly. I wasn't completely sure what was happening. Something had caused the ground to shake. I looked up to the woods behind us. I saw the animals running back into the woods up onto higher ground. They were in complete fear. I even saw a buck trying to climb up a square knotted net as it took a quick look to what was behind me. When I saw this, I turned around, now facing in the direction of the ocean. I saw a massive wave towering above the trees, up and down the coast as far as I could see. I turned back around and shouted for everyone to run. There was no time for anything else. We ran for our lives. We didn't even have time to get very far. We had to get higher. I remember feeling the water come in and I was just able to keep my head above water. Then I felt the water go back down some. The dream quickly jumped back to just before the ground shaking. Again, the ground shook. This time I knew what was about to happen. I shouted to everyone that there's a tsunami coming"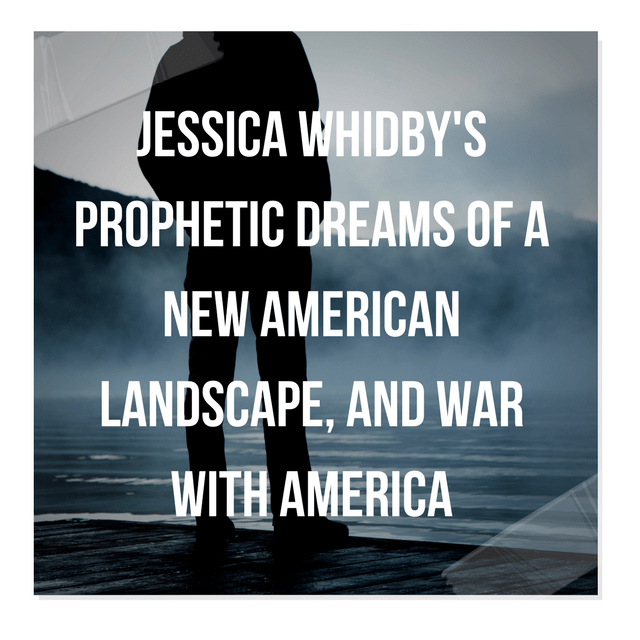 Jessica Whidby has seen bodies of water reach the mountains of the east coast. She has also seen Russia and China invade the United States.

"I saw new bodies of water. The ocean had expanded. Mountain tops had become islands. This was in the Blue ridge Mountains of Virginia. I had another dream a long time ago with the valley being part of the ocean, but I hadn't had the tsunami dream yet. So before, I didn't know what was going to cause this. I stood in a valley of the Blue ridge mountains. It was night. I looked up outside of a doorway. I saw meteors going across the sky. When I woke up, to me, I saw my dream as being shown the meteors would come before the water. The valley had not filled with water yet, because I was still able to stand in the valley. This was the third time I have seen meteors."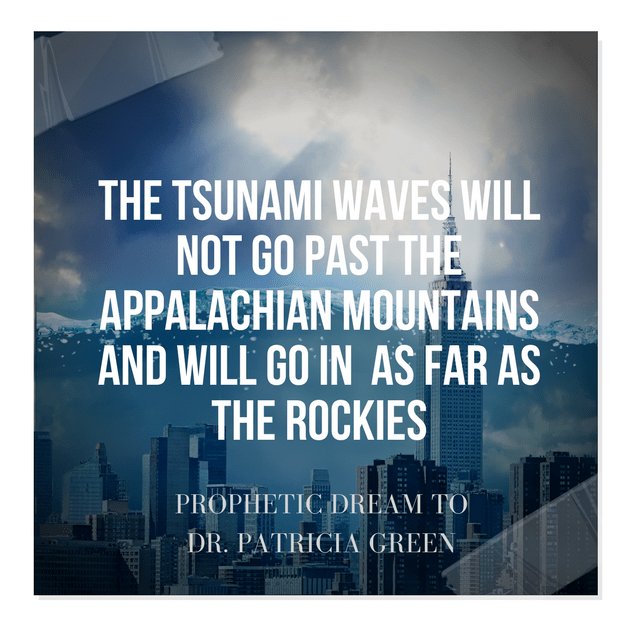 "On April 17th, 2013, this is the dream that I had. And in this dream, my husband and I were traveling in a vehicle in North Carolina, and we were driving up a mountain road, and we saw this policeman with a blue light flashing as a warning signal, and he had stopped the traffic which prevented us from proceeding up the mountain. So, in the dream, I got out of the vehicle, and I walked up the steep mountain road, and the officer motioned for me to stop. Then, all of a sudden, behind the officer, I saw this large wave getting ready to crest over the top of this mountain, and it was heading towards me. So, in the dream, I placed my back to the wave, and I was able — the wave kind of washed me down back to the bottom of the mountain. Now, at that moment in the dream, I knew that the Atlantic Ocean had washed in as far as this mountain in North Carolina. "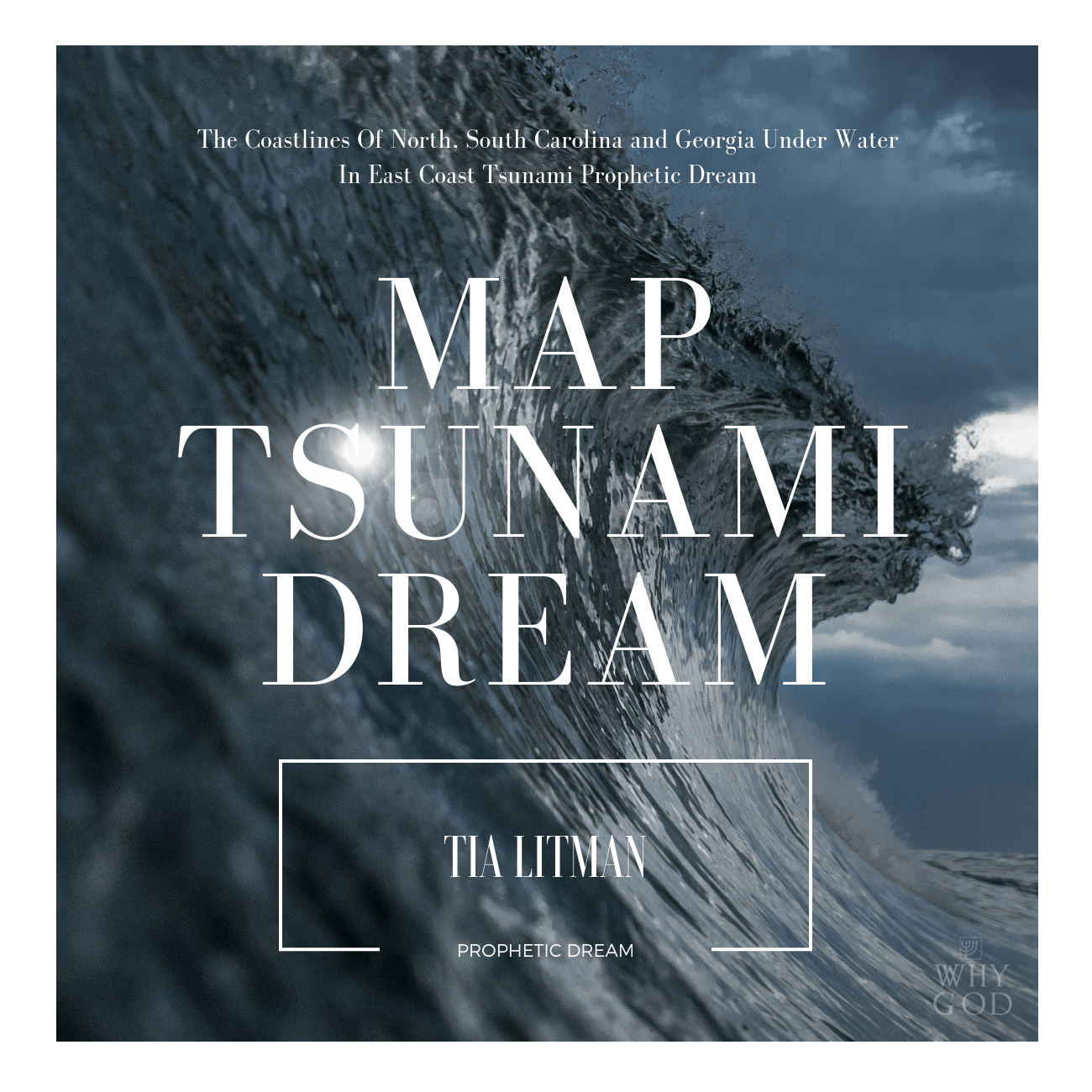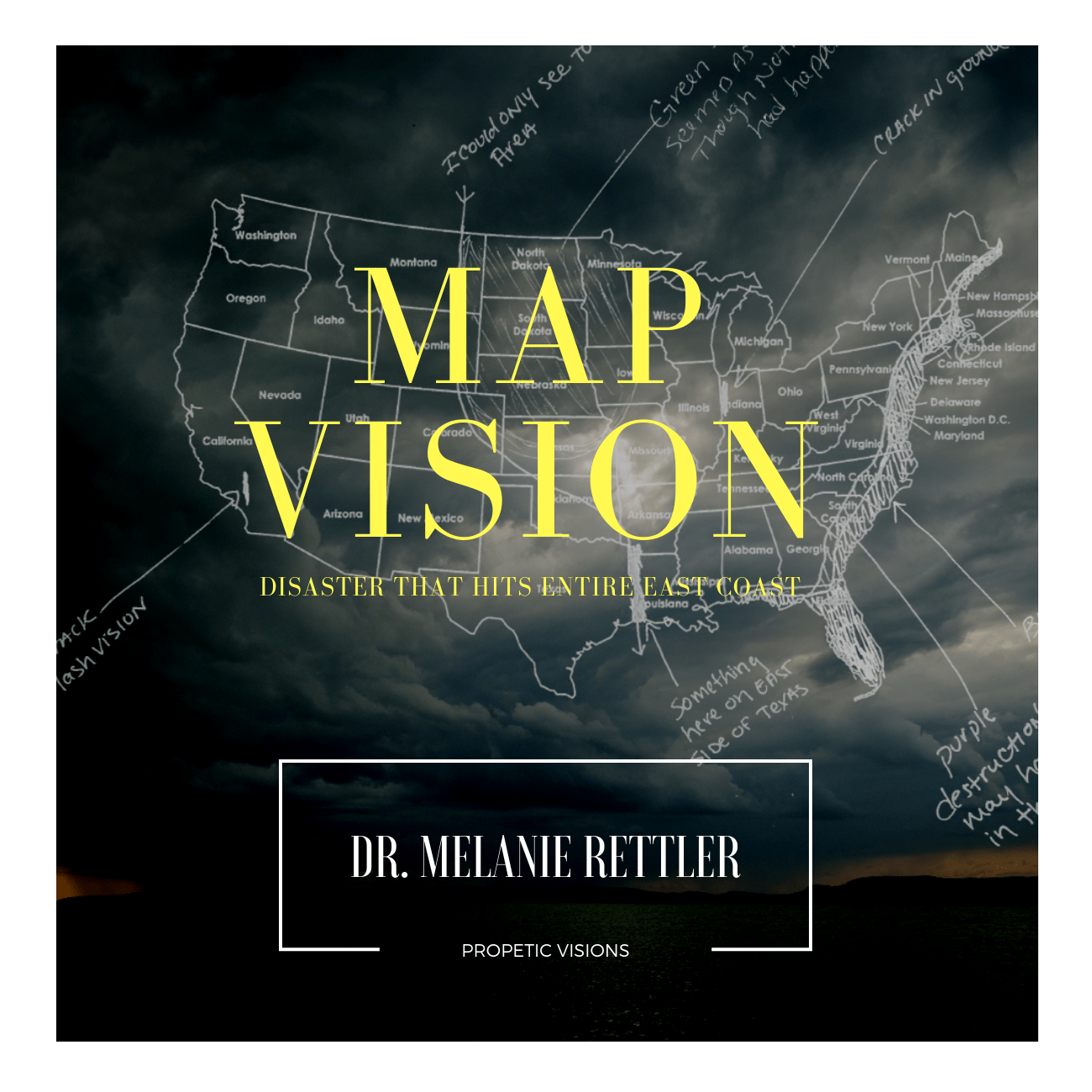 More Confirmations:
Prophecies With California Falling Into The Ocean

[catlist id=2250 numberposts=20]
Prophecies Of Tsunamis
[catlist id=2174 numberposts=100]