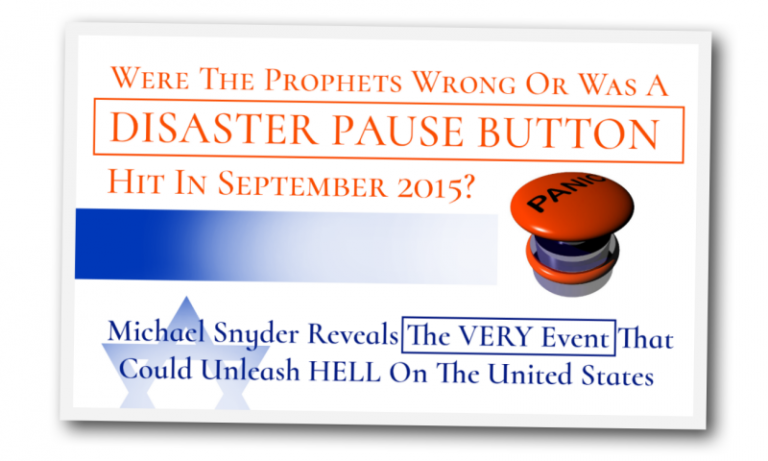 There was so much buzz in the Christian circles around September 2015 about disaster that was predicted that even the secular media took notice. Countless prophetic voices were cautioning people about getting prepared, and stocking up for massive disaster was to be expected in the fall of that year.
The stock market did go down, but for the most part, the disasters many were predicting didn't come to pass.
 Were the prophets wrong, or WAS THE PAUSE BUTTON hit? 
Michael Snyder has uncovered a piece of news that ties together what took place LAST September and judgement that was DELAYED.  Something did happen in September, and it had to do with Obama deciding NOT to pursue giving away land that belongs to Israel.
Michael talks to Jim Bakker in an interview about what what is STILL on the table concerning Israel's land being divided and how this could occur before January 2017.  If that does take place, God's judgement is going to come full force on to the United States.
While the elections is taking center stage in almost every news program, this issue is the very issue that could unleash a large amount of disasters on the United States.
Watch this three part series on Jim Bakker
---

Aug 12, 2016 – Could The Disasters Prophetically Warned About In 2015 Been DELAYED? Is There A Connection To The Dividing The Land Of Israel ?
whygodreallyexists.com/…/france-sees-historic-flooding-following-meetings-about-h…
Jun 20, 2016 – Over and over again through the years we have seen committees, conferences, and meetings take place on the topic of dividing the land of …
whygodreallyexists.com/…/john-kilpatricks-new-madrid-earthquake-dream-with-speci…
Sep 1, 2015 – "Explosions and dividing of the land will ensue from the Gulf of Mexico up to the Great … Shane Warren New Madrid Split – Israel Land Divide.
whygodreallyexists.com/…/a-list-of-disasters-relating-to-dividing-the-land-of-israel
Sep 1, 2015 – The Ramifications Of The Upcoming UN Resolution Targeting Israel To Divide Her Land End Time Headlines puts together a timely video on …
whygodreallyexists.com/…/minister-sadhu-sundar-selvaraj-reveals-a-dream-about-isra…
May 2, 2016 – He said, "Likewise will this nation be divided as Jerusalem will be divided." He cut the land into two exactly in the center. – Sadhu Sundar …
whygodreallyexists.com/archives/why-land-for-peace-in-israel-isnt-the-answer
Nov 15, 2015 – The Biblical Borders of the Land of Israel– www.britam.org … Dividing Israel's Land– Judgement For The United States, 90+ East Coast Tsunami …
whygodreallyexists.com/…/future-prophecies-about-israel-being-a-fruitful-land-the-w…
Jun 20, 2016 – The land isn't going to be desert much longer, but fruitful and lush. …. A detailed description of how this land will be divided by the tribes of …
---
Could this all be started with a Betrayal of Israel?
Save