Belinda Brown posted on facebook her prophetic dream that involved three tornadoes hitting a region at once. This dream matches up to one that Perry Stone saw in 1999 which involved 5 tornadoes which ripped through power lines and cornfields. Perry Stone saw another dream which involved 3 tornadoes and Hillary Clinton.
Recently Marty Breeden Steinberger shared his prophetic dream of a series of tornadoes hitting a region.
Marty Breeden Steinberger also saw 4 to 5 tornadoes in his prophetic dream:
"I counted at least 4-5 simultaneous tornadoes massive in size and destruction wiping out everything in their path."
Here are some other mentions of tornadoes…..
Danell Wessel My 8 year old daughter had a dream 4 months ago. Of getting off her bus and seeing Three large Tornados also behind her off in a field.

Jennifer Meyer BauerI had a dream in 2010 with 3 tornados as well. I saw them coming in the distance and had enough time to seek shelter, fall on my face and begin praying in Jesus' name. The tornados hit fast and hard. I opened the door to the house and everything was destroyed. Three in biblical numerics means divine completeness. The WORD talks of swift destruction in end times. The three tornados represent God's judgement coming with swift destruction. The people need to repent. God is warning His people but the victory in my dream was this….my house still stood among the ruble. If our houses are governed by the Lord we will stand! That's the promise of victory for all those who love the Lord and are obedient!

Latralle Jobe

I had a dream of a tornado siren going off it was very loud. I could hear very faintly over the emergency broadcast system that it wasn't a tornado but a warning of a war.

I remember waiting and telling someone I told them it was going to happen. We continued to wait then there was a big black plume of smoke that begin to roll slowly across the sky. Then as I continue to wait the smoke broke up and became grey clouds in the sky. Then the Sun began to shine. Before that I had a dream that there were tornadoes trying to form but was unable to form. I could see the tornado close to the ground and spinning but it never completely form.

Andrea Register Hillman

Tornadoes, for me, have represented times of trouble, too. Typically, they represent years when grouped…that would be 3 years in this case, if the interpretation holds true for your dream as well. We shall see. Thanks for sharing.
In my second and longest dream, I was in a moderate old fashioned town that was in our day. It reminded me of the 50's style of homes with some Victorian homes as well. I and my family was visiting with someone I didn't recognize. A young woman. Her home was 30's-40's style with the covered white porch (the whole house was 2 story and white) and gray painted wood planks on the porch floor and beautiful white columns that reminded me a little of the ancient Roman architecture only they were very smooth round columns.
We were visiting this young woman with the intention of leaving before dark. My husband, my son, his wife and some of his children were with us. It almost seemed like we had spent the night there or something, but I really don't remember if we did. We were gathering our belongings up in readiness to leave. My husband, son and his wife were going somewhere to run an errand of some sort before we left, leaving me to finish packing. I was perplexed they were leaving in the bad weather all around us.
I looked to my right and a humongous black tornado was to my right almost over the town. I never seen one so huge!!
Where my family drove off to was a smaller black tornado on the ground tearing up buildings as they drove by it, dodging its tail that was skipping around!
I also seen another black tornado to my left that was ready to touch down or already was as I couldn't get as good a view. I ran back inside to look for a place (like a basement) to hide. I was digging all through this young woman's home looking for safety. She eventually showed me where the secret hiding place was (a closet that had a secret door in the floor where you could descend and find safety. By then my family was in the house looking for shelter also as the terrible multi tornadoes were upon us!!
We all walked down into a vast underground place of shelter that looked like a whole new house/shopping mall! It was vast! We were so awed by its appearance that we forgot about the terrible tornadoes above our heads. We had no fear or concern for them in this place of safety.
END OF DREAM
Trouble is coming. The enemy is closing in. We MUST find the secret place with God (prayer, the Word, the ROCK/JESUS).
Psalm 32:7King James Version (KJV)

7 Thou art my hiding place; thou shalt preserve me from trouble; thou shalt compass me about with songs of deliverance. Selah.

Psalms 119:114
"Thou art my hiding place and my shield: I hope in thy word."

91 He that dwelleth in the secret place of the most High shall abide under the shadow of the Almighty.

2 I will say of the Lord, He is my refuge and my fortress: my God; in him will I trust.

3 Surely he shall deliver thee from the snare of the fowler, and from the noisome pestilence.

4 He shall cover thee with his feathers, and under his wings shalt thou trust: his truth shall be thy shield and buckler.

5 Thou shalt not be afraid for the terror by night; nor for the arrow that flieth by day;

6 Nor for the pestilence that walketh in darkness; nor for the destruction that wasteth at noonday.

7 A thousand shall fall at thy side, and ten thousand at thy right hand; but it shall not come nigh thee.

8 Only with thine eyes shalt thou behold and see the reward of the wicked.

9 Because thou hast made the Lord, which is my refuge, even the most High, thy habitation;

10 There shall no evil befall thee, neither shall any plague come nigh thy dwelling.

11 For he shall give his angels charge over thee, to keep thee in all thy ways.

12 They shall bear thee up in their hands, lest thou dash thy foot against a stone.

13 Thou shalt tread upon the lion and adder: the young lion and the dragon shalt thou trample under feet.

14 Because he hath set his love upon me, therefore will I deliver him: I will set him on high, because he hath known my name.

15 He shall call upon me, and I will answer him: I will be with him in trouble; I will deliver him, and honour him.

16 With long life will I satisfy him, and shew him my salvation.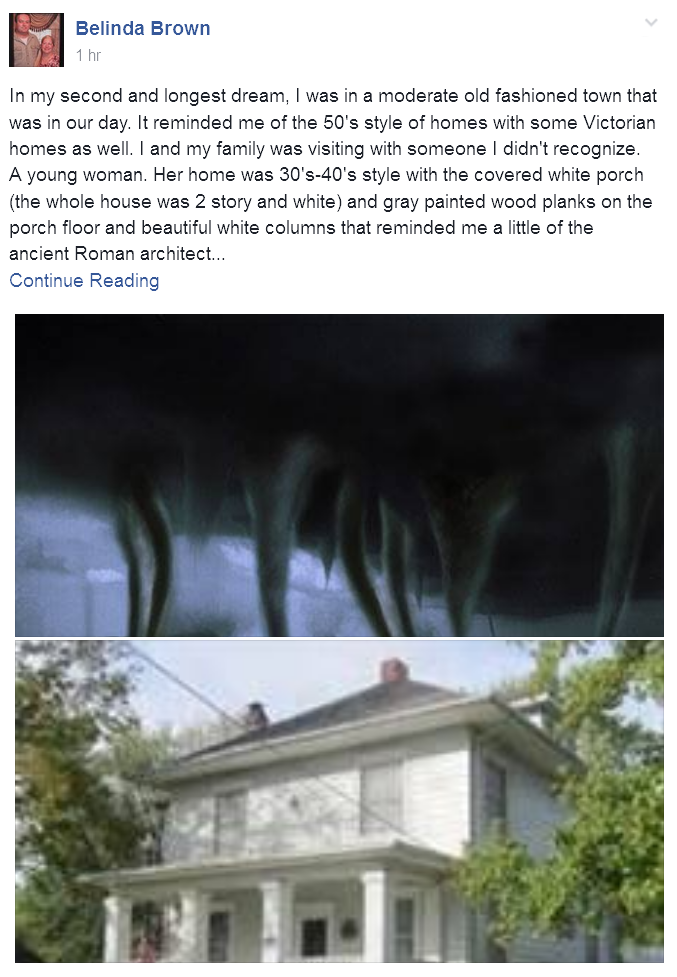 ---
She Said "22 Million People Will Drown" In Her Dream- Will The West Coast See A Volcano, A Tsunami or Earthquake Come Soon?
---
The Tornadoes: A Prophetic Dream Of America's Future Given To Perry Stone
---
Marty Breeden's Prophetic Dream Of A Series Of Devastating Tornadoes, Famine, Fireballs Hitting America And A Loss Of Power
---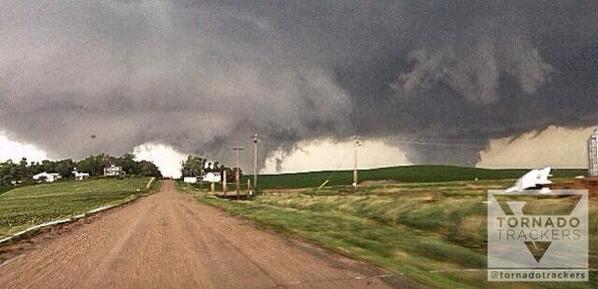 Matt Coker on Twitter: "AMAZING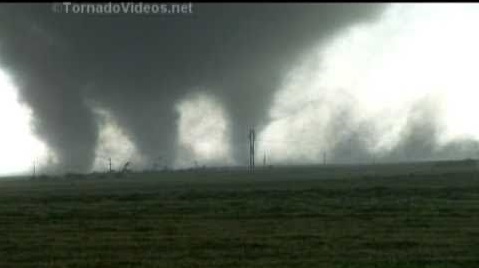 Save