America the nation.
Woke to these words this morning..sat Nov 12….5am
America, You went Whoring after your sin and other Gods…you have became a abominable stench in my nostrils…you have sold your birthright like Esau for a morsel….
Americas birthright was God the Father, Jesus his son and his holy spirit and was blessed beyond measure to take his word to the ends of the world, to establish Israel back to their land and was founded on "IN GOD WE TRUST". The lord is saying America sold that birthright for a morsel long ago…..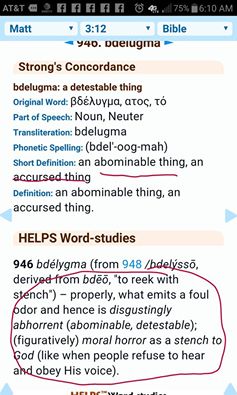 And they forsook the Lord God of their fathers, which brought them out of the land of Egypt, and followed other gods, of the gods of the people that were round about them, and bowed themselves unto them, and provoked the Lord to anger.
And they forsook the Lord , and served Baal and Ashtoreth. And the anger of the Lord was hot against Israel, and he delivered them into the hands of spoilers that spoiled them, and he sold them into the hands of their enemies round about, so that they could not any longer stand before their enemies.
Whithersoever they went out, the hand of the Lord was against them for evil, as the Lord had said, and as the Lord had sworn unto them: and they were greatly distressed. Nevertheless the Lord raised up judges, which delivered them out of the hand of those that spoiled them. And yet they would not hearken unto their judges, but they went a whoring after other gods, and bowed themselves unto them: they turned quickly out of the way which their fathers walked in, obeying the commandments of the Lord ; but they did not so. And when the Lord raised them up judges, then the Lord was with the judge, and delivered them out of the hand of their enemies all the days of the judge: for it repented the Lord because of their groanings by reason of them that oppressed them and vexed them. And it came to pass, when the judge was dead, that they returned, and corrupted themselves more than their fathers, in following other gods to serve them, and to bow down unto them; they ceased not from their own doings, nor from their stubborn way. And the anger of the Lord was hot against Israel; and he said, Because that this people hath transgressed my covenant which I commanded their fathers, and have not hearkened unto my voice;
Judges 2:12‭-‬20 KJV
I have spread out my hands all the day unto a rebellious people, which walketh in a way that was not good, after their own thoughts; A people that provoketh me to anger continually to my face; that sacrificeth in gardens, and burneth incense upon altars of brick; Which remain among the graves, and lodge in the monuments, which eat swine's flesh, and broth of abominable things is in their vessels; Which say, Stand by thyself, come not near to me; for I am holier than thou. These are a smoke in my nose, a fire that burneth all the day. Behold, it is written before me: I will not keep silence, but will recompense, even recompense into their bosom, Your iniquities, and the iniquities of your fathers together, saith the Lord , which have burned incense upon the mountains, and blasphemed me upon the hills: therefore will I measure their former work into their bosom. Thus saith the Lord , As the new wine is found in the cluster, and one saith, Destroy it not; for a blessing is in it: so will I do for my servants' sakes, that I may not destroy them all. And I will bring forth a seed out of Jacob, and out of Judah an inheritor of my mountains: and mine elect shall inherit it, and my servants shall dwell there. And Sharon shall be a fold of flocks, and the valley of Achor a place for the herds to lie down in, for my people that have sought me. But ye are they that forsake the Lord , that forget my holy mountain, that prepare a table for that troop, and that furnish the drink offering unto that number. Therefore will I number you to the sword, and ye shall all bow down to the slaughter: because when I called, ye did not answer; when I spake, ye did not hear; but did evil before mine eyes, and did choose that wherein I delighted not. Therefore thus saith the Lord God , Behold, my servants shall eat, but ye shall be hungry: behold, my servants shall drink, but ye shall be thirsty: behold, my servants shall rejoice, but ye shall be ashamed: Behold, my servants shall sing for joy of heart, but ye shall cry for sorrow of heart, and shall howl for vexation of spirit. And ye shall leave your name for a curse unto my chosen: for the Lord God shall slay thee, and call his servants by another name: That he who blesseth himself in the earth shall bless himself in the God of truth; and he that sweareth in the earth shall swear by the God of truth; because the former troubles are forgotten, and because they are hid from mine eyes. For, behold, I create new heavens and a new earth: and the former shall not be remembered, nor come into mind.
Isaiah 65:2‭-‬17 KJV
Looking diligently lest any man fail of the grace of God; lest any root of bitterness springing up trouble you, and thereby many be defiled; Lest there be any fornicator, or profane person, as Esau, who for one morsel of meat sold his birthright. For ye know how that afterward, when he would have inherited the blessing, he was rejected: for he found no place of repentance, though he sought it carefully with tears. For ye are not come unto the mount that might be touched, and that burned with fire, nor unto blackness, and darkness, and tempest, And the sound of a trumpet, and the voice of words; which voice they that heard entreated that the word should not be spoken to them any more: (For they could not endure that which was commanded, And if so much as a beast touch the mountain, it shall be stoned, or thrust through with a dart: And so terrible was the sight, that Moses said, I exceedingly fear and quake:) But ye are come unto mount Sion, and unto the city of the living God, the heavenly Jerusalem, and to an innumerable company of angels, To the general assembly and church of the firstborn, which are written in heaven, and to God the Judge of all, and to the spirits of just men made perfect, And to Jesus the mediator of the new covenant, and to the blood of sprinkling, that speaketh better things than that of Abel. See that ye refuse not him that speaketh. For if they escaped not who refused him that spake on earth, much more shall not we escape, if we turn away from him that speaketh from heaven: Whose voice then shook the earth: but now he hath promised, saying, Yet once more I shake not the earth only, but also heaven. And this word, Yet once more, signifieth the removing of those things that are shaken, as of things that are made, that those things which cannot be shaken may remain. Wherefore we receiving a kingdom which cannot be moved, let us have grace, whereby we may serve God acceptably with reverence and godly fear: For our God is a consuming fire.
Hebrews 12:15‭-‬29 KJV
Save
Save