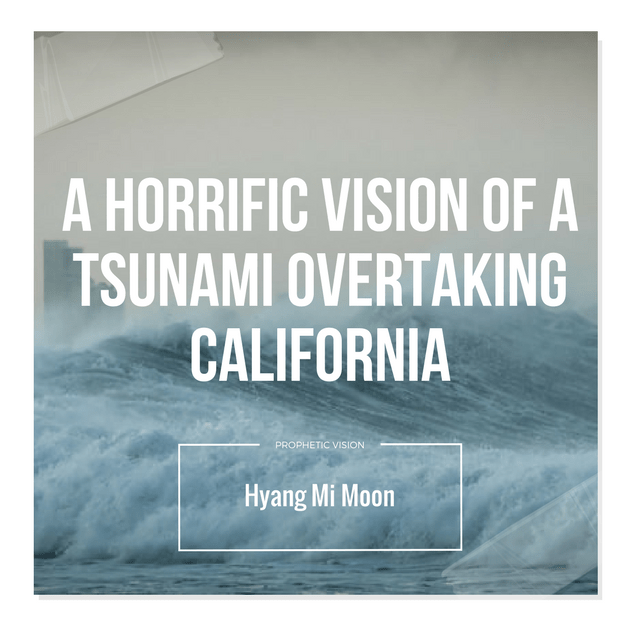 By Sister Hyang Mi Moon
4/16/2011
Location: Los Angeles, CA Korean Church
After the nightly prayer services, we had a time of impartation in which we received and accumulated more fire from Pastor Kim, Yong Tae. Pastor Kim, Yong Tae said a prayer over us for blessings and for deeper revelation. He asked that the word be revealed with more wisdom and prophecy. Within a couple of minutes, I saw a vision.
I saw a yellowish golden colored street with gem stones. "It is heaven!!" I thought to myself. But in within that moment, my body flew up into the air and I was above California.
In front of my eyes, I was witnessing the scene of a horrific earthquake and tsunami.
The calamity was overwhelming the state of California (But I am not sure if the initial earthquake is going to shake the whole state or parts of it).
The scene included cliffs on the shore crumbling with buildings and trees being engulfed by water. A great and fearful event was occurring right in front of my eyes.
My flesh, soul, and spirit were shouting with one voice. "Noooooooo!!! Noooooooooooo!!!!" What was being shown to me was too great to bear. I could not do anything but scream. My whole being was screaming. As I screamed, my body and soul trembled in fear. I saw people dying. They were dying in vain.
I saw the empty stares of the people. They did not have time to scream. They died as they were swallowed by the tsunami. Some attempted to escape by car. Some were running to escape. I saw the horrible fearful expression on their faces and eyes. It was a melting pot of terror and pandemonium. Chaos began to reign.
The Love in His Heart emanated toward us and those who did not believe in Him. His Heart was torn into million pieces as it dripped blood. As the Lord held His blood dripping Heart, He said, above the horrific scene, I saw the Heart of Father God. His Heart was torn into a million pieces.
"REPENT! REPENT! REPENT! WHY DO YOU PILE UP WRATH OF COALS! REPENT! REPENT! REPENT! WHY DO YOU PILE UP WRATH OF COALS! REPENT WHILE YOU STILL HAVE A CHANCE! REPENT WHILE I AM STILL GIVING YOU CHANCE! REPENT WHILE I AM STILL WAITING FOR YOU TO GIVE YOU GRACE! FOR YOU DO NOT KNOW WHEN YOU WILL DIE. IT COULD BE TODAY OR IT COULD BE TOMORROW. YOU DO NOT KNOW. TIME IS SHORT, IF I TAKE YOUR LIFE BEFORE YOU KNOW IT, YOU WILL NOT HAVE A CHANCE! PLEASE REPENT! PLEASE REPENT WHILE I AM STILL GIVING YOU CHANCE! REPENT INSTEAD OF PILING UP WRATH OF COALS UPON YOUR HEAD!
My beloved daughter, please pray for them. Please pray that they will realize and repent. SHOUT OUT TO THEM TO REPENT SO THAT THEY WILL REPENT. DO YOU FEAR PEOPLE? FEAR ME MORE!! FEAR ME MORE AND SHOUT OUT TO THE PEOPLE TO REPENT AS JONAH HAD WARNED. SHOUT OUT TO THEM TO REPENT. PLEASE SHOUT TO THEM TO REPENT. SHOUT OUT AND TELL THEM THAT THE WRATH OF GOD HAS COME RIGHT IN FRONT OF THIER EYES! IF YOU KNOW THAT MY HEART HAS BEEN TORN A PART, IF YOU KNOW THAT MY HEART HAS BEEN TORN INTO MILLION PIECES AND YOU KNOW MY BLOOD IS DRIPPING ON MY LOVE, YOU MUST SHOUT OUT AND TELL THEM TO REPENT!! MY BELOVED SONS AND DAUGHTERS, I WILL PLACE THE COAL ONTO YOUR LIPS AND WILL TAKE AWAY YOUR SINS. YOU MUST WASH YOUR GOWN CLEAN EVERYDAY. WITHOUT DETERMINATION THERE IS NO ONE WHO CAN COME TO ME. YOU MUST REPENT WASHING YOUR SINS AWAY EVERYDAY. YOU MUST SHOUT OUT REPENT! SHOUT OUT REPENT AND SHOUT OUT. DO NOT FEAR PEOPLE BUT FEAR ME. SHOUT TO THOSE WHO HAVE NOT MADE A DETERMINATION TO FULLY FOLLOW ME BUT HAD ONLY CONFESSED AND PROFESSED TO BELEIVE IN ME! THE REASON WHY I ALLOWED THIS MEETING WAS TO GIVE YOU A MESSAGE TO MY PEOPLE. YOU MUST NOT BE SO CONCERNED WITH MATERIAL THINGS BUT YOU MUST FOCUS ON ME. FOCUS ON ME WHO IS THE PROVIDER OF MATERIAL THINGS. IF YOU ONLY REPENT WITH A TORN CONTRITE HEART WITH SINCERITY AND IF YOU ONLY DESIRE ME, I WILL GIVE IT ALL TO YOU.
I WILL GRANT YOU MY HEART. IF YOU ONLY SEEK AFTER ME CONTINUOUSLY AND ALWAYS, I WILL GIVE YOU ALL OF ME. JUST BECAUSE YOU HAVE A DIFFICULT TIME PRAYING, JUST BECAUSE YOU CAN'T FEEL ANYTHING ANYMORE, JUST BECAUSE YOU DO NOT UNDERSTAND TONGUE, DO NOT STOP PRAYING!!!! BUT INSTEAD, YOU MUST ENDURE AND CRY OUT WITH EVERY EFFORT AND STRENGTH!! CRY OUT TO THE POINT OF DEATH IF YOU NEED TO!! IF YOU ONLY KNEW MY HEART, YOU WOULD PRAY WITH MORE EFFORT. I WILL GRANT MY HEART AND MYSELF TO THOSE WHO EARNESTLY SEEK. YOU MUST STOP ASKING ONLY FOR THE GIFTS BUT YOU MUST FIRST ASK ME FOR MY HEART. I CAN GIVE ALL THINGS WHILE THERE IS STILL TIME AND GRACE, THEREFORE, REPENT AND ASK OF ME. FOR MY WORK AND FOR THE SAKE OF MY NAME, THE BLESSING THAT WAS SPOKEN THROUGH PROPHET JOEL WILL COME UPON ALL GENERATIONS. THEREFORE, ASK TO HAVE ALL OF ME. THOSE WHO LOVE ME WILL RECEIVE THE BLESSING THAT WAS SPOKEN. REPENT WITH ALL YOUR HEART AND ASK TO HAVE ALL OF ME.