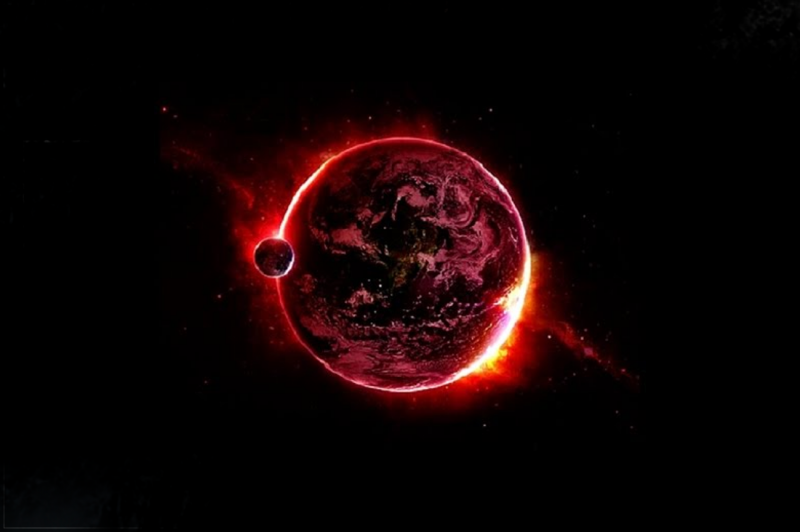 Picture Credit- Planet X Nibiru – Nibiru Planet Best Evidence 2016 (Documentary)
A Friend of mine has been sending me some of the best links he has been finding on Planet X. I haven't had a chance to look into it, however, I wanted to save these links for future use.
If you find any additional helpful links, or forums on this subject, please leave a link below in the comments. – Meranda Devan

Astronomers remain puzzled over a strange object that has been detected past Neptune, according to Science Alert.

The object has been dubbed Niku, and it has been observed exhibiting some unusual behavior; while planets in this solar system rotate around the sun along a similar plane, this one is moving upwards above it.

In fact, it appears to be orbiting the sun backwards and at a 110-degree angle.

Because this trans-Neptunian object, or TNO, spins in an abnormal direction, scientists believe it was likely thrown off course by an as-yet unknown force such as a collision.

http://beforeitsnews.com/self-sufficiency/2016/08/nasa-announces-breaking-news-red-alert-nibiru-planet-x-to-pass-earth-is-a-tsunami-ready-to-hit-americas-east-coast-2508036.html

http://beforeitsnews.com/self-sufficiency/2016/01/michio-kaku-nibiru-planet-x-the-best-evidence-to-date-preparing-for-2016-a-must-see-2499334.html
http://beforeitsnews.com/space/2016/06/planet-x-nibiru-imminent-threat-in-2016-bob-fletcher-2500071.html

http://beforeitsnews.com/blogging-citizen-journalism/2016/06/the-return-of-planet-x-earths-conflict-with-a-brown-dwarf-star-2540269.html
http://beforeitsnews.com/survival/2016/06/us-and-russia-preparing-for-planet-x-nibiru-arrival-and-aftermath-5-2623039.html

www.youtube.com/watch?v=KHeV2om2owk
beforeitsnews.com/strange/2016/06/confirmed-earth-tilt-possible-25-degrees-nibiru-planet-x-doing-pole-axis-drift-2464063.html
An Email From My Friend (Name Not Disclosed)

It appears that NASA is inching slowly towards disclosure. I found the following on the Discovery channel news site. The article is tiny and has little in the way of detail. It makes me wonder if the main purpose is not so much to help directly in the disclosure but also so to show the elite NASA's determination to play a role in the disclosure. Is there more to this release than just a gradual approach to disclosure itself? [and from another] http://news.discovery.com/space/astronomy/at-least-two-more-planets-may-exist-beyond-pluto-150116.htm At Least Two More Planets May Exist Beyond Pluto. January 16, 2015. A new study suggests that at least two more planets are circling the sun far beyond Pluto's orbit. The analysis is based on calculations of bodies located well past Neptune, regions of space that include the Kuiper Belt, the scattered disk and the Oort cloud. Instead of randomly flying through space, 12 of these so-called "extreme trans-Neptunian objects" (ETNO) show some unexpected symmetry. The study was based on calculations of the gravitational influences a large object would have on smaller, distant bodies. The research is published in the Monthly Notices of the Royal Astronomical Society. [and from another] http://www.inquisitr.com/1769216/has-science-just-admitted-planet-xnibiru-exists-believers-say-full-nibiru-disclosure-is-coming/ Has Science Just Admitted Planet X/Nibiru Exists? Believers Say Full 'Nibiru Disclosure' Is Coming. Astronomers may have inadvertently revived the Planet X/Nibiru cataclysm conspiracy theory that dominated the internet a few years ago. Following the latest announcement by scientists of evidence that there are at least two planets larger than Earth lurking in our solar system beyond Pluto, Planet X/Nibiru cataclysm believers have been saying that governments are finally preparing to disclose the truth about Nibiru to the masses as doomsday nears. At about the time scientists gave up the search for Planet X in the early 1990s, Nancy Lieder, who founded a website called ZetaTalk and claimed she was in contact with extraterrestrials from the Zeta Reticuli star system, proclaimed that she had been instructed to warn mankind that a large planetary body she called Planet X would pass into the inner solar system and cause the Earth to undergo a pole shift that will destroy human civilization. She claimed that Planet X, about four times the size of Earth, would arrive in May 27, 2003 with catastrophic consequences. When her prediction failed, others who had adopted her ideas associated the cataclysm with the December 21, 2012 Mayan apocalypse. They adopted the term "Nibiru," originally a technical term in ancient Babylonian astronomy, but derived by internet doomsday cults from the work of the Soviet-born American writer Zecharia Sitchin, who claimed that human civilization was originated by the Anunnaki, a race of extraterrestrials from planet Nibiru beyond Neptune, on the outer edge of our solar system. [and from another] http://www.alexa.com/siteinfo/inquisitr.com Inquisitr is an internationally recognized news web site with a strong presence in the USA. Currently, Inquisitr is one of the top 2500 web sites globally and one of the top 1000 web sites in the USA. More than 10 million people visit and read Inquisitr every month. With 1,200,000 followers on Facebook and 38,000 followers on Twitter. [and from another] http://www.sitetrail.com/inquisitr.com Every month, 456,657unique visitors visit inquisitr.com

planetxnews.com/2016/03/02/planet-x-2017-arrival-interview-author-david-meade/

http://beforeitsnews.com/paranormal/2016/05/planet-x-nibiru-is-near-says-astrophyscist-ronald-shimshuck-video-2509694.html'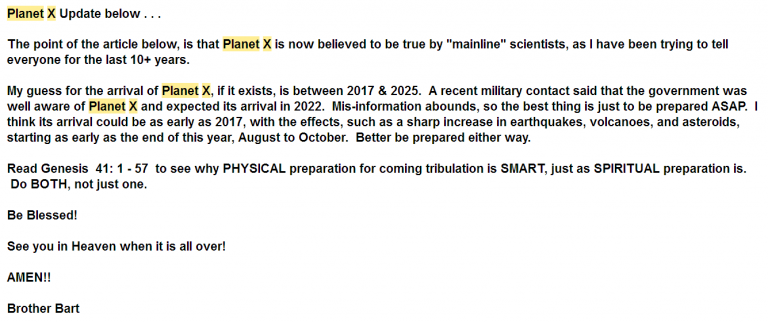 youtube.com/watch?v=bK_zndhEnSM
Save