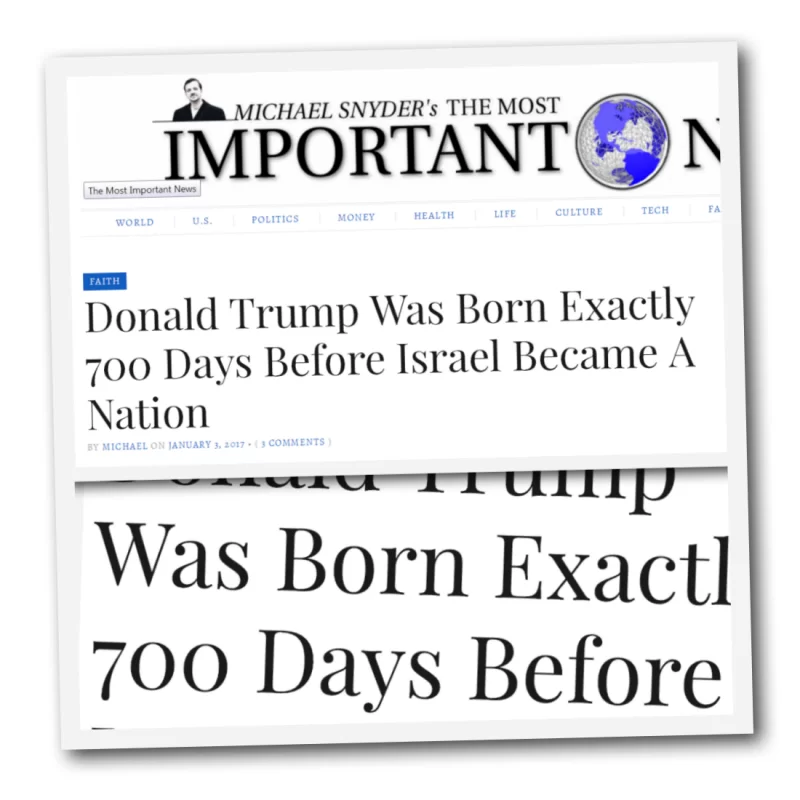 Donald Trump Was Born Exactly 700 Days Before Israel Became A Nation
Do you want to see something amazing?  If you go to any of the major search engines and ask when Donald Trump was born, you will be told that it happened on June 14th, 1946.  And then if you go to any of the major search engines and ask when Israel became a nation, you will be told that it happened on May 14th, 1948.  If you take both of those dates and plug them into the handy calculator provided by timeanddate.com, you will discover that Donald Trump was born exactly 700 days before Israel became a nation.
I was first alerted to this incredible fact
by Daily Crow
.  Here are some other incredible numbers that link Trump and Israel from that same source…
-Israel was 77 days old exactly 777 days after Donald Trump was born.
-Israel's 70th birthday will come exactly 700 days after Trump's 70th birthday.
-Donald Trump won the election on Israeli Prime Minister Benjamin Netanyahu's 7th year, 7th month and 7th day in office.
On top of everything else, Donald Trump will be 70 years, 7 months and 7 days old on his first full day in the White House.
As I noted above, Donald Trump was born on June 14th, 1946.  Moving forward exactly 70 years from that date brings you to June 14th, 2016.  Moving forward exactly 7 months from that date brings you to January 14th, 2017, and if you add another 7 days that brings you to January 21st, 2017.
Donald Trump will be inaugurated on January 20th and will be president for part of that day, but his first full day in office will be on January 21st.
And as incredible as this may sound, this will happen during year 5777 on the Hebrew calendar.
In addition, it turns out that there are some very strange "coincidences" surrounding Mike Pence as well.  Here is more great stuff from Daily Crow…
He is 57 years old and will take office in the Hebrew year 5777. The last minute of Mike Pence's 57th year will take place one minute before the 50th anniversary of Jerusalem (Pence was 50th governor of Indiana), 6/7 of 2017.

Pence was born in Columbus. Trump Tower is located .7 miles down 57th street from Columbus Circle, Trump's Vice President, Pence the 57 year old from Columbus.
Could it be possible that Donald Trump and Mike Pence both have special destinies ahead of them?
They are going to take office at a critical time for America.  Barack Obama appears determined to cause as much chaos as possible on his way out the door, and we just witnessed the greatest betrayal of Israel in all of American history.
And in addition to UN Security Council Resolution 2334, we are also finding out that the UN has appropriated money for a database of Israeli companies that do business in the West Bank.  According to former UN Ambassador John Bolton, the only purpose of such a database would be to punish those companies…
Lost amid the angry words that followed the Dec. 23 UN Security Council vote that critics called an American betrayal of Israel was a Christmas Eve appropriation of $138,700 to fund a database of companies doing business in the West Bank. The measure puts UN prestige behind the anti-Israel Boycott, Divestment and Sanctions (BDS) campaign, say critics.

"The types of data they are talking about acquiring would be to form the basis for future sanctions against companies that did business on the West Bank," Fox News contributor and former U.S. Ambassador to the UN John Bolton told FoxNews.com. "That's the only purpose of it that I can see."
Fortunately, some members of Congress are already working hard to try to repair the damage that Barack Obama has been doing.  For example, U.S. Senator Ted Cruz wants to withhold funding from the U.S. State Department until the U.S. embassy is moved to Jerusalem…
Sen. Ted Cruz and two fellow Republicans are pressing the State Department to move the U.S. Embassy in Israel from Tel Aviv to Jerusalem.

Congress passed legislation in 1995 that called for moving the embassy to Jerusalem, but Democratic and Republican administrations alike have declined to enact the change, citing security concerns. The latest measure, introduced Tuesday as the new Congress convened, would withhold funding from the State Department until it makes the move.
Moving the U.S. embassy to Jerusalem is one of the 10 steps that I detailed yesterday that I believe Donald Trump should take as soon as possible after becoming president.
Donald Trump has the opportunity to be the most pro-Israel president that we have ever had.  But that is going to take more than just good intentions.
We live at a time when global events are accelerating.  Donald Trump and Mike Pence are going to have to deal with some great challenges that they cannot even imagine at this moment, and it will be critical for them to be strong and resolute in the face of a rapidly changing global environment.
About the author: Michael Snyder is the founder and publisher of The Economic Collapse Blog and The Most Important News. Michael's controversial new book about Bible prophecy entitled "The Rapture Verdict" is available in paperback and for the Kindle on Amazon.com.
---
http://themostimportantnews.com/archives/president-donald-trump-children-are-infused-with-the-breath-of-life-by-the-same-almighty-creator
---
http://themostimportantnews.com/archives/this-is-truly-epic-donald-trump-unleashes-live-on-cnn-reporter-during-press-conference-you-are-fake-news
---
http://themostimportantnews.com/archives/why-donald-trump-is-right-about-the-russians-and-the-elections
---
http://themostimportantnews.com/archives/10-ways-that-donald-trump-could-try-to-reverse-the-curse-that-obama-has-put-on-america
---
Save
Save
Save