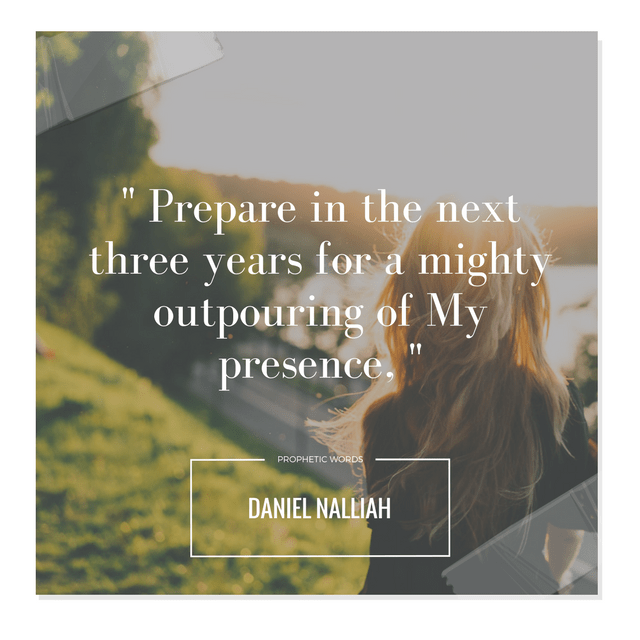 Great Outpouring:
The good news is the same wind bringing judgment is also bringing a mighty move of God's spirit across the United States. Byron's message included instructions to "be prepared for the outpouring," confirming what many others have seen over many years, even going back to Evangelist Smith Wigglesworth, as shown in the following prophetic word, which I received in an email from Pastor Daniel Nalliah from Catch the Fire Ministries in Hallam, Australia, in May 2017.
Around 4 AM, I received the word. "My Son, the time for the word spoken by Smith Wigglesworth to come to fulfillment is at hand. I want my church to prepare in the next three years for a mighty outpouring of My presence, which will start a national reformation starting 2020 – 2030 of LOVE and Holy Spirit FIRE. This Revival Fire will turn the nations back to me and cause national reformation throughout the whole world in many nations." (see the complete post)
Not only does Pastor Daniel's word confirm what Byron saw, it also reveals the start date is 2020 and continuing to 2030, which confirms what the Prophet Bob Jones saw, a harvest of one billion youth coming to the Lord Jesus in 2020.
Byron saw the judgments coinciding with the outpouring, so if the outpouring happens from 2020 to 2030, then perhaps the same dates would apply to the judgments.
---
A Final Pure Presence Of The Shekinah Glory Of God, A Withdrawal From The Luke Warm Believers – A Prophetic Word To Kent Christmas
---
Smith Wigglesworth On The Third Wave Of Revival Coming To America – "It will be the greatest revival this world has ever seen!"
---
" I saw thousands of people all at once repenting and crying out to the Lord" A Prophetic Dream Given To Joe Ouellette
---
"There will be a HARVEST OF FISH that will be from all nations and tongues" A Prophetic Dream Given To Jo Ellen Stevens
---
"Prophetic Dream – The Fishermen With No Net, The Harvest is Now…Are You Equipped?"- Joanie Stahl
---
A Final Pure Presence Of The Shekinah Glory Of God, A Withdrawal From The Luke Warm Believers – A Prophetic Word To Kent Christmas
---
"I will release the ministry of creative miracles" Mantles Of Elijah Being Released- A 2006 Prophetic Word To Maurice Sklar
---
A Power Called Creative Supernatural Working To Be Released On The Last Days Church – Sadhu Sundar Selvaraj
---
End Time Messengers Who Will Send Out Supernatural Provision And Judgement – A Prophetic Vision To Hollie L. Moody
---
God Is Raising Up African-American Deliverers, 3 Signs That Will Accompany Them – Prophetic Dream Given To Jeremiah Johnson
---
The Apostate Church Exposure And Warning, A Remnant Hidden And Refined For The Last Days – A 2006 Prophetic Word Given To Maurice Sklar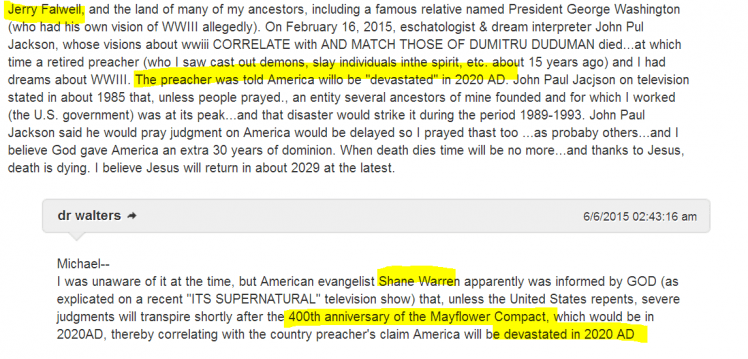 2020 is a date that often shows up quite frequently. Speculation comments


More speculation….