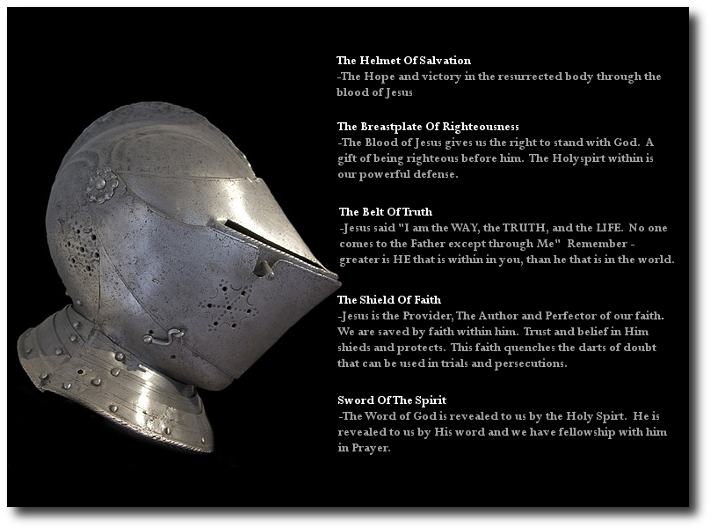 Picture Credit –Pixabay
Eph 6:10-17 (NIV) …Be strong in the Lord and in his mighty power. Put on the full armour of God so that you can take your stand against the devil's schemes. For our struggle is not against flesh and blood, but against the rulers, against the authorities, against the powers of this dark world and against the spiritual forces of evil in the heavenly realms. Therefore put on the full armour of God, so that when the day of evil comes, you may be able to stand your ground, and after you have done everything, to stand. Stand firm then, with the belt of truth buckled round your waist, with the breastplate of righteousness in place, and with your feet fitted with the readiness that comes from the gospel of peace. In addition to all this, take up the shield of faith, with which you can extinguish all the flaming arrows of the evil one. Take the helmet of salvation and the sword of the Spirit, which is the word of God.
Stand!
Luke 21:36 "Watch ye therefore, and pray always, that ye may be accounted worthy to escape all these things that shall come to pass, and to stand before the Son of man"
Mal 3:2 But who may abide the day of his coming? and who shall stand when he appeareth? for he is like a refiner's fire, and like fullers' soap
1 Cor 10:12-13 Wherefore let him that thinketh he standeth take heed lest he fall. There hath no temptation taken you but such as is common to man: but God is faithful, who will not suffer you to be tempted above that ye are able; but will with the temptation also make a way to escape, that ye may be able to bear it.
Jude 1:24 Now unto him that is able to keep you from falling, and to present you faultless before the presence of his glory with exceeding joy,
James 4:7 Submit yourselves therefore to God. Resist the devil, and he will flee from you.
The Belt of Truth
Eph 6:14 Stand therefore, having your loins girt about with truth, and having on the breastplate of righteousness;
Isa 11:5 And righteousness shall be the girdle of his loins, and faithfulness the girdle of his reins.
Ex 12:11 And thus shall ye eat it; with your loins girded, your shoes on your feet, and your staff in your hand; and ye shall eat it in haste: it is the Lord's passover.
1 Kings 18:46 46 And the hand of the Lord was on Elijah; and he girded up his loins, and ran before Ahab to the entrance of Jezreel.
Eph 4:25 Wherefore putting away lying, speak every man truth with his neighbour: for we are members one of another.
John 4:24 God is a Spirit: and they that worship him must worship him in spirit and in truth.
2 Th 2:10 And with all deceivableness of unrighteousness in them that perish; because they received not the love of the truth, that they might be saved.
The Breastplate of Righteousness
Php 3:9 And be found in him, not having mine own righteousness, which is of the law, but that which is through the faith of Christ, the righteousness which is of God by faith:
Isa 59:16-17 And he saw that there was no man, and wondered that there was no intercessor: therefore his arm brought salvation unto him; and his righteousness, it sustained him. For he put on righteousness as a breastplate, and an helmet of salvation upon his head; and he put on the garments of vengeance for clothing, and was clad with zeal as a cloak.
Ex 28:15 And thou shalt make the breastplate of judgment with cunning work; after the work of the ephod thou shalt make it; of gold, of blue, and of purple, and of scarlet, and of fine twined linen, shalt thou make it.
1Ki 3:9 (Give therefore thy servant an understanding heart to judge thy people, that I may discern between good and bad: for who is able to judge this thy so great a people?
Ps 94:15 But judgment shall return unto righteousness: and all the upright in heart shall follow it.
Pr 2:7-8 He layeth up sound wisdom for the righteous: he is a buckler to them that walk uprightly. He keepeth the paths of judgment, and preserveth the way of his saints.
Standing on The Gospel
Eph 6:15 And your feet shod with the preparation of the gospel of peace;
Rom 10:15 And how shall they preach, except they be sent? as it is written, How beautiful are the feet of them that preach the gospel of peace, and bring glad tidings of good things!
1 Cor 15:1-4 Moreover, brethren, I declare unto you the gospel which I preached unto you, which also ye have received, and wherein ye stand; By which also ye are saved, if ye keep in memory what I preached unto you, unless ye have believed in vain. For I delivered unto you first of all that which I also received, how that Christ died for our sins according to the scriptures; And that he was buried, and that he rose again the third day according to the scriptures
1 Pet 2:11 Dearly beloved, I beseech you as strangers and pilgrims, abstain from fleshly lusts, which war against the soul;
Rom 8:5-13 5 For they that are after the flesh do mind the things of the flesh; but they that are after the Spirit the things of the Spirit. For to be carnally minded is death; but to be spiritually minded is life and peace. Because the carnal mind is enmity against God: for it is not subject to the law of God, neither indeed can be. So then they that are in the flesh cannot please God. But ye are not in the flesh, but in the Spirit, if so be that the Spirit of God dwell in you. Now if any man have not the Spirit of Christ, he is none of his. And if Christ be in you, the body is dead because of sin; but the Spirit is life because of righteousness. But if the Spirit of him that raised up Jesus from the dead dwell in you, he that raised up Christ from the dead shall also quicken your mortal bodies by his Spirit that dwelleth in you. Therefore, brethren, we are debtors, not to the flesh, to live after the flesh. For if ye live after the flesh, ye shall die: but if ye through the Spirit do mortify the deeds of the body, ye shall live
Isa 52:6-7 Therefore my people shall know my name: therefore they shall know in that day that I am he that doth speak: behold, it is I. How beautiful upon the mountains are the feet of him that bringeth good tidings, that publisheth peace; that bringeth good tidings of good, that publisheth salvation; that saith unto Zion, Thy God reigneth!
The Helmet Of Salvation
Isa 59:16-17 And he saw that there was no man, and wondered that there was no intercessor: therefore his arm brought salvation unto him; and his righteousness, it sustained him. For he put on righteousness as a breastplate, and an helmet of salvation upon his head; and he put on the garments of vengeance for clothing, and was clad with zeal as a cloak.
1 Th 5:8 But let us, who are of the day, be sober, putting on the breastplate of faith and love; and for an helmet, the hope of salvation.
Ps 140:7 O God the Lord, the strength of my salvation, thou hast covered my head in the day of battle.
Col 1:18 And he is the head of the body, the church: who is the beginning, the firstborn from the dead; that in all things he might have the preeminence.
Php 2:5 Let this mind be in you, which was also in Christ Jesus:
1 Pet 4:1 Forasmuch then as Christ hath suffered for us in the flesh, arm yourselves likewise with the same mind: for he that hath suffered in the flesh hath ceased from sin;
2 Cor 10:3-5 For though we walk in the flesh, we do not war after the flesh:(For the weapons of our warfare are not carnal, but mighty through God to the pulling down of strong holds;)Casting down imaginations, and every high thing that exalteth itself against the knowledge of God, and bringing into captivity every thought to the obedience of Christ;
Eph 4:14-16 That we henceforth be no more children, tossed to and fro, and carried about with every wind of doctrine, by the sleight of men, and cunning craftiness, whereby they lie in wait to deceive; But speaking the truth in love, may grow up into him in all things, which is the head, even Christ: From whom the whole body fitly joined together and compacted by that which every joint supplieth, according to the effectual working in the measure of every part, maketh increase of the body unto the edifying of itself in love.
The Sword of The Spirit – The Word of God
Isa 49:2 And he hath made my mouth like a sharp sword; in the shadow of his hand hath he hid me, and made me a polished shaft; in his quiver hath he hid me;
Heb 4:12-13 For the word of God is quick, and powerful, and sharper than any twoedged sword, piercing even to the dividing asunder of soul and spirit, and of the joints and marrow, and is a discerner of the thoughts and intents of the heart. 13 Neither is there any creature that is not manifest in his sight: but all things are naked and opened unto the eyes of him with whom we have to do.
Ps 149:4-6 For the Lord taketh pleasure in his people: he will beautify the meek with salvation. Let the saints be joyful in glory: let them sing aloud upon their beds. Let the high praises of God be in their mouth, and a two-edged sword in their hand;
The Shield of Faith
Eph 6:16 Above all, taking the shield of faith, wherewith ye shall be able to quench all the fiery darts of the wicked.
Ps 35:1-3 Plead my cause, O Lord, with them that strive with me: fight against them that fight against me. Take hold of shield and buckler, and stand up for mine help. Draw out also the spear, and stop the way against them that persecute me: say unto my soul, I am thy salvation.
Ps 3:2-3 Many there be which say of my soul, There is no help for him in God. Selah. But thou, O Lord, art a shield for me; my glory, and the lifter up of mine head.
1 Pet 1:5 Who are kept by the power of God through faith unto salvation ready to be revealed in the last time.
Ps 33:20 Our soul waiteth for the Lord: he is our help and our shield.
1 Tim 6:12 Fight the good fight of faith, lay hold on eternal life, whereunto thou art also called, and hast professed a good profession before many witnesses.
1 John 5:4-5 For whatsoever is born of God overcometh the world: and this is the victory that overcometh the world, even our faith. Who is he that overcometh the world, but he that believeth that Jesus is the Son of God?
Pr 30:5 Every word of God is pure: he is a shield unto them that put their trust in him.
Be Strong In The Lord, By the Power of Grace
1 Cor 16:13 Watch ye, stand fast in the faith, quit you like men, be strong.
2 Tim 2:1 Thou therefore, my son, be strong in the grace that is in Christ Jesus.
Eph 3:7 Whereof I was made a minister, according to the gift of the grace of God given unto me by the effectual working of his power.
2 Cor 9:8 And God is able to make all grace abound toward you; that ye, always having all sufficiency in all things, may abound to every good work:
Col 1:11 Strengthened with all might, according to his glorious power, unto all patience and longsuffering with joyfulness;
Php 4:13 I can do all things through Christ which strengtheneth me.
The Battle is The Lord's
1 Sam 17:47 And all this assembly shall know that the Lord saveth not with sword and spear: for the battle is the Lord's, and he will give you into our hands
Deut 20:3-4 And shall say unto them, Hear, O Israel, ye approach this day unto battle against your enemies: let not your hearts faint, fear not, and do not tremble, neither be ye terrified because of them; For the Lord your God is he that goeth with you, to fight for you against your enemies, to save you.
Ps 18:32-35 It is God that girdeth me with strength, and maketh my way perfect. He maketh my feet like hinds' feet, and setteth me upon my high places. He teacheth my hands to war, so that a bow of steel is broken by mine arms. Thou hast also given me the shield of thy salvation: and thy right hand hath holden me up, and thy gentleness hath made me great.
Zec 4:6 Then he answered and spake unto me, saying, This is the word of the Lord unto Zerubbabel, saying, Not by might, nor by power, but by my spirit, saith the Lord of hosts.
Rom 11:36 For of him, and through him, and to him, are all things: to whom be glory for ever. Amen.