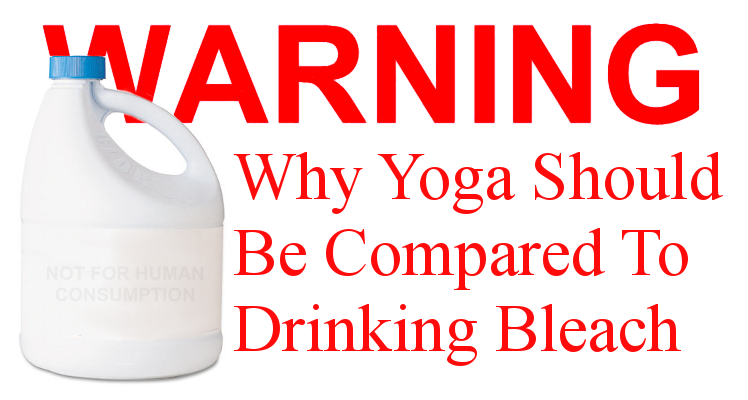 Many believe they can practice yoga postures, breathing, and focusing techniques, and call it "just exercise", but what most Christians don't realize is that yoga can completely distroy your relationship with God, over time.  You cannot just sip just a bit of bleach every day and have it not effect your overall health.
What many may not know about Yoga, is it is an inherent part of the Hindu religion which teaches specific concepts, and deliberate acts which engage the person to become closer to the spirit of the Hindu faith.
In America we view Yoga as a fitness activity, something more enjoyable than running laps, push ups or weight training.  It is deemed as a "feel good" exercise which is trendy, youthful, sexy and provocative.  We see it promoted in almost every Hollywood movie as something that is "in-style"  More than ever we are seeing "Christian Yoga" promoted.  Is Yoga Christian?
Nine Out Of Ten Hindus agree "Yoga IS Hinduism" 
We are told, "Yoga is just exercise," or "Yoga is a science. It is not religion." But what do Hindus and true yogis say? TIME magazine featured a quote from Subhas Tiwari, a professor of yoga philosophy and meditation at the Hindu University of America in Orlando, Fla.:
"Yoga is Hinduism," said Professor Tiwari of the Hindu University of America.  You may read the full article from the Sept. 5, 2005 issue at: "Stretching for Jesus" – TIME Magazine.
"Efforts to separate yoga from its spiritual center reveal ignorance of the goal of yoga." (HinduismToday.com – 9/1-3/09).
So in otherwords, to think that you can seperate the exercises of Yoga and what it was really designed for, you then are IGNORANT of the deep spiritual concepts of this act.
"The 'Soul' purpose of the asanas (yoga poses) is to create a healthy body, calm mind and emotions in order to enter the spirit realms." Swami Param tells Yoga cannot be separated from its religious elements - Coast News (March 2013)
Is there more to yoga than you have been taught?
Three Key Principles Taught By Yoga You Simply Cannot Escape:
Yoga has been marketed in the West as being a way of offering solutions for stress reduction, concentration problems, and issues of self confidence.  Is there anything more than that?
1. Postures- In an article "Should Christians Do Yoga" Laurette Willis admitted that "These are postures that are offered to the 330 million  Hindu gods. Yoga postures really are; they are offerings to the gods. "
"Many Westerners who practice yoga today are unaware that the physical positions assumed in yoga symbolize a spiritual act: worshiping one of the many Hindu gods," Dr. Alexander said. "To a Hindu, yoga is the outward physical expression of a deep spiritual belief. You cannot separate one from the other."George P. Alexander, Ph.D., who taught World Religions at Biola University
The opening of a Yoga class tells you everthing.......
Do you know what "Namaste" means?  This word is repeated by the group at the beginning of many Yoga sessions.  It means- "I bow to the divine in you."
Guess who is "The Lord of Yoga"? This Hindu idol (god/demon) is only 1 of the 330 million Hindu gods.  This "Lord of Yoga" is also known as "Shiva, The Destroyer" and "The god of Death."  Yoga is motivated by a spirit that inspires self-deification, with a promise of reincarnation.
Yoga Hinduism promotes Satan's lie in the idea of reincarnation which says man passes through endless cycles of birth and death for eternal improvement. Hebrews 9:27 teaches, "it is appointed for men to die ONCE and after this comes judgment."
What did Satan say again?
"And the serpent said unto the woman, 'You will not surely die. For God knows that in the day you eat of it your eyes will be opened, and you will be like God, knowing good and evil" (Genesis 3:4-5).
2.  Yoga teaches something they call pranayama breathing. Prana is the Hindu word for life force.  This same concept "chi" is taught in martial arts.  These concepts are taught to "yoke" or in other words "to become one" with the underpinning Hindu practices.
3.  Yoga teaches the concept of emptying  the mind, which is contradictory to what Christianity teaches. "We are transformed by the renewing of our minds", not emptying it.
If you are a follower of Jesus Christ, would YOU want a devout Hindu, or a New Ager, or a person possessed by a spirit of divination to teach you?
Meditation is a spiritual discipline designed to open "sense organs" known as "chakras" (psychic centres) to allow intrusion by outside forces, understood in Hinduism to be "power", "energy", "healing", "deities", "divinity", etc., to take over.
What about Psalm 1?
Psalms 1   "How blessed is the man who does not walk in the counsel of the wicked, Nor stand in the path of sinners, Nor sit in the seat of scoffers! 2 But his delight is in the law of the LORD, And in His law he meditates day and night"
There is a difference between contemplating the scriptures, and emptying ones mind.  The one allows you complete control, and the other is the opposite.
Our Father wants us to  review, reflect, think and analyze.  Yoga teaches the process of repeating the same phrase or calling on a power or deity, over and over and over.  Repeating the same phrase over and over is not thinking, but rather going into a trance.
Classical yoga is intended to put one into an altered state of consciousness.  The chanting and the customary relaxation period at the end of a yoga session has an agenda.  "Before becoming a Christian, I remember numerous instances of "traveling outside my body" during yoga relaxation periods"- The Dangers of Yoga (and what about Tai Chi?)
It is widely known in the occult that these practices CALL the spirits to come into the body.  In the occult, they WANT to be possessed by spirits.  Yoga also guides people into astral travel, which is where people actually leave their bodies, a practice well known in the occult.
The Bible tells us that tapping into the source of "fallen angels" is dangerous.  We are told that these "fallen spirits" liars, destroyers, murderers, deceivers and seducers.  Is this the company you want to keep?
Again,....... if you are a follower of Jesus Christ, would YOU want a devout Hindu, or a New Ager, or a person possessed by a spirit of divination to teach you?
Engaging in chanting is an open invitation for the demonic spirits to have fellowship with you.  You are opening the door, and inviting them to come into your life.
The Wilderness Account - An Account Every Christian NEEDS To Contemplate
Many Christians I suppose will be furious reading this, because they have convinced themselves, these things are ok to participate in.  The points above should be warning bells, red flags and very obvious to all that Yoga is just as abominable as being a Christian and having your  tarot cards, or tea leaves read.  The two are the same.
Do you remember the testimony of Moses when he received the 10 commandments, only to come down off the mountain and find the children of God worshipping the Golden calf?
Ezekiel 20:8 tells us that Israelites did not "forsake the idols of Egypt" when they exited.  So when they made the golden calf or young bull, they made it as a symbol of the God of Israel.  The Israelites lived in     Egypt for 430 years, so they naturally picked up the Egyptian ways of worship.
One interesting point in Exodus 32 is where it says "Tomorrow is a feast to the Lord" (Ex 32:5) 
We see that the worship of the golden calf was not a conscious rejection of the Yahweh, but rather the children of Israel probably thought that they could give honor to the LORD through the golden calf.
I ASK YOU- What was Our Fathers response to them creating the golden statue they identified as "thy elohim, O Israel"?
Ex 32:7 -"And the Lord said to Moses, "Go, get down! For your people whom you brought out of the land of Egypt have corrupted themselves."
Ex 32:10  10 Now therefore, let Me alone, that My wrath may burn hot against them and I may consume them. And I will make of you a great nation."
We read that He was Furious!!!  So angered that He was going to make a new start out of Moses.
I have noticed a connection with our Father greatly protecting his holidays known only to Him.  Read more about them in this straight-forward article.  Pay really close attention in the word when it comes to discussing "new moons, sabbaths, feast and feativals" in the bible.  It was just the other day when I came across Isaiah 1:13, and 14.  It is so clear that these people "honored Him with their lips, while their hearts were far away from him" Isa 29:13
Back to passage Isa 1:14- "Your new moons and your appointed feasts My soul hates:they are a trouble unto Me;I am weary to bear them"  The Hebrew word for "weary" is "la'ah" which means disgusted, grieved and loathe.
So here we have an instance where the children BORROWED some of the Egyptian rituals and incorportated them into Yahwehs festivals.  We are told how to celebrate Yahweh's festivals, and they are rather simplistic.
What upset our Father to the point where HE was going to wipe them out and start with a fresh group of people to go into the promise land?
They borrowed elements of a pagan ritual, and made it apart of the celebration to Yahweh.
Let me ask you?
Is it Easter or Passover?
Is it Christmas, or Feast of Tabernackles"
Perhaps you have never come across this information before, so here is your chance to review it for the first time.
This is what the ALMIGHTY says: "Do not learn the ways of the nations ..........3 For the customs of the peoples are worthless; they cut a tree out of the forest, and a craftsman shapes it with his chisel. 4 They adorn it with silver and gold; they fasten it with hammer and nails so it will not totter."
Here we are told again TO SEPERATE ourselves from the pagan ways.  Yet, so many people bring a tree into their house, adorn it, and celebrate "Christmas", which in fact is a pagan holiday.
Maybe you are one of those Christians who say "BUT, BUT, BUT it doesn't matter, I am doing it for The Lord"
Then maybe you need to carefully review our Father's reaction to the children and the Golden Calf, for after all, they were doing it "For the Lord"
Scriptures To Ponder:
2 Corinthians 6:17 - 14 "Be you not unequally yoked together with unbelievers: for what fellowship has righteousness with unrighteousness? and what communion has light with darkness? 15And what concord has Christ with Belial? or what part has he that believes with an infidel? 16And what agreement has the temple of God with idols? for you are the temple of the living God; as God has said, I will dwell in them, and walk in them; and I will be their God, and they shall be my people. 17Why come out from among them, and be you separate, said the Lord, and touch not the unclean thing; and I will receive you. 18And will be a Father to you, and you shall be my sons and daughters, said the Lord Almighty"
Isaiah 52:11 Depart you, depart you, go you out from there, touch no unclean thing; go you out of the middle of her; be you clean, that bear the vessels of the LORD.
Revelation 18:4- And I heard another voice from heaven, saying, Come out of her, my people, that you be not partakers of her sins, and that you receive not of her plagues.
Psalm 1:1-3 Blessed is the man that walks not in the counsel of the ungodly, nor stands in the way of sinners...
Exodus 20:4–5, "Thou shalt not make unto thee any graven image, or any likeness of any thing that is in heaven  above, or that is in the earth beneath,  or that is in the water under the earth: Thou shalt not bow down thyself to them, nor serve them: for I the LORD thy God am a jealous God"
There is only ONE God- You cannot choose both the devil and Our Father- Choose TODAY to Follow wholeheartedly after our Father and no other. 
DVD's On Yoga And Meditation- A Christian Warning To Run From These Practices
YOGA UNCOLIED: From East To West DVD- on Amazon
Wide Is The Gate DVD- Look At This Preview on Youtube
Additional Articles:
Monday's Mass Hypnosis of America- Pastor Rick Warren launched a mass hypnotise on his show.
Can a Pagan Practice Be "Christianized?" By Marsha West
Dangerous Meditations By Douglas Groothuis
Yoga Theory and Practice: Separable? -- Part 1 by Dr. John Ankerberg, Dr. John Weldon
Christian Yoga Sweeps the US—BBC News
Yoga Stretches Traditional Christian Boundaries By Alexandra Alter
Christian meditation, yoga unite on DVD By Mary Jacobs
Christoga trailer – Westlake Entertainment
The Worldview and Practices of the Occult - Part 2 by Dr. John Ankerberg, Dr. John Weldon
Mantra Meditation By Ray Yungen
Comments
comments