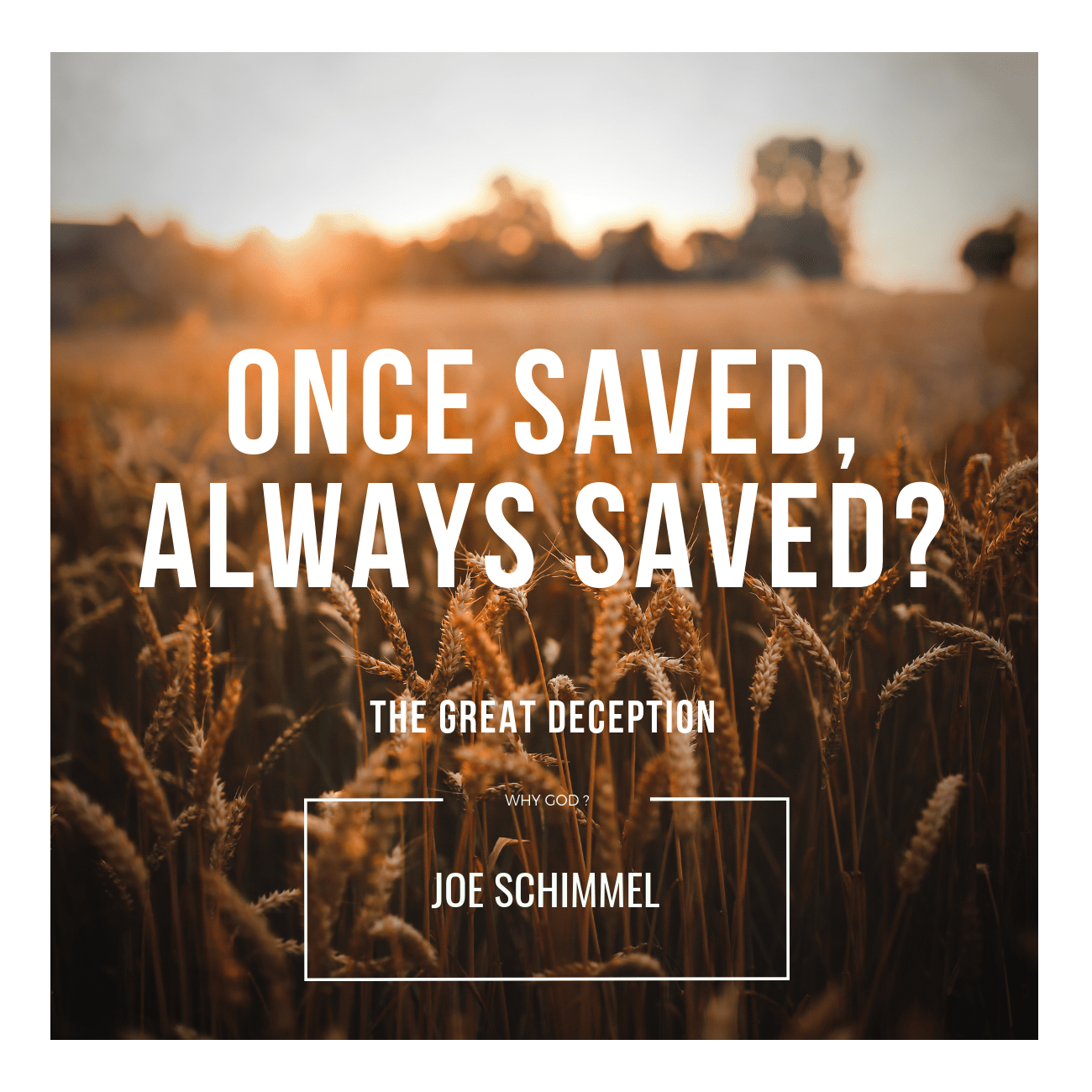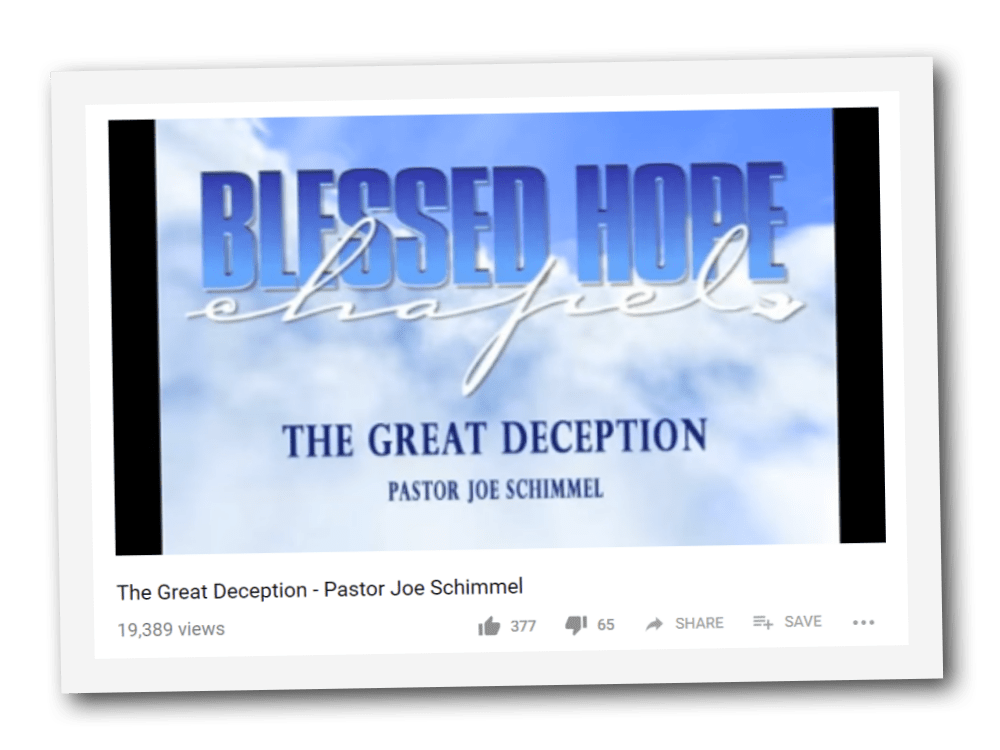 Watch this series here – Youtube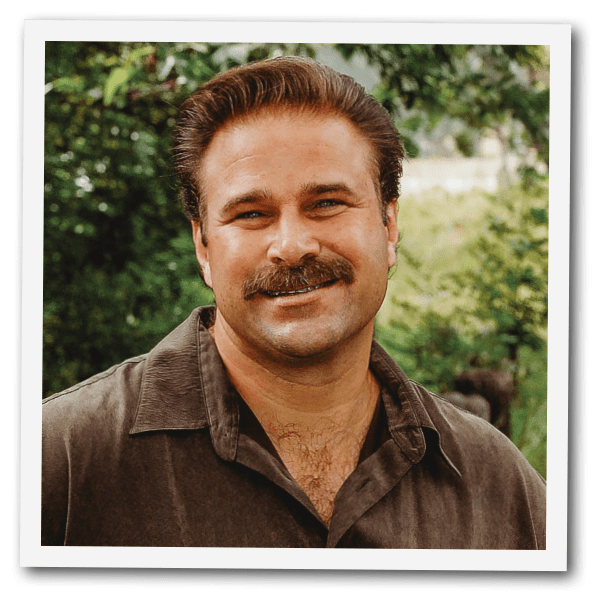 The Great Deception by Pastor Joe Schimmel exposes the false teaching of "Once Saved Always Saved" doctrines, along with some of its most popular teachers. To learn more about Blessed Hope Chapel, please visit: http://www.blessedhopechapel.org
From Joe:
The Bible says, We're not to be ignorant of Satan's devices. Bible tells us what his devices are, we can see his work throughout the world. What this presentation about is about, is basically about once saved, always saved doctrine. In fact, most professing Christians and evangelical movement would claim to be once saved, always saved.
This doctrine of once saved, always saved is not biblical. It's not from God. Actually, the Bible warns against it. I believe one of the reasons the church is in the state that has been today, the same kind of sin that you see in the world is often mirrored in the church.
Today, it's hard to tell the difference between a Christian and non Christian in some areas. I believe one of the reasons is because of the teaching of once saved always saved.
Watch this series here – Youtube
………………………………..
CHRISTIANS (those truly "saved to begin with") CAN:
1. Depart from the faith (1 Tim. 4:1)
2. Wander away from the faith (1 Tim. 6:10)
3. Swerve from the faith (1 Tim. 6:21)
4. Abandon our faith (1 Tim. 5:12)
5. Make shipwreck of our faith (1 Tim. 1:19)
6. Fall from grace (Gal. 5:4)
7. Desert him who called you and turn to a different gospel (Gal. 1:6)
8. Receive the grace of God in vain (2 Cor. 6:1)
9. Swerve from the truth, upsetting the faith of some (2 Tim. 2:18)
10. Drift away from the truth (Heb. 2:1)
11. Have an evil, unbelieving heart, leading us to fall away from the living God (Heb. 3:12)
12. Be hardened by the deceitfulness of sin (Heb. 3:12-14)
13. Fail to reach the promise of entering into His rest (Heb. 4:1)
14. Fall by disobedience to enter His rest (Heb. 4:11)
15. Fall away and impossible to restore unto repentance (Heb. 6:4-6)
16. Deliberately go on sinning and no longer have a sacrifice for sins (Heb. 10:26-27)
17. Shrink back (Heb. 10:38
18. Fail to obtain the grace of God (Heb. 12:15)
19. Wander from the truth (James 5:19-20)
20. Forsake the right way (2 Peter 2:15)
21. Become entangled and overcome AFTER having escaped them (2 Peter 2:20-21)
22. Be carried away with the error of lawless people and lose our stability (2 peter 3:17)
23. Commit a sin leading to death (1 John 5:16)
24. Stop abiding in the teaching of Christ (2 John 1:9)
Eze 18:24 … "But when a righteous man turns away from his righteousness, commits iniquity and does according to all the abominations that a wicked man does, will he live? All his righteous deeds which he has done will not be remembered for his treachery which he has committed and his sin which he has committed; for them he will die. God disagrees with OSAS….
One time Saved Always Saved ????  Bible Verses
Genesis 4:7 IF …sin is crouching at your door; it desires to have you, but you must rule over it
Exodus 32:33…Blotted Out- "Whoever has sinned against me I will blot out of my book.
Leviticus 26:40-42…IF ('If they confess their iniquity)

Numbers 14:35…Consumed
Deuteronomy 29:20…Blotted Out
Deuteronomy 31:27…Stiff neck
Joshua 24:20…Forsake
Judges 2:19…Corrupted themselves
Ruth 2:12…Trust
1 Samuel 7:3; 12:15…If
2 Samuel 3:39…Reward/Punish
1 Kings 1:52; 6:12… If
2 Kings 23:27…Cast off
1 Chronicles 28:9…If
2 Chronicles 30:9…Return
2 Chronicles 15:2…Forsake
Ezra 8:21…Fast & Seek
Nehemiah 1:9…If
Esther 4:16…Fast
Job 23:11…His way have I kept
Psalm 50:22…You that forgot God
Psalm 69:28…Blotted Out
Proverbs 2:13… Leave
Proverbs 24:16…Rise Again
Proverbs 28:13…Confesses & Forsakes
Ecclesiastes 5:1-7…Breaking Vows to God
Song of Solomon 2:13…Arise & Come
Isaiah 55:7…Return
Isaiah 59:2…Separated
Isaiah 29:20…Cut Off
Jeremiah 2:19…Forsaken
Jeremiah 17:13…Forsake Me?
Lamentations 3:25…Seek
Ezekiel 18:21-32…If
Daniel 9:13…Turn
Hosea 14:1…Return
Joel 2:12…Return
Amos 5:14…Seek
Obadiah 1:10…Cut Off
Jonah 3:10…Turned from
Micah 2:10…Depart
Nahum 2:13…Cut Off
Habakkuk 2:4…Live
Zephaniah 1:3…Consume
Zephaniah 1:6…Turned back
Haggai 1:5…Consider your ways
Zechariah 1:3…Return
Malachi 3:7…Gone Away
Matthew 10:33…Deny
Matthew 21:43…Taken from you
Matthew 24:13…Endure
Matthew 8:12…Cast Out
Mark 13:23…Be on your Guard
Luke 13:24…Strive to enter
Luke 8:13…Fall away
Luke 9:62…Looking back
John 6:66…Turn away
John 15:10…If
Acts 11:23…Cleave
Acts 24:16…Exercise
Romans 11:20-23…Broken off, Spare not, which fell, Cut off
Romans 13:14…Put On
1 Corinthians 6:18…Flee
1 Corinthians 10:12…Fall
1 Corinthians 16:13…Be on your Guard
2 Corinthians 5:9…Labor
Galatians 1:6…Removed
Galatians 5:1…Stand fast
Galatians 5:7…Run
Ephesians 4:1…Walk Worthy
Ephesians 6:11…Put On
Philippians 3:14…Press On
Colossians 1:23…Continue & be not moved
Colossians 2:6…Walk, Continue
1 Thessalonians 1:3…Labor
2 Thessalonians 1:5…Counted Worthy
2 Thessalonians 3:9…Follow
1 Timothy 4:1…Depart
1Timothy 6:12…Fight the good fight
2 Timothy 4:7…Finish the course
Titus 1:16…Works
Titus 2:2,4,6…Be Sober
Philemon 1:6…Be Effective
Hebrews 3:12…Departing
Hebrews 10:38,39…Draw Back
Hebrews 12:1…Run the race
James 1:3…Testing
1 Peter 2:21…Follow
1 Peter 5:8…Be Sober/Vigilant
2 Peter 2:15…Gone Astray
2 Peter 3:17…Beware lest you fall from your own Steadfastness
1 John 2:24…Remain in You
1 John 2:28…Abide in him
2 John 1:9…Abide in Christ
3John 1:4…Walk
3John 1:11…Do
Jude 1:21…Keep
Revelation 2:5…Removed
Revelation 2:10…Be Faithful
Revelation 3:5…Overcome
Revelation 3:11…Hold Fast
Revelation 3:16…Lukewarm? I will spit you Out!
Revelation 3:21…Overcomer
Revelation 22:14…

Blessed are they that do his commandments
Biblical examples of individual(s) who were once saved, but later fell away: Hymenaeus, Alexander …1 Timothy 1:18-20 Hymenaeus, Philetus…2 Timothy 2:16-18 Demas…2 Timothy 4:10